Bose Headphones Discounted for Cyber Monday
3D Insider is ad supported and earns money from clicks and other ways.
Bose has discounted a range of their headphones for Cyber Monday. These discounts are the same that the company had for Black Friday. Some headphones have been discounted by as much as 50%.
Bose is an famous brand known worldwide for the high-quality sound of their products. They rarely release discounts on their products. This your last chance to get a big discount for a long time most likely. Keep in mind that the company has already run out of inventory on certain models.
Headphones are a great Christmas gift. You can use Cyber Monday to pick up a pair for the music lover in your family.
Bose Headphones
Bose has reduced the price on the QuietComfort 25 (QC25) noise cancelling headphones from $299 to $179. This is a savings of $120 or 40% off the retail price. This is one of the company's biggest discounts in living memory.
The QC25s are phenomenal headphones and the noise cancellation is better than almost every other headphone you can buy. These headphones have a battery life of up to 35 hours on a single AAA. These headphones are not wireless. Bose only has one pair of headphones that have noise cancellation and wireless wrapped into one. That's the Bose QC35s and they are not on sale.
If you want wireless headphones then take a look at the Bose SoundLinks IIs. These headphones have sold for as much as $279 in the past and you can now get them for just $199. That's a maximum savings of $80.
People love their SoundLink II headphones and they have gotten rave reviews. They have a maximum battery life of 15 hours.
Bose Earbuds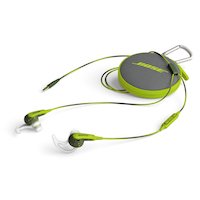 The Bose SoundSport are the company's most discounted item this year. Unfortunately, they are also the company's most popular. Bose has run out of inventory on these earbuds. They retail for $99 but they are on sale for $49 on Cyber Monday. These headphones are designed for workouts and they are sweat and weather resistant.
You can still get a wireless version of the SoundSports. They were selling for $20 off their retail price but they were further reduced as the 'Deal of the Day' for Cyber Monday. They are now selling for just $99 on a retail price of $149. This is an incredible savings of 33% and it's only available while supplies last for the rest of the day.
Bose also makes headphones called the Bose SoundSport Pulse. These are the same as the wireless SoundSports except that they also track your heart rate. They are selling for $179 at a $20 discount.
The only other earbuds that Bose has on sale right now is the Bose SoundTrue. These earbuds were made for people who like to hear music exactly as it was made without alteration. There's not enough bass in these headphones for some people. They are selling for a $50 discount at $79. That's a 39% savings that you can get until tomorrow.
Bose has released modest discounts across most of their headphones. The company is not known to have discounts very often. If you want a pair of Bose headphones, now is your last chance to get them below retail prices.