Bose QC35 Cyber Monday 2018 Deals
3D Insider is ad supported and earns money from clicks and other ways.
The QuietComfort 35 is are Bose's top-of-the-line headphones, and they have put it up for sale for the first time this Cyber Monday. The deal is live on Amazon and you can save $50 off the retail price of $349.
Bose QC35 Features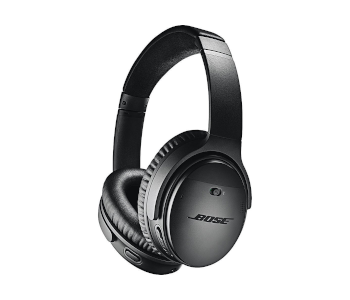 Bose is the leader of noise-canceling headphones and their QuietComfort line is at the top of the list when it comes to quality. The QC35 headphones are the only ones in the company's lineup that includes wireless connectivity and active noise cancellation.
The QC 35 headphones are available in black or silver and you can instantly identify them with their oval ear cups. They are not particularly fashionable but are comfortable to use with a well-padded headband that connects the two ear cups together. The weight is well distributed and balanced and this results in a headphone that you can wear for a long time without getting annoyed or irritated with wearing them.
The left ear cup has a 2.5mm audio jack, which you can use to connect your headphones to an external device. The right ear cup has other controls like volume and playlist control buttons. The right ear cup also has the micro USB charging port.
Pairing the QC 35 is easy and you can connect with both iOS and Android devices seamlessly. You don't have to worry about what phone you're using. One of the features of the QC 35 is that it's really great at switching connections. You can connect to different devices and have no trouble switching which device you want to play music from.
Battery life on the QC 35 is excellent. Wireless operations will last you about 20 hours. If you use them with the included wire you will get 40 hours of battery life. You don't really need to worry about the battery a lot since it has a quick charge feature where you can get up to 2.5 hours of play time with a quick 15-minute charge.
The QC 35 also comes with a microphone so you can use them for phone calls. The microphone uses noise cancellation so the quality of is crisp and clear. You won't struggle to be heard with these headphones.
The QC 35 have amazing sound quality with refreshingly deep bass and clear mids. It also has a broad and clear soundstage so you can select different types depending on the music you are listening to.
The noise-canceling technology of the QC 35 is excellent. It is great at canceling low frequencies like train and plane sounds and makes your travels a lot quieter with the feature. Getting used to noise-canceling takes a little adjustment, but once you're used to it you can fully immerse yourself in what you're listening to rather than being distracted by the noise around you.
The QC 35 offers great sound quality and the best noise-cancellation on the market. They are extremely comfortable and make commutes and long flights a little more tolerable while listening to music you love.
Overall, we were impressed when Bose decided to discount the QC 35. Last year, the company focused their Cyber Monday sales on the inferior QC 25s. This is a great opportunity to get these world-class headphones for a better price.