Bose SoundSport Wireless vs PowerBeats 3: Which One Should You Get?
3D Insider is ad supported and earns money from clicks, commissions from sales, and other ways.
If you are looking for a wireless Bluetooth headphone for working out, running, or casual listening, then there is a good chance that you will find yourself choosing between the Bose SoundSport Wireless and the Beats PowerBeats 3.
These two headphones are at the same premium price range and the companies that make them have excellent track records when it comes to producing high-quality audio products. While these two models are meant for active users, you can also use these for just about any listening experience as they offer exceptional sound quality.
Two Impressive Devices
There are a lot of similar options out there in the market, but if you are looking for an all-around wireless audio device that has some considerations for an active lifestyle, these two are some of the best. They come with features that will satisfy very active users who are looking for an excellent exercise companion and casual listeners who simply want high quality and comfortable pair of headphones.
So, let's take a look at these two and compare how they fare against each other in different categories that a lot of users find relevant.
Design and Build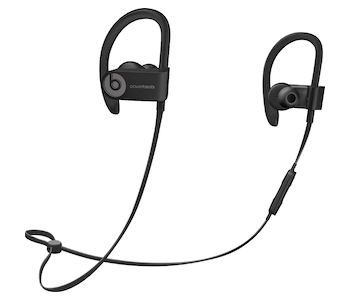 Let's look at how these headphones are built. After all, you will be using them multiple times a day so they need to be made well. The headphones also need to be designed in a way so that it continues to be comfortable to use even after hours of use. Both the Bose SoundSport Wireless and the PowerBeats 3, due to their premium build, can offer you all of these design features plus more.
The SoundSport Wireless has a cord that connects the two buds together, so its design is not technically true wire-free headphones. However, having a cable does come with its own set of advantages. For one, the headphones come with a clip that you can attach to your shirt. You can also adjust the cable length so you can ensure that it does not get in the way when you are working out.
Another feature of the SoundSport Wireless is its water and sweat resistance. It is not precisely, waterproof, but it can surely handle being wet with sweat or a light rain shower. This makes this pair of headphones versatile and allows you to use it during intense exercise or if you love running in the rain.
The PowerBeats 3 retains much of what makes its predecessor a top-rated product. One feature that Beats kept is the ear hooks that help the headphones fastened to your ears. These hooks are excellent to stop the buds from falling out, especially when you are doing intense activities.
The PowerBeats 3 also comes with in-line controls that you can use to control the volume, changing tracks, and even answering calls. This pair, though, is not rated as water-resistant, so you should be careful when using this in around water. It can handle sweat though, so you should not worry about using this to listen to music on your morning run or work out.
Both the Bose SoundSport Wireless and PowerBeats 3 are well-built devices that will offer you optimum audio experience no matter what you are doing. The most significant difference between the two is that the SoundSport Wireless offers weather and sweat protection due to its water resistance. This protects it from light rain, dust, and sweat so you can use it in a lot more situations compared to the PowerBeats 3.
| | PowerBeats 3 | Bose SoundSport Wireless |
| --- | --- | --- |
| Type | Earbuds | Earbuds |
| Weight | 29 g | 22.7 g |
| Wireless | YES | YES |
| Noise Canceling | NO | NO |
| Microphone | YES | YES |
| Call/Music Controls | YES | YES |
| Volume Controls | YES | YES |
| Microphone Controls | YES | YES |
| Case Type | Pouch | Soft Case |
Our Pick: Bose SoundSport Wireless for its better water and sweat resistance features
Sound Quality
It's incredible to think that devices this small can pack hardware that produces excellent quality audio. The Bose SoundSport Wireless and the PowerBeats 3 are definitely two wireless headphones that can give you the satisfaction of listening to clear and crisp music that you can carry around with you.
The PowerBeats 3 is designed to fit in your ears snuggly and seal your ear canal from the outside. It is essential to your listening experience that you keep this seal tight to enjoy the sound quality of the headphones fully.
Bass is punchy and powerful but does not overpower the rest of the sound you are listening to. This feature makes in extremely excellent fitness earbuds since it highlights the bass sounds of genres you might be listening to get yourself pumped up as you work out.
The SoundSport Wireless certainly does not disappoint when it comes to sound quality. It differs in design with the PowerBeats 3 since it has an open design and does not exactly seal off your ear canal. Still, it performs just as well and offers pristine audio no matter what you are doing.
It produces rich and clear audio at mid-volume levels and does come with the right amount of bass similar to the PowerBeats 3. The bass response is clean and remains tight even when you crank the volume up. So, you can continue to enjoy your favorite music at louder volumes without ruining the overall sound.
Bose does not have manual equalizer control, but what it does is it automatically adjust it for you, which comes with its own set of pros and cons.
These two headphones perform similarly, but we'll have to give the Bose SoundSport Wireless the slight advantage here as you can pump it up to full volume and still maintain the cleanliness and power of the bass it produces.
Our Pick: Bose SoundSport Wireless for its cleaner bass that does not overpower
Connectivity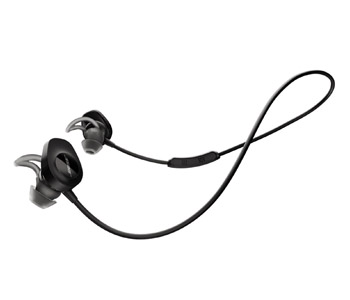 Both the Bose SoundSport Wireless and the PowerBeats 3 connects primarily via Bluetooth. They do not come with an alternative, so that means there is no wired mode. However, these are two of the best wireless headphones in the market, so you can steadily rely on their Bluetooth to provide you with the connectivity that you need.
One advantage of the PowerBeats 3 with its competitors is its built-in W1 chip. This chip enables the PowerBeats 3 to behave like its Apple's own AirPods. This allows the headphone to pair quickly with Apple devices and gives it the capability to auto-connect so you do not have to reconnect every time. The chip also provides your device with improved efficiency as it uses a minimal amount of power.
Even though the PowerBeats 3 does come with a W1 chip, you can still pair it with an Android device, but you will not enjoy the benefits that you get with iOS machines. Pairing it with an iPhone is extremely easy, so if you do not like playing or waiting around, then this is the headphones for you.
Connectivity is stable and reliable, without experiencing any signal drops as long as you are within the acceptable operating range of 226 feet. You will also not suffer any form of interference especially if you have other active connections in your area.
If the PowerBeats 3 has Apple's W1 chip, the Bose SoundSport Wireless comes with NFC. This somehow quickens the pairing and connection process between the headphone and your smartphone. Although you will not get the full benefits of the W1 chip, still instant connections are always welcome.
The PowerBeats 3 pulls ahead in this category thanks to the versatility of the W1 chip. The SoundSport Wireless' NFC can match it in terms of connection, but the efficiency of the W1 chip grants the PowerBeats 3 additional benefits such as longer battery life.
| | PowerBeats 3 | Bose SoundSport Wireless |
| --- | --- | --- |
| Bluetooth | YES | YES |
| Bluetooth Version | 4.2 + W1 Chip | 4.0 |
| Multi-Device Pairing | NO | NO |
| NFC Pairing | NO | YES |
| Range | 226 ft | 99 ft |
| Default Latency | 182 ms | 189 ms |
| Wired Connection | NO | NO |
Our Pick: PowerBeats 3 for its built-in W1 chip
Battery Life
One of the things that you have to look out for when getting a wireless headphone is battery life. It's amazing how these small devices can pack power that allows them to operate for more than six hours. This is what both of these headphones are capable of.
The PowerBeats 3 comes with pretty impressive battery life. It easily gives you 12 hours allowing you to use it the entire time you are out of your house. This is definitely remarkable and this power-saving feature is primarily due to the W1 chip it comes with.
On top of the 12-hour battery life, it also comes with a fast charge feature where you can plug it in for just five minutes, which translates to about an hour of usage. This is particularly helpful when you are forgetful and leave your headphones in your bag the entire night. You can quickly plug it in and charge it for 10 to 20 minutes as you get dressed, and you can get two to four hours easy.
Another somewhat particularly helpful feature of the PowerBeats 3 is its battery indicator. It can quickly tell you how much power you have left, especially when your battery levels are low so you can plug it in and enjoy the fast charge feature.
The Bose SoundSport Wireless is no pushover either. It does not have the same battery capacity as the PowerBeats 3, but six hours of uninterrupted listening time is still pretty impressive. One great feature of this headphone is that its case comes with a battery pack that can charge the device three times over. As long as you have everything fully charged, you get a maximum battery life of about 18 hours.
An advantage of this feature is that you can charge on the go, and you do not even need to be plugged in. Even if you forget to charge your headphones but have some juice left on the battery pack on your case, you will still be able to use it.
Even though the SoundSport Wireless does have more useful battery life, the 12-hour capacity of the PowerBeats 3 puts it ahead in this category. The fast charge feature definitely comes in handy giving you quick power.
| | PowerBeats 3 | Bose SoundSport Wireless |
| --- | --- | --- |
| Rechargeable Battery | YES | YES |
| Battery Life | 12 hours | 6 hours |
| Charging Time | 2 hours | 2.5 hours |
| Fast-Charge Feature | YES | NO |
| Wireless Charging | YES | NO |
| Power Saving | NO | YES |
| Audio While Charging | NO | NO |
| Charging Port | Micro-USB | Micro-USB |
Our Pick: PowerBeats 3 for its impressive 12-hour battery life and fast charging
Comfort
With the impressive battery life that both these headphones carry, there is a good chance that you will be wearing these devices for extended periods. That being said, they must be as comfortable as possible so you can enjoy your listening experience at all times.
As headphones for those with an active lifestyle, comfort becomes even more paramount since you do not want to break your concentration because of a lousy earbud fit. As much as possible, you want to enjoy your music without noticing that you even have headphones on.
The Bose SoundSport Wireless is designed to be comfortable. It does come with a neckband, but it definitely comes in handy since it carries the in-line controls so you can quickly adjust the volume, pause the track, or skip to the next one. The cable is lightweight, so it does not add to the perceived weight of the entire device.
The earbuds of the SoundSport Wireless have a secure fit and does not move around in your ear so you can comfortably use this when you are working out.
As for the PowerBeats 3, it gets a bit tricky because of the ear hooks that it comes with. These hooks definitely allow for a more secure fit. However, if you are not used to the feeling of the attachment wrapping around your ear, the overall experience may bother you.
Once you get the hang of it, the PowerBeats 3 is a comfortable headphone to use for your daily on the go wireless audio needs. It hangs on really well when you are doing your workouts, and it fits snuggly enough that you can still use it on your run.
Because of the PowerBeats 3's non-traditional headphone design, we are going to give the slight advantage to the SoundSport Wireless. Both are still excellent choices when it comes to comfort, but if you are not used to the design of the PowerBeats 3, you may need a bit more time adjusting to using it.
Our Pick: Slight edge to the Bose SoundSport Wireless
Companion Apps
Sometimes devices come with their own apps, which adds to the function. In this case, only the Bose SoundSport Wireless comes with its own called the Bose Connect. There are times, however that an app is more of a novelty than something functional, and the Bose Connect is something that you can consider close.
It is not by any chance a bad app, but it just does not add to the functionality of the SoundSport Wireless. It does not come with unique features like an equalizer or software-enhanced audio, so it adds little value to what you already have.
However, it does give you remote playback capabilities, which means you do not need to use your in-line controls to play, pause, or skip to the next song. This definitely comes in handy if you are holding your phone and use that for playback controls. It also improves pairing and connectivity between your smartphone and the SoundSport Wireless, so you do not have to pair every now and then.
The PowerBeats 3, on the other hand, does not have its own app. You are limited to the hardware and the streaming software you are using. You will sacrifice a little bit of flexibility, but you can definitely live without a dedicated app for your headphones.
Having an app, no matter how limited its functionality is, can help. So, we are giving the SoundSport Wireless a slight advantage in this category.
| | PowerBeats 3 | Bose SoundSport Wireless |
| --- | --- | --- |
| App Name | NONE | Bose Connect |
| iOS | N/A | YES |
| Android | N/A | YES |
| Equalizer | N/A | NO |
| Room Effects | N/A | NO |
| Playback Control | N/A | YES |
| Surround Sound | N/A | NO |
Our Pick: Slight edge to the Bose SoundSport Wireless for its Bose Connect app
Durability
These headphones are meant to be your work out companion, so it is crucial that they can take a bit of a beating without breaking. Both the PowerBeats 3 and the Bose SoundSport Wireless are premium headphone options and definitely come with some toughness.
One of the essential features of this category is water resistance. These headphones are not exactly rated waterproof, which means you will not be able to use them while swimming. However, both are sweat-resistant, so they are perfectly safe to use for your workouts.
You can comfortably use these while jogging, hiking, biking, or even doing these activities in light rain. Simply make sure to wipe them dry as soon as you finish your work out, so moisture does not seep into the device when you store it.
Both these headphones are extremely well built and should last for quite some time. As those that are designed to be worn when working out, the sweat resistance comes in handy to ensure that they do no prematurely break down.
| | PowerBeats 3 | Bose SoundSport Wireless |
| --- | --- | --- |
| Sweat-Resistant | YES | YES |
Our Pick: It's a tie between the PowerBeats 3 and Bose SoundSport Wireless
The Best Pair of Headphones
These are two top of the line wireless headphones that you can use in a lot of different situations. You can use this in a lot of cases and excels as your daily workout pair so you can enjoy your favorite music to get you pumped up. You can also use them to listen to your go-to podcasts when you are on the train or bus to work.
There are subtle differences between these two devices, but overall, these are some of the best wireless headphones in the market. This is due to the premium design and components that offer excellent sound quality, comfort, and durability.
However, since we are comparing two devices, there has to be one that is more superior than the other, and that is the Bose SoundSport Wireless. Again, both these headphones are excellent, and one can excel in one category over the other. However, looking at the entire package, it seems that the SoundSport Wireless offers better performance. Add to the fact that it is also on the more affordable end, it is undoubtedly a great pickup.
The PowerBeats 3 definitely shines in a few categories, and because of its built-in W1 chip, it is an excellent choice if you are an Apple user.
Best Value for Your Money
Apart from quality and performance, one factor that is often in the minds of users is the cost. You want the device that is going to give you a better performance at a significantly lower price.
There is certainly a difference when you look at the retail prices of these two headphones since the Bose SoundSport Wireless can be $50 more affordable compared to the PowerBeats 3. One thing you can do to even things out is to watch out for sales and discounts so you can ultimately get a better deal.
According to our reviews, the headphone that is going to give you a better value for your money is the SoundSport Wireless. It offers similar performance at a much lower price. The sound quality is excellent and is comfortable to use for just about any situation.
The PowerBeats 3 is clearly the more expensive product, and there are also specific reasons where this device can ultimately offer you a better value. For one, the W1 chip is definitely a game-changer, and if you are deeply embedded in the Apple ecosystem, this is going to be an easy pick.
Which Is the Perfect Wireless Headphone for You
There are different reasons why you get one pair of headphones over the other. It ultimately depends on your preferences. There are specific reasons why one device should be better compared to the other.
If you are considering the Bose SoundSport Wireless, and you think that it is the perfect fit for you, first consider these:
The SoundSport Wireless is an excellent device if you are looking for your music to be vibrant and clear, even with a bit of thump from the bass. The PowerBeats 3 is definitely the obvious choice is your number one concern is battery life, but if you are okay with a solid six hours of use, then this is for you.
One feature where the SoundSport Wireless shines is its water resistance. The PowerBeats 3 does not come with this, so if you love running or biking under light rain, this is the perfect headphone for you.
The same thing is true with the PowerBeats 3, there are specific uses where this is a superior pick. For one, if you connect with an Apple device such as an iPhone, the W1 chip is beneficial as this is undoubtedly going to quicken the process. Your connectivity is going to be more reliable and you will suffer from fewer issues.
The PowerBeats 3 also offers a much better ear canal seal, so if you are working out in a location that is noisier than usual, this headphone is going to block out most of the sounds. This allows you to concentrate on your workouts rather than getting distracted by what others are doing.
Also, if battery life is an essential category for you, the 12 hours that is packed in this small device is something that you are going to love. The fast charging feature is also helpful so you can be sure that you have at least a couple of hours of juice even if you did not fully charge your headphones.
Final Thoughts
These two are definitely excellent pieces of audio equipment, and you can be sure that you will be able to enjoy your favorite music, podcast, or audiobook no matter what you are doing.
The best pair of headphones that you can get is the one that is going to provide you with the best overall performance for your needs. These two appeals to totally different sets of users, so make sure that you get the one that fits your needs.