Breville Coffee Black Friday 2019 Deals
3D Insider is ad supported and earns money from clicks, commissions from sales, and other ways.
Is starting a day without a fresh cup of Joe inconceivable for you? Do you need a coffee maker that takes your non-caffeinated state into account and makes brewing foolproof? In that case, Breville's line of Nespresso coffee makers should be at the top of your Black Friday wish list. Here's what's on offer.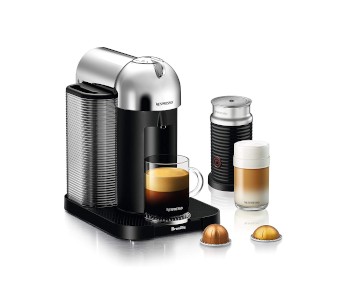 Breville VertuoLine Coffee and Espresso Machine
Original Price: $249.95
Black Friday Price: $139.99
Simplicity personified, that's the best way of describing the Nespresso Breville VertuoLine. It's a coffee and espresso maker that anyone can use, makes a fine cup to start your day with, and is sure to leave an impression on guests.
The VertuoLine has a sleek retro look with a textured, matte-black body and shiny chrome finish. Its water tank has a capacity of 40 ounces, and there are three serving sizes. The smallest one dispenses enough liquid for a cup of espresso, while the other two are intended for a standard and travel-sized container of regular coffee, respectively. The device comes with preset measurements for each, but you can tinker with them to produce as little as 0.7 or as much as 17 ounces of fresh brew.
Ease of use is reason enough to pay the VentuoLine's premium price. There are no complicated button combinations to press or instructions to follow. A single button controls everything from starting up a brew to descaling and general maintenance. The secret lies in the proprietary Nespresso cups you have to use with the device. Each has a barcode that tells the VertuoLine what type of beverage it needs to make and provides instructions.
It takes roughly ten seconds for the water to preheat and another minute or two for your coffee to be made. The taste is excellent, and espresso comes out with a rich, creamy layer on top thanks to the application of centrifugal force while brewing. You get a welcome package containing different kinds and tastes of coffee to try out so you can get a feel of what's out there and start ordering your favorite.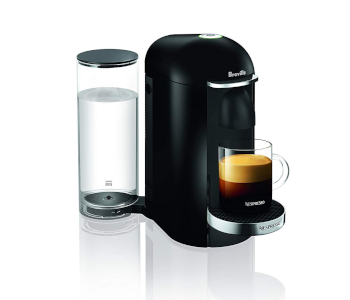 Breville VertuoPlus Coffee and Espresso Machine
Original Price: $199.99
Black Friday Price: $123.13
The VertuoPlus has a lot in common with the coffee maker discussed above. It uses the same kind of specialty cups and is as easy to handle as the VertuoLine. However, there are some differences that might persuade you to choose it instead.
The most notable difference is its design. The VertuoPlus has a 60-ounce water tank positioned in the back that you can move to the side. Such flexibility is useful for kitchens with different counter setups. The VertuoPlus is available in three sophisticated colors.
You can't adjust the amount of coffee this model dispenses, but there are five preset sizes to consider. The largest gives you 14 ounces of creamy coffee while the smallest is enough for a 1.2-ounce shot of espresso. There's enough grounds in the cups intended for large servings that the coffee will never taste watery.
Nestle is trying to be eco-friendly and makes the cups from aluminum, which is infinitely recyclable. Disposing of the cups can be a hassle. Still, you can opt for pre-paid bags that fill up with discarded cups and bring to your local UPS or Nespresso boutique for proper disposal.
Nespresso Aeroccino
Both coffee makers come with the Nespresso Aeroccino, a versatile and easy-to-use milk frother. It follows the one-button philosophy and either heats up and froths warm milk or froths cold milk depending on how the button is pressed. The appliance has a capacity of 8 ounces for warming milk up and 4 ounces for frothing. It is coated in Teflon and turns off as soon as the milk is ready.