10 Best Brushless Drones of 2019
3D Insider is ad supported and earns money from clicks, commissions from sales, and other ways.
Entry Level to Advanced
So you've heard about brushless motor drones and want to know more. But what is a brushless DC motor and why should you care? More to the point, what have they got to do with consumer drones?
By the end of this introduction you'll have the answers to all your questions. Don't worry; this isn't a lesson in electrical engineering. I'll keep everything short, to the point, and in laymen's terms.
Budget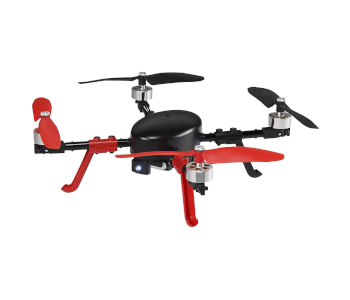 RC Logger EYE One Xtreme
4.8/5.0
Dimensions: 6.2 x 1 x 1.6″
Weight: 8.2 oz
Has intelligent flight modes and supports PPM RX's.
Check Amazon
Best Value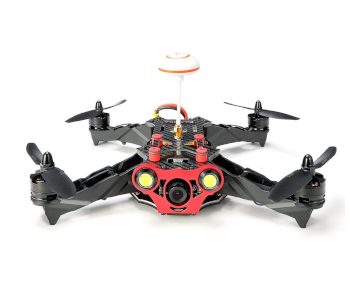 EACHINE Racer 250 FPV
4.3/5.0
Dimensions: 8.6 x 5.3 x 4.1″
Weight: 17.6 oz
Has a tiltable FPV camera and an impressive flight performance.
Check Amazon
Top Pick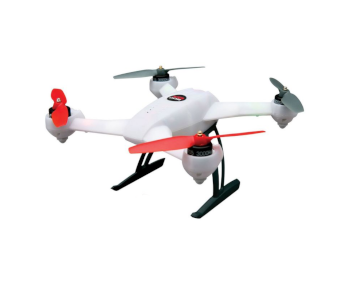 Blade 200 QX BNF
4.3/5.0
Dimensions: 6.3 x 0.7 x 0.7″
Weight: 12.8 oz
Brushless motors, bright LED lights, and smooth flyer.
Check Amazon
What Is a Brushless Motor?
Until recently, all public drones flew with DC motors. These are rotary (moving) electrical machines that generate power. They've been the workhorse of small powered mechanical systems for eons.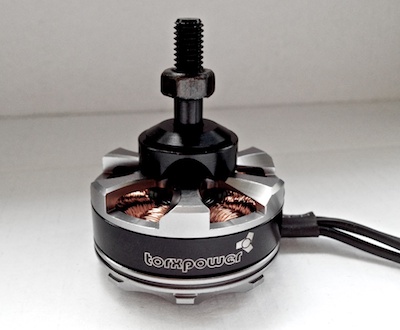 A brushless DC (BLDC) motor does away with the need for a mechanical commutator (moving part). Not having rotating mechanical components results in a more durable and reliable machine.
BLDC motors are generally smaller and considerably lighter than brush-types. This makes them especially useful in products that are tight for space and need to be lighter—like consumer drones.
Without getting too technical, brushless motor drones experience less wear and power loss. The initial cost of using a BLDC motors is higher, but the greater overall efficiency soon offsets this.
Here's a summary of the six main pros of brushless motors:
Last longer
More powerful
More durable
More reliable
Don't heat up as fast
No maintenance required
There's a lot more science behind BLDC vs DC motors but we don't need to get into that here. This review page is all about brushless motor drones, and now you know of the main advantages.
Drone Terminology
None of my reviews follow that long-winded, boring, scientific format used by so many tech-heads. I write everything in clear, direct language, free from all the usual fluff.
There's a little terminology that you do need to know, though. I may sometimes refer to consumer drones as UAV (unmanned aerial vehicles) or RPC (remote piloted craft) depending on the context.
RTF is a familiar term that simply means Ready-to-Fly (includes everything in the box needed to fly). And then there's BNF or Bind-N-Fly. This means everything included but the transmitter.
OK, that's pretty much all you need to know. Everything else on this page is self-explanatory. Let's now look at these powerful brushless drones and the reasons to consider them.
Top 10 Cheap Brushless Drones
This review focuses on the more affordable BLDC drones. The list below includes my affordable drone picks with brushless motors. You're certain to find the best brushless drone under 300 bucks here.
I set out each review in an easy-to-follow format to help you make the best informed choice. Under the name of each drone there's a description followed by tech specs, pros, and cons.
Here's my top 10 brushless drone picks at a glance (cheapest to most expensive):
Items by price:
Brushless Drones Comparison Table
The drones on this page are all fantastic flying machines that'll give you heaps of pleasure. Nothing here is over $300, though everything on this list will give you an awful lot of bang for your buck.
Racing Drones Across the US
Some of these drones are popular for racing in First Person View (FPV) mode. It's a sport that's gaining popularity of late. You can find and even compete in these events all across America.
Because of this I've added the maximum speeds for those I can find. Some of them are fast, really fast. I think there's a few exaggerated top speed claims for some, but I can't know for sure.
Right then, let's get on with the reviews. I've included three price categories for your convenience. The drones here range from as little as $109 up to $270.
Brushless Motor Drones Under $150
One of the things I always like to point out to folks is that price doesn't always deliver the best product. What I mean by that is a drone that costs more might have less of what you want.
This is why it's always a good idea to make a note of the features you most desire. The last thing you want to do is buy bells and whistles you have absolutely no use for.
If you're not sure what you want—exactly—read all the reviews here first. Make sure you take a few notes along the way. By the end of this guide you'll have a much better idea of your requirements.
Drones under 150 bucks might have everything you need or very little. That's the point.
1. XK X251 Whirlwind
View on Amazon
Editor's Rating: 4.8/5
The XK X251 Whirlwind Brushless Drone is a powerful machine that delivers great value for money. Consider it if you're new to flying and want something cheap and fun to learn with.
With a little knowhow you can tweak the XK X251 to match your flying style. Seriously, this is the ideal beginner UAV that's pretty much ready to fly right out of the box. Even the propellers come attached.
This is a small and quiet craft thanks to the XK X251's brushless motors. That means no annoying the neighbors. It's also super-efficient and an incredibly able drone in its class.
You get a decent hobby-grade user-friendly radio transmitter with the XK X251 Whirlwind. Once you get to grips with flying this little beaut you're ready to race—if that's your thing.
To race your X251 you'll need to add FPV capability. This shouldn't cost much more than $50. For your money you'll get an FPV monitor, antenna, arm, seat, 720P camera, 4G SD Card, and a USB cable.
Upside-down flying and 360° rolling all add to the fun. Once you take to the skies it shoots off like a bat out of hell. It'll stand up to a good few knocks and crash landings as well.
The flight range is around 300m, which is plenty. The flying time is a little disappointing at just 10-12 minutes. All in all, though, I can't find too much to fault, at least not for $143.


Tech Specs
Weight: 205g (8.8 oz.)
Battery: 7.4V 950mAh Lipo battery
Charging Time: 60-80 minutes
Control range: 300m (328 yards)
Max flight time: 12 minutes
Max speed: 21 m/s (46 mph)
The Pros
Brushless motors
Affordable
Robust build
Fast and stable flyer
Quiet for consumer drone
Lightweight
The Cons
No power switch
No arming/disarming sequence
No front end LEDs
2. MJX B3 Bugs 3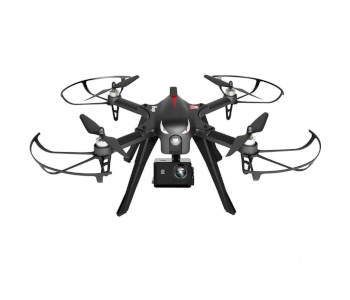 View on Amazon
Editor's Rating: 4.6/5
My second pick is the MJX B3 BUGS 3. This is another tiny yet powerful brushless drone aimed at the beginner. If you want to film and take photos while you're up in the air you've got that option too.
You can attach quality cameras to the MJX B3 Bugs 3 like the SJCAM 4000, Xiaomi YI, or GoPro Hero 3 and 4. There aren't any fancy features like GPS or Altitude Hold, but then it doesn't need them.
This little craft doesn't need many bells and whistles because it's easy to handle without costly features. I say shortlist the MJX B3 if you're on a budget and want to have fun learning to fly.
The first thing that strikes you is the general quality and feel of this drone, though some parts are a bit fragile. The overall build quality, however, is a nice surprise considering how cheap it is to buy.
Even the lights give off powerful beams more common on costlier crafts. These lights are bright enough to safely fly outdoors at night time as long as you don't stray too far.
The drone comes with four detachable legs that allow you to safely add a camera mount under its belly. The brushless motors and 19 cm propellers keep your camera steady and safe in the air.
The drone's carrying capability means you can add a high-quality camera. The drawback is that there's no gimbal. That means they'll be some sacrifice when filming certain things under various conditions.
The two flight settings are Sport Mode and Camera Mode. The sport mode is mainly to have fun flying, racing, and showing off with acrobatics, etc. The camera mode provides a steadier flight.
There are a few gripes about the battery and no option to buy a spare one. Another flaw is that the propellers are flimsy and easily break. And the blade guards can sometimes damage the blades.
Try to look at what the MJX B3 BUGS 3 offers rather than what it lacks. What you have is an impressive drone at a remarkable price. It's also a great little racer if you're into competitive flying.


Tech Specs
Weight: 1451g (3.2 lbs.)
Battery: 7.4V 2S 25C 1800mAh LiPo
Charging Time: 300 minutes (5 hrs.)
Max control range: 500m (547 yards)
Max flight time: 19 minutes
Max speed: Not known
The Pros
Brushless motors
Great value for money
Fast, powerful, responsive
Reasonable flight time
Easy to control
Takes a range of cameras
The Cons
No gimbal
Long battery charging time
Flimsy propellers and guards
No altitude hold
3. Best Budget: RC Logger EYE One Xtreme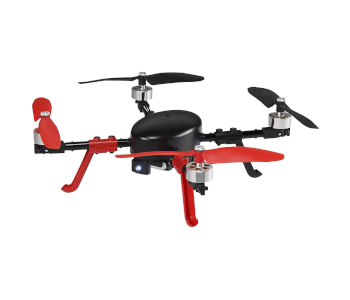 View on Amazon
Editor's Rating: 4.2/5
You can buy the RC Logger EYE One Xtreme ready to fly out of the box. It's a great beginner drone though it's not quite as fast as some of the other brushless options in this guide.
The Beginner Mode is very docile and gives any newbie a lot of fun as they get to grips with the craft. Once you move up to Sport Mode you'll never have reason to return to beginner controls.
The differences are obvious as soon as you switch over to Sport Mode. You instantly have more tempo, speed, and creative ability. Despite the extra oomph flying remains smooth and steady.
The LED lights on the drone let you know what mode you're in at any given time. Green is Beginner Mode and yellow is the Sport Mode. Red is the PRO Mode where anything becomes possible.
Some complain about the toy-like controller. I say it's perfect for two reasons. One, it still works as it's supposed to work. And two, it adds to the portability of your drone, making it easy to lug around.
The upgraded battery gives you extra flight time. With non-optimal flying, and the standard battery, you should expect 11-12 minutes tops. I suggest the upgraded battery if you're flying with a camera.
Check out the RC Drones own cameras as they offer the best solutions for video and stills photography. They're more than adequate for the purpose. They let you adjust the lens to any angles you want.
You can customize this powerful little drone to make it more unique to you and your style. You can even purchase carbon fiber frames and some colorful stickers to adorn the body.
So this is another incredibly cheap drone with brushless motors that offers a lot of value for money. It's an awesome flying quad that you can buy for around $110, give or take a few bucks.


Tech Specs
Weight: 157g (5.54 oz)
Battery: 7.4 V LiPo
Charging Time: 150 minutes (2.5 hrs.)
Control range: 122m (400 ft.)
Max flight time: 11 minutes
Max speed: Not known but fast
The Pros
Brushless motors
Ready to fly out the box
Customizable
Intelligent flight modes
Supports PPM RX's
Motors switch off automatically in a crash
The Cons
Stock blades too brittle
Basic controller
Slower than some others
4. JJRC Shuttle X1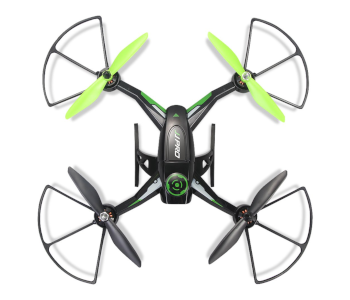 View on Amazon
Editor's Rating: 4.2/5
The JJRC X1 is a fast and powerful drone that uses brushless motors. This is also the last of my picks for under $150. It's not really suitable for complete beginners because of its incredibly fast propellers.
The X1 is a quick accelerator too. Fast movements make it difficult for newbies to control and maintain positioning. I'd say this is the perfect choice for anyone who's moving up from toy quadcopters.
There is a Beginner Mode but it's not as tame as some of the other UAV in this guide. If you're an advanced beginner you should be fine. I suggest supervision for everyone else.
Skilled flyers love this sporty drone as it tests your pilot abilities the second it takes to the air. It affords plenty of challenges and attack angles. It's perfect if you need to work on your FPV flying skills.
You can't fly the Shuttle X1 too far away despite its quality. Remember, this is still a cheap quadcopter. That means you get a toy-grade controller that has distance limitations.
This tough little racing drone is not indestructible. You'll be pleased to know that it comes with a spare set of propellers and a spare set of blades. Other parts are easy enough to come by online.
The Shuttle X1 doesn't come equipped with a camera. There are hooks under the belly where you can attach a GoPro and other cameras, though. The drone's also compatible with the Syma X5SC FPV kit.
If you like to spend a lot of time flying drones make sure you have some spare batteries. The flight time is around 12 minutes at best. The battery recharge time is roughly 90 minutes.
What the JJRC Shuttle X1 lacks in features it makes up for in fun. And at less than $140, it's an affordable way to sharpen your flying skills before moving up to the next level of consumer drones.


Tech Specs
Weight: Unknown
Battery: 7.4V 1300mAh LiPo
Charging Time: 90 minutes (1.4 hrs.)
Control range: 400m (1312 ft.)
Max flight time: 15 minutes
Max speed: Not known but fast
The Pros
Brushless motors
Easy setup
Slick design
FPV ready
Responsive
Well thought out flight modes
Easy to get spare parts
Great value
The Cons
Unknown flight controller
Not so good in wind
Poor LED lights
Brushless Motor Racing Drones Under $200
The two drones I've included here in the under $200 category are very capable racers. If drone racing is something you love to do, or would like to try, don't skip this section.
5. HISKY HMX280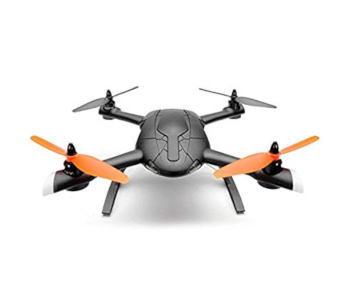 View on Amazon
Editor's Rating: 4.2/5
The HISKY HMX280 Racing Quadcopter is an affordable, capable, reliable drone. It's fairly easy to fly too. This is thanks to the user-friendly X-6S transmitter and flight range of around 400m.
It's just about ready to fly out of the box. The controller is pretty straightforward and offers all the usual options. You've got up-and-down, left-to-right, forward-and-back, and 360 degrees rotation.
The company—hiSky—like to make a point that there UAV is water-resistant, and it is. But be careful not to confuse water-resistant with waterproof. Those who do may end up with a defunct drone.
Note that the basic model doesn't come equipped with a camera or a gimbal. The good news is that it can house these as optional extras. You also have to buy a lightweight action camera at extra cost.
Even with the optional extras you still have a decent UAV at an affordable price. You can buy it with or without various add-ons, so be sure to look over your options before you make a decision.
I have come across a few complaints about the controller. The main gripe is that the drone is very capable but not its transmitter. The makers haven't configured it so well for high-speed flying.
The short battery life is another setback with the HISKY HMX280. The maximum flight time is just 10 minutes in ideal conditions. Alas, most drone pilots don't fly in ideal conditions most of the time.
Aside from a few setbacks, remember it's still an inexpensive drone. In spite of this, it has a good build and quality brushless motors. It really is a great practice drone for FPV racing and FPV proximity flying.
With its brushless motors and 11v 1350 battery, the HMX280 is both powerful and fast. And it certainly belongs in that "CATCH ME IF YOU CAN" category of racers, regardless of its disputable top speeds.


Tech Specs
Weight: 285g (10 oz.)
Battery: 25C 11.1V 1350mAh
Charging Time: 60-90 minutes (1+ hr.)
Control range: 400m (1312 ft.)
Max flight time: 10 minutes
Max speed: 27.7 m/s (62 mph)
The Pros
Brushless motors
Fast
Reliable
Nice flyer: day and night
Smart design
CC3D OpenPilot compatible
Water resistant
Great value for money
The Cons
Short battery life
Basic controller
Fragile landing gear
6. Best Value: EACHINE Racer 250 FPV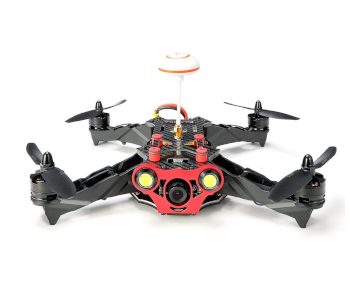 View on Amazon
Editor's Rating: 3.9/5
No drone is indestructible. Yet the EACHINE Racer 250 FPV is one tough UAV. This makes it a good choice for learner pilots who experience more crashes and collisions than experience flyers.
The cheapest model comes equipped with a built-in HD camera and an onboard 5.8G transmitter. You'll need to invest a bit extra in a receiver or a pair of goggles if you haven't already got them.
TIP: If you add three-blade props in place of the stock two-blade that come with the drone, you'll have an even better, more stable flyer. Three blade pops will give you and extra four blades overall.
From an aesthetic angle you're either going to love the design or loath it. I suppose it looks a bit like a flying Jeep. But then this is the kind of drone where speed and function matters more than looks.
No review would be fair or balanced without highlighting some of the major downsides. There have been some complaints that the battery takes too long to charge, and longer with each new charge.
Some reviewers say that this drone has a tendency to just drop out of the sky if you're not watching. Make sure you've always got a close eye on the controller's low battery signals if you're not flying FPV.
Finally, there are no detailed instructions with the done, or at least not at the time of this review. It's not a major glitch as you can always find plenty of help online, including instructional YouTube videos.
This drone is a great choice for anyone who wants to move on from their toy-class UAV. Although it's primarily a beginner's racing drone, it has some interesting upgrade options for when you're ready.


Tech Specs
Weight: 400g (14.1 oz.)
Battery: LiPo 3S 1500 mAh
Charging Time: 60 minutes (1+ hr.)
Control range: 1.8 km (1 mile)
Max flight time: 14 minutes
Max speed: 41.5 m/s (93 mph)
The Pros
Brushless motors
Robust construction overall
Tiltable FPV camera
Fast and powerful
Impressive flight performance
Upgradable
Bright LEDs
FPV with sound
The Cons
Lens housing shakes a bit
Instruction manual too basic
Disputable charging times
No RTF version available
Brushless Motor Drones Over $200
This is the top end of my budget priced brushless drone picks. You will notice some improvement in machines, materials, and features. These are still beginner drones, but great machines fly.
After doing extensive research, I've narrowed this section down to four models.
Blade 200 QX BNF Quadcopter
Eachine Falcon 180 FPV Racing Quadcopter
AOSENMA CG035 RC Brushless Quadcopter
Cheerson CX-20 CX20 Quadcopter
OK, let's look at what makes these brushless motor drones so special.
7. Top Pick: Blade 200 QX BNF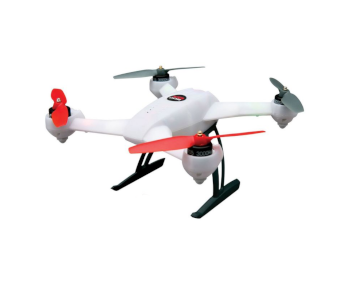 View on Amazon
Editor's Rating: 4.3/5
Don't let the Blade 200 QX BNF toyish looks put you off. This is a high-performance tiny quadcopter with brushless motors. It's a great little drone for advanced beginners and above.
The reason I say "advanced beginners" is because it's a bit fragile to take too many crash landing. Whatever level you're at, I suggest you practice over grassy areas until you get used to it.
Holding this drone doesn't give the impression that it's a workhorse, but it is. It easily carries the E-flite® EFC-721 720p HD camera (not included), protected by the drones extended landing legs.
For the best image results you need to pair the intuitive E-flite® EFC-721 HD camera with a Spektrum transmitter. You're then set to capture quality aerial photos and HD video.
The body of the Blade 200 QX BNF is semi-transparent. The reason is so the built-in status LEDs can shine through. They're not overly bright, but good enough for night flying within close proximity.
You have to buy the Blade 200 QX BNF in Bind-N-Fly as there's no RTF version. It means you'll need to get your own radio. Prices for a controller usually start at around the forty bucks mark.
I particularly like the simple modes that come with the Blade 200 QX BNF:
Low angle stability (green LED)
High angle stability (blue LED)
Agility mode (red LED)
The stability modes offer a really smooth flying experience—perfect for beginners. Skilled pilots get a lot of manual control in Agility Mode where you get to carry out all kinds of fancy stunts.
The low battery indicator is a cool feature. First signs of a low battery begin with a slow flashing. The lower the power the faster it gets. Look after your battery by stopping at the early flashing warnings.
The fragility of this quadcopter, and not being able to fly it right out of the box, will put some of you off. There's also the inconvenience of having to purchase a separate transmitter.
Notwithstanding a few downsides, the size, stability, and smoothness of this tiny UAV appeals to a lot of people. All in all there's a lot to like about the Blade 200 QX BNF, as well as its affordable price tag.


Tech Specs
Weight: 680g (1.5 lbs.)
Battery: 800mAH
Charging Time: 60+ minutes (1+ hr.)
Control range: 274m (300 yards)
Max flight time: 11 minutes
Max speed: 15.6 m/s (35 mph)
The Pros
Brushless motors
Smooth flyer indoors and out
Excellent practice drone
Bright LED Lights
Fast & easy to fly
Great for indoor and outdoor flying
Easy to find replacement parts
Great value for money
The Cons
Quite fragile
Transmitter not included
8. Eachine Falcon 180 FPV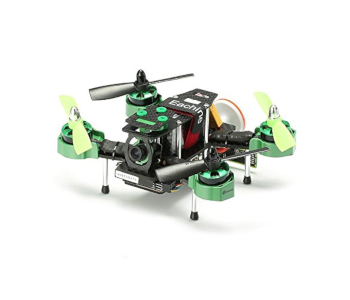 View on Amazon
Editor's Rating: 4/5
You get to choose from one of three flight controllers when you buy the EACHINE Falcon 180 FPV quadcopter. The price difference between these options is negligible.
This is a racing drone for racing enthusiasts. It's for people who know how to fly drones at competition level. If you want a more multipurpose UAV look at the other picks on this review page.
The Falcon 180 FPV looks almost like a half-finished prototype but it's not. They've left all the usual superfluous parts out so there's nothing to sacrifice its speed.
It's the simplicity of design that makes this such a unique racing craft:
Powerful brushless motors
Sturdy, carbon fiber body
Good quality 700 TVL camera (attached to a vibration-absorbing platform)
Minimal extraneous weight
The Falcon 180 comes ready to fly (RTF). You have everything you need from the off, including video transmitter and camera. It's a no-thrills hardcore racer built for speed.
When flying at full pelt it sounds like a racing car, thus adding to the thrill. You can reduce the weight and increase the speed further by removing a few parts like the brushless motor guards.
The 10% tilted motors give an acceleration advantage over the competition. You have to be more careful when landing, though. A hard touchdown may break the legs or the LED lights at the back.
The FPV range is pretty average. There is an option to upgrade the antenna to expand the range. You can also upgrade to a better battery to improve the six minutes of flight time.
A racing drone enthusiast wants good control options along with speed. Well, the makers boast an incredible top speed of 150 km/h (93 mph). I'm yet to find hard proof of the top speed claim.
There are of course a few downsides to a drone this powerful and this fast. Some pilots report shaking at high speeds. This has resulted in the clover antenna and landing gear falling off mid-flight.
The light strip at the back is also flimsy and prone to falling off. It's a good idea to detach the light strip when you're racing and maybe replace the fragile metal landing gear with foam pads.
I like this drone because it's everything it's supposed to be and nothing it's not. Is it perfect? Of course it's not. But it's not far from perfect considering the affordable price and outstanding performance.


Tech Specs
Weight: 308g (11 oz.)
Battery: 3S 11.1V 1500mAh
Charging Time: 45 minutes
Control range: 1-1.5 km (0.6-0.9 mile)
Max flight time: 6 minutes
Max speed: 41.5 m/s (93 mph)
The Pros
Brushless motors
Fast and powerful
Ready to Fly (RTF)
Strong carbon fiber body
Titled motors
Quality camera (700 TVL)
Great value AUV
The Cons
Fast flying loosens some parts
Short battery life
9. AOSENMA CG035 RC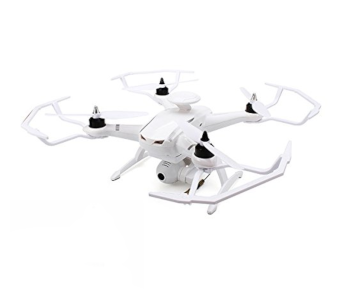 View on Amazon
Editor's Rating: 3.9/5
The AOSENMA (pronounced AO SEN MA) CG035 RC Brushless Quadcopter takes to the air with the press of a button. Anyone who wants a fun, easy-to-operate drone will love the CG035.
This drone is ideal for advanced beginners who want something that has few bells and whistles but flies well. It doesn't take long to get to grips with orientation and the impressive features.
As long as the GPS signal is strong enough, this little drone will hover where you tell it to. Users who enjoy selfies and group shots will love how the CG035 steadies itself even in breezy conditions.
The built-in 1800P HD camera with its wide-angled lens promises to capture some pretty amazing aerial videos. Or at least they're amazing for a drone costing around $230.
Your brushless AOSENMA comes equipped with follow-me technology as well. It faithfully follows along as if suspended in the air by some digital leash, recording your every move.
The camera attaches to a shock-absorbing cradle head to allow vertical and horizontal movements. This flexibility allows for more creative photography and videography than fixed static lenses.
The surround feature is pretty neat, offering 360 degree filming of a fixed point. You can imagine the scene as your stand on a mountain peak. Those old static snaps of yesteryear can't possibly compete!
One of the more common gripes owners have is with the overly basic instruction manual. Another complaint is the awkward design of the transmitter. Everything's there, but it's not well thought out.
For the money you can expect a stable flyer with plenty of flexibility. And the 6-axis gyro fly system does a great job of controlling and steadying the AOSENMA CG035 RC once it's airborne.


Tech Specs
Weight: 350g (12.3 oz.)
Battery: 7.4V 3200mAh (built in)
Charging Time: 210 minutes (3.5 hrs.)
Control range: 500m (1640ft.)
Max flight time: 20 minutes
Max speed: Not confirmed
The Pros
Brushless motors
Good build quality, smart design
Decent flight time
Excellent altitude hold feature
Good GPS
LEDs for night flying
Reasonable transmitter
Stable flyer
Return home feature
Value for money
The Cons
All white (bad for orientation)
Proprietary battery
Poorly written manual
Awkward layout of transmitter
10. Cheerson CX-20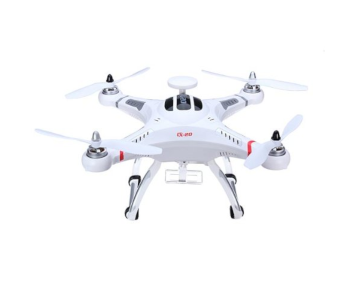 View on Amazon
Editor's Rating: 3.8/5
We're now at my final pick of top brushless drones. At just over 200 bucks you get the Cheerson CX-20 Quadcopter. It comes equipped with an auto-pathfinder RC that has GPS and 6-Axis GYRO FPV.
There's very little to do once you unpack the CX20. You just have to attach the propellers and then charge the LiPo battery. This gives you some time to browse through the simple instruction manual.
The Cheerson CX-20 is slightly bigger and heavier when compared to some of the other brushless drones on this page. That means it takes a bit more getting used to, but not by much.
It's a great drone for advanced beginners and above. If you often fly in blustery conditions you'll love the strong wind-resistance and Stable Mode with Altitude and GPS Hold.
The CX20 quadcopter makes a great choice for anyone who likes to fly over water and rugged landscapes with unpredictable winds. You've also got failsafe return-to-home and landing features.
The camera mount at the front lets you attach a GoPro or other camera of your choice. The mount has four rubberized vibration isolators to help keep the optics stable and allow for adjustments.
There's not a lot to fault with the CX20 drone for the price. Okay, so you won't impress others with any complicated acrobatics or fancy flying, but you do get a reliable and steady UAV all the same.
I've come across a few reviewers who complained that the drone didn't take hard landings too well. I say crash landings should be few and far between as long as you exploit all the failsafe features.
As with all UAVs, get to know its controls and features inside out (including those on simple drones). You can't avoid all crash landings and collisions, but pilot error and ignorance is often to blame.
The CX-20 has a modular design and that makes servicing easy. If, at any point you need replacement parts, you can find them easily online from all the major drone retailers.
It may not be a flying machine to compete with high end drones, but it's pretty darn close when you consider how much you get for your dollar.


Tech Specs
Weight: 980g (2.2 lbs.)
Battery: 11.1V 2700 mAh Lithium
Charging Time: 120 minutes (2 hrs.)
Control range: 500m (547 yards)
Max flight time: 15 minutes
Max speed: 9.8 m/s (22 mph)
The Pros
Brushless motors
Ready to fly (RTF)
Reasonably quick
Nice flight modes
Steady in windy conditions
Easy to use for advanced beginners
Good quality battery
The Cons
Long charging time
Transmitter batteries extra
Fragile to crashes
Summing Up
Drones that use brushless motors are superior to those that fly using conventional ones. The prices are dropping too. Before long all quality drones will embrace brushless technology.
All the budget brushless drones on this review page are popular for good reasons. You've got fast AUVs for racing, others better suited for stills and video, and some that'll work for either purpose.
Remember, brushless motors are more powerful, last longer, and need zero maintenance.