Buying Brushless Motor Drones
Entry Level to Advanced
So you've heard about brushless motor drones and want to know more. But what is a brushless DC motor and why should you care? More to the point, what have they got to do with consumer drones?
By the end of this introduction you'll have the answers to all your questions. Don't worry; this isn't a lesson in electrical engineering. I'll keep everything short, to the point, and in laymen's terms.
What Is a Brushless Motor?
Until recently, all public drones flew with DC motors. These are rotary (moving) electrical machines that generate power. They've been the workhorse of small powered mechanical systems for eons.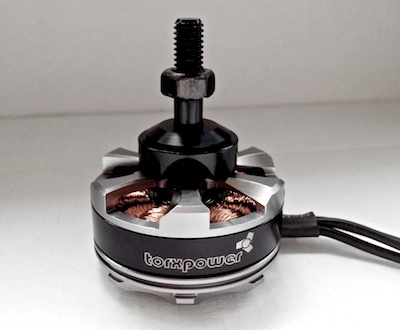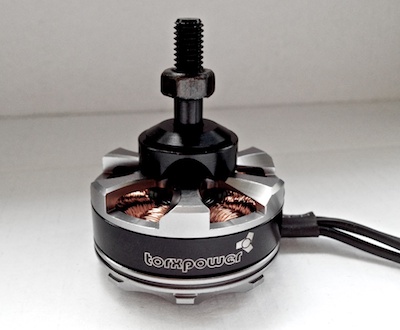 A brushless DC (BLDC) motor does away with the need for a mechanical commutator (moving part). Not having rotating mechanical components results in a more durable and reliable machine.
BLDC motors are generally smaller and considerably lighter than brush-types. This makes them especially useful in products that are tight for space and need to be lighter—like consumer drones.
Without getting too technical, brushless motor drones experience less wear and power loss. The initial cost of using a BLDC motors is higher, but the greater overall efficiency soon offsets this.
Here's a summary of the six main pros of brushless motors:
Last longer
More powerful
More durable
More reliable
Don't heat up as fast
No maintenance required
There's a lot more science behind BLDC vs DC motors but we don't need to get into that here. This review page is all about brushless motor drones, and now you know of the main advantages.
| Name | | Dimensions | Weight | Rating | Price |
| --- | --- | --- | --- | --- | --- |
| | Blade 200 QX BNF | 6.3 x 0.7 x 0.7″ | 12.8 oz | | |
| | EACHINE Racer 250 FPV | 8.6 x 5.3 x 4.1″ | 17.6 oz | | |
| | RC Logger EYE One Xtreme | 6.2 x 1 x 1.6″ | 8.2 oz | | |
Choose Your Budget:
Drone Terminology
None of my reviews follow that long-winded, boring, scientific format used by so many tech-heads. I write everything in clear, direct language, free from all the usual fluff.
There's a little terminology that you do need to know, though. I may sometimes refer to consumer drones as UAV (unmanned aerial vehicles) or RPC (remote piloted craft) depending on the context.
RTF is a familiar term that simply means Ready-to-Fly (includes everything in the box needed to fly). And then there's BNF or Bind-N-Fly. This means everything included but the transmitter.
OK, that's pretty much all you need to know. Everything else on this page is self-explanatory. Let's now look at these powerful brushless drones and the reasons to consider them.
Top 10 Cheap Brushless Drones
This review focuses on the more affordable BLDC drones. The list below includes my affordable drone picks with brushless motors. You're certain to find the best brushless drone under 300 bucks here.
I set out each review in an easy-to-follow format to help you make the best informed choice. Under the name of each drone there's a description followed by tech specs, pros, and cons.
Here's my top 10 brushless drone picks at a glance (cheapest to most expensive):
The drones on this page are all fantastic flying machines that'll give you heaps of pleasure. Nothing here is over $300, though everything on this list will give you an awful lot of bang for your buck.
Racing Drones Across the US
Some of these drones are popular for racing in First Person View (FPV) mode. It's a sport that's gaining popularity of late. You can find and even compete in these events all across America.
Because of this I've added the maximum speeds for those I can find. Some of them are fast, really fast. I think there's a few exaggerated top speed claims for some, but I can't know for sure.
Right then, let's get on with the reviews. I've included three price categories for your convenience. The drones here range from as little as $109 up to $270.
Brushless Motor Drones Under $150
One of the things I always like to point out to folks is that price doesn't always deliver the best product. What I mean by that is a drone that costs more might have less of what you want.
This is why it's always a good idea to make a note of the features you most desire. The last thing you want to do is buy bells and whistles you have absolutely no use for.
If you're not sure what you want—exactly—read all the reviews here first. Make sure you take a few notes along the way. By the end of this guide you'll have a much better idea of your requirements.
Drones under 150 bucks might have everything you need or very little. That's the point.
Brushless Motor Racing Drones Under $200
The two drones I've included here in the under $200 category are very capable racers. If drone racing is something you love to do, or would like to try, don't skip this section.
The HISKY HMX280 Racing Quadcopter is an affordable, capable, reliable drone. It's fairly easy to fly too. This is thanks to the user-friendly X-6S transmitter and flight range of around 400m.
It's just about ready to fly out of the box. The controller is pretty straightforward and offers all the usual options. You've got up-and-down, left-to-right, forward-and-back, and 360 degrees rotation.
The company—hiSky—like to make a point that there UAV is water-resistant, and it is. But be careful not to confuse water-resistant with waterproof. Those who do may end up with a defunct drone.
Tech Specs
Weight: 285g (10 oz.)
Battery: 25C 11.1V 1350mAh
Charging Time: 60-90 minutes (1+ hr.)
Control range: 400m (1312 ft.)
Max flight time: 10 minutes
Max speed: 27.7 m/s (62 mph)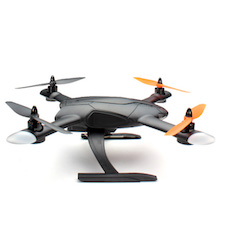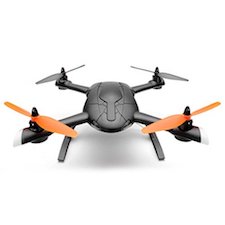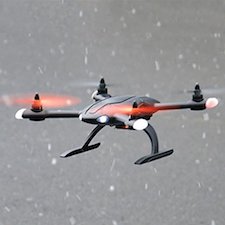 Note that the basic model doesn't come equipped with a camera or a gimbal. The good news is that it can house these as optional extras. You also have to buy a lightweight action camera at extra cost.
Even with the optional extras you still have a decent UAV at an affordable price. You can buy it with or without various add-ons, so be sure to look over your options before you make a decision.
I have come across a few complaints about the controller. The main gripe is that the drone is very capable but not its transmitter. The makers haven't configured it so well for high-speed flying.
The short battery life is another setback with the HISKY HMX280. The maximum flight time is just 10 minutes in ideal conditions. Alas, most drone pilots don't fly in ideal conditions most of the time.
Aside from a few setbacks, remember it's still an inexpensive drone. In spite of this, it has a good build and quality brushless motors. It really is a great practice drone for FPV racing and FPV proximity flying.
With its brushless motors and 11v 1350 battery, the HMX280 is both powerful and fast. And it certainly belongs in that "CATCH ME IF YOU CAN" category of racers, regardless of its disputable top speeds.


No drone is indestructible. Yet the EACHINE Racer 250 FPV is one tough UAV. This makes it a good choice for learner pilots who experience more crashes and collisions than experience flyers.
The cheapest model comes equipped with a built-in HD camera and an onboard 5.8G transmitter. You'll need to invest a bit extra in a receiver or a pair of goggles if you haven't already got them.
TIP: If you add three-blade props in place of the stock two-blade that come with the drone, you'll have an even better, more stable flyer. Three blade pops will give you and extra four blades overall.
Tech Specs
Weight: 400g (14.1 oz.)
Battery: LiPo 3S 1500 mAh
Charging Time: 60 minutes (1+ hr.)
Control range: 1.8 km (1 mile)
Max flight time: 14 minutes
Max speed: 41.5 m/s (93 mph)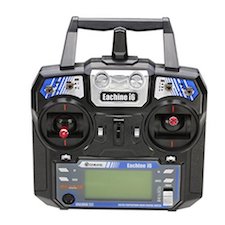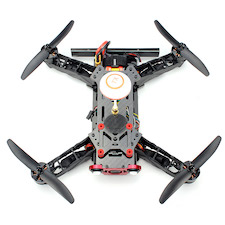 From an aesthetic angle you're either going to love the design or loath it. I suppose it looks a bit like a flying Jeep. But then this is the kind of drone where speed and function matters more than looks.
No review would be fair or balanced without highlighting some of the major downsides. There have been some complaints that the battery takes too long to charge, and longer with each new charge.
Some reviewers say that this drone has a tendency to just drop out of the sky if you're not watching. Make sure you've always got a close eye on the controller's low battery signals if you're not flying FPV.
Finally, there are no detailed instructions with the done, or at least not at the time of this review. It's not a major glitch as you can always find plenty of help online, including instructional YouTube videos.
This drone is a great choice for anyone who wants to move on from their toy-class UAV. Although it's primarily a beginner's racing drone, it has some interesting upgrade options for when you're ready.


Brushless Motor Drones Over $200
This is the top end of my budget priced brushless drone picks. You will notice some improvement in machines, materials, and features. These are still beginner drones, but great machines fly.
After doing extensive research, I've narrowed this section down to four models.
Blade 200 QX BNF Quadcopter
Eachine Falcon 180 FPV Racing Quadcopter
AOSENMA CG035 RC Brushless Quadcopter
Cheerson CX-20 CX20 Quadcopter
OK, let's look at what makes these brushless motor drones so special.
Summing Up
Drones that use brushless motors are superior to those that fly using conventional ones. The prices are dropping too. Before long all quality drones will embrace brushless technology.
All the budget brushless drones on this review page are popular for good reasons. You've got fast AUVs for racing, others better suited for stills and video, and some that'll work for either purpose.
Remember, brushless motors are more powerful, last longer, and need zero maintenance.