6 Best Cameras for Filmmaking on a Budget in 2020
3D Insider is ad supported and earns money from clicks, commissions from sales, and other ways.
Many novice filmmakers struggle to get their cinematic ideas off the ground. They mistakenly believe that they need the most expensive camera before even thinking of recording their first scene. Having the proper equipment is indeed important, but even cheaper cameras are now sophisticated enough to deliver movie-grade footage with a little tweaking in post.
Today, you can get a camera that costs less than $500 and still supports 4K. You might want to spend a little more to get external audio and color profiles, but even a fully capable video camera won't set you back more than $1,000.
We've handpicked the six best cameras for filmmaking on a budget for you to peruse. They share an emphasis on outstanding video quality, but each brings something else to the table as well. Unique film modes, art filters, or excellent lenses are just some of the features you'll discover when reading about their specifics. Pick one and start off your filmmaking career on a sure footing.
Budget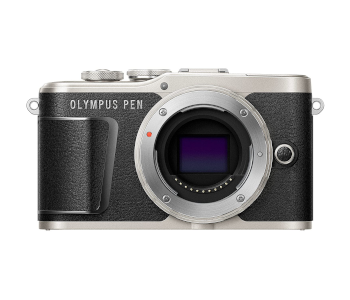 Olympus PEN E-PL9
4.0/5.0
Sensor: 4/3
ISO range: 200 – 25,600
Quick autofocus and responsive touchscreen.
Check Amazon
Best Value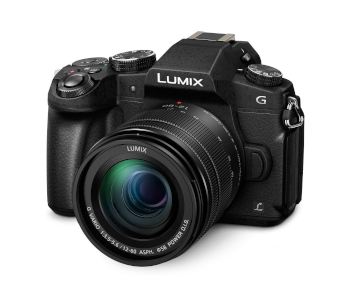 Panasonic Lumix G85
4.4/5.0
Sensor: 4/3
ISO range: 200 – 25,600
Great image stabilization, smooth and crisp 4K video.
Check Amazon
Top Pick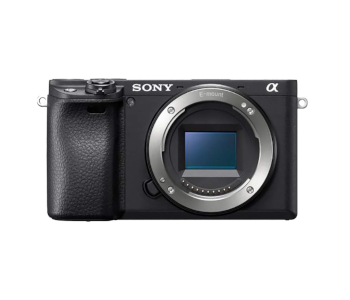 Sony Alpha a6400
4.6/5.0
Sensor: APS-C
ISO range: 100 – 32,000
Customizable controls and high-speed autofocus.
Check Amazon
Cameras for Filmmaking on a Budget Comparison Table
1. Best Overall – Sony Alpha a6400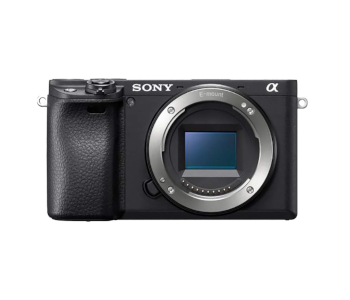 View on Amazon
Editor's Rating: 4.6/5
The a6400 is Sony's newest entry in the mid-range mirrorless camera market. It's a versatile and speedy shooter with video features like sharp 4K and a selection of log profiles advanced filmmakers will appreciate. The camera stays true to the line's design while offering improvements in terms of heat dissipation and battery life. It's the best choice for your next video but will do equally well for photography.
Overview of Features
The a6400 follows in the footsteps of its predecessors, as evidenced by its utilitarian body. The control layout is unchanged as there are no front controls while the top and back house several dials and buttons. Most of these are customizable, including the D-pad ordinarily reserved for EV compensation or f-stop adjustments. The mode dial also has an MR mode useful for saving and recalling multiple setting profiles.
You can frame scenes through either the excellent viewfinder or the articulating touchscreen. Expect a crisp preview and 0.7x magnification from the EVF and full frontal rotation from the LCD. That's perfect for when you're the director and star of a movie and want to see the scene from an actor's perspective. The EVF is hidden until you don't need it, as is a small strobe flash useful for taking pictures in dim light.
Sony has made improvements to the a6400's autofocus by introducing a new focusing mode simply named Tracking. The mode relies on a combination of traditional methods like face and distance detection, augmenting them with data gleaned through machine learning. The result is an AF system that focuses on subjects accurately and blazingly fast, well under 0.1 seconds to be precise.
Videos shot with the a6400 have a max resolution of 4K at 30fps. They're razor-sharp and feature the same reliable autofocus the a6400 applies to photos. You can tweak color and brightness settings manually, leave them up to the camera, or shoot in either HDR or one of several log profiles. These look bland out of the camera but save more data you can use during editing to make the colors true to life.
The a6300 had trouble with overheating when recording in 4K. Its successor is much better at thermal dissipation, so much so that there's no limit on 4K video length. You'll stop recording when the SD card fills up, or the battery runs dry. The latter doesn't often happen since the battery can last for two hours of continuous recording.
What We Didn't Like
The a6400 doesn't have in-body image stabilization, and compatible lenses can't compensate for sudden camera movement on their own. You'll have to use a tripod and pan shots accordingly. Small part of the LCD's bottom isn't visible when flipped out, and mounting a shotgun mic in front of it makes things worse.
Tech Specs
Dimensions: 4.7 x 2.6 x 2.4 in.
Weight: 18.3 oz.
Sensor: APS-C
ISO range: 100 – 32,000
Max still resolution: 24.2 MP
Max video resolution: 4K, 30fps
Battery life: 125 minutes
The Pros
Excellent video quality
Customizable controls
High-speed autofocus
Long-lasting battery
The Cons
Lacks image stabilization
Reduced screen visibility when flipped
2. Best Value – Panasonic Lumix G85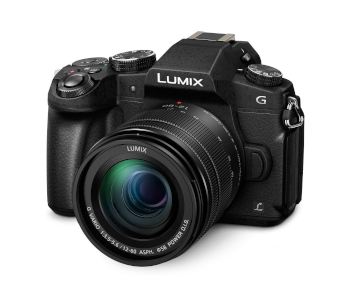 View on Amazon
Editor's Rating: 4.4/5
Panasonic's Lumix G85 is the anticipated successor to the G7, a camera that appealed to novice and enthusiast shooters alike. It's getting on in years, but that's excellent news for thrifty filmmakers as they're getting a feature-rich camera at a great price. Some of its highlights include image stabilization, a quality LCD, and crisp video that looks impressive whether you're viewing it on a 4K TV or downscaling to HD.
Overview of Features
The G85 is a mirrorless camera with a DSLR-like aesthetic and above-average build quality. Its shell has a front made from magnesium alloy while the rest is plastic. Even so, the G85 can withstand dust and moisture in moderation. It has a pronounced grip complete with rubber coating for easier and more secure handling.
The dial and button layout is similar to the G7's, but there is an important port change filmmakers will love. The SD card slot is now located on the side instead of down with the battery compartment. That lets you swap cards while using a tripod without moving the camera.
Panasonic chose not to include a low-pass filter. That translates into much sharper images and videos while forcing you to be mindful of artifacts. Unlike the a6400, the G85 shoots stabilized footage thanks to both IBIS and its lenses. Combined, they compensate for an impressive five stops, meaning you can pick the camera up while filming and get away with imprecise movements.
The 4K videos shot at 30fps is smooth and detailed. You can crop it to pan and tilt the camera without physical movement and take stills to. There's a 3.5mm jack for external microphones along with an HDMI port that lets you hook the G85 up to a TV and watch your movie as an audience would.
What's Bad About It?
The G85 tends to overdo it with noise reduction, especially when set to ISO between 800 and 3,200. Less noise also means fewer fine details, something an audience watching 4K footage may notice. The camera has a quality EVF, and its LCD articulates fully to the side. Plugging a mic into the G85 or using an HDMI cable limits the screen's movement.
Tech Specs
Dimensions: 5.1 x 3.5 x 2.9 in.
Weight: 25.7 oz.
Sensor: 4/3
ISO range: 200 – 25,600
Max still resolution: 16 MP
Max video resolution: 4K, 30fps
The Pros
Excellent value for the money
Great image stabilization
Smooth and crisp 4K video
Easy access to SD card
The Cons
Excessive noise reduction at certain ISO levels negatively impacts details
LCD movement limited by external microphone and HDMI cable
3. Fujifilm X-T30
View on Amazon
Editor's Rating: 4.5/5
There's no better choice than Fujifilm's X-T30 if you're looking for a compact mirrorless camera with solid video performance no matter the location. It has a backlit sensor and handles noise at high ISOs exceptionally well. That means you can shoot night scenes or set up the lighting to evoke suspense without worrying about video quality. This charming camera is quick to focus, easy to handle, and even easier to recommend.
Overview of Features
Like the cameras mentioned before it, the X-T30 isn't the first of its kind. It shares most physical features with the X-T20, including a small and lightweight frame that's nevertheless comfortable to hold. The most noticeable difference is the lack of a D-pad, which has been replaced by a focus lever. The c change has freed up more space in the back, allowing you to use the remaining controls with more precision.
The greatest improvements were made to the X-T30's autofocus. It excels at recognizing the faces and eyes of human and animal subjects regardless of distance. It's so effective that you might have to switch to manual when recording B-roll or filming inanimate objects since the X-T30 will want to hone in on passers-by instead. The AF locks onto them nearly instantly and is almost always spot-on. You can use the touchscreen to choose a different point on the rare occasion when the camera gets it wrong.
Fujifilm's cameras bring unique film simulation modes to both photo and video. You'll want to take advantage of these for your movies as they impart an artistic look you won't find anywhere else. Eterna stands out the most as it makes videos look bleaker and less saturated while retaining enough information to bring parts of them out more in post.
The X-T30 records oversampled video in 6K and then reduces it to 4K. This leaves you with clips that are noticeably sharper and pop more than regular 4K footage. You can introduce a series of F-Log gamma profiles to spice things up and even write 10-bit files to an external recorder for maximum color fidelity.
Are There Drawbacks?
The X-T30 has a Quick menu you can save often-used commands to for easier access. It is activated with the Q button, which is placed awkwardly near the grip and easy to press accidentally. A full charge of the X-T30''s battery only nets you 45 minutes of recording time. You'll have to carry multiple spares or plug the camera in during extended shoots.
Tech Specs
Dimensions: 4.7 x 3.3 x 1.8 in.
Weight: 13.5 oz.
Sensor: APS-C
ISO range: 160 – 12,800
Max still resolution: 26.1 MP
Max video resolution: 4K, 30fps
Battery life: 45 minutes
The Pros
Excellent oversampled 4K footage
Speedy and accurate autofocus
Has many unique film simulation modes
Small and compact for a mirrorless
The Cons
Q button is easy to press accidentally
Poor battery life
4. Sony RX100 VA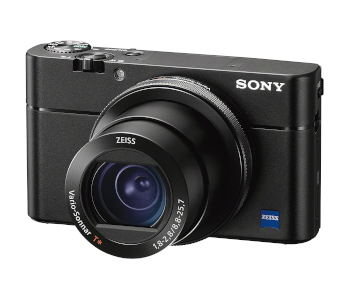 View on Amazon
Editor's Rating: 4.2/5
Do you want a filmmaking camera that fits inside your pocket yet produces videos as stunning as the competition's? Sony's RX100 VA blends a small form factor with a 1-inch sensor and excellent zoom lens for high-quality video clips when you're on the move. The camera has quick autofocus, can slow down footage to an absurd degree, and records crystal-clear footage across different focal lengths and f-stops.
Overview of Features
The RX100 VA is an updated version of the fifth camera in Sony's RX100 line. Its all-metal black body fits in all but the tightest jeans pockets as the lens retracts when not in use. There's no handgrip due to the small size, but the controls are laid out well and let you adjust most of the camera's properties without being too crowded. We especially like the lens ring, which you can set to change the focus distance, exposure, and aperture, among others.
The 3-inch LCD is of particular note due to its quality and performance. Its 1,228k pixels vividly portray the scene in front of you, even when you're shooting in glaring sunlight. This is thanks to a specialized Sunny Weather mode and the strategic introduction of white pixels to make the image brighter. It taxes the battery, but you'll have much better control when framing scenes outdoors. The screen flips back 180 degrees as well.
You'll be able to film portraits, group, or establishing shots thanks to the VA's outstanding zoom lens. Its zoom factor is 2.5x, but the lens makes up for this by being exceptionally sharp. F values between 4 and 5.6 are the sweet spot for its 24-70mm equivalent focal range, but results remain consistently impressive even at the extreme aperture ends. Speaking of which, the max aperture ranges from f/1.8 to f/2.8 as the focal length increases, meaning that the camera performs well in low light.
The standard limit of 4K at 30fps applies to the VA as well, although you can also film at either 24 or 25fps. Slow-motion is another useful feature you'll love for nature or action scenes. The VA is capable of slowing videos down to a crawl in High Frame rate mode. It lets you record 1080p footage at a staggering 960fps, effectively slowing it down forty times if you maintain the 24p cinematic look.
What's Bad About It?
The RX100VA doesn't have a touchscreen, forcing you to lose time during setup with physical inputs. The HFR mode is a welcome addition, but it has its price. The camera processes images taken for it in real-time, meaning that a five-second video with max slowdown takes three and a half minutes to process. You can't use the camera at that time.
Tech Specs
Dimensions: 4 x 2.3 x 1.6 in.
Weight: 10.5 oz.
Sensor: 1-inch
ISO range: 125 – 12,800
Max still resolution: 20.1 MP
Max video resolution: 4K, 30fps
Battery life: 35 minutes
The Pros
Compact, pocket-friendly design
Excellent zoom lens
Bright and vibrant LCD
Can record exceptionally slow videos
The Cons
No touchscreen
Slow-motion video takes long to process, rendering the camera unusable during that time
5. Canon PowerShot G5 X Mark II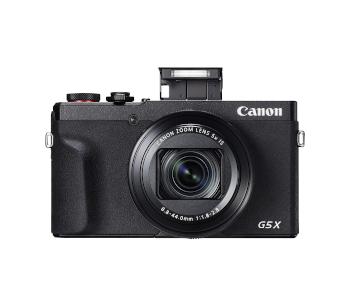 View on Amazon
Editor's Rating: 4.1/5
The G5 X Mark II comes to us three years after the original, bringing improvements to the zoom lens and flash. It's fast to acquire subjects, doesn't need high ISO for usable night scenes, and lets you record footage at a moment's notice while traveling light.
Overview of Features
Canon designed the G5 X Mark II to make the most use out of its small frame. The camera can be tucked away inside a travel bag or pocket, yet it has a protruding grip not seen on many compact models. Its controls are sparse but laid out smartly. The highlights include mode and EV comp dials stacked on top each other, a dual-function rotating lens ring, and a flat command dial on the back.
The original G5 X had a fixed EVF that made it look like a miniature DSLR. This has since been turned into a pop-up viewfinder you slide out and lock into place. It's detailed and has an overlay that displays useful data while not interfering with shot setup. The LCD is no less capable; it articulates for more comfortable use when shooting at an angle and can flip up like the a6400's.
The lens covers a 24-120mm equivalent focal length, meaning you can utilize it for anything from wide shots to extreme close-ups. It's a top performer no matter the lighting, thanks to a wide max aperture on the one hand and a neutral density filter on the other. It produces slightly less detailed results than the RX100 VA but makes up for this with rapid autofocus.
Videos were restricted to 30fps in 4K mode at launch, but a firmware update enabled 25fps support. Overall video quality is decent, with the caveat that leaving focusing up to the camera sometimes prioritizes backgrounds over faces. That being said, the Mark II utilizes the entire area of its sensor for detailed results and has respectable battery life for a compact camera.
What's Bad About It?
The Mark II lacks a headphone jack and built-in log profiles. It can still tell a compelling story, but you'll want to look elsewhere if you're after a camera that will give your movies that pro feel. Slow-motion is supported, but the resulting footage is soft and less detailed than we'd like.
Tech Specs
Dimensions: 4.4 x 2.4 x 1.8 in.
Weight: 12 oz.
Sensor: 1-inch
ISO range: 125 – 12,800
Max still resolution: 20.2 MP
Max video resolution: 4K, 30fps
Battery life: 55 minutes
The Pros
Great ergonomics and control layout in spite of size
Quality viewfinder
Versatile zoom lens
Long battery life
The Cons
No mic input or log profiles
Soft slow-motion videos
6. Best Budget Option – Olympus PEN E-PL9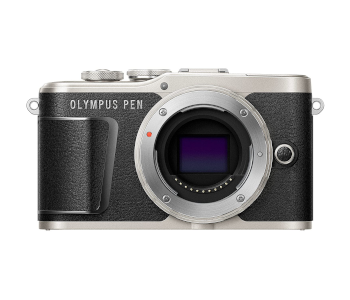 View on Amazon
Editor's Rating: 4/5
Our budget pick is ideal for filmmakers transitioning from smartphones and looking for their first real video camera. The Olympus PEN E-PL9 combines a user-friendly approach with a fun aesthetic and lightweight build. It will help get your feet wet and remain relevant once you've picked up on the basics thanks to a slew of enthusiast features.
Overview of Features
The E-PL9 is a snazzy little mirrorless camera you'll love to show off as much as to use. Its silver body is trimmed with a leather finish that gives extra purchase to your fingers and is available in multiple colors. The control scheme is simple, and most buttons are color-coded so that newbies can get their bearings faster. There's a prominent mode dial on top while the back of the camera has a prominent D-pad.
Starting to work with the E-PL9 is easy thanks to a straightforward guided mode and excellent companion app. You don't need to understand camera jargon to start making your first movie. All the settings are accessible through a series of sliders that affect the preview and give you an idea of the final result. There's also a helpful camera feature section in the app that explains what the E-PL9 can do. The app may be used as a remote shutter when you position the camera at inaccessible angles.
The touchscreen is another highlight that'll make the transition from a smartphone easier. It behaves like one in terms of responsiveness and input, albeit with smaller icons that require practice to tap without affecting their neighbors. It flips to the front for vlog-style movies. The E-PL9 doesn't have a viewfinder, not surprising, given their rarity at this price point. There is a strobe flash, but it's weak and not very useful for film.
The video quality keeps up with pricier rivals, as evidenced by the E-PL9's 4K support and built-in image stabilization. Autofocus is quick to react and on point, too, even though it uses an older style of contrast detection to acquire targets. You can enhance your movies even before the editing stage by adding an assortment of filters and effects. The filters are more varied than the standard tacky selection you get with most entry-level cameras. They're also customizable, letting you accentuate any scene in subtle ways.
Are There Drawbacks?
The E-PL9's screen flips downwards when in vlogging mode. Most other screens either go up or extend to the side so they don't get in the way. You'll get the most use out of the screen when shooting without a tripod. The built-in image stabilization applies only to three axes instead of the usual five. It reduces camera shake but isn't as effective as more advanced systems.
Tech Specs
Dimensions: 4.6 x 2.7 x 1.5 in.
Weight: 16.7 oz.
Sensor: 4/3
ISO range: 200 – 25,600
Max still resolution: 16.1 MP
Max video resolution: 4K, 30fps
Battery life: 80 minutes
The Pros
A fine camera for novice filmmakers
Quick autofocus
Responsive touchscreen
Lots of filters and movie effects
The Cons
Screen flips out downwards, making using a tripod complicated
Image stabilization is only 3-axis