6 Best Budget Flashes for Nikon in 2020
3D Insider is ad supported and earns money from clicks, commissions from sales, and other ways.
A flash is an indispensable tool when you want to take pictures in poorly-lit spaces, but ones that come as part of your camera are limiting. They're small, fixed in place, and have only a handful of settings that might not suit the situation. There's a reason the best cameras lack internal flashes – they just can't cut it at the pro level.
That doesn't mean you have to spend as much on a flashgun as you did on your last quality lens, as even affordable moments increase your options considerably. Whether mounted on the camera or triggered remotely, external flashes let you control the direction and intensity of light entering your scene. Positioning them properly leads to redeye reduction and lets you take creative photos from previously inaccessible angles.
You'll find the best budget flash for Nikon cameras among our six distinguished picks. We've included models by ikon and third-party manufacturers whose prices range from appealing to downright unbelievable without skimping on quality or features. Discover which one is right for your needs and stop letting darkness rob you of award-winning images.
Budget
Neewer 750II TTL Flash Speedlite
4.0/5.0
Coverage: 14 to 105 mm
Guide distance: 190.3′
Great heat dissipation and high guide number.
Check Amazon
Best Value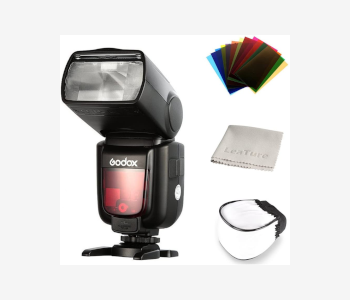 Godox Thinklite TTL TT685N
4.4/5.0
Coverage: 20 to 200 mm
Guide distance: 196.9′
Supports TTL and full manual control.
Check Amazon
Top Pick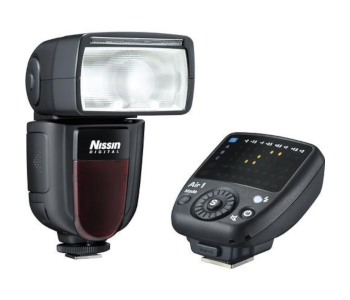 Nissin Di700A
4.6/5.0
Coverage: 24 to 200 mm
Guide distance: 177.2′
Supports TTL metering and great build quality.
Check B&H
Budget Flashes for Nikon Comparison Table
1. Best Overall – Nissin Di700A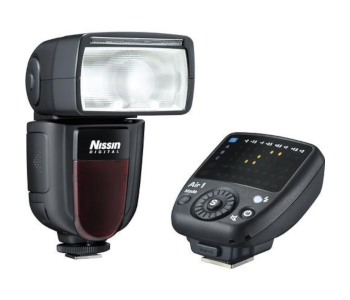 View on B&H
Editor's Rating: 4.6/5
Nikon shooters were at a disadvantage for a long time as the company's flashes didn't support wireless connectivity. Nissin's Di700A flash and Air 1 Commander unit remedy this, allowing you to control more than a dozen flashguns in three groups to create perfectly synchronized lighting. The flash itself performs well, is built to last, and is easy to use. Moreover, you only have to get the commander unit once, so subsequent flashguns are cheaper.
Overview of Features
The Di700A is a standard-sized flash for Nikon cameras whose appearance and capabilities mimic many of the company's proprietary models. It's made from quality plastic and looks like it could survive a fall, although we'd advise against testing this. It rotates 180 degrees left or right, and the swivel head tilts 7 degrees downward or 90 degrees upward. A reflector and diffuser panel slide up from the top.
You'll find an LED screen along with minimal physical controls in the back. They're used to turn the Di700A on, test the flash, and toggle between various modes. TTL metering is supported, which another plus is given the flash's attractive price. You can shoot in first or second curtain modes as well as slave digital & film. Slave digital causes the Di700A to ignore pre-flashes completely, while slave film makes it sensitive to strobes and other external light sources.
The A1 Commander unit is the best thing about this setup. It's a small transmitter you can mount on a tripod hotshoe and used to direct groups of flashes. It works through radio waves and is more reliable than systems which depend on line of sight. You may also use the unit to adjust exposure compensation. It has an effective range of 100 feet regardless of obstacles.
The Di700A has a guide number of 177 feet at ISO 100 and a respectable focal range of 24-200mm. It can fire 30 times before needing to cool down. Still, you'll want to let it do so earlier as pushing its limits will cause the Di700A to become inoperable for 15 minutes. The commander takes two AAA batteries while the Di700A runs on four AAs. You place them in a cartridge that speeds up insertion, so it's recommended that you get a spare for easy swaps.
What We Didn't Like
The Di700A has an old-fashioned fastening system that uses a metal disk to secure it to your camera. Its LED screen is informative but hard to see in bright light.
Tech Specs
Dimensions: 5.5 x 3 x 4.5″
Weight: 13.4 oz
Coverage: 24 to 200 mm
Guide distance: 177.2′
Flash duration: 1/800 to 1/30,000 second
Recycle time: 0.1 to 4 seconds
Power range: 1/1 to 1/128
Pros
Adds wireless flash control over radio to Nikon cameras
Straightforward interface
Supports TTL metering
Great build quality
Cons
Screen is hard to make out in bright light
Old-fashioned fastening system
2. Best Value – Godox Thinklite TTL TT685N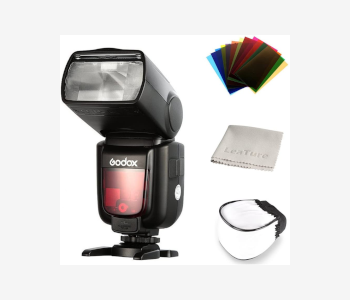 View on Amazon
Editor's Rating: 4.4/5
Godox is a third-party manufacturer that became popular during the last decade for putting out affordable flashes that rival originals in everything but price. The Thinklite TTL TT685N offers exceptional performance either in TTL or full manual modes. It's effortless to control wirelessly through 2.4GHZ radio and gets the most out of each battery pack.
Overview of Features
The Thinklite TTL TT685N rivals Nikon originals when it comes to appearance and build quality. It has a full range of horizontal rotation but can feel stiff. You'll have to break it in to execute the motion more smoothly. Like Di700A, it can tilt downward slightly and has convenient light catcher & diffuser panels that extend from a compartment in the top. They're useful for when you want to bounce light off of the ceiling or introduce softer illumination.
There's a comprehensive set of controls in the back supported by an LED screen that lights up for easier use in the dark. You can switch operation and flash modes, test the flash, or set the Thinklite TTL TT685N up as part of a more complex lighting array. Each control is easy to reach, and the menu dial is shaped so that you always know which setting is currently active.
The Thinklite TTL TT685N boasts impressive settings for a flash at this price. It has a large guide number, almost 200feet at ISO 100. Combined with a wide zoom range, this lets you keep your distance from subjects and still get bright, evenly-lit images. It takes four AA batteries and is able to fire 240 times before depleting them. Recycle times aren't world-class, but they aren't bad either.
Are There Drawbacks?
The Thinklite TTL TT685N's controls are comprehensive but unintuitive. For example, you'll have to press a button marked with the flash symbol to set the device to either on-camera, master, or slave mode. Only then can you hut the mode button to bring up options specific for its current setting. It also tends to overexpose shots, so you'll have to reduce EV comp by a stop on your camera to balance it out.
Tech Specs
Dimensions: 2.5 x 3 x 7.5"
Weight: 14.5 oz
Coverage: 20 to 200 mm
Guide distance: 196.9′
Flash duration: 1/300 to 1/20,000 second
Recycle time: 0.1 to 2.6 seconds
Power range: 1/1 to 1/128
Pros
Excellent value for the money
Powerful and reliable for a budget flash
Works remotely without a hitch
Supports TTL and full manual control
Cons
Controls aren't intuitive
Has a tendency to overexpose images
3. Nissin i40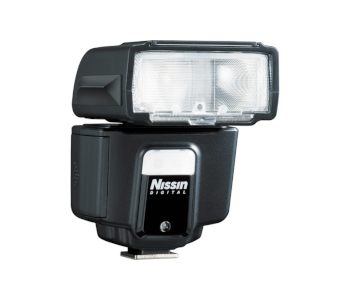 View on B&H
Editor's Rating: 4.5/5
Do you have a mirrorless Nikon camera or a small DSLR from the D3xxx or D5xxx that could use a compact flash? In that case, Nissin's i40 is a sound choice. It's portable, has video lights, and sports a larger guide number than more expensive original units. Setting it up wirelessly is easy, and the flash supports a variety of modes for maximum flexibility.
Overview of Features
The i40 is among the smallest flashes on review and ideal for travel. However, it's not the lightest when powered as four AA batteries contribute to its weight. The unit is made of two distinct halves, but there's no need to worry about its robustness as they're held together by a metal insert. Rotation is complete & smooth, while you can tilt the head up 90 degrees in five increments.
Nissin is generous with the i40's accessories. The flash contains a light catcher and diffuser, but you also get a softbox to soften its light output further. You also get a stand that lets you place the i40on flat surfaces, and a traveling pouch. You'll have to pace the head in a horizontal position before storage, or else it won't fit.
The i40 has one of the simplest control interfaces on our list. There are only two buttons, one that turns it on or off, and another that quickly releases the flashgun from the hotshoe mount. You change modes with one dial and adjust the flash's brightness with the other when in manual mode. A multi-colored LED next to the on/off button informs you of the i40's status and current zoom level.
The flashgun performs admirably in the field. It matches your lens's TTL output precisely, although the light is stronger than some photographers prefer at close distances. You can easily compensate for this by lowering exposure or stepping away. The unit supports several remote modes, has both slave digital & film, and even has LEDs in the front for use during video shoots.
What We Didn't Like
The i40 performs well on its own but has trouble when used in slave mode. It needs to be close to other flashes and might not always fire on cue. It has solid overheating protection, but cycle times start to get slow after you've shot more than a dozen images.
Tech Specs
Dimensions: 3.3 x 2.4 x 3.3"
Weight: 7.2 oz
Coverage: 24 to 105 mm
Guide distance: 131.2′
Flash duration: 1/800 to 1/20,000 second
Recycle time: 0.1 to 4 seconds
Power range: 1/1 to 1/256
Pros
Compact form factor without compromising build quality
Comes with lots of useful accessories
Straightforward controls
Great overall performance
Cons
Recycle times slow down with use
Unreliable in slave mode
4. Nikon SB-500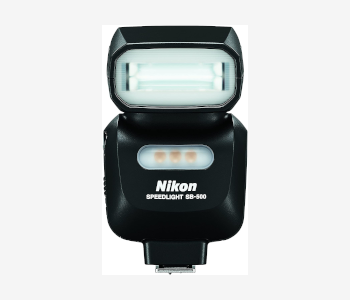 View on Amazon
Editor's Rating: 4.3/5
Nikon's proprietary flashes are excellent, but most of them are also pretty expensive. That leaves you with two options. The SB300 is a tiny and unimpressive flash you can use for amateur indoor photograph, but the SB 50 is where versatility and affordability meet to create an attractive model for novices and pros alike. It has LED lights, can control more expensive flashes, and is ready to go in seconds.
Overview of Features
The first thing you'll notice about the SB-500 is its compact size. The flash is small and light, ensuring that you can take it along to any indoor shoot without having to think about logistics. Lesser flashguns might only have 270 degrees of horizontal rotation, but the SB-500 rotates in a full circle. It can't tilt downward, only up 90 degrees.
The SB-500 is Nikon's first Speedlight to feature a set of LEDs. You activate them with a switch on the control panel in the back and choose between three brightness settings. The brightest you can get them is 100 lumens, so don't expect the LEDs to outshine even moderately bright ambient lighting. On the other hand, they're perfect as a fill light that reduces contrast harshness when shooting with other flashes.
A guide number of 78 feet means that the SB-500 is suitable for indoor photography. Group photos are its strong suit due to the fixed 24mm coverage, but you can always use snoots to simulate zooming in if no other models are present. The SB-500 supports first and second curtain modes as well as TTL. It can act as either a commander or slave, which comes in handy when the camera is in a tricky position. You can more easily trigger the SB-500 instead.
What's Bad About It?
The SB-500 doesn't have a manual mode, not a real one anyway. Attaching it to your Nikon camera will activate a menu that lets you adjust its brightness manually. The changes revert to TTL once you remove the SB-500, so it can't be used in manual mode when it's standalone. The flash also has long recycle times. It takes either two AA or Nimh rechargeable batteries. We recommend the latter as they cut the recycling time by 0.5 seconds and add 30-40 shots per pair. Still, a minimum of 3.5 seconds is a long time to wait.
Tech Specs
Dimensions: 2.6 x 4.5 x 2.8″
Weight: 8 oz
Coverage: 24 mm
Guide distance: 78.7′
Flash duration: 1/1,100 second
Recycle time: 3.5 to 4 seconds
Power range: 1/1 to 1/128
Pros
Built-in LEDs increase versatility and let the SB-500 act as a fill light
May be used as commander or slave in multi-light setups
Great for indoor shoots
Lightweight and portable
Cons
Long recycling times
No true manual mode
5. Yongnuo YN-565EX N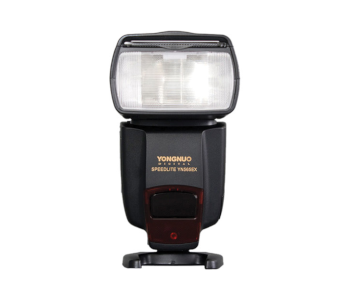 View on B&H
Editor's Rating: 4.2/5
Yongnuo is a Chinese manufacturer famous for bringing high-end features to reasonably priced proprietary flash alternatives. The YN-565EX N is an excellent example as it has features like TTL and PCs sync capabilities you'd only find on more expensive models. It's built well, has a reasonably high guide number, and a comprehensive set of controls.
Overview of Features
The YN-565EX N looks suspiciously like some of Canon's high-end flashes, as evidenced by its button placement, menus, and overall appearance. It slides smoothly onto Nikon camera hotshoe mounts and can be set to precise angles thanks to guiding markers. Unlike the models from Nissin and Godox, it's limited to 270 degrees of movement as the head rotates 180 degrees to one side and 90 to another.
Controlling the YN-565EX N takes some getting used to, but once you get the hang of it, there's a lot on offer. For example, you can turn on audible notifications that beep when cycling is complete. This is useful when you aren't in a position to glance down at the backlit LCD and want to fire another shot as soon as the flash is ready. There's a smattering of standard and advanced modes to choose from. Setting individual options is straightforward, thanks to a D-pad.
Engaging the YN-565EX N's mount syncs it to your camera automatically. Any changes in shutter speed or zoom you make on the camera are reflected on the flash's screen when in TTL mode. The flash emits a neutral white color and works well for short to medium distances. It's an excellent choice for wedding photography since you can use it in churches as well as reception venues if you mute the audio.
What's Bad About It?
The YN-565EX N's TTL performance is inconsistent. You might get different results as the night progresses even though nothing about the lighting has changed. Switching to manual fixes the issue but can be annoying. You'll want to carry spare batteries as the YN-565EX N starts running low after a few hours of intense shooting.
Tech Specs
Dimensions: 2.4 x 7.5 x 3.1″
Weight: 13,4 oz
Coverage: 24 to 105 mm
Guide distance: 129.3′
Flash duration: 1/200 to 1/20,000 second
Recycle time: 3 seconds
Power range: 1/1 to 1/128
Pros
Comprehensive controls
Straightforward mounting & pairing in slave mode
Bright info screen
Precise angle adjustment
Cons
TTL performance is hit & miss
Inefficient battery use
6. Best Budget Option – Neewer 750II TTL Flash Speedlite
View on Amazon
Editor's Rating: 4/5
Camera flash costs can soar into four-digit territory, but the 750II TTL Flash Speedlite from Neewer is proof that you can get a competent one for as little as $50. It might lack some of the bells & whistles seen on other models. Still, this flashgun syncs reliably with various Nikon cameras, has simple controls, and dissipates heat more efficiently than pricier alternatives.
Overview of Features
There's no denying that the 750II TTL Flash Speedlite was made on a strict budget, as evidenced by its plastic body and distinct low-quality feel when operating the buttons. Try not to drop or ding it as that will probably spell its end. On the other hand, the flash has a metal hotshoe mount that won't warp or bend even after years of use.
You can get up to 300 shots per four AA batteries, depending on their manufacturer. Most companies design their flashes with the batteries arranged in sets of two. The 750II TTL Flash Speedlite's compartment positions them in a line, minimizing contact and preventing heat buildup. This lets you shoot more and longer – perfect for weddings and other lengthy events.
The 750II TTL Flash Speedlite has a guide distance of 190 feet, impressive for a flash in its price range. It even beats out Nikon's own SB-500 since it accommodates to a lens's current zoom distance. A minimum of 14mm is enough to encompass large rooms. You can even lower it by using a softbox if you get the slightly more expensive deluxe version.
There's little to complain about when it comes to the 750II TTL Flash Speedlite's performance. Its TTL is on point, while adjusting manual settings isn't tedious due to the directional pad. Strobe mode is supported, as is slaving the unit to your camera's onboard flash.
Are There Drawbacks?
The 750II TTL Flash Speedlite lacks many features seen on pricier rivals. It can't connect to other units manually and doesn't have High-Speed Sync. This is another flashgun with slow recycling times. It's slightly better than the SB-500 at three seconds, but that's still long.
Tech Specs
Dimensions: 3 x 7.9 x 2.2″
Weight: 12 oz
Coverage: 14 to 105 mm
Guide distance: 190.3′
Flash duration: 1/200 to 1/20,000 second
Recycle time: 4 seconds
Power range: 1/1 to 1/128
Pros
A capable flash at an amazing price
TTL works flawlessly
Great heat dissipation
High guide number
Cons
Lacks advanced features seen in more expensive models
Long recycling time