6 Best Budget PC Case Picks for 2020
3D Insider is ad supported and earns money from clicks, commissions from sales, and other ways.
A PC case isn't a component you should take lightly and go with the cheapest option without thinking. At the same time, many models cost an arm and a leg while offering no advantages other than outlandish designs or excessive use of RGB. The good news is that there are affordable cases out there that don't compromise on interior space, cooling, thermals, or cable management.
Our overview of the six best budget PC case picks is here to help you spend less money without getting a lemon. All cases on review represent fantastic value and cater to PC builders of all skill levels and needs. Please familiarize yourself with their specs, pick the one you like, and lay the groundwork for your next amazing machine.
Budget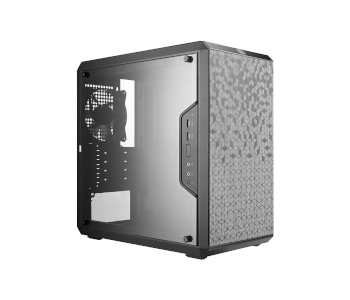 Cooler Master MasterBox Q300L
4.3/5.0
Type: Mini tower
Expansion slots: 4
Supports large GPUs and lots of fans.
Check Amazon
Best Value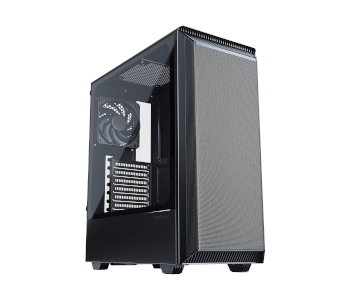 Phanteks Eclipse P300A
4.4/5.0
Type: Mid tower
Expansion slots: 7
Components are easy to install.
Check Amazon
Top Pick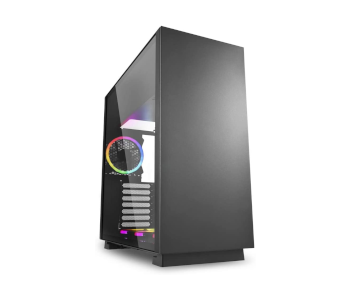 Sharkoon Pure Steel
4.6/5.0
Type: Mid tower
Expansion slots: 7
This has room for six disk drives.
Check Amazon
Budget PC Case Comparison Table
1. Best Overall – Sharkoon Pure Steel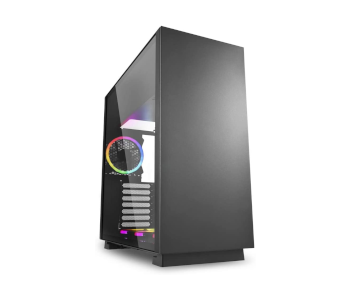 View on Amazon
Editor's Rating: 4.6/5
Sharkoon's Pure Steel has everything you could want from a mainstream case at a price that looks too good to be true. There's not an inch of plastic anywhere, you get a glass panel & plenty of RGB fans, and the case is a quiet performer. Its layout isn't traditional but allows for diverse upgrade paths, including support for sizeable water cooling solutions.
Overview of Features
The Pure Steel's name is no marketing gimmick, as everything except the tempered glass of its left side is made from sheets of quality steel. The front is completely closed off, and there are supports for fans and dust filters on the inside, suggesting this is a rework from another case design. The I/O panel on top is functional and features two USB 3.0 ports. A large dust filter runs along the bottom and is easy to remove.
The glass side panel has a slight grey tint and has thin bezels to show off your rig's guts better. It's secured to the side with brackets and easy to remove. The opposite panel is solid, except for a unique hexagonal mesh design that provides space for air intake if you wish to mount sideways fans next to it. The Pure Steel's backside has seven expansion slots and would look traditional were it not for the top opening for the PSU.
Opening the Pure Steel up reveals an unusual interior layout. Three RGB fans line its bottom and blow cool air up onto other components. There's a metal mount above them that supports longer graphics cards. Next to that is the motherboard mounting area, complete with grommeted cable holes. You'll find the PSU shroud above it, complete with two routing holes and a larger one that allows fresh air to reach the power supply.
There's room for six drive bays in total, two inside the shroud, and four more behind the motherboard. That's where you'll also find plenty of space for cable management along with zip ties and routing channels that will make any build look clean.
What We Didn't Like
The Pure Steel's stock setup is exceptionally quiet but tends to get hot under load. Upgrading it with more fans or putting some water-cooling inside its front part will yield better results. The RGB fans use old Molex connectors for power delivery, an obsolete piece of tech we don't like to see on a case in 2020.
Tech Specs
Dimensions: 18.7 x 8.3 x 18.7"
Weight: 17.6 lbs
Type: Mid tower
Supported motherboards: ITX, Micro-ATX, ATX
Expansion slots: 7
Front connections: 2x USB 3.0, 3.5 mm audio & mic
Max. CPU cooler height: 6.3"
Max. GPU length: 16.5"
Internal bays: 4x 3.5" 2x 2.5"
Installed fans: 1x 120 mm rear, 3x 120mm bottom
Pros
Built from quality materials despite its low price
Unusual but effective interior layout
Excellent cable routing
Has room for six disk drives
Cons
Could have better thermals when paired with demanding hardware
Fans have Molex connectors
2. Best Value – Phanteks Eclipse P300A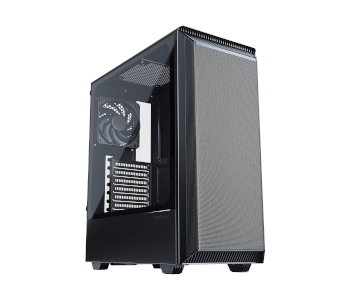 View on Amazon
Editor's Rating: 4.4/5
Do you need an affordable case with great airflow out of the box that only gets better if you invest in it later? In that case, the Eclipse P300A from Phanteks is an excellent solution. It's a barebones model ideal for the budding PC builder since it's engineered for straightforward component installation. You even get a tempered glass panel, which is a steal at this asking price.
Overview of Features
You'll love the Eclipse P300A if you prefer clean, unobtrusive designs over gaudy cases littered with RGB everything. The tempered glass panel offers the only break in its otherwise solid geometry. It's slightly tinted and equipped with a sliding mechanism that makes it flush with the case's side and aesthetically appealing. Nothing stands out about the other side panel, except the thumbscrews you'll use to remove it quickly.
The case's top has a filter in the middle under which you can mount a fan or 140mm radiator with no room to spare. Next to it is a standard I/O with two USB 3.0 connections and separate mic & audio jacks. Turning the Eclipse P300A on causes a white strip near the glass panel to light up, adding a hint of class to the overall look. The front panel is a thin mesh design that provides excellent airflow and works well with the bottom filter.
Everything inside the Eclipse P300A is engineered for ease of installation. Pre-installed standoffs speed up motherboard mounting, and most PSUs will slide inside the shroud without a hitch. This is an excellent case for users who frequently switch drives as the two 3.5" bays are toolless. You also get a single bracket for 2.5" SSDs but can buy another one separately for a total of four drives. There's not much space behind the motherboard, but Velcro straps and a deep gutter offer ample room for cables.
What's Bad About it?
The Eclipse P300A comes with a single 120mm fan. While the fan does a remarkable job of keeping thermals stable, it won't be able to handle the heat buildup from high-end components by itself. Phanteks skimped on the screws you get with the case. They're screwed in tight and hard to remove, so you might want to get replacements.
Tech Specs
Dimensions: 17.7 x 7.9 x 15.8"
Weight: 13.2 lbs
Type: Mid tower
Supported motherboards: ITX, Micro-ATX, ATX
Expansion slots: 7
Front connections: 2x USB 3.0, 3.5 mm audio & mic
Max. CPU cooler height: 6.5"
Max. GPU length: 14"
Internal bays: 2x 3.5" 1x 2.5"
Installed fans: 1x 120 mm rear
Pros
Excellent value for the money
Great airflow, especially if you add more fans
Components are easy to install
Has tempered glass panel
Cons
Comes with only one fan
Low-quality screws
3. NZXT H510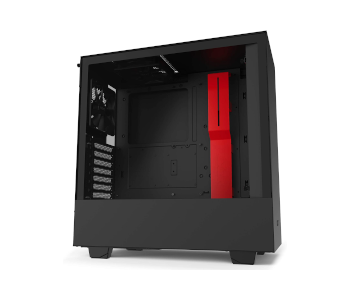 View on Amazon
Editor's Rating: 4.5/5
The H500 was one of the most popular affordable mid towers of its day, and NZXT's refresh makes the core concepts behind it highly relevant again. The new case brings support for USB-C and is designed to accommodate extensive water cooling setups. It also has the iconic cable bar and plenty of room for long graphics cards and power supplies.
Overview of Features
There's little outward difference between the H510 and its predecessor. You'll encounter the same angular design and timeless charm. We especially like the tempered glass panel design as it's easy to remove and blends in naturally with the CPU shroud. This makes for a smaller glass area but boosts the case's look while still allowing guests to take a peek inside.
The back panel is unremarkable but has a removable bracket that lets you mount a GPU vertically. The front panel is a nondescript metal slab, while the right-side panel has a vent strip for the front fans' air intake. Speaking of which, you get a 120mm Aer fan each for the front and rear and can place 140mm models or one more 120mm fan in the front and top. The H510 is also very AIO-friendly as it has room for a 280mm radiator in the front and offers three mounting locations for the reservoir.
You'll find one of those mounting spots on one of the H510's best features – the cable bar. It's a dedicated space to the motherboard's right that shields cables from view and makes managing them a breeze. You can also remove it if the interior starts to feel cramped. Cable handling is further made easier by several brackets in the back and an abundance of supplied Velcro straps.
The PSU shroud is spacious and holds power supplies of all sizes along with several HDD bays. You can reposition these to make more room for GPU cables or remove them altogether if you need more room for a radiator. Two more SSDs fit behind the motherboard.
Are There Drawbacks?
The H510 has solid cooling and acoustics. However, consider installing a top fan instead of adding more to the front if you need better cooling as the solid front panel and narrow side vent don't provide enough air. The hard drive brackets are secured with screws. Installing or swapping them is a hassle since you have to remove the PSU to loosen the screws.
Tech Specs
Dimensions: 18.1 x 8.3 x 16.9"
Weight: 14.6 lbs
Type: Mid tower
Supported motherboards: Mini-ITX, Micro-ATX, ATX
Expansion slots: 7+2
Front connections: 1x USB 3.1, 1x USB Type-C3.5 mm headphone jack
Max. CPU cooler height: 6.5"
Max. GPU length: 15"
Internal bays: 3x 3.5" 3x 2.5"
Installed fans: 1x 120 mm front and rear
Pros
Excellent cable management thanks to cable bar
Simple yet appealing design
I/O has a USB-C port
Plenty of room for water cooling
Cons
Poor air intake
installing HDDs requires PSU removal
4. Montech Air 900 Mesh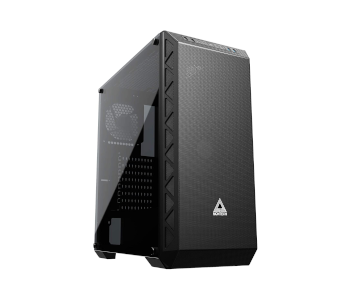 View on Amazon
Editor's Rating: 4.4/5
Montech isn't as well-known as other brand names mentioned in the review, but their Air 900 series is every bit as good. We've chosen to review the Mesh variety as it's the cheapest. RGB is the only missing element, while the front mesh improves its airflow compared to more expensive versions. It's a no-frills case that ticks all the right boxes and is sure to please even demanding builders.
Overview of Features
The Air 900 Mesh takes inspiration from be quiet! as it looks suspiciously like one of their Pro Base models. The mesh in its name refers to the breezy front panel and is held in place with magnets. It hides a 120mm fan and room for two more. You'll find a similar if smaller mesh on top, covering space for two additional 140mm fans or a 280mm radiator. Lastly, there's a mesh underneath the PSU shroud that runs the case's length and can easily be removed for cleaning.
The tempered glass panel is secured by four thumb screws, as is the plain one on the opposite side. Both panels are easy to slide out once the screws are removed. The Air 900 Mesh is available in black and white, but we recommend the black version since the white one lets you see the unappealing steel frame finish more.
The Air 900 Mesh is a great fit for people with lots of drive space requirements as it accommodates six 2.5-inch drives and two 3.5-inch HDDs. The latter are housed in a sliceable caddy in the case's bottom front and are straightforward to install by squeezing the caddy and letting it bounce back. They're next to the PSU, which doesn't come under length restrictions and is secured by four screws. The shroud presents another cooling expansion opportunity as two more fans can be mounted on top of it.
The Air 900 Mesh is a clean case. There's enough room in the back to tuck cables away, and grommeted holes close to the motherboard further help with routing. You also have plenty of options for putting up pumps and radiators if you're into water cooling. Even if you aren't, this is one of the quietest cases we've tested.
What's Bad About It?
There's a price to pay for the Air 900 Mesh's silent performance – poor thermals. It's great that the case offers diverse cooling expansion opportunities as stock isn't going to cut it. The dust filters are made from a thin metal mesh that's prone to bending under pressure. Handle them delicately to avoid warping.
Tech Specs
Dimensions: 18.9 x 8.4 x 16.9"
Weight: 14.6 lbs
Supported motherboards: Micro-ITX – E-ATX
Expansion slots: 8
Front connections: 2x USB 2.0, 2x USB 3.0, 3.5 mm audio & mic
Max. CPU cooler height: 6.5"
Max. GPU length: 14.6"
Internal bays: 2x 3.5", 6x 2.5"
Installed fans: 1x 120mm front and rear
Pros
Abundance of filters for dust protection
Has room for eight disk drives
lots of air cooling and AIO expansion points
Grommeted cable routing holes
Cons
Applying pressure to mesh covers may cause them to bend
Inefficient cooling
5. Corsair 110R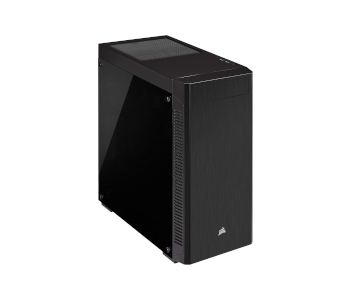 View on Amazon
Editor's Rating: 4.3/5
Corsair's 110R was released last year and has gained a reputation as a dependable choice for PC builders on a budget. It's compact as ATX cases go, offers excellent ventilation, and minimizes dust buildup thanks to an abundance of filters. It might be a tight foot for advanced builds, but budget gamers or office users will love it.
Overview of Features
The 110R is another minimalist case without wacky design implementations. Prominent chamfers that house the front air vents and a heavily tinted tempered glass panel were the farthest Corsair's designers were willing to go. The I/O panel is unimpressive, offering two USB 3.0 ports and a combined headphone jack.
This case is all about airflow and dust protection. One large dust filter protects the inside of the front panel, while two smaller ones cover a fan vent on top and the bottom's front half, respectively. You may install two 140mm fans in the front and one on top. Radiators are supported as well, and you can squeeze in a 360mm model in the front if you remove the HDD caddy.
The interior looks standard but constrained as an ATX board will fit with a fraction of an inch to spare. Surprisingly, Corsair has included a bracket for an optical disk drive. You can remove this but won't get much functional space as it's placed at the very top. The PSU shroud protects the HDD caddies, and there's room for two SSDs behind the motherboard. Power supplies need to be 7.8 inches or less in length to fit, and they get enough air since the shroud's top is perforated.
The 110R excels at keeping your components cool, noiselessly. None of its panels have dedicated sound dampening inserts, but the case sits in the mid-30s decibel range when idle and doesn't get much louder once you load up some demanding applications or games.
What We Didn't Like
The 110R is a cramped case. You'll have to make compromises like getting rid of the caddies or not installing top radiators, which limits you to more basic builds. There's little space for cable management as well. Even though there are enough cutouts and grommets to route them smoothly, cables can still tangle or get in the way as there's only 0.6 inches of room in the back.
Tech Specs
Dimensions: 18.9 x 8.3 x 16.5"
Weight: 13.2 lbs
Type: Mid tower
Supported motherboards: Mini-ITX, Micro-ATX, ATX
Expansion slots: 7
Front connections: 2x USB 3.1, 3.5 mm headphone
Max. CPU cooler height: 7.1"
Max. GPU length: 13"
Internal bays: 2x 3.5" 2x 2.5", 1×5.25"
Installed fans: 1x 120 mm rear
Pros
Excellent thermals and acoustics
Great dust protection
Perforated PSU shroud
Understated design
Cons
Cramped space discourages elaborate builds and large cooling solutions
Mediocre cable management
6. Best Budget Option – Cooler Master MasterBox Q300L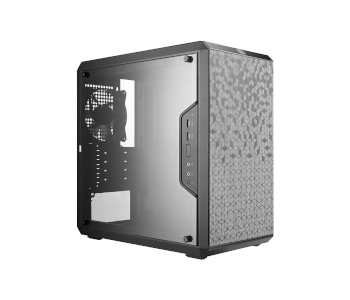 View on Amazon
Editor's Rating: 4.3/5
Is your space as limited as your budget, but you still want a decent case? Cooler Master's MasterBox Q300L is a compact and elegant answer. It fits comfortably on your desk, offers good airflow while keeping the internals free from dust, and doesn't skimp on room for cables. Not many corners were cut during assembly either, which makes this case one of the most priceworthy on the market.
Overview of Features
The MasterBox Q300L is one of the best-designed cases on our list. It combines chamfered edges with sturdy feet, a transparent acrylic window, and a fun geometric pattern that spans its front and top panels. The illusory 3D cubes in its mesh keep dust at bay and are secured to the case with magnets. You can peel them off and clean them without a hassle.
Both side meshes are kept in place with pronounced thumb screws. These can act as temporary feet and are a great help for placing the MasterBox Q300L on its side. The acrylic side is home to a unique I/O panel you can position either close to the front or the bottom. While this is more of a novelty than a must-have feature, it does help shorten cable requirements by a few precious inches.
The case's interior is cozy and engineered for maximum space utilization. For example, there's a 3.5-inch drive bay in the back instead of close to the power supply. This comes with the fortunate side effect of more space between the right panel and the motherboard, meaning you'll have more room for cables. Two more 2.5-inch drives fit next to the front fans.
The MasterBox Q300L might be small, but it can take 14" GPUs and not obstruct the airflow. It can house two of them thanks to four expansion slots. A supplied 120mm fan handles cooling in the rear. You can improve it by adding two more 120mm models on top and in the front. Liquid cooling is possible but more limited since there's only room for radiators underneath the 2.5-inch drive mounts. Still, you can put a respectable 280mm model into that space.
Are There Drawbacks?
One-time expansion slot covers are the most apparent cost-saving measure used on the MasterBox Q300L. This isn't a problem on its own, but the covers leave behind sharp edges that might scratch or damage your motherboard and GPU during installation. There are only three spots where you can mount a disk drive, so this case isn't a good fit for people with demanding storage needs.
Tech Specs
Dimensions: 15.2 x 9.1 x 15"
Weight: 8.2 lbs
Type: Mini tower
Supported motherboards: Mini ITX, micro ATX
Expansion slots: 4
Front connections: 2x USB 3.0, 3.5 mm audio & mic
Max. CPU cooler height: 6.2"
Max. GPU length: 14.2"
Internal bays: 1x 3.5", 2x 2.5"
Installed fans: 1x 120mm rear
Pros
A beautiful and functional case at a bargain price
Supports large GPUs and lots of fans
Magnetic meshes protect the internals from dust
Enough room for comfortable cable management in the back
Cons
Expansion slot covers leave sharp edges when removed
Limited drive space