6 Drone Remote Controllers with Built-in Screens
3D Insider is ad supported and earns money from clicks and other ways.
A drone with a dedicated remote controller is always more awesome. There's something about the feel of analog sticks and physical buttons that really makes you feel like you're in better control of your drone. Maybe it's the tactile feedback, or maybe it's the sensation of flying a drone like you're playing on your favorite game controller. In any case, a good remote controller is often an under-appreciated accessory of high-quality drones.
There's a way for a good remote controller to get even better: a built-in screen. What's the point of having a built-in screen in a remote controller, and why does it seem to be the trend lately? What are the best drones that come with built-in screen controllers?
Why is a built-in screen good?
There's usually a premium attached to remote controllers with built-in screens. Drone pilots who have used one probably know how much better it can make the whole experience of flying drones.
1. No need for a separate device
There are a lot of downsides to having to use your phone or tablet with a remote controller. It means having to charge an additional device whenever you go out for a flight. Using your phone to act as a HUD during drone flight also tends to drain its battery pretty quickly. This could be bad news when you end up with a dead phone in the middle of nowhere. There's also the fact that not all mobile devices can interface with a drone remote controller. If your old phone happens to have outdated specs, then that's too bad for you – you'll have to buy a new phone to fully enjoy flying your drone.
2. Better specifications
Integrating a screen into the remote controller means that the drone manufacturer is in better control of the hardware that goes into the screen. Third-party devices may be problematic, as they may not have the hardware capabilities to keep up with the demands of FPV flight. With a built-in screen, you can be sure that the screen will work as the manufacturer intended it to – at the proper resolution and size and with the appropriate anti-glare technology.
3. Seamless user experience
Setting up your gear for drone flight is complicated enough without having extra devices and cables for your remote controller setup. With a built-in screen, all you need to do is to power up the remote controller, confirm its pairing with your drone, and you're good to go.
4. Better signal transmission
This is one of the most palpable advantages of having a built-in screen on your remote controller. A phone or tablet typically uses a WiFi signal to connect with your drone and receive real-time footage for FPV flight. The problem with WiFi is that it's weak and gets progressively weaker as your drone flies away. Thus, you end up with a video feed that has high latency and a small transmission range.
A remote controller with a built-in screen uses the same radio communication frequency to communicate signals to the drone as well as to receive the live video feed and telemetry data. This means that your FPV video will be more responsive and reliable and will not drop out even if your drone is already flying a few miles away.
The best drones and remote controllers with built-in screens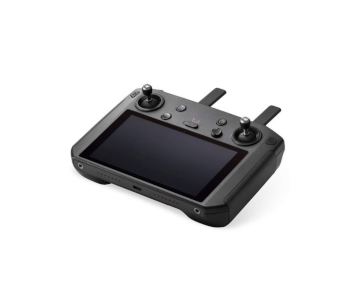 A very recent product from DJI is the Smart Controller, which was announced and released just earlier this year. The compact remote controller with a built-in screen was designed for compatibility with DJI's newest flagship drones, the Mavic 2 Pro and the Mavic 2 Zoom.
Being the most recent product in this list, the DJI Smart Controller also has some of the best features and specs. To start off, the 5.5-inch screen can display FPV video at 1080p resolution and at a very bright 1000 cd/m2. The extra brightness should solve the glare problem of using third-party devices, and the size and resolution can rival most high-end phones available today.
The Smart Controller uses an array of different communication protocols including WiFi and Bluetooth 4.2, but the standout feature is the upgraded OcuSync 2.0 video transmission technology. This protocol automatically switches between different radio frequencies to avoid interference and ensure communications with the drone up to a range of almost 5 miles. This is way more range than you're ever going to need, especially if you are flying within visual line-of-sight.
There are two glaring drawbacks to the DJI Smart Controller. The first is the fact all those features drain a lot of power, making it necessary for DJI to put in a large, 5000 mAh battery. The battery is non-removable and thus, non-interchangeable. Moreover, the battery only lasts two hours of continuous use and requires roughly the same time to fully charge from a depleted state. With this oversight, flying your drone for a whole afternoon seems impossible, unless you're willing to weather the inconvenience of attaching it to external power.
The second drawback is the price. At around $649, the DJI Smart Controller is even more expensive than a budget camera drone like the DJI Spark. You can even buy a refurbished DJI Mavic Pro at roughly the same price. The value of the product is there – were just not sure about its value for money.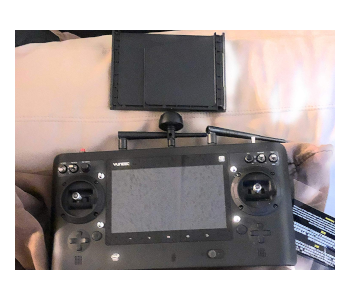 Although Yuneec is far from being able to unseat DJI from the top of the drone industry, the fact that it has managed to stay competitive for so long is a testament to the quality of its products. One of the best examples of this tenacity is the ST16 Ground Controller, a dedicated controller designed for their Typhoon H line of professional-grade camera drones.
The 720p 7-inch LCD screen is large enough to display a huge amount of telemetry data without getting too crowded. The Android-based app provides quick access to critical camera and flight functions such as autonomous camera modes, camera settings, and radio channel settings. The display of the LCD screen is fully customizable, allowing you to adjust video resolution and white balance. Coupled with camera adjustments such as shutter speed and ISO settings, you have the freedom of customizing the appearance of your FPV video just the way you want it.
A standout feature of the ST16 is Team Mode, which allows you and another pilot controller to use individual ST16 controllers to fly the drone while separately manipulating the CGO3+ camera. This is a nifty feature for professional drone photographers who want the peace of mind of being able to frame their shots by relegating drone flight duties to another person.
The ST16 Ground Station uses a 5.8 GHz WiFi connection to transmit real-time video. The use of WiFi limits the range of the ST16 to only 1 mile, which is a bit disappointing. The silver lining behind this cloud is that the ST16 only costs around $350 – much more affordable compared to the DJI Smart Controller. The ST16 Ground Station comes bundled with the Typhoon H Plus, which is itself an excellent professional-grade camera drone.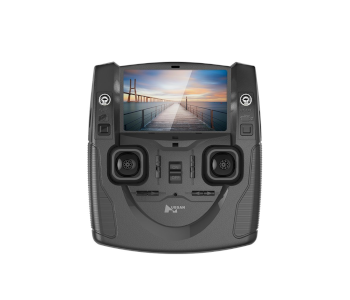 You don't have to spend a lot if you really want to know how it feels to use a remote controller with a built-in screen. The H901A remote controller from Hubsan is very affordable and is compatible with the similarly budget-friendly Hubsan H501S and H502S series of drones. That being said, you'll need to manage your expectations with this device.
The H901 has a 4.3-inch LCD screen with 480p resolution which displays a real-time video feed received over 5.8 GHz frequency. Flight commands are sent via the 2.4GHz channel. The controller has a built-in GPS module which aids in some of the drone's features, such as Headless Mode, Return-to-Home, and Follow Me.
The communication between the controller and the drone isn't exactly top-notch, as it starts to fall off within 200 to 300 meters. This isn't really much of a factor since the Hubsan drones are pretty small and flying them too far will be a bad idea.
The H901A controller runs on a single 1300mAh battery which is NOT included with the controller by default. Considering that the flight time of Hubsan drones max out at around 20 minutes, the small battery capacity is also a non-issue.
All in all, the Hubsan H901A is an excellent product for its price. It's features won't blow you away, but its price also won't hurt your pocket.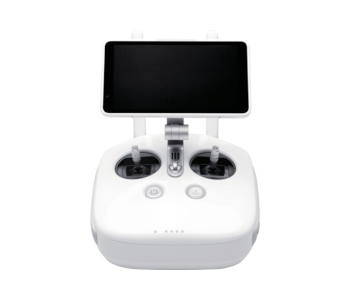 The controller that came with the DJI Phantom 4 Pro Plus was the first remote controller from DJI that came with a built-in touchscreen. The release date for this device was more than two years ago, so it's specs can't exactly match up with those of more recent products. However, this was a landmark upgrade from DJI that has been the foundation for better and better remote controllers.
The Phantom 4 Pro Plus controller comes with a 5.5-inch 1080p screen that is much brighter than a standard phone or tablet. This is despite the fact that the screen itself is essentially a small tablet running on an Android OS. All of the system resources of the tablet have been dedicated to running the DJI app, so there's no room for additional apps, nor does the tablet give you the option to download any. The good thing about it is that the tablet boots up really quickly, making the Phantom 4 Pro Plus one of the quickest drones to launch.
Like the other controllers in the Phantom 4 line, this controller is equipped with the original version of DJI's OcuSync. This video transmission technology was revolutionary for its time, allowing for uninterrupted video feed within a range of up to 4 miles. Even by today's standards, this is an impressive transmission range.
The Phantom 4 Pro Plus controller comes with an HDMI port so you can output the video feed to an external monitor. It has 16GB of built-in storage and a microSD card slot if you need some more space for your drone photos and videos.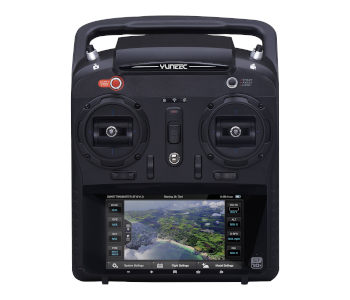 The Yuneec brand continues to make built-in screens in their remote controllers a norm with the ST10+ Ground Station for the Typhoon 4K. Touted as an all-in-one controller, the ST10+ has a 5.5-inch screen with 845 x 480 resolution (or what is commonly known as Full Wide Video Graphics Array, or FWVGA).
It runs an Android OS on a capacitive touchscreen that greatly expands the control capabilities of the remote controller and displays telemetry data such as altitude, ground speed, GPS position, distance from home, and drone battery status. The 5.8 GHz video link frequency band allows for real-time video display up to about half a mile. While this isn't an impressive range, it's still in line with visual line-of-sight rules.
As with the ST6 Ground Station, a team of pilots can use a pair of ST6+ remote controllers in Team Mode. The idea is the same – while one pilot flies the drone, the other takes control of the CGO3+ camera. This feature truly opens up a world of drone photography opportunities while drastically reducing the chances that you'll end crash your drone while framing your shots.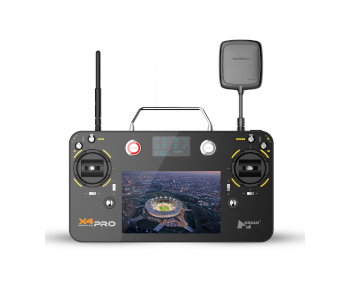 For a modestly sized company like Hubsan, it's impressive that they can come up with such a variety of drones and remote controllers. The H700 can be considered one of their premium remote controllers and was designed for the Hubsan H109S drone. It's also one of the larger ones from Hubsan, sporting a 7-inch 720p IPS screen.
The touchscreen controls greatly aid in the autonomous flight of the H109S with the feature to set waypoints with a single tap. Rockers on either side of the controller allow for quick gimbal control for easy framing of shots.
The H7000 uses the 5.8 GHz frequency band for the real-time video feed while controls are relegated to the 2.4GHz frequency. This allows for an operating distance of 1000 meters, or just slightly above half a mile. Again, although the range is far from impressive, it's more practical in the context of visual line-of-sight rules.
One thing to note about the H700 is that it's huge. Around 17 inches long and weighing almost 2 kilograms, it is one of the largest drone remote controllers you will ever see. It somewhat makes up for the size by having a high-capacity 5400 mAh that can last up to 10 hours of continuous operation. Still, it's kind of hard to get over the fact that the H7000 remote controller is larger than most ultra-portable drones.
Final thoughts
If you started flying drones using remote controllers where you need to mount a phone or tablet and connect some cables before you can launch your drone, then you probably know how liberating it is to use a remote controller with a built-in screen. You no longer need to worry about your phone battery getting depleted or having to make sure that you packed the cable that connects your phone to the remote controller.
The reception for remote controllers with built-in screens has been so good that we expect it to be the new standard for the drone industry moving forward. It's not even just the big-name brands that have this technology nowadays. Even budget drones, such as the ones from Hubsan, come packaged with built-in screens in dedicated controllers. In any case, just about all drone pilots would agree that this a welcome development.