Must-Have Camcorder Accessories for the Best Video
3D Insider is ad supported and earns money from clicks, commissions from sales, and other ways.
You might think that dedicated video recording devices or camcorders are going out of style with the influx of more multi-purpose gadgets like smartphones and digital SLR cameras. Although these other devices are intended to capture images, they always do a decent job recording videos.
A camcorder, on the other hand, is meant for video capture as its primary function, and they often carry more advanced features over different types of cameras. If you shoot videos on a regular basis, then getting a camcorder should be something worth considering.
Whether you're shooting for fun or into vlogging and producing videos for YouTube, other than a decent quality camcorder, you'll need some accessories that will elevate and enhance your overall experience.
Camcorder Accessories
There are a lot of different camcorder accessories to choose from, but there are there certain ones that are absolute must-haves. Getting these will surely take your experience to the next level. They can give you the potential to create significantly better quality videos.
Here are the accessories that you need to have so you can have the best video recording experience at any time:
Camcorder Stabilizers
Holding your camera steady is plain difficult. Without any special equipment, making a video that is not shaky is close to impossible. The latest camcorders do come with some form of software image stabilization, but it's just not enough.
The only way to keep your shots steady and smooth is by using a stabilizer or a gimbal. Here are the best ones that will significantly enhance the way you shoot your videos.
Best Two-Handed Stabilizer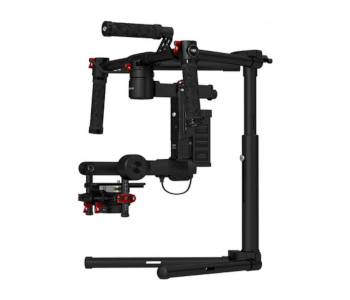 Retail Price: $899
The DJI Ronin-M is professional-grade camera stabilizer that's the perfect equipment for low budget filmmakers and event videographers. It will give you the freedom to move the camera in any way you want, smoothly eliminating vibrations and sudden jerks.
The entire rig can support cameras of up to eight pounds, so it's an excellent option for heavier camcorders. One thing to note though about all the camera stabilizers is that they are notoriously difficult to balance. For these things to work, they need to be perfectly balanced together with your camera. The Ronin-M, on the other hand, is more forgiving and will take you about five minutes to get everything sorted out.
The Ronin-M comes with a remote control for someone to operate so you can adjust the pan, tilt, and roll of your shots. There is a bit of a learning curve, especially with this one since it's geared towards professionals. Once you get the hang of it though, it becomes second nature, and you will exactly know what your setup is capable of.
The stability of the Ronin-M is superb, it takes out jitters from holding the entire rig, and it can negate small movements like bumpy car rides. The footage remains smooth on playback and is pleasing to the eyes. One thing that you need to have when using this gimbal is a field monitor so you can keep track of what you're shooting.
The DJI Ronin-M is undoubtedly an excellent stabilizer. You can slap on heavier cameras, and it consistently provides super-smooth footage. The entire rig can get a bit large and bulky, but it's still relatively easy and comfortable to use. The results are definitely worth the trouble.
Best One-Handed Stabilizer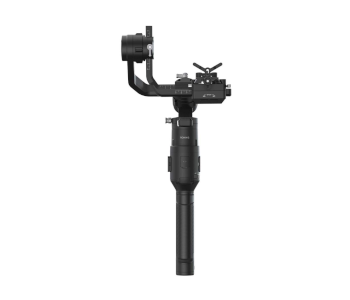 Retail Price: $559
DJI has been dominating the drone space and is now looking at camera gimbals. You already know what the Ronin-M can do, now let's look at it's handier younger brother the Ronin-S. Comparing both, you will instantly notice that the Ronin-S comes with a single handle. The great thing about this is you can use it with a lot of different devices other than your camcorder.
Even though it can be operated with one hand, it is no lightweight. It is one of the largest in its class compared with other similar single-handed stabilizers. The Ronin-S can support cameras up to eight pounds. This is significantly more than most cameras, and this gives you a lot more leeway in terms of upgrading your setup with lenses, microphones, and other accessories.
Similar to other camera stabilizers, the Ronin-S uses motors to keep everything still and in place when you are shooting. These motors help smooth out movements and are used to create guided actions like panning and tracking on some of your shots. The stabilizer comes with controls installed on the device. A joystick, a trigger, and buttons help you create smooth shots all the time.
As with other gimbals, balancing the entire rig with your camera can be a challenge, but DJI has made it significantly more straightforward by balancing scales so you can note positions if you're continually changing your lens setup. The majority of the setup process is handled by the companion smartphone app. Just connect it via Bluetooth, and you will be done in no time. You can also use the app to perform balance tests to ensure that your entire rig is level.
The DJI Ronin-S is an impressive lightweight, compact camera stabilizer. Its load capacity makes it a flexible device that's suited to all types of filmmakers. It can definitely deliver professional shots even with limited experience. DJI has simplified the process, which allows you to use it right away after you unpack it.
Lightweight Stabilizer for Heavier Cameras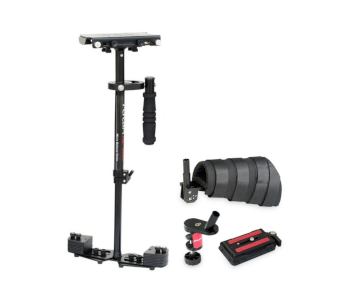 Retail Price: $199
We have taken a look at some motorized options, now let's look at some that are not. The Flycam HD-3000 is a handheld stabilizer that allows you to move while shooting a video. It can smoothen shots when walking, even jogging and even climbing up and down a flight of stairs. It is a lightweight piece of equipment that enables you to have smooth and steady 360-degree pan shots.
The camera stabilizer can handle setups of up to eight pounds, so you can surely install heavier camcorders. It has a telescopic arm that you can extend or retract, and this allows you to shoot both ways, high and low.
An exciting feature of the HD-3000 is its quick-release clip that enables you to attach or remove your camera in an instant. This is particularly useful if you're using different cameras for your video project. As for the cameras that this stabilizer can accommodate, it can handle a lot of different types with its 1/4-inch and 3/8-inch mounting holes.
The Flycam HD-3000 camera stabilizer is an affordable option that you can definitely get. However, it may not have all of the features of the motorized gimbals, it will surely give you steady, smooth shots every time.
Camcorder Battery Solutions
One of the limiting factors, when you are out on a shoot, are the batteries. Manufacturers can give you an estimate on how long the batteries on their camcorders will last. However, depending on your usage, you're likely to need a spare, or even a couple more.
Having a few in your bag makes sure that you can go on and not miss any moments as you go around shooting videos. They also come in handy if you're a professional and have to go through a full day of shooting, not knowing when you will be able to plug in your charger.
Battery Replacement Solutions
Different camera brands also mean a variety of battery choices. These are not by any means OEM parts, but batteries from Kastar are known to be reliable and handle a charge well. Battery life is decent, and they can definitely manage multiple sessions.
These batteries perform really well for personal use, and the performance can be compared to their OEM counterparts. They don't overheat quickly, and you can be sure that you will be able to slap them on your camcorder and feel confident that they won't go up in smoke.
One of the advantages of getting these third-party batteries is that they are a lot more affordable compared to their stock versions. You can undoubtedly rely on a few of them to ensure that your shoots go smoothly because you're carrying a bunch of them. After all, when you're in a professional shoot, you will run through them quickly.
These Kastar batteries are definitely excellent reliable options that you can use, so you have power all the time. They are certainly compatible with the models that are listed, if your camera is on the list, then these are great alternatives to using. They are incredibly affordable so you can continue to shoot your videos without breaking the bank.
Memory Cards
Shooting videos nowadays also pose a different problem other than battery life. If you like to shoot in high resolution, especially in 4K, the storage your camera comes with will not last long. It is crucial that you have enough room, or at least have an estimate of how much you will use so you can bring extra memory cards. This will allow you to take scenes at different angles knowing that you will not run out of precious storage real estate.
There are cloud-based options, but these are not as reliable as a physical SD card since you might be shooting outdoors where there is limited internet connection so getting your files to the cloud is close to impossible. Having a reliable storage option in hand will just give you the peace of mind to shoot as many scenes as you want.
Best All-Around SD Card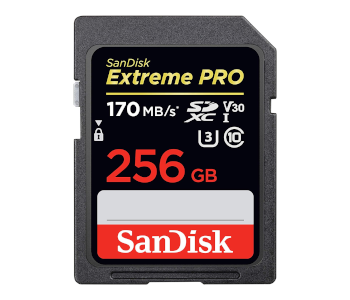 Retail Price: $73
This is a memory card that both enthusiasts and professionals will appreciate. The SanDisk Extreme Pro SDXC card is one of the best in the industry. Do not be fooled by its small size, since it comes in different capacities of between 32GB and 512GB. All of these cards perform similarly with the only difference being their storage capacities.
The Extreme Pro SDXC card has a UHS speed class 3 rating, which means that it handles fast speeds well and supports 4K video recording. It has an impressive write speed of up to 90 MB/s, which allows you to do rapid-fire shooting or record at 60 frames per second. An even remarkable feature is its 170 MB/s transfer speed and can increase your workflow since you can dump the contents to an external storage quickly.
The SanDisk Extreme Pro SDXC is an exceptional all-around card that can handle just about anything you throw at it. This versatility is beneficial for enthusiasts and professionals who juggle a lot of things from taking photos to shooting high-resolution 4K videos.
Best High-Performance Memory Card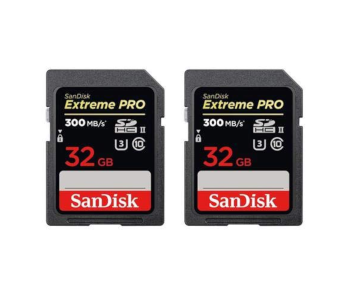 Retail Price: $99
If the previous SD card does not work for your needs, then the SanDisk Extreme Pro SD UHS-II is your high-performance alternative of choice. This is particularly handy if you're a professional photographer or videographer who loves to do rapid-fire shots or shoot smooth 4K videos.
This is all possible thanks to its 300 MB/s read speeds and up to 260 MB/s write speeds. This makes it the perfect file storage solution for sports and wildlife, or for those who like to record stunning crystal clear 4K videos.
This SD card is all about speed, it makes sure that you capture the moment each and every time. For a card this fast, it is also highly reliable and will last you for a long time even though you're always using its read and write functions regularly.
If you're a professional videographer that loves to play around with 4K videos, or if you always aim to shoot in 60 frames then the SanDisk Extreme Pro SD UHS-II is for you. Now, it's nearly impossible to miss crucial shots with this loaded into your camcorder.
Best High-Speed Memory Card for Professionals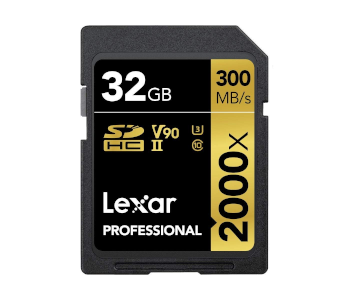 Retail Price: $115
Another high-performance alternative is the Lexar Professional 2000X. It boasts a similar performance number of 300 MB/s read speeds and up to 260 MB/s write speeds to the SanDisk Extreme Pro. This makes it the perfect vessel to store your high-definition videos, and especially your 4K recordings.
The card allows you to capture and transfer high-quality images and videos quickly. This dramatically improves your workflow as you can swiftly power through post-production tasks in no time. You can transfer large files from your camcorder to your editing computer in minutes so you can start working on them right away.
You can never go wrong with the Lexar Professional 2000X. It's a fast and reliable SD card that will significantly speed up your work so you can go right back to shooting high-resolution videos in no time.
Best Value Card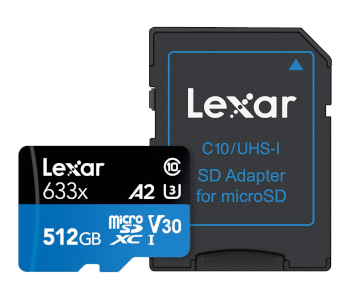 Retail Price: $76
Shooting in high resolution will require a lot of storage space. You will surely need as much as you can get, and having a high storage SD card can come in handy. That's where the Lexar Professional 633X comes into play. When it comes to capacity, this is definitely at the top. It is also a lot more affordable compared to other cards we have reviewed.
The trade-off for more capacity at a lesser cost is the read and write speeds. They are certainly not the fastest, but they are decent enough that you can go about your business by recording high-quality videos. The card is still capable of recording top quality videos, even 4K ones. It is, in fact, the perfect one to fit in when you know you are going to be recording high-resolution videos for quite some time.
The Lexar Professional 633X is perfect for sessions that you are anticipating of shooting a lot of high definition videos. You won't have to worry about transferring your recordings to your editing computer since you know that you have storage space to work with.
Camcorder Tripods
We checked out some excellent camcorder stabilizer options earlier, and even though they produce similar results, a tripod is a piece of equipment for an entirely different purpose. Tripods eliminate shakiness by providing your camera with a stable base to set upon. They are particularly handy when recording events like weddings since there are times when you will be setting cameras in a place for quite a bit of time.
If you need footage to be as steady as possible, a good tripod will help you achieve that as they are excellent accessories to make sure that your pan movements are as smooth as possible. They also come in handy for YouTubers who usually go at it alone or have a small team that setting your camcorder on a tripod is an excellent way to record and be in front of it at the same time.
A Versatile and Reliable Tripod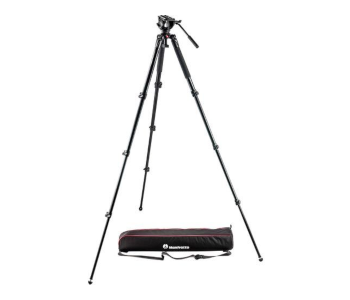 Retail Price: $449
One thing that pops out when you use the Manfrotto MVK500AQ is its apparent smoothness. This is due to the fact that it sports a fluid head for fixed drag movements. This means that every time you pan, the rate at which you turn the tripod head with your camera remains constant, and this provides the smoothness. On top of this, the tripod also comes with a 2.4 kg counterbalance, so all your movements remain smooth.
The tripod head supports camera rigs weighing up to 11 pounds while the entire tripod can carry loads of up to 44 pounds. This is a tripod that's suited for heavier camcorders and can accommodate setups with external monitors. The entire tripod is quick to set up with a spreader-less design so you can move to different locations with ease.
The Manfrotto MVK500AQ can provide you with smooth and responsive panning actions for all your video projects. These are excellent tripods to keep your cameras in place or do some panoramic panning shots to showcase your environment.
Budget Option for Amateur Videographers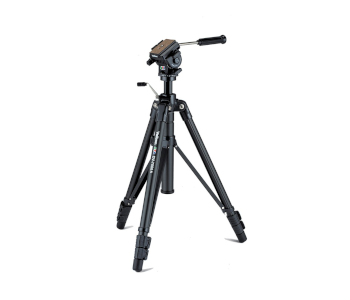 Retail Price: $114
If you're looking for something on the more affordable side since you're on a limited budget or just starting out with your YouTube career, the Velbon DV-700 is something you want to consider. This is the ideal piece of equipment for film crews on a budget. It is made to be mounted with smaller cameras with its 13-pound load capacity.
As a lightweight tripod, you need to be quick to set up, and it is. Using its rapid release platform and a built-in level, you can undoubtedly unpack this and get it all standing in minutes. This is an excellent tripod to use when you're in a run-and-gun situation where you need to shoot and pack up quickly to move to another location.
The DV-700 sports a fluid head with separate pan and tilt adjustments, giving you that studio vibe without the cost. An excellent and sturdy piece of equipment that you can rely on before moving on to more advanced models.
Lightweight and Compact Tripod for Travel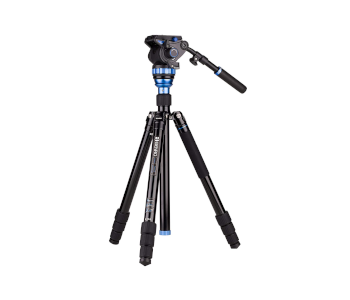 Retail Price: $409
If there is a feature that will always put you at a disadvantage with camcorder tripods, it is their portability. Carrying an object that can be extended up to five feet in height is not the easiest thing to do. This is where the Benro Aero 7 travel tripod shines.
It's definitely not the most affordable one out there, but it makes up for it with its compactness. For one, it is a very versatile tripod. With its reverse folding legs, it allows you to position them in a lot of different ways that other tripods simply can't. You can independently lock each leg at three different angles so you can continue to shoot in confined situations, irregular surfaces, or on the ground.
Since you can set this tripod up on irregular surfaces, leveling it can be tricky. It's a good thing that it comes with an integrated leveling ball so you can achieve straight horizon lines for your panning shots.
The Benro Aero 7 is a versatile tripod that you can bring with you whenever you travel. The aluminum build ensures that it is lightweight. Its collapsible features also make it compact and easy to carry when folded up so you can bring it with you anywhere you go.
Shotgun Microphones
Cameras are excellent at recording videos. They can record all types and at various resolutions. They do come with the best in optic technology; however, some models may not have the best audio. Camcorder microphones can work in some instances, but there are times when you need to have better sound quality. If you're a vlogger or do quite a bit of interviews and documentaries, you must get your audio right. This is where you'll need a good quality microphone.
There are a lot of different microphones, and the shotgun type is one of them. They are easy to set up and use, that's why they are the most popular mics out there for video producers. They are very effective at capturing audio and versatile so you can use them on just about any video project.
Most Popular Microphone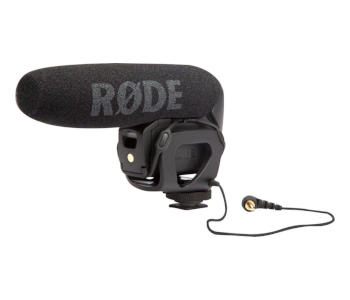 Retail Price: $229
The Rode VideoMic Pro is a compact shotgun microphone that will comfortably fit on top of your camcorder. It is light enough that it will not disrupt the balance of your camera setup. The mic, weighing only 85 grams, is an excellent fit on just about any shooting circumstances whether you're vlogging or shooting a scene for a documentary.
Because of its size, the VideoMic Pro needs an external power source to keep it running. It uses a 9-volt battery that gives you about 70 hours of recording time, which is a lot. The microphone includes an integrated shock mount and a built-in foam windscreen, to maintain the audio quality in any environment. These parts limit wind noise and other handling noises and will only record the sound from your subject.
The microphone connects to your camera via a 3.5mm stereo jack and records excellent quality audio. The mic also comes with level controls found at the back where you can adjust and enable different modes.
The Rode VideoMic Pro is an outstanding microphone for a lot of different situations. It is the perfect mic if you are recording a lot of dialogue for YouTube videos or other similar projects.
Excellent High-End Alternative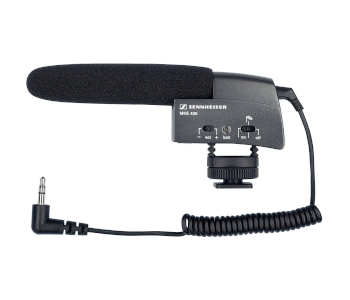 Retail Price: $199
If you are looking for an excellent alternative to the Rode VideoMic Pro and that's a little more affordable, then you need to take a look at the Sennheiser MKE 400 shotgun microphone. You are not going to get a significant discount, but they perform very similarly.
The most visual difference that you will notice right away is that the MKE 400 has a slightly longer shape, which provides a more precise recording from sources farther away. The Rode VideoMic is more compact, though, so it will eventually depend on your set up if you like the balance.
The MKE 400 comes with an all-metal housing protecting it from the elements whenever you are shooting outside. It is also equipped with side noise rejection, so you get the best quality audio from your source, and it comes with a wind noise filter to reduce ambient sounds. For the power source, this model only uses a AAA battery and lasts for about 300 hours.
An exciting feature of this shotgun mic is its switchable settings for short and long distances. This gives you better flexibility, so you know that you are recording the best possible audio no matter the gap between the microphone and the subject.
The Sennheiser MKE 400 is undoubtedly an excellent alternative to the Rode VideoMic. They perform very similarly and are both optimum choices for recording clear and crisp audio in different recording situations.
Budget-Friendly Option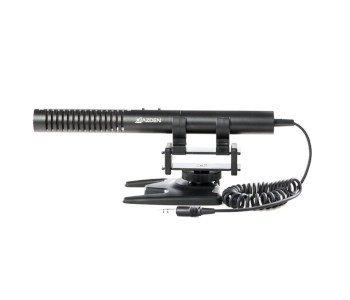 Retail Price: $79
The Azden SMX-10 condenser microphone is a decent quality mic for your camcorder if you are on a budget. Even though it is an affordable microphone, it still performs decently and will allow you to record quality audio in different shooting situations.
Its 7-inch unidirectional condenser microphone enables it to record clear audio from a decent distance. It offers a wide frequency response, so it picks up the sounds that you want while eliminating ambient sounds. It also comes with a foam windscreen to cut rumbles and wind noise for optimum speech recordings. Similar to the Sennheiser, it is powered by a single AAA battery that gives you about 400 hours of recording time. It is attached via a 3.5mm jack to provide you with an external source other than the built-in mic of your camcorder.
The Azden SMX-10 is a great budget alternative to the Rode and Sennheiser models. It will give you excellent quality recording consistently at a much more affordable price.
Lavalier Microphones
A lavalier microphone also called a clip, lapel, or body mic is a small device that is strategically placed close to someone's mouth so you can record their voice clearly while minimizing noise at the same time. Size and positioning are vital to get the optimum results every time. These microphones are popular in interviews since you can hide them under your subject's clothes. They also allow your subject to talk hands-free, which makes it more natural.
They are an incredibly useful accessory for any filmmaker to have. There are definitely a lot of different uses for it apart from the usual interview videos. If you want clear and crisp speech in your videos, then you should consider using a lavalier mic.
Best Choice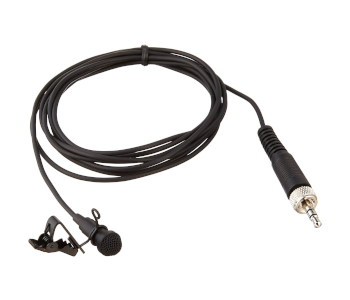 Retail Price: $139
The Sennheiser ME 2 is a small omnidirectional microphone that can easily clip on the lapel of your shirt. It has a frequency range between 30 to 20,000 Hz, this eliminates low rumbling noises for better recordings. The omnidirectional recording pattern also ensures that no background or feedback noise can come through, and this dramatically improves the speech clarity of your subject.
This is an excellent mic for interviews and is usually used by TV networks for news and talk shows. The great thing about the performance of this mic is whether you are using it indoors in a controlled environment or outdoors, you are pretty much getting the same recording quality.
A Reliable Lavalier Microphone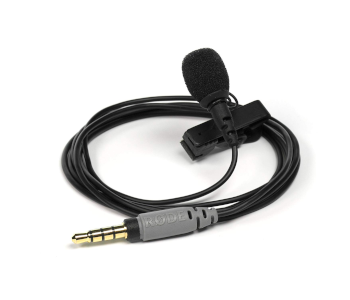 Retail Price: $75
If you're looking for a straightforward lavalier microphone, you should check out Rode's SmartLav+. It's a small, lightweight mic that is meant to be connected to smartphones. This is an affordable alternative if you are considering a wireless setup, and it is out of your budget.
The SmartLav+ allows you to record subjects farther away than usual since you can save their recording straight to a smartphone in their pocket. It will take some work syncing the audio and video together later on, but you will not have to worry about getting a wireless setup.
The lavalier mic provides professional-quality audio thanks to its omnidirectional condenser that picks up sounds from all around drowning out background noises. The mic also comes with a foam pop shield to significantly minimize wind noise and other harsh sounds.
The most notable feature of the Rode SmartLav+ is its ease of use. It is compatible with any audio app as long as you can plug in the mic. You can instantly turn your smartphone into a field recorder without getting other more expensive equipment.
Excellent Option for Voice and Instrument Pickup
Retail Price: $139
The Audio-Technica Pro 70 clip-on lavalier microphone is a bit different from the other ones we reviewed since this captures sound in a cardioid pattern. That means it gets most of its input from the front of the microphone, making it extremely useful at recording vocals and instruments. It is an excellent choice for one on one interviews where you want to focus on what your subject is saying. The pick-up pattern also makes it an exceptional mic to use when you want to record acoustic instruments since it will consistently record clear and crisp sounds.
One great feature with the Pro 70 is that it can run on phantom power, if your camcorder provides that, you do not need a battery to operate this. However, in cases where it is not available, you can put in an AA battery, which will power up the mic for up to 2 months.
The Audio-Technica Pro 70 is an excellent microphone, especially if you do a lot of interviews or any videos that require you to speak for some time. Get an instrument adapter, and you can record instrument sessions with ease using this mic.
Take Your Videos to the Next Level with These Accessories
Camcorders are excellent at recording videos. Modern versions can record videos at high resolutions, including 4K so you can relive different moments just by playing it back on your television.
Accessories take your video game to the next level. Camcorders do come with their own downsides, the technology that has been packed into them is focused on providing the best video recording experience. However, to truly enjoy a video, there are a lot of other factors that matter. Shaky videos, for example, just kill the mood and disrupt the entire storytelling experience. Bad audio can ruin the whole video.
This is why accessories are crucial so you can truly create an experience that makes you feel you are back in that same moment as you are shooting it. This is particularly true for videos about life events like weddings. Camcorder accessories are not just things to add to your machine, they look cool, and they elevate the overall product so those who watch it, later on, will thoroughly enjoy it.