Camcorder Cyber Monday 2019 Deals (4K and 1080p)
3D Insider is ad supported and earns money from clicks, commissions from sales, and other ways.
Smartphones and affordable DSLRs have brought camcorders out of fashion lately, but that doesn't mean you shouldn't pick one up at a considerable Cyber Monday discount. Camcorders have better lenses than smartphones, are lighter than DSLRs, and put both of their microphones to shame. Add telephoto lens-level zooming capabilities into the mix, and you've got a strong case to go with a camcorder for your next big video project.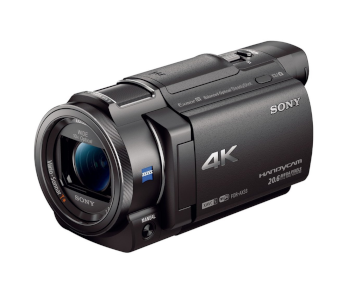 Sony FDRAX33
Original Price: $848
Cyber Monday Price: $698
Need an affordable camcorder that records high-quality videos in 4K? Sony's FDRAX33 is the best in its class and the ideal choice for hobbyists and enthusiasts alike. It has superb image stabilization, handles well, and can become the center of a multi-cam setup.
The FDRAX33 is a lightweight, compact camcorder anyone who's ever shot a holiday video with a camcorder will love from the get-go. Its right side is ergonomic and adapts well to your hand while allowing access to some of the camcorder's major controls. You handle the rest through its responsive touchscreen or your smartphone if you connect them wirelessly.
The camera has a rechargeable battery that lasts for 90 minutes of continuous shooting. Its sensor is small but delivers excellent quality for both stills and videos. There's 10x optical zoom and the BOSS image stabilization system. BOSS keeps videos steady even if you're using zoom and quickly panning the camera. A full array of manual settings is available, but shooting in Auto leads to great results too as white balance and color fidelity are preserved throughout different lighting circumstances.
Camcorders have much better microphones than mirrorless or DSLR cameras, and the FDRAX33 is no exception. It also comes with microphone and 3.5mm headphone ports for optimum audio tracking. You can connect five more Sony cameras to this one and gain access to their feeds through its LCD.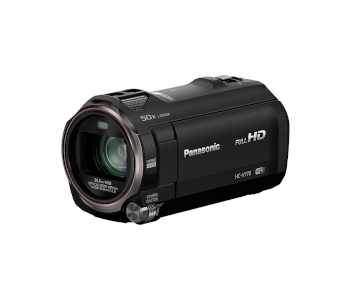 Panasonic HC-V770
Original Price: $599.99
Cyber Monday Price: $397.99
Panasonic's HC-V770 is the camcorder to grab if you don't care about 4K yet want a feature-rich, versatile alternative to Sony's model. It has an intuitive control scheme, comes with an excellent app, and lets you record videos in different ways.
The HC-V770 is heavy for a compact camcorder at 12 ounces, but it's still light enough to be carried anywhere and to not cause discomfort after a day of shooting. There are a handful of physical controls that are easy to reach and speed up operation. These include a shutter button and zoom rocker on top and a function wheel on the bottom left side. Opening up the LCD touchscreen reveals the record button along with ports for charging, viewing, and file transfer. You can tilt the screen 90 degrees downward and rotate it 180 degrees for vlogging.
Videos are shot at FullHD, but the camcorder's sensor is capable of capturing more pixels than that. The extra data is used for the digital side of hybrid image stabilization and intelligent zoom. The HC-V770's maximum optical zoom is 20x, but that can be extended to 50x thanks to intelligent zoom without adversely impacting image quality.
Apart from normal videos, the camcorder can also shoot time-lapses slowed down to a quarter of their true speed. A time-lapse can be a whole clip, but you may also hold down a button to switch from normal to time-lapse mode during recording.
While the app could be more intuitive, it offers some unique features. You may use it to turn the HC-V770 into a security camera or even a baby monitor that sends push notifications when the baby cries.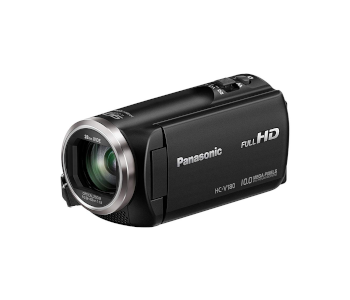 Panasonic HC-V180K
Original Price: $229.99
Cyber Monday Price: $177.99
The HC-V180K is proof that camcorders can outshine smartphone cameras even in the low-budget category. It has a powerful 50x optical zoom you can extend digitally to 90x. There's also a hybrid 5-axis image stabilization system in place that ensures zoomed-in footage doesn't look shaky.
This camcorder is small, fits well in your hand, and makes up for a lack of advanced features with successful specialization. You'll love it if you're a bird watcher or like to shoot breathtaking landscapes as the zoom doesn't impact video quality. The level shot feature goes hand in hand with zooming and ensures that the shot is lined up correctly with the horizon.
This camcorder delivers 1080p video at 50 frames per second at a bit rate of 25Mbps. It has no internal memory and doesn't come with an SD card. However, its resolution and bandwidth limitations mean you don't have to buy a fast model. You can take 10 megapixel stills or extract 2.1MP ones from video clips.
Another interesting thing about the HC-V180K is its microphone. Its volume changes with the zoom level, so subjects shot with close to no zoom are accompanied by quieter audio while zooming in amps up the volume to better record what's going on in the distance.
Other noteworthy camcorder deals