6 Best Camera Backpacks of 2020
3D Insider is ad supported and earns money from clicks, commissions from sales, and other ways.
Cameras and their accessories are fragile and at their most vulnerable when you leave the studio to shoot on location. You could get a sling or messenger bag for short commutes, but long-term travel with a camera at the ready requires a specialized backpack to keep your gear safe.
A good camera backpack needs to be built from quality materials and have enough padding to keep the cameras and lenses you're carrying in one piece. It has to accommodate an assortment of lenses and filters while letting you secure a tripod to it as well. The pack should allow for instant access to the camera and be comfortable enough that using it from dawn until dusk doesn't feel like a burden. Finally, it should have enough room for a laptop, spare batteries, SD cards, and other necessities that will help make your shoots a success.
Picking out the best camera backpack can be challenging. We've made it easier for you by narrowing the search down to six packs that embody quality and comfort at several price points. Check out what makes each of our picks special and start planning your next big trip without worrying about your equipment.
Budget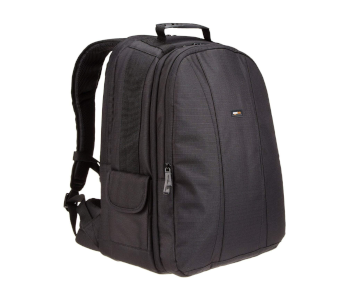 AmazonBasics DSLR Camera and Laptop Backpack Bag
4.1/5.0
Weight: 3.1 lbs.
Max laptop size: 17 in.
Lots of space and wide shoulder straps.
Check Amazon
Best Value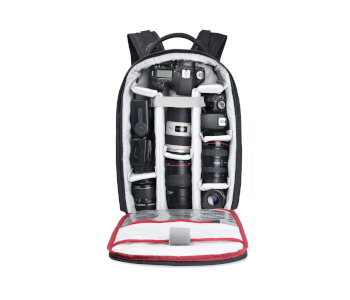 Beschoi DSLR Camera Backpack
4.4/5.0
Weight: 2.3 lbs.
Max laptop size: 13 in.
Lots of space for multiple cameras and lenses.
Check Amazon
Top Pick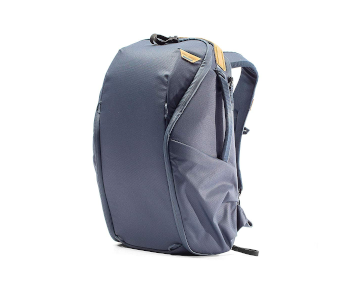 Peak Design Everyday Backpack 20L v2
4.7/5.0
Weight: 3.5 lbs.
Max laptop size: 15 in.
Endlessly customizable main compartment.
Check Amazon
Camera Backpacks Comparison Table
1. Best Overall – Peak Design Everyday Backpack 20L v2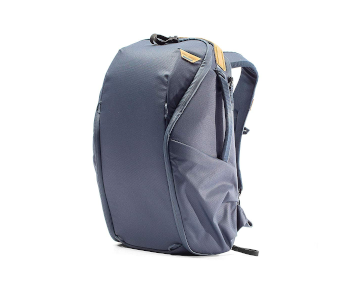 View on Amazon
Editor's Rating: 4.7/5
Bulkier backpacks are great for location and wilderness shoots, but what if most of your time is spent working in the city and zipping between your studio and different venues? In that case, you need a relatively small, versatile, and well-made backpack that offers maximum customization and ports all of your gear within reach. The second version of Peak Design's Everyday Backpack offers all of that and more thanks to ingenious design and use of high-quality materials.
Overview of Features
The Everyday Backpack v2 looks unassuming to passers-by, but you'll feel the quality the moment you touch its recycled nylon exterior impregnated with DWR. The fabric is firm yet flexible and able to resist moisture. The zippers are called UltraZips and feature a proprietary design that prevents snagging and ensures fast, gliding action when you need to reach for a camera in a hurry.
The straps are generously padded and help distribute the weight evenly. They're magnetically attached to the pack's top and can swivel for extra comfort and freedom of movement. Nubuck leather is used for details and offers points to which you can attach carabiners or other accessories. Two side pockets let you carry as many bottles and have drainage holes that prevent liquid buildup. You also get two sets of lash straps, a larger one that keeps jackets in place between your and the pack's back, and a set that attaches to its bottom for your tripod.
Minutely adjustable interior compartments are the best thing about the Everyday Backpack. Its interior is lined with Velcro that attaches to three FlexFold dividers. You can freely adjust their position and the space they occupy freely, creating just enough room for a DSLR or any lens from a standard prime to a small telephoto. The main compartment has four side pockets useful for storing accessories and can be accessed from either side or by removing the top flap.
Above the main compartment is one dedicated to miscellaneous tech. Its main part is an adjustable laptop sleeve that accommodates 15- or 13-inch laptops depending on its position. There's also room for a tablet along with smartphones, chargers, etc., in a separate area.
What We Didn't Like
The Everyday Backpack's top cover is held in place by a magnet and a series of rails. Its capacity changes from 12 to 20L based on the rail you use. If it's the top one, the top compartment won't be protected from the rain. This is the most expensive bag on review, especially since it's also among the smallest.
Tech Specs
External dimensions: 18.3 x 12.4 x 9.3 in.
Internal dimensions: 17.7 x 11.2 x 7.9 in.
Weight: 3.5 lbs.
Max laptop size: 15 in.
The Pros
Made from quality materials resistant to tearing and weather
Comfortable straps
Endlessly customizable main compartment
Abundance of pockets and expandable space thanks to lash straps
The Cons
Using the backpack's full capacity stops it from being weatherproof
Expensive
2. Best Value – Beschoi DSLR Camera Backpack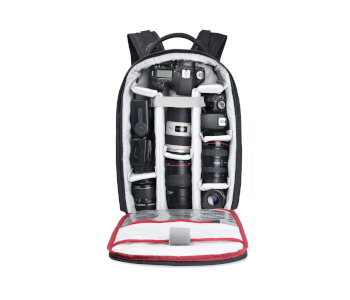 View on Amazon
Editor's Rating: 4.4/5
You don't have to spend upward of $200 to transport your equipment reliably. The Beschoi DSLR camera backpack costs a fraction of what you'd pay for Peak Design's model, but the core elements that make for a great backpack are still there. It has ample room for two cameras and assorted lenses, deters thieves with clever zippers, and won't cause you to sweat thanks to a breathable mesh on its back and straps.
Overview of Features
Beschoi's backpack looks like a regular daypack from the outside. Its minimalistic black exterior is accented by a logo and red zipper tapes. The nylon canvas is waterproof, and additional stitching on stress points makes sure that it won't fall apart with intense use. There's a large compartment in the front along with multiple smaller ones on the sides. You can also attach a 21-inch tripod with straps.
The shoulder straps have a honeycomb mesh design that improves airflow and breathability. They are thickly padded, as is the pack's backside. Its contents are protected with clever zippers that interlock and provide added security without having to resort to a luggage lock. You can use them with one, though, since the zippers have holes.
Opening the backpack up reveals a spacious and well-padded interior. Strategically placed foam dividers provide excellent shock absorption while letting you organize the interior into a maximum of eight small compartments. Removing some or all of them is also an option, leaving you with a regular bag for other activities. The laptop sleeve is located in front of the main compartment and can hold a 13-inch device along with smaller items like cables, lens filters, or SD cards.
What's Bad About It?
While the shell's stitching is decent, the parts that attach to the shoulder straps are not. Filling the backpack to capacity and using it heavily will pull on the straps and might cause tearing. Divider placement limits camera placement to the top of the main compartment. This isn't a problem if you're carrying lots of lenses as well, but it does make the pack top-heavy if you're packing lightly.
Tech Specs
External dimensions: 17.3 x 11 x 5.5 in.
Internal dimensions: 16.1 x 10.6 x 5.3 in.
Weight: 2.3 lbs.
Max laptop size: 13 in.
The Pros
Excellent value for the money
Hardy and weatherproof design
Lots of space for multiple cameras and lenses
Generous inner and outer padding
The Cons
Top-heavy if not loaded fully
Low-quality stitching between backpack and straps
3. Vanguard Alta Sky 45D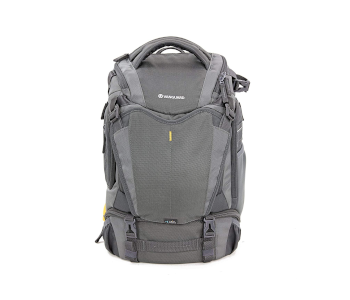 View on Amazon
Editor's Rating: 4.6/5
Vanguard is best known for manufacturing first-class tripods, but the Alta Sky lime shows that the company also has a knack for camera backpack design. The 45D is the smallest model in the series but has more than enough room for cameras, lenses, tripods, and even a drone. It has a three-compartment system for maximum adaptability and is well made. Be sure to also check out other packs in the line if you need more space or don't want a base compartment.
Overview of Features
The 45D is among the best looking backpacks out there with its all-gray exterior and vibrant yellow innards. Heavy-duty stitching is evident on first inspection, as is the comfort provided by its broad shoulder and sternum straps. The pack is heavy for its size, but the weight is evenly distributed and doesn't wear on you over time due to superb ergonomics. A rain cover is included, but the 45D can confidently handle downpours even without it.
A unique three-section layout is at the heart of the 45D's internal design. The top part is made up of a sizeable cavity you can use to hold an extra shirt, some snacks, or any bulky item that doesn't have dedicated space in the other segments. There's also a large pocket for notebooks or passports. The main space is where you'll keep your camera and a few frequently-used lenses. It's large enough to accommodate a DSLR with a telephoto lens attached but can be made smaller with dividers. You can access this part of the 45D from either one side or the front. The side access point features a thin see-through pocket perfect for storing SD cards.
The base compartment deserves special mention as it's not something you usually see. It sits under the main part and is accessed via a large zipper. Opening it up reveals a space that stores up to six lenses or other small pieces of gear. There are small pockets on either side of the base as well as larger ones towards the top. One of the top pockets is large and made of neoprene. It's great for bottles and small tripods.
Speaking of tripods, the 45D has a clever way of accommodating them. Its front flap can be unbuckled to reveal a bottom hole and straps. You can use these to secure a large tripod. The flap can also support a drone when closed.
Are There Drawbacks?
The 45D isn't a good fit for people with smaller frames and is stiffer than most other backpacks. You'll either love its rigidity and heft or will have to return it as the 45D isn't a backpack you can break in.
Tech Specs
External dimensions: 19.5 x 12.3 x 9 in.
Internal dimensions: 11 x 7.5 x 5 in.
Weight: 4.8 lbs.
Max laptop size: 13 in.
The Pros
Innovative three-part design
Broad shoulder straps with excellent weight distribution
Can accommodate large tripods and drones
Stylish design
The Cons
Not suitable for smaller people
Stiffness won't go over well with everyone
4. Lowepro ProTactic 350 AW II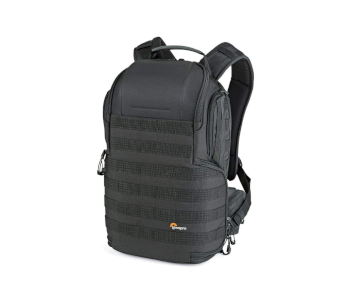 View on Amazon
Editor's Rating: 4.5/5
Snapping an award-winning photo sometimes involves being able to whip out your gear in time. Lowepro designed the ProTactic 350 AW II for maximum accessibility as it opens from the front, both sides, and top! It's also the basis for a system of modular upgrades that greatly expand the backpack's functionality. Add a strong, durable shell, and you've got a camera backpack that's ready to take on anything.
Overview of Features
The ProTactic 350 AW II has a hard outer shell that's resistant to impact. Combined with the pack's thick internal padding, it provides cushioning and protection for sensitive gear even if you accidentally drop everything. The ballistic nylon the pack is made of isn't waterproof but will withstand a drizzle. You also get a rain cover for serious downpours. It fits snugly onto the ProTactic 350 AW II's frame but has some give to encompass extra accessories.
This is a modular backpack, meaning it can be upgraded with various add-ons. The front houses several fabric loops you can attach accessories to via Velcro straps. You get a basic set of add-ons that includes a tripod strap, water bottle holder, and a small pouch. Separately sold accessories include a phone case along with bigger pouches and water bottle holders. You can also fasten these to a hip belt that comes with the backpack. The belt is detachable, so you can either use it to store a flask and some quick-access tools or ditch it altogether to lighten your load.
The ProTactic 350 AW II offers multiple access points thanks to multiple durable zippers. Its interior is home to a heap of dividers that can form up to fourteen compartments, including one big enough to hold a DSLR or mirrorless camera with a standard zoom lens. There's also a dedicated laptop space in the front complete with see-through pockets for smaller items.
What We Didn't Like
The ProTactic 350 AW II's back can bulge out if you fill it up to capacity. It might then start biting into you and make the backpack less comfortable. Modularity looks great on paper but won't be for everyone. On the one hand, the add-ons add expense to an already pricey backpack. On the other, they noticeably increase the ProTactic 350 AW II's bulk.
Tech Specs
External dimensions: 11.8 x 7.1 x 18.5 in.
Internal dimensions: 10.2 x 5 x 15.8 in.
Weight: 4.9 lbs.
Max laptop size: 13 in.
The Pros
Modular design lets you customize the backpack with an array of accessories
Main compartment is accessible from four sides
Comes with lots of dividers
Durable shell protects your camera from fall damage
The Cons
Not suitable for smaller people
Stiffness won't go over well with everyone
5. Lowepro Fastpack BP 250 AW II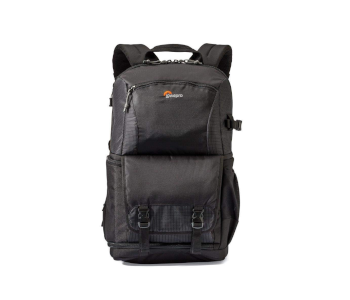 View on Amazon
Editor's Rating: 4.2/5
All modern camera backpacks have space for laptops, but it's hard to find one where this aspect of the build is little more than an afterthought. You'll love the Fastpack BP 250 AW II from Lowepro if you do a lot of on-the-go editing as it has room for a 15-inch laptop and accessories while offering plenty of storage space for your photography gear.
Overview of Features
The Fastpack BP 250 AW II is less rigid than the other Lowepro backpack on review, yet it is no less durable. It's also one of the most comfortable models we've tested as it comes with straps for the sternum and waist. All straps are wide and soft, simultaneously ensuring breathability and correct posture. You'll especially enjoy using this backpack if you have back problems as it forces you to stand straight and shifts tension away from your shoulders and neck.
We love the Fastpack BP 250 AW II's spacious electronics area. It supports a 15-inch laptop, a tablet, a smartphone along with chargers and earphones. A technology called CradleFit keeps the laptop suspended, minimizing its movement and the effects of an impact.
This is another backpack that offers quick access to the camera compartment. Its dividers are set up so that the camera goes to the left and is the first thing you'll reach for when unzipping the side. Organizing the space is intuitive since the dividers attach to the bag's sides with Velcro. They make for a snug fit and keep both large and small pieces of gear from jostling.
What's Bad About It?
Lowepro had to cut back on the camera compartment to make room for bigger laptops. It's by no means cramped, but you will have to leave a lens or two at home to make things work. The shoulder straps could use more padding. Carrying a fully-loaded Fastpack BP 250 AW II will cause them to dig in, so the pack isn't the best solution for prolonged carrying.
Tech Specs
External dimensions: 12.2 x 10.2 x 19.7 in.
Internal dimensions: 11.4 x 6.1 x 10.8 in.
Weight: 4 lbs.
Max laptop size: 15 in.
The Pros
Ample room for a large laptop and other electronics
Quick camera access from the left
Assortment of straps eases back pressure
Laptop and lenses are held in place securely
The Cons
Camera compartment could be bigger
Straps dig into your shoulders at max capacity
6. Best Budget Option – AmazonBasics DSLR Camera and Laptop Backpack Bag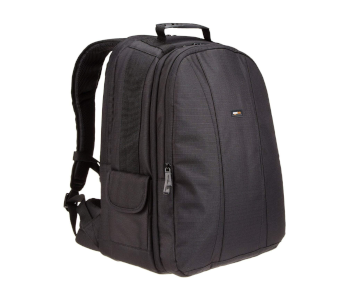 View on Amazon
Editor's Rating: 4.1/5
You seemingly have two choices when shopping for a camera backpack; you can either get a decent one for a lot of money or cheap out and leave your gear at the mercy of shoddy craftsmanship. Amazon successfully walks the line between the two, delivering a surprisingly durable yet affordable camera backpack as part of its AmazonBasics line. While it isn't as well made or versatile as packs by Peak Design or Vanguard, Amazon's backpack offers lots of customizable space and comfort.
Overview of Features
Amazon's backpack looks plain yet functional. A small AmazonBasics logo is the only thing that stands out on its black exterior. The pack is far from ugly, but it isn't eye-catching either. You want this in a camera backpack since thieves are likely to mistake it for a school bag and won't realize how valuable the contents are. Moreover, it is a lot more comfortable than it looks. The broad shoulder straps have ample padding, and you could carry a full load on a single shoulder without feeling the fabric's bite.
The pack's interior is divided into three sections. The one closest to your back can house a 17-inch laptop and has another pocket for small items. The main compartment is split into eight spaces and can be rearranged however you like as the dividers are removable. It opens up from the back all the way but can't be accessed from the sides. There's also a thinner space in the front with lots of little pockets and a large mesh for storing all manner of knick-knacks or documents.
There's an exterior side pocket per each side. It has a sturdy handle you can use to carry the backpack or to more easily place it inside overhead compartments on airplanes. You also get a detachable waist strap along with straps for securing a tripod. Finally, there's a fitted rain cover that makes short work of unexpected showers.
Are There Drawbacks?
We wish that the side pockets were bigger. They can't hold water bottles or phones, so you'll have to use them for USB cables and other items that would be better placed inside of the backpack. The main compartment isn't as wide on top as it is at the bottom. This limits its versatility since some of the dividers are smaller than others to mold themselves to the compartment's form.
Tech Specs
External dimensions: 13.4 x 8.8 x 17.7 in.
Internal dimensions: 12.6 x 7.8 x 16.5 in.
Weight: 3.1 lbs.
Max laptop size: 17 in.
The Pros
Comfortable and durable backpack at a bargain price
Unobtrusive design
Lots of space
Wide shoulder straps
The Cons
Small side pockets can't hold water bottles
Divider placement is limited due to uneven backpack width