Best DSLR and Mirrorless Camera Gimbal Stabilizers
3D Insider is ad supported and earns money from clicks and other ways.
Photographers and videographers do not get a second chance to make a first impression. You may feel compelled to capture amazing photos and videos but it can be hard to get noticed.
DSLR gimbal stabilizers will bring your photography to the next level. In this guide, we list the best options that are available.
Budget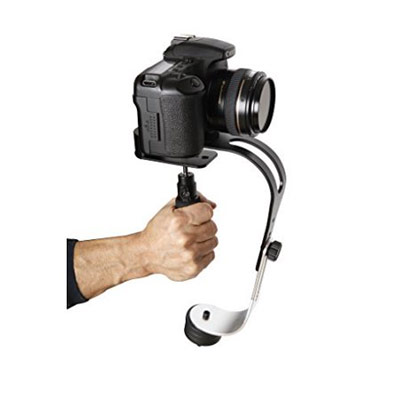 ROXANT PRO Limited Edition
4.8/5.0
DSLR & Camcorders
2.1 lbs. (953g)
Multi-device support. Pro-style stabilization.
Check Amazon
Best Value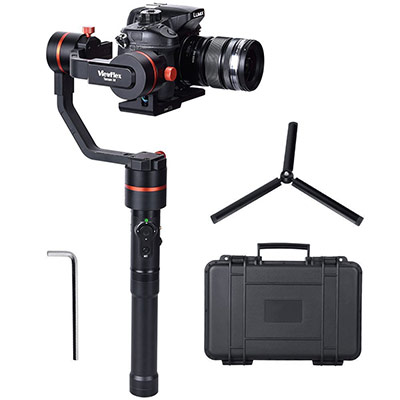 Viewflex 3-Axis Gimbal
4.9/5.0
10+ hours battery life
5.5 lbs. (2500g)
Multi-featured product. Works with larger DSLRs.
Check Amazon
Top Pick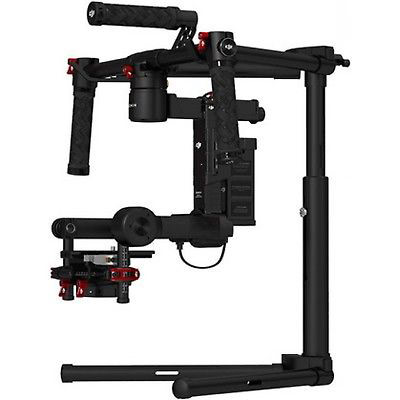 DJI Ronin-M 3-Axis Stabilizer
4.5/5.0
3 hour battery life
SmoothTrack technology
Quick-release system mounts the device to anything.
Check DJI.com
This intro below looks at the benefits of handheld DSLR gimbal stabilizers. It shows how these mechanical devices can drastically improve the quality of your photography.
The Dreaded Camera Shake
How Gimbals Work
Gimbal Stabilizers and Steadicams
Don't Be the Same Be Better
Basic Considerations
The Cost of DSLR Gimbals
About These Reviews
The table below shows the products in the order they appear in this guide. The first three are in order of best budget, best value, and top pick. I've arranged the others in order of price starting with the least expensive model first.
8 Best Quality DSLR Gimbal Stabilizers Comparison Table
1. ROXANT PRO Limited Edition Stabilizer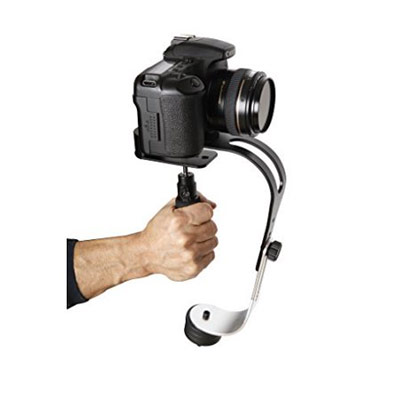 View on Amazon
Editor's Rating: 4.8/5
The ROXANT PRO Limited Edition Stabilizer is my first and cheapest pick. It's not in the same class as the costly pro models in this guide but it's still an excellent product for the money.
Best feature 1: Pro style stabilization
Best feature 2: Multi-camera support
Plus points: Non-slip grip, free video tutorials, free lifetime email support, affordable
Minus points: Takes some practice, light max load capacity
Try not to let the low price of the ROXANT PRO Limited Edition Stabilizer put you off. This is perhaps one of the best value-for-money camera stabilizers around at this price. The Pro-style stabilization results in less shake and motion than other handheld stabilizers in its class.
A Truly Portable Product
The simplistic design is still capable and robust. It supports all the popular brand name digital-SLRs, camcorders, action cameras, and smartphones up to 2.2 lbs. The portable design lets you take it into tight spaces, among crowds, and on stairs, etc. Whether you're in a vehicle, on foot, skating or whatever, you can easily pack the ROXANT PRO with you.
The ergonomic non-slip comfort grip lets you create amazing footage over longer periods with less fatigue. This is especially useful for Indie filmmakers on all day shoots.
There are plenty of free video tutorials that come with this device. The secret to using it successfully is to do a good job at balancing your camera on the stabilizer. I like the fact that the company, Roxant, offers free lifetime email support. This shows real confidence in their products.
The Not So Good
As simple as the ROXANT PRO Limited Edition Stabilizer is it does take some practice. There's no electronic wizardry going on in the background so it's essential to learn how to use the device. The majority of those who do are more than happy with the outcome. You can see this in the positive feedback and high ratings the ROXANT PRO gets from reviewers.
The light maximum payload of just 2.2 lbs. is not ideal so make sure you take this into consideration. You not only need to be mindful of the weight of your camera but also the lenses you use.

Tech Specs
Compatibility: DSLR & Camcorders
Package Dimensions: 13.4 x 2.2 x 8.1″
Product Weight: 2.4 lbs.
Load Capacity: 2.1 lbs. (953g)
Battery Type: N/A
Battery Life: N/A
The Pros
Superior design and build
Multi-device support
Pro-style stabilization
Solid aluminum construction
Metal turn nobs
Comfy cushioned grip
Excellent customer service
Popular handheld stabilizer with excellent user feedback
The Cons
Light max load capacity
Takes practice and patience to get the best results
2. Viewflex 3-Axis Handheld Gimbal Stabilizer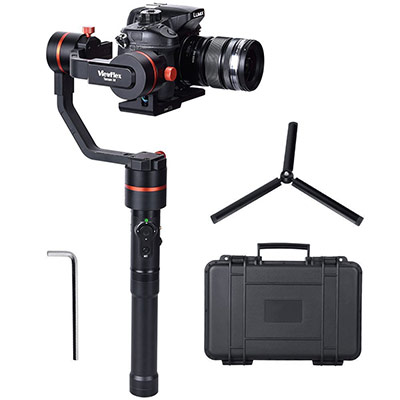 View on Amazon
Editor's Rating: 4.9/5
This is the ViewFlex TARZAN M with 3-axis balancing technology. It's a multipurpose handheld gimbal stabilizer that sports multiple working modes that help to capture truly professional results.
Best feature 1: Electronic handle control
Best feature 2: 10+ hours runtime
Plus points: Infinite 3-axis 360°, thumbscrew design, fast hand position feature
Minus points: None at the time of writing this guide
The ViewFlex TARZAN M comes with a multi-function electronic handle that's comfortable and flexible. The vertical alignment of the remote sensing, power button, and function buttons seem natural. The handle's three colored indicator lights are bright and make the various patterns easy to read. These things combined help to prevent any accidental operating mistakes.
The TARZAN M has a maximum run time of 10-hours which is ideal for long shoots. Two 4000 mAh high-energy-efficient rechargeable batteries power the device with seamless efficiency.
Powerful and Adaptable
The powerful 3-axis electric brushless motor provides the newest steadying technologies for handheld gimbals. The TARZAN M guarantees smooth footage with its pitch, roll, and yaw stabilization.
The company calls their new thumbscrew 'ingenious' and I have to agree. Little modifications like this one can make a big difference. Balancing and other adjustments become so much quicker with it.
The TARZAN M also provides quick-hand-position in its Locking Mode with auto self-correction. The three working modes are locking, following, and half-following. Each of these assists different working conditions. ViewFlex designed everything for this handheld gimbal with speed and efficiency in mind. There's minimal installation and no need for a screwdriver at any point.
What's Not So Good
It's not often I come across a new product where there aren't a few negatives. But with the Viewflex 3-Axis Handheld Gimbal Stabilizer, I'd only be nitpicking to find fault. Maybe after it's been around for a while longer some disadvantages may materialize. There's nothing negative to report for now though.

Tech Specs
Compatibility: DSLR Cameras
Package Dimensions: 14.2 x 12.4 x 4.2″
Product Weight: 6.14 lbs.
Load Capacity: 5.5 lbs. (2500g)
Battery Type: 4000mAh
Battery Life: 10+ hours
The Pros
Solid build quality
Great value for a gimbal in its class
Smooth footage
Easy to set up and use
Multi-featured product
Works with larger DSLRs
Includes smart carrying case
3. DJI Ronin-M 3-Axis Handheld Gimbal Stabilizer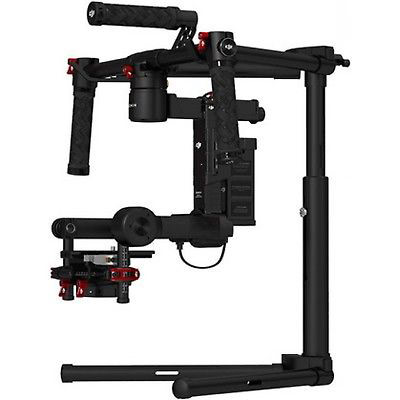 View on DJI
Editor's Rating: 4.5/5
The DJI Ronin-M is a 3-axis gimbal stabilizer with a distinct look and feel to it. It's a beautiful piece of equipment that has a lot to offer as you'd expect from a pro level.
Best feature 1: Compact and lightweight
Best feature 2: Quick setup and precise balancing
Plus points: Quick & easy to disassemble, magnesium frame, SmoothTrack technology
Minus points: Hard to carry after a while, no carry case, vague manual
The DJI Ronin-M has a somewhat awkward-looking construction. But at just 5lbs it's incredibly compact and lightweight making it an easy travel companion. It's also quick and easy to setup and will take less than five minutes once you're familiar with it.
Disassembly is even faster and takes only a few seconds by twisting off the top handlebars. The new magnesium frame has two distinct advantages. One is that it provides a super strong and rigid construction. The other is that it adds to the lighter weight—essential for handheld gimbals.
DJI's SmoothTrack Technology
DJI's SmoothTrack technology is quite special. It translates movements into silky-smooth camera angles and intuitively faces the directions you want. Best of all is that the camera remains totally stabilized irrespective of your movements.
SmoothTrack customizable settings and modes include speed to dead-band to acceleration and single axis follow-mode. A few other highlights are the underslung mode, upright mode, and briefcase mode.
The DJI smart batteries are replaceable, which is just as well considering the 3-hour lifespan.
The Not So Good
There's a learning curve with so much technology. The DJI Ronin-M is simple to set up and use—once you're familiar with it. The DJI instructions seem vague so I'd suggest YouTube videos as a better way to learn. Another gripe is that some people complain of arm and backache after long periods despite its light weight. Regular users usually get more comfortable once their body adjusts though.
The batteries only last for around three hours but then there's a lot for them to power. And finally, it would have been nice to have a purpose carry case included with a product in this price range.

Tech Specs
Compatibility: DSLR cameras
Package Dimensions: 8.3 x 19.5 x 16.5″
Product Weight: 5lbs. (2268g)
Load Capacity: Not specified
Battery Type: Ronin-M 4S Battery
Battery Life: 3 hours
The Pros
Robust, lightweight design, magnesium frame
Quick-release system mounts the device to anything
Bluetooth app
Three operation modes
New Silent Mode
High precision control Ronin-M's brushless motors
Easy to set up and use once familiar with the product
Wireless Thumb Controller
SmoothTrack technology
The Cons
High price tag
Short battery life
No carry case
DJI instructions could be better
4. Laing Handheld Stabilizer 5-10kg Steadycam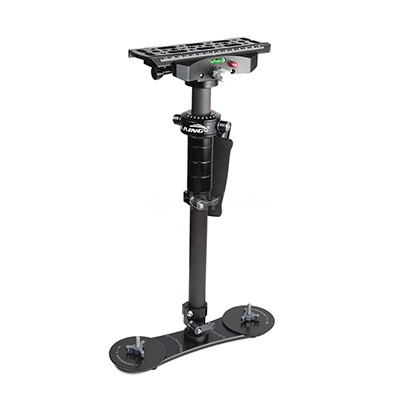 View on Amazon
Editor's Rating: 4.3/5
The Laing Handheld Stabilizer 5-10kg Steadycam is easily the most affordable in this guide. It's a great value handheld camera stabilizer and it's easy to use for some yet fiddly for others.
Best feature 1: Carbon fiber pole, aluminum alloy
Best feature 2: Built-in bubble level
Plus points: Easy to balance, robust build, flexible range, adjustable top plate, carry bag
Minus points: Novice users might find the balancing awkward at first
The Laing stabilizer accommodates all kinds of DSLR cameras and heavier camcorders. It has a nice quality feel too. This is thanks to the aluminum alloy and carbon fiber materials used in the construction. The gimbal allows multi-angle shooting plus horizontal and vertical 360° turning.
Balancing Conflicts
Most photographers and videographers who've bought the Laing stabilizer find it simple to balance. You can easily adjust the release plate from left to right and front to back. There are some who find it difficult to balance, though, usually novice users to gimbal stabilizers. A little patience is a virtue.
Maintaining horizontal and vertical level is effortless with the built-in bubble level. The Laing P-4S package includes a soft sponge hand grip for added comfort and a smart carry case.

Tech Specs
Compatibility: DSLR cameras, professional camcorders, DVs
Package Dimensions: 17.9 x 11 x 6.1″
Product Weight: 2.54 lbs. (1152g)
Load Capacity: 10 kg
The Pros
Affordable handheld gimbal
Solid build, quality materials
Flexible use
Easy to use
Carry case included
The Cons
Fiddle to balance for inexperienced users
Better for smaller cameras despite the high load capacity
5. MOZA Air 3 Axis Handheld Gimbal Stabilizer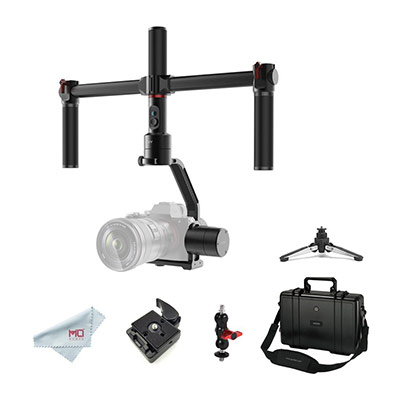 View on Amazon
Editor's Rating: 4.1/5
The MOZA Air 3-axis Servo Gimbal Stabilizer is a dual-handle device. It has an impressive maximum of 7.1 lb. load capacity that can accommodate Digital-SLR cameras at the heavier end.
Best feature 1: Multi-camera support
Best feature 2: Construction uses aircraft-grade aluminum
Plus points: MOZA App, 2 handheld modes, mounts to other devices, slip-ring technology
Minus points: Poor app support, unnecessary jargon by company, heavy
This is a serious handheld stabilizing gimbal with a compact structure. One of its standout features is its multi-camera support. This includes mirrorless cameras, DSLR lightweights, and heavier models thanks to its 7.1 lb. maximum payload and tough construction. The materials used include aerospace industry-grade aluminum. At least we know there's zero skimping on the build quality.
The MOZA Assistant App is now available for Android (available at Google Play Store) as well as iOS. It has lots of useful features such as parameter settings, calibration, gimbal movement, and camera control. It's also invaluable for creating dynamic ultra-smooth, time-lapse video on your mobile devices. There are various options for different operation modes too.
Two Handles Better than One
The enhanced handheld shooting experience is due to the dual-handle mode. Whether you need to be high up or shoot at low angles the two handles make everything so much easier. The MOZA Air adapts beautifully to any shooting scenario even with heavier DSLR cameras.
There's a handy ¼" screw hole located at the bottom of the handgrip to provide extra flexibility. It lets you mount the gimbal to any universal connection like tripods, sliders, jibs, and cranes, etc.
Incredible Perspective
The MOZA Air 3-axis Gimbal Stabilizer incorporates slip-ring technology in its motors. This is what gives it the amazing 360-degree rotation on tilt, roll, and yaw axis. The upshot of this is a mounted camera with unlimited movements to capture incredible perspectives. This includes 360-degree panoramic videos that promise steady views from wide-angle shooting.
A couple of other features worth a mention are the long battery life and operation modes. The gimbal's handgrip accommodates three 2000 mAh lithium batteries. These can provide uninterrupted power for around 12 hours or more under normal conditions.
The gimbal's multiple operation modes include:
Hold the gimbal upright and underslung. Switching between the two is quick and easy
Shoot from four follow modes: yaw-follow, pitch-follow, yaw-pitch follow, and all-lock
Auto-center shooting mode means no awkward adjustments and better efficiency
The Not So Good
The MOZA Assistant App is great but it lacks support. Some users complain about things on the app they can't find instructions for. This brings me on to my next point. I think it's unnecessary to use video terms like yaw and pitch when words like pan and tilt are what most of us are used to. Finally, this handheld gimbal is no lightweight at 10.7 lbs. Its heft is a consequence of the quality build.

Tech Specs
Compatibility: Most DSLR cameras
Package Dimensions: 16.4 x 13.7 x 5.9″
Product Weight: 10.7 lbs.
Load Capacity: 7.1 lbs.(3221g)
Battery Type: 2000mAh lithium
Battery Life: 12+ hours
The Pros
Multi-camera support
High-quality build
2 Handheld modes
MOZA App
High payload potential
Mounts to other devices
Long battery life
Slip-ring technology
The Cons
Heavy
App could use some clarity
6. Zhiyun Crane 2 DSLR 3-Axis Handheld Stabilizer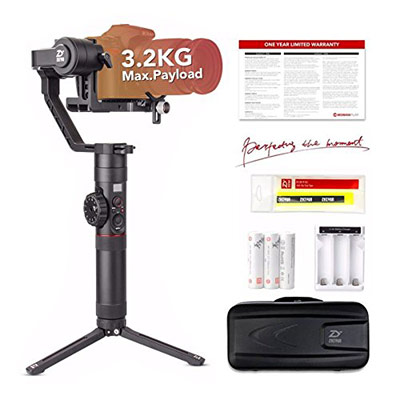 View on Amazon
Editor's Rating: 4.7/5
This 3-axis handheld gimbal accommodates all popular mirrorless and DSLR cameras. These include Canon EOS series, Panasonic LUMIX series, Sony ILCE series, and Nikon D series, plus others.
Best feature 1: Real-time Follow Focus
Best feature 2: 18-hour runtime
Plus points: 3-level focus adjustment, attitude compensation, OLED Display
Minus points: High price, no adjustable joystick sensitivity
Zhiyunis leaders in high-end handheld gimbal stabilizers and their Crane 2 is no exception. The look and feel of this quality product stand out from the cheaper alternatives. The real-time Follow Focus is definitely worth a mention. The body has a unique integrated ultra-precise follow focus wheel controlled via a camera cable connection. It keeps the subject in sharp focus as you move the camera.
Three high-energy-efficiency 6000mAh rechargeable batteries power the Zhiyun Crane 2. The maximum runtime in normal conditions is an incredible 18 hours. Furthermore, this high-tech handheld gimbal can charge a camera in real-time without its batteries.
The 3-level follow focus adjustment is simple to control. Once you've attached the camera you just choose the model from the gimbal's settings. You then get to change the sensitivity of the follow-focus from low, medium, or high. It's as simple as that.
Setting New Standards
Pioneering technology gives this gimbal stabilizer a 100% improvement in its response speed. The attitude error compensation system is cutting edge and unparalleled. It's fair to say this product sets new standards in areas of stabilizing performance and anti-shaking control.
The OLED (organic light-emitting diode) display is an intuitive interface. From here you can easily check the current status. This shows things like control mode, battery power level, shutter release and a bunch of camera parameters to boot. It's a nice touch and keeps you in full control at a glance.
The Not So Good
The not so good is that all this quality and built-in technology comes at a price. The cost is relative if it's a tool of the trade. For enthusiasts, though, the 700+ bucks is hardly small change. Another feature that would have been nice would be to have some kind of sensitivity adjustment for the joystick on the gimbal. As it stands you have to faff around with a mobile device and the Zhiyun app.

Tech Specs
Compatibility: DSLR Cameras
Package Dimensions: 20.1 x 11 x 5.9″
Product Weight: 8.2 lbs. (3719g)
Load Capacity: 7 lbs.
Battery Type: 6000mAh
Battery Life: 18 hours
The Pros
Easy to setup
Solid build
Smooth results
Versatile tool for videography
Intuitive design
Decent max payload
Long battery life
The Cons
Vague instructions
Takes a while to get physically comfortable with the device
Pricy
7. Devin Graham Signature Series Stabilizer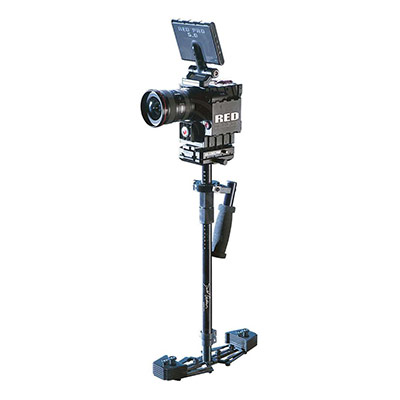 View on BH Photo
Editor's Rating: 4.4/5
This beast can accommodate larger film, DSLR, and video cameras from 2-12 lbs. (0.90 kg. to 5.44 kg.). It's a professional, hand-held camera stabilizer developed by Devin Graham and Glidecam.
Best feature 1: Precision Balance Platform
Best feature 2: Telescoping Center Post
Plus points: Positionable3-axis gimbal, dynamic base platform, foam padded handle grip
Minus points: Heavy, manual, high price tag
This is a manual handheld gimbal which comes with advantages and disadvantages. The precision Camera Balance Platform incorporates an effective quick-release slide-in dovetail camera plate (no tools needed). I won't go into the mechanics of it all but I can tell you that it only takes a few seconds to mount and detach cameras. The fine-tuning controls make light work of balancing.
How the Devin Graham Signature Series Stabilizer Works
The 1-inch diameter telescoping center post is light and ridged and requires no tools. The post has clear scale markings for user convenience. It also comes equipped with a safety stop that prevents it coming away from the central base.
The positionable 3-axis gimbal has a number of adjustable axis-convergence controls. These help with operational alignment by allowing the three axes to intersect. You can adjust the vertical balance simply by changing the gimbals position on its central post.
The manual dynamic base has a unique design that's easy to expand and contract. It allows for quick and simple adjustments of the system's dynamic balance. It makes easy work of increasing/decreasing the rotational pan inertia too. You also get a 1/4″ mounting hole on the dynamic base platform from where you can attach a monitor.
The foam padded handle grip might seem like a small point to mention but it's really not. Active photographers and videographers welcome anything that adds to the comfort level on long shoots.
The Not So Good
At 9.05 lbs. this isn't the lightest handheld gimbal in this guide but it's still heavy. It's even more notable if you mount a larger camera with a maximum weight of 12 lbs. Another setback for some is that this gimbal is all-manual. Others love the idea of not having to worry about batteries. To be honest, manual adjustments are not difficult and there's less that can go wrong.
The final con is the high price tag, especially as there are no sophisticated electronics involved. This is a precision piece of engineering all the same. It delivers results that are as smooth and professional looking as any battery powered rival. Only you can decide whether the price is justified—for you.

Tech Specs
Compatibility: Larger film, DSLR, and video cameras
Package Dimensions: 18.9 x 5.1 x 27.9″
Product Weight: 9.05 lbs. (4105g)
Load Capacity: 12 lbs.
Battery Type: N/A
Battery Life: N/A
The Pros
High-quality build, durable
High-precision gimbal
Easy-to-setup and stabilize
Super-smooth results
Comfortable grip
High load capacity
No batteries or electronics to worry about
Quick-release plate
Fine-tune adjustment nobs
The Cons
Heavy product
Takes a while to get used to
8. Ikan Beholder EC1 Dual Grip Handle Gimbal Kit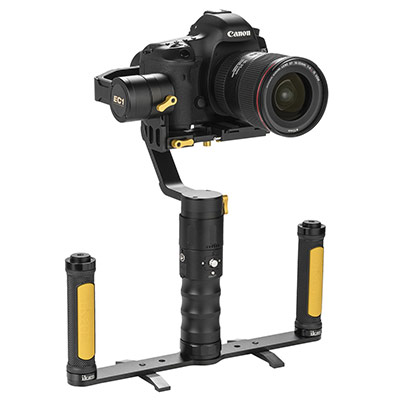 View on Amazon
Editor's Rating: 4.8/5
The Ikan Beholder EC1 is another high-quality dual grip handheld gimbal. Ikan has developed this product with professional users in mind and especially pro filmmakers.
Best feature 1: Adaptive PID Algorithm
Best feature 2: Incredible battery life
Plus points: Lock Mode, Point & Lock feature, Auto Inversion Mode, carry case included
Minus points: Camera/lens compatibility issues, high price
The Ikan Beholder EC1 comes equipped with something called the Adaptive PID Algorithm. Without getting too technical the PID algorithm provides more advanced and efficient handheld stabilization. It also helps to get maximum efficiency from the gimbal's three rechargeable batteries. The battery life can extend up to 20 hours on a single charge under optimal conditions.
Impressive Modes
The Yaw, Pitch, and Roll axis work in unison when the gimbal's Lock Mode is on. This keeps the camera pointing in the desired direction. The composition remains unchanged despite the handle's movements. The Point & Lock feature locks the camera into any desired position. To activate Point & Lock you simply point it in the required direction and hold for a few seconds until it locks.
To activate the Inverted Mode you just flip the handle over the top of the camera—that's it. You can also operate Auto Inversion with Follow and Lock modes.
The Ikan Beholder EC1 Dual Grip Handle Gimbal comes with its own carry case which is a nice touch.
The Not So Good
The majority of users are happy with this gimbal stabilizer. There are a few reports about it not working too well with some standard DSLRs though. I've seen other complaints about how mirrorless cameras don't work too well unless you mount a big lens or use a riser (High Hat). Be sure to check your camera/lens compatibility before buying this product.
This is not the most costly handheld gimbal in the guide but it's still expensive for non-professionals.

Tech Specs
Compatibility: DSLR & Mirrorless cameras
Package Dimensions: 16 x 10 x 6″
Product Weight: 7lbs. (3175g)
Load Capacity: 5lbs. (2268g)
Battery Type: 3 x lithium-ion
Battery Life: 20 hours
The Pros
Lightweight, easy to use
Advanced Stabilization
Point & Lock
Auto Inversion
Adaptive PID Algorithm
Long battery life
The Cons
Fiddly to use with some models/sizes of camera
Price tag
Summing Up
This concludes my top eight picks for the pro-style camera and camcorder stabilizers. There's no such thing as the perfect device for all photographers and videographers of course. But there is such a thing as the perfect product for individual users. Remember to check the weight and compatibility of your camera with the device you're interested in prior to purchase.