5 Best Mini-Drones with Cameras
3D Insider is ad supported and earns money from clicks, commissions from sales, and other ways.
High-end drones may now be more common than ever, but that doesn't mean that you need to spend a thousand dollars to fly a drone for fun. There are dozens of low-cost drones available today that offer a good portion of the usual features found in more expensive models. Some of the best deals on mini-drones are those that include cameras – a fun little accessory for all types of drone pilots.
Finding a mini-drone with a camera isn't exactly difficult. The challenge lies in choosing the best models that give you the most bang for your buck. Here are our top recommendations for the best mini-drones with cameras.
Why get a mini-drone?
With so many good mid-range or high-end drones around, why would you go for a mini-drone? More expensive isn't always better, as proven by the following points:
1. Inexpensive
The number one reason to get a mini-drone is that it can be an incredibly cheap way to get into drones. For those who haven't flown a drone before, this is a great way to get into the hobby without spending too much. Mini-drones also make great gifts, especially since not many people are willing to fork over $1000 for a gift.
Another good reason to get an inexpensive drone for a first-timer is that you don't end up feeling bad when it eventually crashes. For all the modern technology of drones, they are still quite fragile flying devices which will break down eventually.
2. Easy to fly
Mini-drones are specifically designed for beginners and often come with beginner-friendly features. These include one-key take-off and landing, return to home (RTH), Beginner Mode, or Headless Mode. The beginner-friendly features provide an environment conducive to learning how to fly a drone, which is perfect for newbies and young drone pilots.
3. No registration needed
The FAA requires that all drones that weigh between 0.55 and 55 pounds be registered. Although this is a quick process, it also means that you can't just go flying your drone out of the box. You'll also have to pay the $5 registration fee – not great if you received the drone as a gift.
A mini-drone is a clever way to subvert this requirement. According to the regulations, drones that weigh less than 0.55 pounds that are used purely for fun do not need to be registered. If you want to avoid the hassle and extra fees of registration, then a mini-drone is the way to go.
4. Can capture videos and photos for fun
Considering the low price of mini-drones, you can't expect them to have top-of-the-line cameras. There are no 4K cameras here, and you certainly aren't going to get any professional work using a mini-drone. It's even rarer to find a mini-drone that comes with a mechanical gimbal, so you might end up with a lot of shaky videos if it's too windy outside.
Still, the videos and images you can capture with a mini-drone should be enough for posting on your social media profiles. They won't be the best ones out there, but they should draw the interest of a fair number of people.
Top 5 best mini-drones with cameras
1. Best overall: DJI Mavic Mini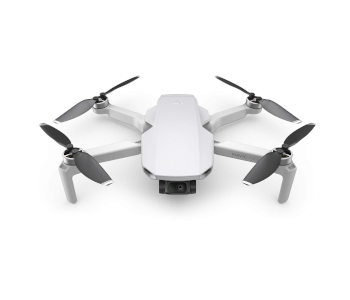 View on Amazon
Coming out ahead of the pack is the Mavic Mini from DJI, a drone that transcends what the usual mini-drone offers, straddling the boundary between inexpensive and mid-range models. At a hair below the 0.55-pound limit for registration, DJI can pack in as much technology as possible in the Mavic Mini without going over the weight requirement.
The Mavic Mini has a best-in-class combination of a 2.7K camera mounted on a 3-axis mechanical gimbal. While it's not quite 4K, few drones in the same price range can rival the quality of images and videos that you can capture with the Mavic Mini. It also has a couple of fancy photo modes, although it's missing the standard "Follow Me" mode that is a staple in higher-end DJI drones.
All these features, plus the 30-minute flight time, are pleasant surprises coming from a drone that weighs just about as much as a smartphone. The fact that it comes with a dedicated remote controller is just the cherry on top, although you'll still need to mount a smartphone to act as a screen.
This incredibly portable drone is miles ahead of other mini-drones in terms of technology. The only drawback is that it's quite expensive for a mini-drone – easily up to ten times more expensive than budget options.
Tech Specs
Weight: 0.549 lbs.
Camera: 2.7K
Flight time: 30 minutes
The Pros
Has a stabilizing gimbal
Foldable propeller arms
Comes with a remote controller
The Cons
Relatively expensive
No obstacle detection
No subject tracking feature
2. Best budget: SIMREX X300C Mini-Drone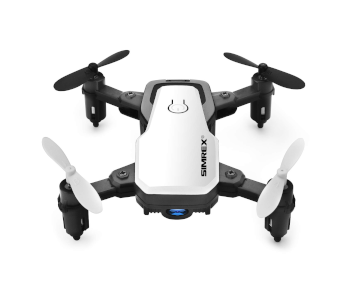 View on Amazon
The X300C from SIMREX has a lot of things going for it. It's small enough to fit on the palm of your hand and is very easy to fly, even for a kid who hasn't flown a drone before. This drone also only costs less than $40, making it an excellent introductory drone or gift.
Among its beginner-friendly features are the Headless Mode, one-key return, and one-key flips and rolls. The speed can be switched between three pre-set values to make flying the drone comfortable and safe for drone pilots at all experience levels. The drone can be controlled using either the included remote control or independently with a smartphone.
Anticipating the crashes expected of beginner drone pilots, SIMREX has included propeller guards with the X300C, as well as a set of spare propellers. This not only protects the drone from getting damaged but also the pilot and any bystanders nearby.
The 1080p camera is far from premium, especially since it's not complemented by any sort of mechanical gimbal system. The compact design of the drone also doesn't provide much space for a battery, thus the 10-minute maximum flight time. To be fair, there's not much more that you can ask for a drone that is as inexpensive as the X300C.
Tech Specs
Weight: 0.35 lbs.
Camera: 1080p
Flight time: 10 minutes
The Pros
Inexpensive
Very small and lightweight
Beginner-friendly features
The Cons
No stabilizing gimbal
Poor battery life
3. Best value: Ryze Tech Tello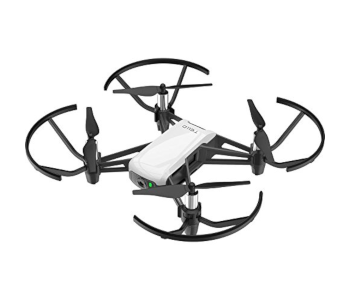 View on Amazon
The Tello is the collaborative brainchild of Tello with DJI and represents one of the first attempts of DJI to break into the budget drone market. This small and lightweight drone was also one of the few to defy expectations of what a sub-$100 drone can offer.
At about 80 grams, the Tello is almost small and light enough to be considered a toy drone. However, its features defy the usual image of what a toy drone is. Its 720p camera isn't exactly top-notch, but the Tello does one better by having an electronic image stabilization (EIS) function. This simulates the effect of a mechanical gimbal and does a good job of stabilizing videos that would have been otherwise jittery.
Just as with other drones from DJI, the Tello is pre-loaded with a few automatic camera modes. Modes like Dronie and Orbit may seem basic but are still nice to have for a drone at this price range.
Lastly, the Tello's Intel chipset is fully programmable via the Scratch platform. Although the things you can do with Scratch are quite limited, this feature has cemented Tello as one of the few drones that can be used as a STEM instructional tool.
The 13-minute battery life, as well as the lack of the GPS module, are two of the biggest drawbacks of the Tello. However, the Tello is still a very compelling purchase for less than $100 and is certainly one of the best value-for-money options even today.
Tech Specs
Weight: 0.176 lbs.
Camera: 720p
Flight time: 13 minutes
The Pros
Has an electronic image stabilizer
Autonomous camera modes
Programmable functions
The Cons
No GPS module
Poor battery life
4. AlCase Mini Drone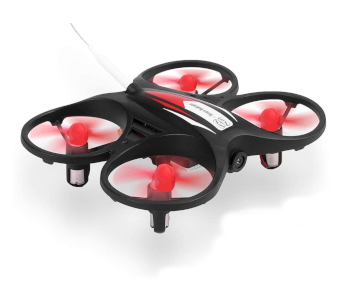 View on Amazon
If it's a combination of performance and lightweight design you're after, then the racer-inspired Mini Drone from AlCase may just be the perfect example. Clocking in at slightly below the 0.55-pound limit, the AlCase Mini Drone is an inexpensive but powerful drone that could provide hours of fun.
The 720p camera of the AlCase Mini Drone, while nothing exceptional, is enhanced by the ability to take photos using gestures. This is a very convenient way to take selfies or "dronies." The 21-minute flight time ensures that you get a satisfying flight experience every time you take this drone out for a spin.
The AlCase Mini Drone is very beginner-friendly drone considering the inclusion of a Headless Mode, three speed settings, one-key takeoff and landing, and an Altitude Hold function. The built-in propeller guards are also a nice touch. Despite the lack of any mechanical stabilization, the drone hovers in a stable enough manner to take relatively jitter-free videos in calm conditions.
One thing that this mini drone lacks is a feature that allows for automatic photo modes. This is pretty much a standard feature for drones nowadays, even those in the budget category.
Tech Specs
Weight: 0.54 lbs.
Camera: 720p
Flight time: 21 minutes
The Pros
Inexpensive
Built-in propeller guards
Long battery life
Beginner-friendly features
Gesture control
The Cons
No gimbal stabilization
No automatic photo modes
5. EACHINE Mini Quadcopter Drone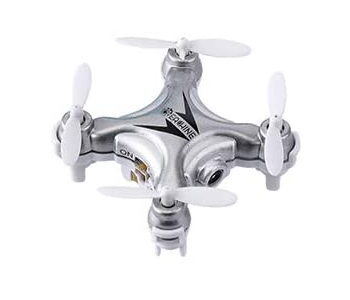 View on Amazon
Can you even imagine a drone that's only slightly larger than your thumb having a camera? That is exactly what the EACHINE Mini Quadcopter is – a drone that is capable of more than it lets on.
This quadcopter really puts the 'mini' in mini-drone. At less than 20 grams and less than 10 centimeters across, the biggest concern with this drone would probably that you can end up losing it after a crash. It's small enough to put inside your pocket and would make a great gift to a kid who's curious about flying a drone. The fancy LED lights make for a pretty light show when you fly this mini-drone at night.
The 720p camera is one of the more surprising things about this mini-drone. The fact that the drone even has a camera is impressive enough, so we can't really complain about the camera's resolution or quality. The 6-minute battery life also isn't particularly surprising, considering how small the space is for a battery in this drone.
The EACHINE mini-drone seems like a novelty drone on account of how small it is. It's far too small to be used in challenging weather conditions or for flying your drone beyond a hundred feet. It's a cheap and fun way to get into drones – the onboard camera is just a nice bonus.
Tech Specs
Weight: 0.03 lbs.
Camera: 720p
Flight time: 6 minutes
The Pros
Very small and lightweight
Comes with LED light
Comes with remote controller
The Cons
Poor battery life
Low-resolution camera
Final thoughts
Mini-drones have always been considered the kind of drone you give to someone who hasn't flown a drone before. Since they are usually so cheap, you're not going to feel bad if the drone gets damaged or if it gets used a couple of times and forgotten for eternity.
However, a mini-drone doesn't always have to be incredibly basic. As our list of mini-drones with cameras has shown, there are now mini-drones that challenge the notion of this particular market segment. Are mini-drones still designed specifically for beginners? As the times and technology continue to evolve, this seems to no longer be the case.