8 Best Steadicam Stabilizers for Cameras
3D Insider is ad supported and earns money from clicks, commissions from sales, and other ways.
Everyone wants their videos to be tack-sharp, but not everybody knows how to achieve it. Don't give up. Impressive video is easy when you know what to do. This buyer's guide looks at 8 of the best Steadicam stabilizers available. Camera stabilization works like magic once you have the right gear. Keep reading if you want to transform shaky video into eye-catching, cinematic quality footage.
Budget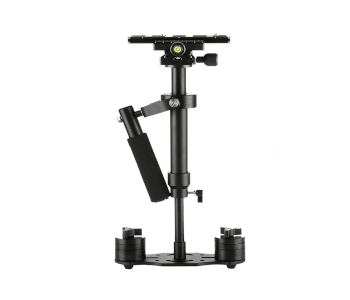 SUTEFOTO S40 Handheld Steadicam
4.6/5.0
Payload: 7 lbs.
Gimbal: 3-axis
Simple to use once balanced.
Check Amazon
Best Value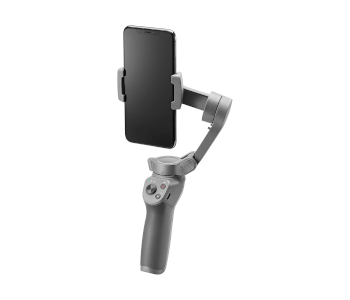 DJI Osmo Stabilizer
4.8/5.0
Payload: 0.68 lbs.
Gimbal: 3-axis
Guaranteed shake-free video.
Check Amazon
Top Pick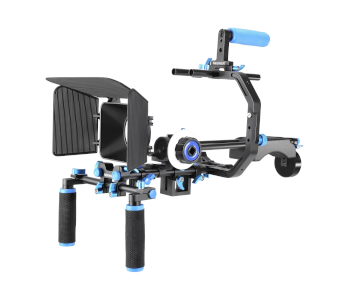 Neewer Stabilizing System
4.7/5.0
Payload: Not Specified
Gimbal: None
Flare-reducing, adjustable matte box.
Check Amazon
Steadicam Defined
A Steadicam—also steadycam—is a brand of camera stabilization systems with special mounts. There are also some decent third-party products around. These mechanical devices isolate your camera from jostles and wobbles that can occur while filming. The result is smooth-looking video that's free from camera-shake. In the past, filmmakers had to stabilize cameras on heavy tracks or crane jibs.
You can produce filmic video with regular cameras mounted onto Steadicams. Best of all is that these handheld stabilizers can go anywhere you go. The portability factor adds further to their appeal. You can even stomp across uneven ground with your camera, but your viewers would never know it.
What to Look for in a Steadicam
You can find Steadicams in all sizes and price ranges. There are several buying considerations before you choose a product. It's wise to understand a few basics before parting with your cash.
Here are the 3 types of camera stabilizer:
Handheld stabilizer (no gimbal)
Gimbal stabilizers
Vest stabilizer systems
Let's look at each type before moving onto filming requirements.
Handheld stabilizer (no gimbal)
Gimbal stabilizers
Vest stabilizer systems
Personal Shooting Requirements
The best Steadicam for your needs depends on several factors. Start by fixing your max budget so that you don't waste time looking at products out of range. Also, think about the weight of any cameras, lenses, and accessories you plan to use. You can find the maximum payload of a gimble in its specs. Finally, consider your style of photography, i.e., moving, still, macro, action, and so on.
About My Best Steadicam Stabilizer' Guide
The reviews below include a variety of stabilizers, types, and brands. I chose these products based on functions, price, and feedback from amateur and pro-level filmmakers. The first three reviews are the Editor's Choice. They include the Best Budget Stabilizer, Best Value, and the Top Pick. The reaming Steadicams reviews are by price order, lowest to high.
Steadicam Stabilizers Comparison Table
1. SUTEFOTO S40 Handheld Steadicam | Best Budget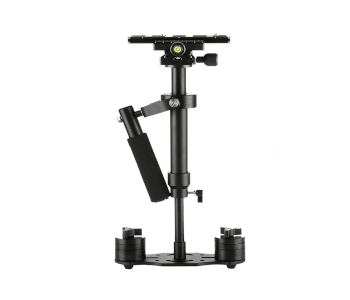 View on Amazon
Editor's Rating: 4.6/5
The Editor's Best Budget product review is for a SUTEFOTO S40 Handheld Steadicam Pro. It's a well-made, affordable camera gimbal stabilizer that's easy for novice users to assemble.
Compatibility: Supports GoPros and most other action cameras weighing between 1.1–3.3 lbs. It also accommodates smaller DSLRs, some mirrorless, and compact cameras.
SUTEFOTO S40 Handheld Stabilizer Highlights
SUTEFOTO's S40 Handheld Stabilizer is easy to assemble, yet not so easy to balance (see cons). It's a solid, well-made Steadicam made from high-strength aluminum covered with black powder coating. This product comes with 6 removable weights so that users can achieve the ideal balance. The S40 has an adjustable range from 11.6" to 15.7" and offers both low and high shooting angles.
Consider the S40 if you want an effective gimbal stabilizer for under 50 dollars. It's an excellent introduction to small camera stabilization. Some of the highlights include a 360° Omni-directional shooting, a quick-release plate, a comfortable sponge handle, and a carry bag.
The Not So Good
This stabilizer is quite heavy, especially with larger cameras mounted. It doesn't take long to adjust with regular use, but new users should expect some discomfort at the start. Balancing this thing for the first time can be tricky, and there are no written instructions to help. My advice is to bypass the overly vague manual and look for video tutorials to save frustration.
Tech Specs
Brand: SUTEFOTO
Model: S40
Primary Material: Aluminum
Max Payload: 7 lbs.
Bracket: Vertical pole
Shortest Height: 11.6"
Maximum Height: 15.7"
Weight Stones: 4x 100g, 2x 200g
Gimbal: 3-axis
Battery Type: N/A
Weight: 2.2 lbs.
Dimensions: 16.3 x 7.9 x 5.3"
The Pros
Well-built and rugged
Professional-looking design
Easy to assemble
Simple to use once balanced
Smooth gimbal
Removable weights
Quick-release plate
Adjustable height
Low and high shooting angles
Storage/travel bag
Decent payload
Affordable product in its class
The Cons
Heavy for first-time users
Fiddly to set up
Overly vague guide
2. DJI Osmo Smartphone Gimbal Stabilizer | Best Value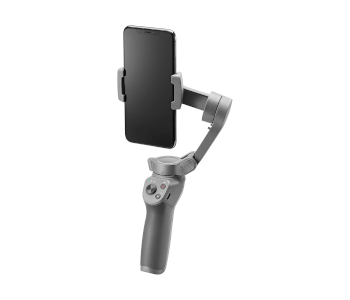 View on Amazon
Editor's Rating: 4.8/5
Drone makers DJI gets the Best Value slot with its popular handheld Osmo. It's a bestselling 3-axis gimbal stabilizer for videographers on the go who demand smooth footage.
Compatibility: Wide device compatibly with iOS 10.0 and Android phones 7.0 or newer.
DJI Osmo Gimbal Stabilizer Highlights
DJI is renowned for producing high-quality products, and its Osmo Gimbal Stabilizer is no different. It has a convenient foldable design and comes packed with a plethora of useful DJI functions. The 3-axis motorized gimbal works seamlessly to eliminate camera vibrations and movements. And the Osmo's lightweight and foldable design makes it the perfect travel companion.
This product comes equipped with a built-in rechargeable battery and power cable. Accessories include a wrist strap, soft storage pouch, and 4 anti-slip pads. The optional extras worth considering are the Osmo Grip Tripod and the large capacity GYTECH Mobile Gimbal Bag. The bag is wear and water-resistant and has space for the gimbal, smartphone, tripod, and cables.
The Not So Good
The main setback with this stabilizer is that it needs rebalancing after removing a phone. It's not hard to rebalance, but it becomes a frustration after a while. Most users are a fan of the intuitive DJI Mimo App but there are inconsistencies between the iOS and Android versions. That's only a nuisance if you shoot with both iOS and Android smartphones. Lastly, the app doesn't offer a live-streaming option.
Tech Specs
Brand: DJI
Model: OSMO Mobile 3
Primary Material: Plastic
Max Payload: 0.68 lbs.
Handle: Single grip
Connectivity: USB ports Type A/C
Gimbal: 3-axis
Battery Type: Built-in Lithium-Ion
Weight: 0.89 lbs.
Dimensions: 11.2×4.9×4.1" (unfolded)
The Pros
Lightweight, foldable design
Comfortable to hold, easy to use
Brushless motorized gimbal
Guaranteed shake-free video
Wide device compatibility
Packed with DJI functions
built-in battery
Includes accessories
Bestselling handheld stabilizer
The Cons
Needs rebalancing every time you remount/swap smartphones.
App differs between Android/iOS
App doesn't offer livestreaming
3. Neewer Full Video Stabilizing System | Top Pick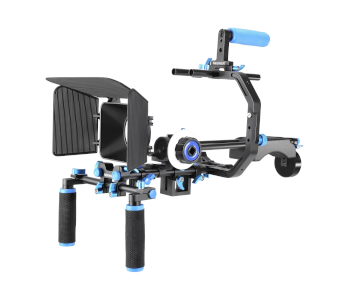 View on Amazon
Editor's Rating: 4.7/5
The Top Pick Steadicam goes to the Neewer Film Video-Making System Kit. It's an impressive piece of equipment that comes with many detachable parts and customization potential.
Compatibility: Most brand DSLRs, including Canon, Sony, Nikon, and video camcorders.
Neewer Full Video Stabilizer Highlights
Neewer's Full Video Stabilizing System has a lot of bells and whistles, but don't let them daunt you. Here's a list of the 6 assembled components that make up this stabilizing camera system:
C-bracket w/ top handle grip
Rubber shoulder mount
Rear counterweight
Follow focus
15mm rail rod system
Flare-reducing matte box
The C-bracket has a handle grip on the top to help you keep the rig steady. A counterweight at the back balances the system precisely on the shoulder. The rail-rod accommodates most DSLRs and camcorders, and the Matte Box quickly adjusts to the height of the camera in use.
Follow Focus uses a gear drive for the smooth, accurate focusing that Videographers demand. This system includes plenty of metal parts and is ideal for amateur and professional filmmakers.
The Not So Good
As a stabilizing system, it does a fantastic job, but it's heavy at around 10 lbs. without a camera. Some are sure to find its heft uncomfortable when shooting for extended periods. A lesser gripe is the black and red version. The color is misleading because red is a definite pink. That doesn't affect the functionality of the stabilizer, of course, but some users won't like the eye-catching pink.
Tech Specs
Brand: Neewer
Model Number: 10086749
Primary Materials: Metal/plastic
Counterweight: 2.5 lbs.
Bracket: C-shaped
Gimbal: None
Weight: 10.15 lbs.
Dimensions: 29.2 x 10.9 x 10.2"
The Pros
Well-made, rugged design
Sits snug on the shoulder
Adapts to most camera types
Flare-reducing, adjustable matte box
15mm rod system
Follow focus
Value for money
The Cons
Its heft may be an issue for some
The red & black version is actually pink & red.
4. Zeadio Stabilizer for Compacts & Digital-SLRs
View on Amazon
Editor's Rating: 4.5/5
Meet the amateur Zeadio Stabilizer for compacts and smaller DSLRs. It's an inexpensive handle grip support that helps to steady cameras while recording those memorable moments for posterity.
Compatibility: All GoPro action cameras, camcorders, DSLRs, and smartphones.
Zeadio Camera/Phone Stabilizer Highlights
Zeadio's Camera Stabilizing Handle is a highly affordable DSLR Grip. It's a perfect first-time stabilizer for anyone who has a small to medium-sized camera with a 1/4" threaded hole. The device is easy to use and comfortable to hold, thanks to the cushioned nitrile rubber (NBR) handle. All you do to reduce camera shake while shooting video is hold the clamp with an attached camera.
You can connect the Zeadio Handle to tripods, stabilizers, sliders, or camera dollies. The product also has a hot shoe on top of the C-clamp. That's useful if you want to attach other devices like a microphone or a video light. It's an excellent handheld stabilizer considering its low price tag.
The Not So Good
Zeadio Stabilizer is affordable and practical, but it's unsuitable for larger DSLRs and big lenses. It's too small and lightweight for a heavy setup. Some DSLRs may even get in the way and obstruct quick access to fingertip controls. Try not to skimp on Steadicam stabilizers if you spend big bucks on costly cameras. For smaller, compact, and some mirrorless products, though, the Zeadio is ideal.
Tech Specs
Brand: Zeadio
Model Number: DV-U-GRIP
Primary Material: Plastic
Max Payload: 8.8 lbs.
Bracket: C-Shape
Max Camera Height: 5.6"
Battery Type: N/A
Mount Thread: 1/4-20
Weight: 0.76 lbs.
Dimensions: 10.8 x 8.6 x 3.9"
The Pros
Works for small to medium sized cameras
Easy to use, comfortable to hold
Cushioned NBR handle
Connects to tripods and sliders, etc.
Hot-shoe for mics or video lights
Exceptional value
The Cons
Not suitable for larger cameras or camcorders.
5. Steadicam Volt Handheld Electronic Stabilizer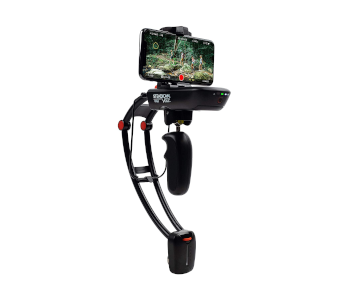 View on Amazon
Editor's Rating: 4.2/5
This product is a genuine Steadicam. It's the company's Volt model, a lightweight handheld electronic stabilizer with a folding, travel-friendly design. Let's check it out.
Compatibility: iPhones, Samsung smartphones, and GoPro Hero action cameras.
Steadicam Volt Gimbal Stabilizer Highlights
Consider this genuine Steadicam if you want to stabilize GoPro Hero cameras and or smartphones. It takes up very little space and easily fits into any small travel or camera bag. One of the Volt's appeals is its dual operating modes for beginner and experienced videographers. The latter gives the sense of using a much larger stabilizer. It holds all smartphones from 2.28–3.34" (58–85mm) in width.
Another neat feature is the manual mode that lets you continue to use the stabilizer if the batteries die. Steadicam's Volt Gimbal Stabilizer uses the Imagemaker App for both Android and iOS.
The Not So Good
Novice users may find the Steadicam Volt a tad awkward to set up. The instructions are quite easy to follow for first-timers, but balancing can still be tricky. Prepare to be a patient if you're a novice. Also, the clamp is not well thought out. It's hard to open/close and may press down hard on the buttons of some smartphones, depending on placement. Lastly, portrait orientation is not possible.
Tech Specs
Brand: Steadicam
Model: Volt
Primary Material: Plastic
Color: Black
Max Payload: 0.55 lbs.
Bracket: Volt docking
Gimbal: 3-axis motorized
Battery Type: 2 x LiPo (included)
Weight: 2.45 lbs.
Dimensions: 7.5 x 2.7 x 13.5"
The Pros
Foldable, lightweight design
Dual modes, beginner & pro
Accommodates GoPro cameras
Holds most modern smartphones
Android and iOS compatible
App-controlled
Manual control if battery dies
The Cons
Fiddly for novice users to set up
Clamp design needs improving
No portrait mode
6. Hohem iSteady Multiuse Handheld Stabilizer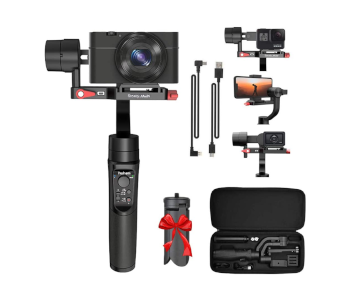 View on Amazon
Editor's Rating: 4.3/5
Hohem's Isteady Multi is an oldie but goodie, 3-axis handheld gimbal stabilizer for smaller cameras. Unlike other products, this puppy doesn't need any assembly and is ready to go out of its box.
Compatibility: Android Smartphones, iPhone, GoPro Hero Series, Sony RX100 Series, and more.
Hohem iSteady Handheld Stabilizer Highlights
The Hohem iSteady has a smart, ergonomic handle that's comfortable to hold over long periods. It's a well-made product with a foldable design for easy storage and transport. This stabilizer has a 3-axis gimbal with 320° adjustable roll/tilt shooting angles, and 600° pan rotation in Inception Mode. The phone clamp accommodates most brands from 58–85mm, weighing between 100–250g.
Hohem has catered to GoPro Hero users too. That includes Hero models 7,6,5,4, and 3, but the mount is an optional extra. Other highlights include a POV Mode, Sports Mode, and Motion Time-Lapse.
The Not So Good
Larger smartphones can hit the stabilizer's supporting arm when tilted downwards. A more minor nitpick is that the buttons need a hard press to function. You soon get used to it, but a lighter response would have been better. Hohem's iSteady stabilizer is well-made, but it's also quite heavy and can take some getting used to. Note that it's not made for cameras over 14 ounces.
Tech Specs
Brand: Hohem
Model: Isteady
Material: ABS, plastic, aluminum
Max Payload: 0.88 lbs.
Handle: Mono grip
Gimbal: 3-axis
Battery Type: 2 x 3 built-in lithium-Ion
Max Battery Life: 8 hours
Weight: 2.5 lbs.
Dimensions: 13.25 x 4.25 x 2"
The Pros
Well-made, comfortable product
Foldable, travel-friendly design
No assembly needed
Gimbal stabilized
Compatible w/ phones and GoPro
Adjustable shooting angles
POV Mode
Sports Mode
Motion Time-Lapse
The Cons
Larger cells touch supporting arm
Buttons need a hard press to work
Heft
7. Glidecam XR-PRO Handheld Camera Stabilizer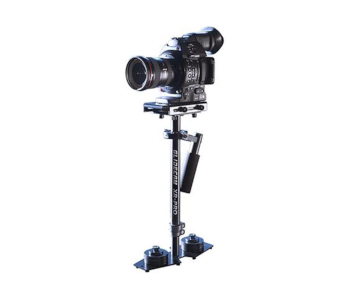 View on Amazon
Editor's Rating: 4.4/5
The penultimate review is for the Glidecam XR-PRO, a handheld video camera stabilizer. It's made from quality aluminum and comes with 22 counterweights in three weight groups.
Compatibility: Wide variety of cameras with a payload not exceeding 10lbs.
Glidecam XR-PRO Handheld Stabilizer Highlights
Glidecam's XR-PRO is another handheld video stabilizer with a lot to offer. It has a comfortable foam handgrip, 3-axis stabilizing gimbal, and a dynamic camera balancing platform. A toolless telescopic center post offers a range of 14–25" or 1.1–2ft. Its payload is an impressive 10 pounds. The stabilizer's included counterweights ensure users find the perfect balance for their setup.
The Not So Good
The Glidecam XR-PRO can be difficult to balance, especially for inexperienced users. Allow some time for this if you're new to handheld camera stabilizers. The product works as advertised, but it's still quite expensive. It won't let you down, but it's been around for a while now. There are a few excellent rival products in the same price category that you may also want to consider.
Tech Specs
Brand: Glidecam
Model: XR-Pro
Primary Material: Aluminum
Max Payload: 10 lbs.
Gimbal: Adjustable 3-axis
Handle: Single grip
Battery Type: None
Weight: 2.1 lbs.
Dimensions: 9.1 x 3.9 x 19.7"
The Pros
Quality aluminum build
Assortment of counterweights
Takes a heavy payload
Toolless telescopic post
The Cons
Can be difficult to balance
Quite expensive for an old model
8. LAING V10 Pro Gimbal Vest Stabilizer System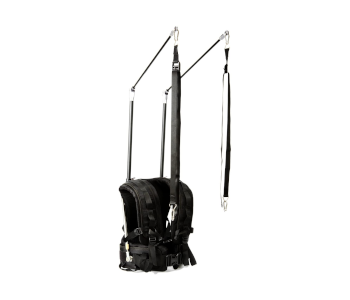 View on Amazon
Editor's Rating: 4.7/5
LAING gets the final review slot with its professional support stabilizing vest. It's lightweight considering what goes into it, and comfortable to wear for long periods, thanks to the fabrics.
Compatibility: Most 3-axis gimbal stabilizers.
LAING V10 Pro Gimbal Vest Stabilizer Highlights
Anyone in need of a gimbal vest stabilizer already knows a thing or two about videography. LAING's V10 Pro Gimbal Vest Stabilizer can take and distribute a payload of up to 28.7 lbs. (13kg). The idea behind these vests is to keep the arms free and relaxed while shooting with a heavy payload. It's a solid, safe product that's compatible with most popular 3-axis gimbals.
The materials used in the construction are Oxford cloth, high-quality aluminum, and glass fiber. It breathes easily and boasts resistance against water and rough conditions. The adjustable size accommodates waists from 33–53" and chest measurements of 32–47". And the vest's support rods extend to 84" or 7ft, and the max strap length is 51" or 4.25ft.
The Not So Good
Not everyone wants or needs a vest stabilizer, so this product has limited use for most photographers. The straps look too skinny for the rig, but they won't give, so it's more of a cosmetic con. The price tag is high, but the LAING V10 Pro Gimbal is justifiable for those who'd get lots of use out of it.
Tech Specs
Brand: LAING
Model: V10 Professional
Materials: Oxford cloth, glass fiber aluminum
Gimbal: 3-axis compatible
Weight: 7.3 lbs.
Max Payload: 28.7 lbs.
Strap length: 51.18"
Waist measurement: 33.46-53.15"
Chest measurement: 31.5-47.24"
The Pros
Comfortable to wear for long periods
Flexible measurements
Water and wear-resistant
High-quality materials
Supports a heavy payload
Compatible with 3-axis gimbals
The Cons
Limited use
Skinny straps
Price