6 Best Cameras for Kids in 2020
3D Insider is ad supported and earns money from clicks, commissions from sales, and other ways.
Does your little one have the makings of a shutterbug? A smartphone can only get her so far and might be an inappropriate solution for younger children. That's why you should invest in a kid-friendly camera to foster their talents and help express their creativity.
Picking a camera for a child isn't easy. You have to take its age and eagerness into account and get an appropriate camera. Younger kids will be more interested in something engaging and easy to use. However, you shouldn't shy away from gifting a simple camera for grownups if your older child shows real enthusiasm.
Here are the best cameras for kids you can get today. You're sure to find an appropriate camera among our six picks since they cater to children of different ages and interests. Buy one and introduce your child to a potentially lifelong rewarding hobby.
Budget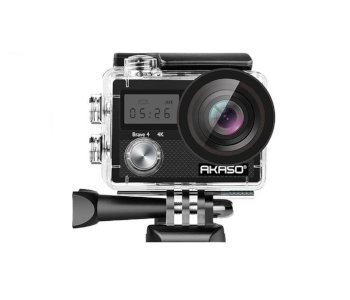 AKASO Brave 4
4.3/5.0
ISO range: 100 – 400
Burst: 10fps
Decent action camera at an excellent price.
Check Amazon
Best Value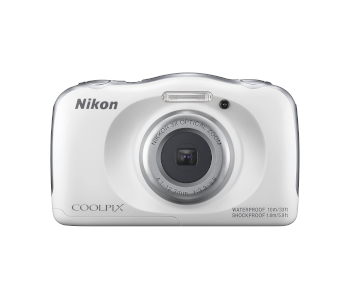 Nikon COOLPIX W100
4.4/5.0
ISO range: 125 – 1,600
Burst: 4.7fps
Lots of scenes and borders to choose from.
Check Amazon
Top Pick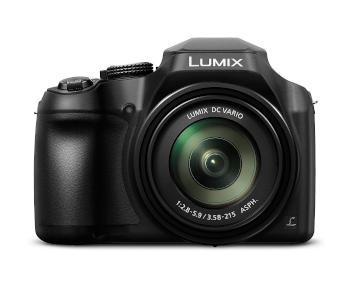 Panasonic Lumix FZ80
4.6/5.0
ISO range: 80 – 3,200
Burst: 10fps
Has slow-motion and time-lapse video.
Check Amazon
Cameras for Kids Comparison Table
1. Best Overall – Panasonic Lumix FZ80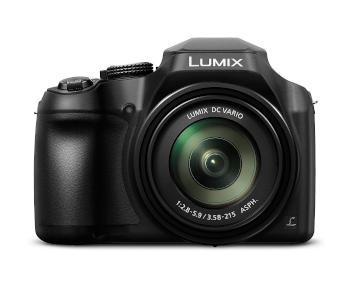 View on Amazon
Editor's Rating: 4.6/5
The FZ80 is the ideal camera for older kids who are starting to express a serious interest in photography. It has a versatile super-zoom lens that lets them snap pictures of everything from landscapes to people or far-away subjects like the moon. Its autofocus is speedy and accurate. You can record quality videos in 1080p and 4K, and an excellent app supports the camera. Best of all, you get all of this for a rock-bottom price as far as fully-functional cameras go.
Overview of Features
The FZ80 is simple to use despite its professional appearance. It's a bridge camera with a fixed lens, so you won't have to worry about buying or attaching replacements yet have a wide focal length at your disposal. It's light enough for older kids to handle for long stretches without getting tired, and a deep grip ensures they won't drop it. The physical control scheme is simple but introduces kids to fundamentals like the mode dial and multi-function D-pad.
The rear screen is a 3-inch fixed touch model. Its resolution has received an upgrade, as has touch responsiveness. It's a helpful tool for transitioning away from smartphones as menus and controls are accessible by tapping. Kids can also learn how to pull focus and change AF points once they're more skilled. There's also a 0.2-inch EVF useful for framing shots when the sun is too bright for the LCD.
We love how versatile the FZ80 is. You can shoot a group of friends and seamlessly switch to taking a photo of a far-away building in the background, and the FZ80's autofocus will always be on point. It has built-in image stabilization, so kids don't need to think about stuff like tripods or shutter speeds to get sharp pictures in any situation. The FZ80 is great for sports and action shots since it has a burst speed of 10fps, 30 if you turn on 4K photo mode.
Videos shot with the FZ80 are of excellent quality. It's a futureproof camera since you can record 4K video at 30fps, or you can switch to 1080p at 60fps for a smoother experience. Time-lapse and slow-motion videos are also supported, as is a mode dedicated to making stop-motion animation.
The camera seamlessly connects to the internet through Wi-Fi and a smartphone. This lets kids control it remotely from their phones, transfer pictures, and share them on social media.
What We Didn't Like
The FZ80's screen doesn't flip out, so it's not the best option for selfies. Image and video quality are heavily dependent on lighting. They look fine outdoors or in brightly-lit interiors, but quality deteriorates considerably as conditions get dimmer.
Tech Specs
Dimensions: 5.1 x 3.7 x 4.7 in.
Weight: 21.7 oz.
Type: Bridge camera
Sensor: 1/2.3 inch
Burst: 10fps
Zoom: 60x
Battery capacity: 280 shots
ISO range: 80 – 3,200
Max still resolution: 18.1 MP
Max video resolution: 4K, 30fps
Pros
Exceptionally versatile camera suitable for any kind of photography
Great autofocus and burst shooting speeds
Has slow-motion and time-lapse video
Can be used via smartphone
Cons
Quality drops in poor lighting
No articulating screen
2. Best Value – Nikon COOLPIX W100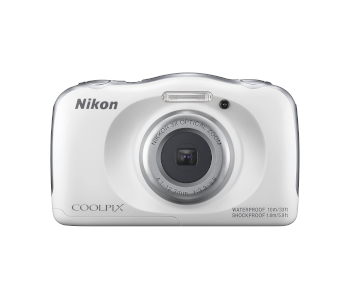 View on Amazon
Editor's Rating: 4.4/5
Would you like your child to have a real camera but are looking for something less complicated than the FZ280? Nikon's W100 is the camera to get since it automates most camera operations and lets your kids snap great pics without hassle. It's a tough, waterproof camera with simple controls a child can master in minutes. It also won't break the bank.
Overview of Features
The W100 is a fun-looking, lightweight camera with rounded edges available in either silver or blue. It's as basic as real cameras get since you use it by pressing a few large buttons. The shutter release and record buttons are on top while zoom controls, video playback, and the flash toggle are to the LCD's right.
Four buttons to the left of the screen are useful for scene customization. You use them to tell the W100 whether shooting a birthday party in a park or fireworks at night. They also serve to ad borders, color effects, set up timed shots, or connect the camera to your phone. You do the latter through Wi-Fi and the SnapBridge app. It works similarly to Panasonic's app and turns smartphones into remote viewfinders.
You can use the W100 on the beach or in inclement weather as it's sturdy and waterproof. The camera works at a maximum of 33 feet and can withstand drops from six. This has a bearing on audio quality since the encased microphone sounds hollow. That's to be expected from inexpensive waterproof cameras like this one, though.
The W100 delivers image quality comparable to a modern smartphone at a much lower price. Its autofocus is reasonably accurate, and the camera can take a sharp photo less than two seconds after powering on. It even has a burst mode that takes a respectable 4.7 images every second until the buffer gets full. This happens fast since the buffer only takes 12 snaps before needing to be emptied, which takes half a minute.
What's Bad About It?
The W100 is prone to condensation. Water vapor can get into the lens and fog it up from the inside. You'll have to wait for it to evaporate, which can take a while. The camera connects to SnapBridge, but it often takes several attempts to establish a connection that's not reliable even then.
Tech Specs
Dimensions: 4.3 x 2.6 x 1.5 in.
Weight: 6.2 oz.
Type: Bridge camera
Sensor: 1/3.1 inch
Burst: 4.7fps
Battery capacity: 220 shots
ISO range: 125 – 1,600
Max still resolution: 13.2 MP
Max video resolution: 1080p, 30fps
Pros
Excellent value for money
Effortless to use for kids aged six and up
Water and shockproof
Lots of scenes and borders to choose from
Cons
Unreliable Wi-Fi connection
Lens tends to fog up
3. Fujifilm FinePix XP140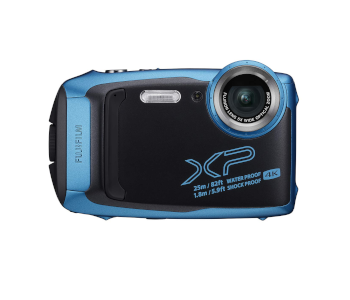 View on Amazon
Editor's Rating: 4.5/5
Fujifilm's XP140 is a step up from the WX100 since it allows for greater control. The camera is still a great choice for older kids since it's durable and waterproof, offers dozens of effects, and produces pictures or videos with vivid colors. This is the perfect camera for seaside vacations and adventurous kids who like to make panoramas or underwater videos.
Overview of Features
The XP line has seen half a dozen iterations, and the latest looks like most of them with its colorful shell and protruding finger strip. The latter is accompanied by a deep thumb recess on the camera's back, ensuring it won't slip from your hand even when wet. You can get the XP140 in several colors. Bright yellow is our favorite since it's the easiest to spot whether you're snorkeling or snowboarding.
Excellent build quality is the XP140's best feature. It's waterproof down to 80 feet, can withstand six-foot drops, and will work flawlessly at temperatures well below freezing. Its shutter and REC buttons are large, and the former is textured for more comfortable handling with wet fingers or gloves. A ring seals the battery & SD card compartment from water. It needs to be pressed and turned simultaneously, so water doesn't get inside the camera accidentally.
The XP140's controls are more advanced than the W100's. It has a customizable function button and a D-pad that lets you change exposure compensation or delete a photo. Playback, zoom, display, and Wi-Fi buttons round out the controls. The XP140 has an LCD screen. It's not touch-sensitive, but it's bright enough to help you frame a shot in sunlight.
The XP140 shoots good-quality photos. Colors are punchy and lifelike while white balance looks natural, especially if you're shooting under tungsten or fluorescent lighting. The camera has image stabilization and a 5x optical zoom lens for close-ups and can fire off ten shots per second. Video looks fine in 1080p. 4K is an option but it's limited to 15fps and is choppy.
Are There Drawbacks?
The XP140's autofocus is hit and miss. It takes a while to fond subjects and hesitates even then. Video quality drops fast the less light there is, and motion blur is visible if you move the camera slightly.
Tech Specs
Dimensions: 4.3 x 2.8 x 1.1 in.
Weight: 7.3 oz.
Sensor: 1/2.3 inch
Burst: 10fps
Battery capacity: 220 shots
ISO range: 100 – 12,400
Max still resolution: 16.4 MP
Max video resolution: 4K, 15fps
Pros
Excellent build quality and weather resistance
Delivers vivid images with accurate colors
Bright LCD
Fast burst shooting
Cons
Unreliable autofocus
Pronounced motion blur in videos
4. KODAK Smile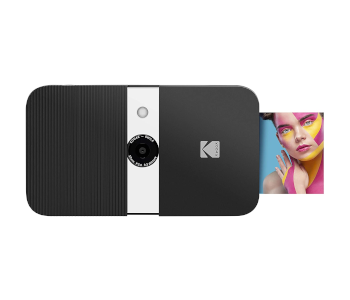 View on Amazon
Editor's Rating: 4.3/5
Digital pictures are a fleeting thing you can easily lose, so why not give your kid a camera that prints photos as soon as they're made? That's the main appeal behind Kodak's Smile camera, which uses quality Zink paper to print out images you wish to keep in record time. The camera is portable, easy for kids to use, and has much more up its sleeve than your old Polaroid.
Overview of Features
The Smile departs from a traditional camera look, adopting a smartphone appetence instead. Its control can retract, which leaves you with a rounded shell that's easy to carry around in a pocket. Sliding the controls out turns the Smile's LCD on and lets you take photos. Everything is controlled with your right thumb, and there are only five buttons to make the process as intuitive as possible.
The best thing about the Smile is getting to decide which photos to print and which to discard. Printing a photo takes half a minute and doesn't cause the Zink paper to go back & forth like on some other instant cameras. Print quality is much better than on older Zink paper models, but colors can skew towards warm. The camera can hold two pictures in its built-in memory, so you'll want to get a micro SD card as soon as you buy it.
The LCD is small and not the best in terms of color reproduction, but it serves you well as a framing tool and library browser. It also previews what a picture will look like if you apply an effect to it. You may choose among color modes like classic or aqua, as well as a selection of borders that add style to the pics. You can also save on Zink paper by turning on photo booth mode, which will print two pictures on one sheet.
What We Didn't Like
The Smile's Zink paper refills are expensive. One contains 24 sheets and can cost as much as $50 when not on sale, so you'll have to tell your kids to use the print feature sparingly. This is not a camera you can whip out and use straight away since it takes almost ten seconds to power on.
Tech Specs
Dimensions: 4.8 x 3.1 x 0.9 in.
Weight: 7.2 oz.
Battery capacity: 40 shots
Max still resolution: 10 MP
Pros
Quickly prints images of good quality
Lets you choose which photos to print
Small form factor
Easy to operate
Cons
Long startup time
Additional Zink paper is expensive
5. VTech Kidizoom Duo 5.0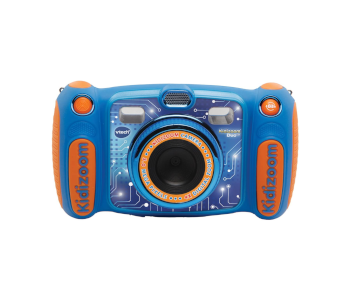 View on Amazon
Editor's Rating: 4/5
The cameras we've discussed so far are great for school-aged children and up, but what about the little ones? VTech's Kidizoom Duo 5.0 has everything needed to become your child's first camera, whether they're a toddler or just starting school. It introduces them to the basics of picture taking but expands on that with lots of games and silly activities that will keep your kids coming back to it.
Overview of Features
You can tell from its large ad vibrant body that the Kidizoom Duo 5.0 is a toy more than a camera. It has two non-functioning viewfinders positioned at spots where the child should place her eyes when framing a shot. The shutter button is large and easy to press. A zoom ring sits beneath it and lets you zoom in or out digitally. The controls in the back are busy and require parents to read the manual for a full explanation.
Some buttons, like volume or home, are self-explanatory. The star button takes some getting used to as its action depends on the current menu setting. The LCD is smaller than on regular cameras but has large enough icons for kids to get their bearings. You can snap a picture or record a video, play games, rate faces, or record voices and alter them.
The Kidizoom Duo 5.0 runs on four AA batteries that come preinstalled. It accepts micro SD cards but also has internal memory so your child can start using the cameraeven if you forgot to also purchase a card. A video explaining that the camera can do will play on its first boot up. However, parents will find the user guide useful for configuring camera settings and altering game permissions.
Fun is the Kidizoom Duo 5.0's main goal, and kids will have plenty of it thanks to a variety of activities. Apart from regular photos, they can also take shots of several people arranged in different situations, like standing around a birthday cake.
Other photo-related activities include the silliness rating of someone's face and a slideshow that prompts kids to press the star button to overlay images with various effects. The voice recorder lets kids alter the speed and pitch of voice recordings or give them a robotic sound. Games use either the D-pad or accelerometer for more immersive gameplay.
What's Bad About It?
The Kidizoom Duo 5.0 sounds like a blast, so why is it so low on our list? Because it falls short as a practical camera in any modern sense. Its front camera produces 3MB stills of mediocre quality but focuses surprisingly accurately. The selfie camera has a resolution of 640×480, while videos have only half. The camera takes four AA batteries you'll need to replace frequently if your child uses the camera all the time.
Tech Specs
Dimensions: 6.4 x 3.6 x 2.3 in.
Weight: 13.6 oz.
Max still resolution: 10 MP
Max video resolution: 10 MP
Pros
A kid's first camera with many other fun activities
Ergonomic and resistant to impact
Decent autofocus given its specs
Cons
Poor picture and video quality
Runs on batteries
6. Best Budget Option – AKASO Brave 4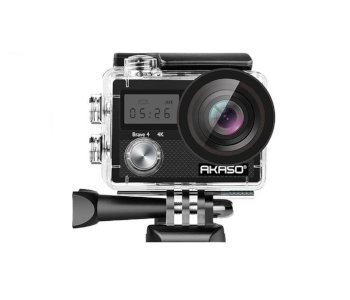 View on Amazon
Editor's Rating: 4.3/5
Our budget pick is an action camera for adventurous kids who want to record their outings with minimal fuss. The Brave 4 is small and portable, comes with a ton of useful accessories, and delivers great video or photo quality for the price.
Overview of Features
There's little to distinguish the Brave 4 from other action cameras appearance-wise. It's a plastic square with textured sides. An LCD screen dominates its back, and there's a smaller info screen next to the lens upfront. The smaller screen shows useful info like recording time and battery life and isn't something you'd expect on a sub-$100 model. Four buttons turn the camera on, navigate its menus, and take pictures or videos. Handling it is super easy.
Akaso is generous with the Brave 4's accessory bundle. You get a waterproof housing that allows the camera to survive depths of 100 feet or less intact. You can also strap it onto a bike helmet or snowboard thanks to a variety of mounts & straps. Two batteries and a charger are included, as is a remote you can strap to your wrist to use the Brave 4 in the heat of the moment.
Setting the Brave 4 up is equally straightforward. Setting the resolution and aspect ratio is a one-time affair parents can set up and kids don't need to worry over when using the camera. Curious users can take advantage of time-lapse mode or zoom in 5x to get a better look. The Brave 4 has an app that connects it to a smartphone, turning the phone into a second screen and letting you transfer files wirelessly.
The Brave 4 shines when recording 1080p at 60fps. It's especially suitable for underwater videos but renders accurate colors regardless of your environment. No action camera is immune to quality loss in low light, but the Brave 4 is among the best in its price range in dim conditions. It also has ample dynamic range and captures subtle shades when shooting greenery.
What We Didn't Like
Akaso claims that the Brave 4 shoots 4K videos, but that's not technically true. It actually records videos in 1080p and blows them up to higher resolutions, which results in soft footage and loss of detail. The camera tends to overexpose the scene and is prone to chromatic aberration, i.e., purple fringing that occurs in areas of high contrast like bare branches set against a bright sky.
Tech Specs
Dimensions: 2.3 x 1.6 x 0.9 in.
Weight: 5.6 oz.
Burst: 10fps
Battery capacity: 90 minutes
ISO range: 100 – 400
Max still resolution: 20 MP
Max video resolution: 4K, 24fps
Pros
Decent action camera at an excellent price
Comes with lots of accessories
Easy to record and share videos
Long-lasting battery
Cons
Not really 4K
Visible purple fringes in high-contrast situations