Canon Black Friday 2019 DSLR and Mirrorless Cameras
3D Insider is ad supported and earns money from clicks and other ways.
This Black Friday, Best Buy has some excellent deals on high-end Canon cameras. Some lower-end models are also on substantial discounts. If you are a budding photographer or a professional one, you know that Canon is one of the leading camera brands in the world and they are known for their world-class cameras.
The deals offered this Black Friday are of two types. One is on the camera body only and the other is a body plus lens combo. If you plan your camera purchase in advance, then you can take advantage of these Black Friday deals and get excellent value for money.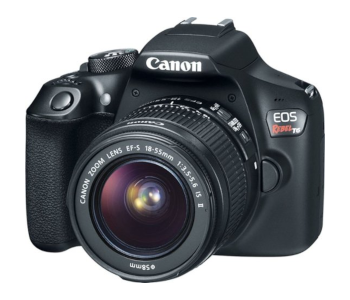 Canon EOS Rebel T6 with 2 lenses
Original Price: $499
Black Friday Price: $399
The Canon EOS Rebel T6 is a decent beginner-level DSLR camera. It has an APS-C crop sensor that produces 18-megapixel images. It is a great option for someone who wants to upgrade from a phone or point-and-shoot camera.
The Rebel T6 uses the DIGIC 4+ image processor. It also has Wi-Fi and Bluetooth connectivity. So, sharing photos or printing them is simple. The camera also has an ISO range of 100 to 6400, and the range can be further expanded to 12800.
The autofocus system is pretty good for an entry-level camera with 9 autofocus points. You also get a 3-inch LCD monitor with the Rebel T6. Full HD videos with a resolution of 1920X1080 can be shot with this DSLR. For a low price, you get plenty of solid features in this deal.
The 2 lenses that are part of the deal are the 18-55mm f3.5 to 5.6G IS II and the EF 75-300mm f4.5 to 6.3G III. The two lenses together cover a wide range from a low of 18mm for indoor and street photography to a high of 300mm for those zoom shots. The only shortcoming is the aperture. The maximum you can get is f3.5 which won't to very well in low-light conditions.
However, for $399, you get a pretty decent deal that will get any beginner started in his/her photography journey.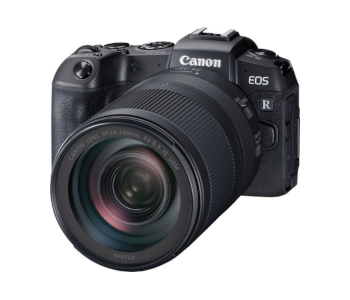 Canon EOS RP Mirrorless Camera with lens
Original Price: $2199
Black Friday Price: $1499
Mirrorless cameras are all the rage with photographers in current times. They are capable of producing high-quality images via a camera body which is a lot more compact and lightweight than traditional DSLRs.
Mirrorless cameras do not have an optical viewfinder. They use a digital display system instead which saves space and weight. However, mirrorless cameras are more expensive than traditional DSLRs.
The Canon EOS RP is a mid-level mirrorless camera meant for buyers who are serious about their photography. It is an all-day carry around camera with some excellent specifications.
Firstly, you get a full-frame 26.2-megapixel sensor and an ISO range of 100-40000. So, whether it is bright light or low-light environment, this Canon camera will handle it all quite well.
Secondly, you get 5 frames per second and a maximum limit of 3320 shots. So, fast action and wildlife shooting can be done nicely with the EOS RP.
Thirdly, you get a 24-240mm F4-6.3 IS lens with the camera body. 24mm to 240mm is a pretty wide range and you probably won't have to carry many lenses around with you. However, the aperture of 4 isn't going to help you with night-time photography.
For a price under $1500, this deal is still very attractive. Owning a mirrorless camera with a lens that offers a wide-ranging focal length is a dream for any serious photographer.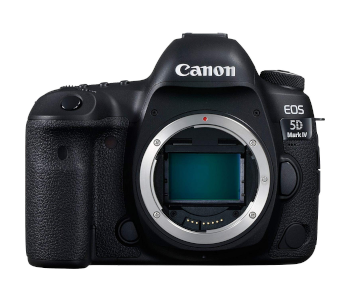 Canon EOS 5D Mark IV Body
Original Price: $3099
Black Friday Price: $2499
If you are looking for a professional-grade full-frame DSLR, then the EOS 5D Mark IV is a relatively recent model by Canon. This camera packs in an impressive 30.1 megapixels and also has 4K video recording capability.
The 5D Mark IV uses the new DIGIC 6+ image processor. It has an ISO range of 100 to 32000 and that range can be expanded to 50-102400. The autofocus system has a massive 61 autofocus points out of which 41 are cross-type.
The camera has built-in Wi-Fi capability as well as a GPS. Sharing images, geo-tagging them, or uploading them onto other devices becomes easy with such features. The camera also has a 3.2-inch touch screen for ease of use and ease of framing your shots.
The burst mode can do 7 frames per second. The impressive specifications go on and on. You can pick up this high-end camera body for under $2500 via Best Buy's Black Friday deal. If you are in the market for a professional-grade camera, then you cannot go wrong with the Canon EOS 5D Mark IV.
There are a few other Canon camera deals available on Black Friday. Some deals worth checking out are as follows: