6 Best Car Monitoring Devices of 2019 (OBD2 Port)
3D Insider is ad supported and earns money from clicks and other ways.
Out of all the indicators and instruments on your car's dashboard, the check engine light is both the most mysterious and most annoying. Each time it turns on, you have a choice – either leave it be and hope it's a false positive or take the car in for a check-up. There's no cause for concern more often than not, but wouldn't you like a way to diagnose the issue yourself before determining what to do?
Car monitoring devices are the solution to your problem! They're gadgets which connect to your car's ECU or Engine Control unit through the OBD2 port. They collect data on your car's health to show you which systems are experiencing problems and what you can do before turning to a professional. They're indispensable diagnostic tools, but some can do even more like track your car's whereabouts and analyze your driving habits.
In this guide, we take a look at the six best and most advanced car monitoring devices you can buy. They all have apps and wirelessly communicate with your smartphone. Some of them even support other smart gadgets or let you know the car's status by asking Amazon Alexa. Whether you need a comprehensive diagnostics tool that will help you pass any inspection or one that teaches your kids how to drive safely, there's a car monitoring device with your name on it among our top picks.
Budget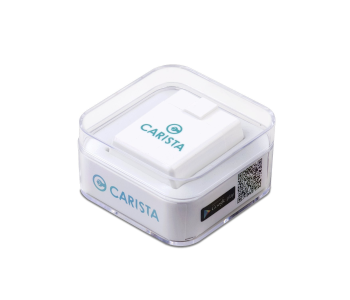 Carista OBD2 Bluetooth Adapter
4.0/5.0
Real-time data: No
Vehicle tracking: No
This can customize the way your car behaves.
Check Amazon
Best Value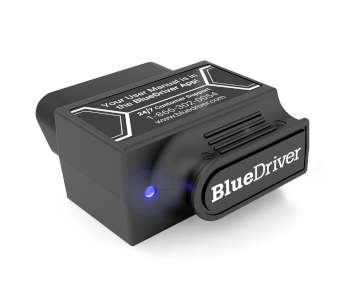 BlueDriver Bluetooth Pro
4.9/5.0
Real-time data: Yes
Vehicle tracking: No
Can perform basic and some advanced tests.
Check Amazon
Top Pick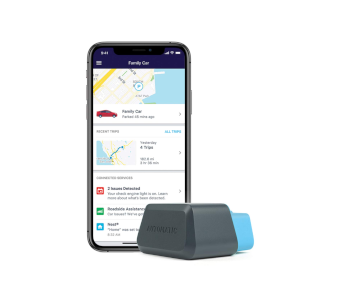 Automatic AUT-450C Connected Car Assistant
4.9/5.0
Real-time data: Yes
Vehicle tracking: Yes
Roadside assistance and crash detection.
Check Amazon
Car Monitoring Devices Comparison Table
1. Best Overall – Automatic AUT-450C Connected Car Assistant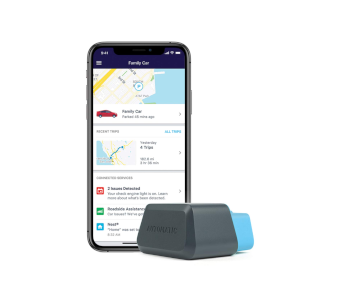 View on Amazon
Editor's Rating: 4.9/5
Automatic's AUT-450C is the best and most versatile car monitoring device on review. On the one hand, it helps improve your driving and gain insight into associated expenses. On the other, the device provides detailed information on numerous OBD2 codes so you can pinpoint a problem and keep your car healthier, longer. It's among the more expensive devices we've tested but has the potential to pay for itself by helping you avoid unnecessary fuel costs & repairs.
Overview of Features
The AUT-450Cis a tracking and diagnostics device which plugs into your car's OBD2 port and is compatible with most vehicles made after 1996. There's no monthly subscription fee for its vehicle tracking feature even though it uses a telecom provider's 4G network! All you need to do to use the device is plug it in and pair it to the app through Bluetooth.
The app's dashboard shows a comprehensive overview of recent activities and relevant alerts. The AUT-450C keeps records of all your trips, including a map of the route taken as well as stats like distance traveled, speeds, and fuel efficiency. This makes the AUT-450C an excellent investment for both households and businesses since it helps you keep track of fuel expenses. You can even bring up a map of nearby gas stations complete with directions! Each trip's data can be saved and viewed later.
Driving insights are another intriguing feature. The AUT-450C analyzes how smooth your braking and acceleration patterns are and provides info on how to improve them. This feature is invaluable since smoother driving leads to less fuel being expended.
The AUT-450C is a capable diagnostics tool as well. It interfaces with your car's ECU and will notify you what caused the check engine light to go on. The device is able to recognize thousands of codes and offers a brief explanation for each. That's enough info for an experienced driver to know whether they can ignore the problem, service it themselves, or go see a professional.
We said that using the AUT-450C is free, but there's an optional monthly subscription you may want to take advantage of. The AUT-450C can detect when the vehicle has been in a crash and send notifications to your phone and select contacts. If you pay $5/month, Automatic's agents can contact you when the car crashes and reach out to emergency services if you don't respond.
Finally, the AUT-450C is also a smart device. Connecting it to Amazon Alexa lets you ask her where the car is, how many miles you've traveled in a given time, and even how much fuel you've used! The Nest Learning Thermostat is supported too, as are hundreds of other smart devices through IFTTT.
What We Didn't Like
Using the AUT-450C takes its toll on your car's battery. Expect the battery to last noticeably shorter with it plugged in. Automatic has recently changed ownership and is pushing out firmware updates that are causing conflicts with some car models. You'll either need to call them up and make sure your car will be compatible or wait until the situation improves.
Tech Specs
Dimensions: 1.8 x 2 x 1 in.
Connection type: Cellular, Bluetooth
Real-time data: Yes
Emissions check: No
Vehicle tracking: Yes
Subscription: Optional, $5/month
The Pros
Excellent for cutting down on fuel costs and improving driving habits
Can diagnose OBD2 codes and turn off check engine light
Roadside assistance and crash detection
Connects to Alexa, Nest, and IFTTT
The Cons
Might not work correctly with all cars until more firmware updates roll out
Drains car battery
2. Best Value – BlueDriver Bluetooth Pro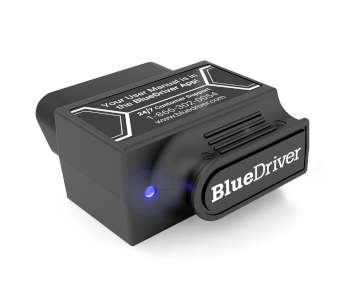 View on Amazon
Editor's Rating: 4.9/5
Experienced car enthusiasts love fixing their car troubles by themselves, but it's hard to fix something if your OBD2 tool gives access to only basic information. The BlueDriver Bluetooth Pro is miles ahead of any competing device when it comes to how in-depth the information it provides is! The device features seamless connectivity, a phenomenal app with a wealth of information, and a customizable real-time view of engine and other data while the vehicle is running.
Overview of Features
The first thing you'll appreciate about the BlueDriver Bluetooth Pro is the hassle-free setup process. Just plug it into the OBD2 port, download the app, turn the engine on, and you can start diagnosing problems right away! There are no cables to fiddle with since the tool has a strong Bluetooth connection. Likewise, you don't need to squint at a small screen since all the diagnostic data is displayed on your phone or tablet.
The BlueDriver app is amazing! It opens up to a dashboard that lets you perform different task like read and clear check engine codes, run both basic and advanced tests like ABS misfire counts, and see if your vehicle will pass an emissions check. Accessing a function like the smog check tool opens up a detailed menu showing which tests were performed and successful, whether a component misfired, and the likelihood of the vehicle passing a real test.
The BlueDriver Bluetooth Pro doesn't just diagnose problems; it offers multiple tangible causes for any problem followed by the steps you can take to address them. The app is kept up to date with recall notices from popular car manufacturers, so you always know if all of the components in your car are safe to use and if you're eligible for a replacement.
We also love how the BlueDriver Bluetooth Pro handles data. The live view is by far its best feature in that respect – the live view tab shows gauges that monitor stats like engine RPM, speed, alcohol fuel percentage, etc. Each gauge has an accompanying graph you can access for more detailed information over a while. Collected data can be saved and exported, or you can take a snapshot of your car's current status to help a professional speed up their own diagnostic process.
What's Bad About It?
The BlueDriver Bluetooth Pro suffers from intermittent connection loss. This happens most frequently if your smartphone's screen goes off, so you'll need to make sure to keep it on while scans are running. The device is compatible with vehicles made as far back as 2004 but requires a lot of time to recognize and diagnose all the sensors in old models.
Tech Specs
Dimensions: 2.2 x 1.9 x 1 in.
Connection type: Bluetooth
Real-time data: Yes
Emissions check: Yes
Vehicle tracking: No
Subscription: No
The Pros
Easy to install
Informative live view
Can perform basic and some advanced tests
Can save & export data and be used on multiple vehicles
The Cons
Connection issues
Slow to recognize all sensors in older vehicles
3. Autobrain OBD Real-Time VEHICLE TRACKING Personal Vehicle Tracker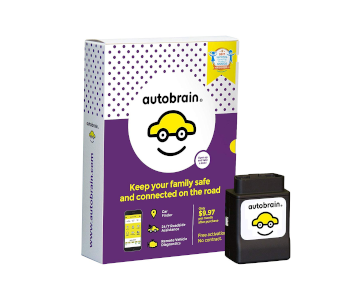 View on Amazon
Editor's Rating: 4.6/5
Traffic accidents are one of the leading causes of teen deaths in the country, and that's what Autobrain was designed to help prevent. This versatile OBD2 tracker gives you access to live technical support, emergency services, and even certified mechanics. It also makes it easy to keep track of your car when someone else is driving or locate it in case of theft.
Overview of Features
The Autobrain is an OBD2 device which transmits location and diagnostics data through a cellular service. This means you have unlimited range and receive a location update every few seconds. Drivers in rural areas can opt for a GPS alternative instead.
The Autobrain is a blessing to have in your car if you live in a high-risk area. Real-time updates to its location allow you to track the car and pinpoint its location even when the engine is turned off. Autobrain uses Google Maps as the basis for its navigation software, meaning you can enter Street View and find your car more quickly by taking in local landmarks.
New and elderly drivers, as well as parents, benefit from Autobrain too. There are presets for each group that govern the types of alerts you receive, curfews, and other warnings. Baby mode even reminds you to take the baby seat with you when you open the car door!
The best thing about Autobrain is the network of support personnel you gain access to when you pay the $10/month subscription. General troubleshooting and tips on using the app are handled by the company's own customer service. Autobrain's diagnostics tools shed light on the meaning of check engine problems and supply you with the corresponding codes. You can get in touch with certified mechanics to explain these to you and offer professional advice.
Lastly, there's security in the form of roadside assistance and emergency services. You can call Autobrain's roadside assistance five times per year free of charge, while emergency services are sent to your location if you don't answer Autobrain''s own agents after a crash is detected.
Are There Drawbacks?
Autobrain has a speed-tracking feature and grading system for drivers who want to improve their habits. However, speed tracking is way off most of the time, and you get failing grades as a result even though you shouldn't. The trip report feature should log traveled distances, fuel costs, and other useful information each time you drive, but sometimes Autobrain will forget to do so.
Tech Specs
Dimensions: 2.5 x 1 x 1.5 in.
Connection type: Cellular or GPS, Bluetooth
Real-time data: Yes
Emissions check: No
Vehicle tracking: Yes
Subscription: $10/month
The Pros
Excellent car tracking and anti-theft features
Separate settings for families with small children, new, and elderly drivers
Full-time access to professional help and roadside assistance over the phone
Automatic crash detection
The Cons
Inaccurately measures speed
Might not save every trip report
4. FIXD OBD2 Professional Bluetooth Scan Tool & Code Reader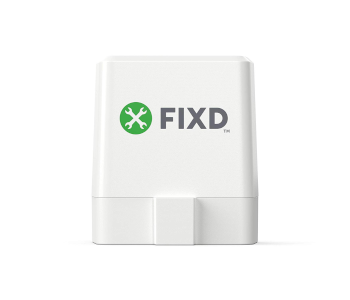 View on Amazon
Editor's Rating: 4.4/5
Our best value pick is great for people who know their way around a socket wrench. But what if you aren't an enthusiast or don't have enough hands-on experience yet and want to learn how to diagnose & fix car troubles? In that case, you should buy the FIXD scan tool. It's capable of diagnosing 7,000 car issues, displays its findings in a way that's easy to understand and act on, and reminds you when it's time for a check-up.
Overview of Features
FIXD is aimed at people who are starting to take a deeper interest in their car and those who keep forgetting to maintain it. Installing the device is easier than the BlueDriver Bluetooth Pro since the app will find it automatically. There's even an assistant that helps you find your car's OBD2 port or email FIXD if that doesn't help.
The FIXD app is simpler than that of the BlueDriver Bluetooth Pro but can handle and eliminate diverse issues. You can use it to diagnose error codes and reset the check engine light. The best thing about FIXD's diagnostics are the accompanying explanations – every detected code comes with a simple explanation of what it means and advice on how to fix it. You can use FIXD on as many cars as you like.
The device checks the vehicle's service records and sends reminders to your phone when it's time to visit your mechanic. It even suggests mechanics in the area for your convenience. If you want to repair or replace something yourself, the FIXD app also connects to Autozone and makes buying the right part easier.
What's Bad About It?
While it can read advanced codes related to airbags or tire pressure, the FIXD can't perform more sophisticated operations. There's no emissions check feature, so you won't know if your car is in shape to pass its next inspection. There's no real-time data monitoring either, which means that FIXD is only useful when the vehicle is stationary.
Tech Specs
Dimensions: 2.2 x 1.9 x 1 in.
Connection type: Bluetooth
Real-time data: No
Emissions check: No
Vehicle tracking: No
Subscription: No
The Pros
Great for beginner car enthusiasts
Presents problems and their solutions in a straightforward way
Reminds you of checkups
Makes finding mechanics and purchasing parts easier
The Cons
No real-time data
No Emissions check
5. Bouncie Connected Car OBD2 Adapter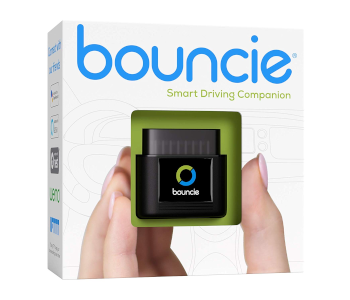 View on Amazon
Editor's Rating: 4.3/5
New drivers get to experience a different kind of freedom once they get their driver's license. However, that freedom comes with an obligation to drive responsibly. Bouncie is an OBD2 adapter that helps new drivers improve their habits while letting their families know where they are in a noninvasive way. It might be light on diagnostic features, but Bouncie more than makes up for this with the peace of mind it provides to both children and parents.
Overview of Features
Bouncie is an OBD2-compatible adapter with built-in vehicle tracking. The vehicle tracking function is powered by your car and runs through AT&T's 3G network. This allows you to see real-time location info on the car from anywhere from the Bouncie app. The location is updated in five-second intervals and tracking stops once the car is parked to save power.
Bouncie is primarily a monitoring and learning tool. It can map out your route and annotate it with insights on your driving habits. This feature shows places where you frequently speed up, use a handbrake, or run at high speeds. Analyzing the data helps you plan a better route as well as become aware of unsafe practices which you can then correct.
The Bouncie app lets parents check in on their kids and impose restrictions when they're first starting out. You can erect a geofence around your home, the school, etc. and receive notifications each time the car enters or leaves it. There's also a curfew mode that tells you if the vehicle is in use during restricted hours. Trying to remove the Bouncie will trigger a notification, so you don't need to worry about tampering.
You can make Bouncie part of your smart home by installing its Alexa skill or connecting it to other smart devices through IFTTT. This lets you do things like ask Alexa to tell you the car's location or have your smart lights flash green whenever the car enters a geofenced zone.
What's Bad About It?
Bouncie's diagnostics capabilities are limited. You do get access to useful information like battery and fuel levels or when it's time for maintenance, but troubleshooting car troubles is limited to reading engine codes and sending you updates as they happen. You need to pay $8/month to use Bouncie's vehicle tracking. While reasonable, this is another cost you need to keep track of and adds up over time.
Tech Specs
Dimensions: 1.8 x 1.9 x 1 in.
Connection type: Cellular and Bluetooth
Real-time data: Yes
Emissions check: No
Vehicle tracking: Yes
Subscription: $8/month
The Pros
Has real-time location info and geofencing
Provides insights into driving habits
Has lots of useful tools to monitor young driver
Works with Alexa and IFTTT
The Cons
Requires a monthly fee
Limited diagnostics capabilities
6. Best Budget Option – Carista OBD2 Bluetooth Adapter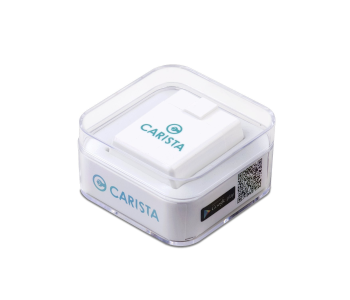 View on Amazon
Editor's Rating: 4/5
Our last entry is a car monitoring device with a twist! While other OBD2 devices can only diagnose problems, the Carista can also customize various presets only mechanics have access to. In other words, you get to both keep your car running in top-notch condition and create a driving experience to your liking. The Carista works best with cars by select manufacturers, but anyone can take advantage of its basic diagnostic options.
Overview of Features
There's nothing remarkable about the Carista itself – it's another OBD2 device you need to connect to the car and pair with Bluetooth. The connection process is quick, and you can start using the Carista's simple app in minutes. A red LED starts to glow if you've done everything correctly.
The app's dashboard gives you access to three tabs – Diagnosis, Customize, and Service. The Diagnosis tab is where problems that cause the check engine light to turn on are diagnosed and addressed. The Carista will connect to the ECU and bring up a list of issues. Tapping on an issue's code brings up a description. Tapping on that, in turn, opens up a Google page with search results for further reading. You can also get advanced diagnostic data on airbags, ABS, and other higher-level systems if your car is made by one of the seven officially supported manufacturers.
You use the Service tab to diagnose systems connected with emissions. Running it determines whether your car is ready for an emissions test and highlights problematic components. Audi and Volkswagen drivers get access to more detailed ECU information on this tab. Lexus, Scion, and Toyota owners also get information on tire pressure sensors.
The Customize tab is what makes the Carista stand out from the crowd. Here you can tweak specific aspects of your can's performance and interface to make driving it more unique. For example, you can adjust headlight brightness, toggle whether or not the dashboard will display your speed, cause the needles in each gauge to make a sweep when you start the car and so on.
Are There Drawbacks?
The Carista is an inexpensive device that comes with a 1-month free trial of its advanced features. After that, you either have to pay $40/year or $10 per week if you want to do anything more than perform basic diagnostics. There's little value in purchasing the Carista if your car isn't supported since advanced features are inaccessible even if you pay the fee.
Tech Specs
Dimensions: 2.8 x 2.8 x 1.6 in.
Connection type: Bluetooth
Real-time data: No
Emissions check: Yes
Vehicle tracking: No
Subscription: $40/year or $10 for a one-week pass
The Pros
Easy-to-use diagnostics tool with basic and advanced checks
Can customize the way your car behaves
Affordable
Can prepare your vehicle for an emissions test
The Cons
Of limited value to drivers who don't own a supported car
Pricy subscription options block the best features after the first month