6 Best LTE Car Wi-Fi Systems of 2019
3D Insider is ad supported and earns money from clicks and other ways.
Internet access has become a fundamental part of our daily lives. Many workplaces expect you to be reachable at all times, Even while you're commuting to or from work. On the other hand, your passengers could be watching a show or playing games to pass the time instead of doing nothing but staring out the window. You could get by on your cellphone's data plan alone, but you'll need in-car Wi-Fi if you want to be able to connect to the net with your other devices too.
Portable Wi-Fi systems or mobile hotspots are compact gadgets that act as wireless routers for your connected devices. They allow you to wirelessly upload the latest photos you took with a camera onto a social network or listen to a podcast while commuting. They connect to multiple devices at once, meaning all of your passengers get to enjoy internet access, at 4G speeds no less! Mobile hotspots are versatile as well – their batteries are powerful enough to charge your cellphone, they have SD card slots for multimedia storage, and some don't even need a SIM card to work.
These are the six best car Wi-Fi systems on offer today. All reviewed models can achieve 4G speeds and support at least five devices simultaneously. Keep in mind that most of them also require a SIM card and data plan from a mobile provider, so take that into account when making your choice.
Budget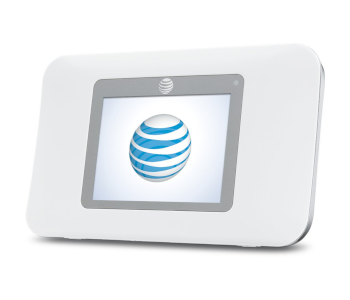 Netgear Unite 770S
4.2/5.0
Dimensions: 4.3 x 2.7 x 0.6 in.
Weight: 4.2 oz.
Controls are clearly laid out and easy to access.
Check Amazon
Best Value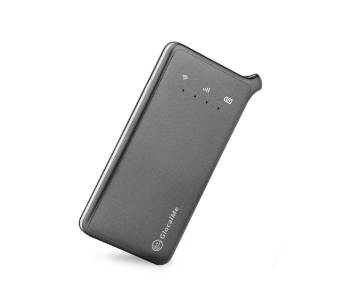 GlocalMe U2 4G Mobile Hotspot
4.6/5.0
Dimensions: 5 x 0.6 x 2.6 in.
Weight: 5.3 oz.
Can be used in many countries around the world.
Check Amazon
Top Pick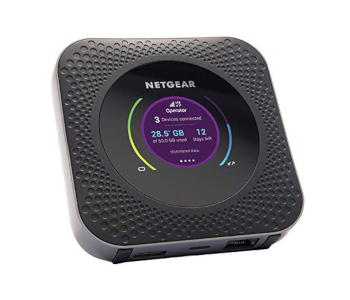 NETGEAR Nighthawk M1 Mobile Hotspot Router
4.8/5.0
Dimensions: 4.2 x 4.2 x 0.8 in.
Weight: 8.5 oz.
Acts as a mobile hotspot and router in one.
Check Amazon
Car Wi-Fi Systems Comparison Table
1. Best Overall – NETGEAR Nighthawk M1 Mobile Hotspot Router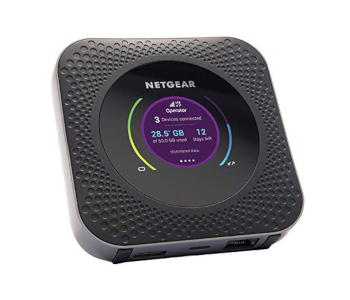 View on Amazon
Editor's Rating: 4.8/5
Do you want to download files at gigabit speeds while cruising down a highway? How about sending pictures or videos to everyone in the backseat? Netgear's Nighthawk M1 can do that and so much more with ease! It is by far the most versatile mobile hotspot on the market today. It impresses with its Wi-Fi capabilities, clean interface, and data sharing capabilities. If you want to turn your car into a mobile office or entertainment center, this is the device to get.
Overview of Features
The Nighthawk is big as mobile hotspots go. There are two reasons for this – its ability to act as a mobile router and a massive battery. The 5,000 mAh battery ensures the Nighthawk can run for an entire day while turning it into a sizeable power bank capable of recharging two demanding phones. The Nighthawk has a USB-A port for file transfer, a USB-C port for charging, and an Ethernet port for when you want to hook it up to wired internet and create a Wi-Fi other than your provider's.
We said that the Nighthawk also has many features of a router. These include being able to create separate 2.4 and 5GHz networks, forward ports, and schedule at what times internet is available. You can connect a whopping 20 devices to it without impacting their performance. Connection is made quickly, and the Nighthawk consistently delivers top speeds hampered only by your operator's local coverage.
The LCD screen is another fantastic design aspect. It shows how much data you've used this month, how many devices are connected, and which operator you're using at a glance. Indicators on each side of the round screen show the battery status and current signal strength.
There's also an SD card slot. Place essential files or your movie collection onto the card and turn the Nighthawk into a media server. Data from the SD card as well as from external drives or connected laptops can then be streamed to all connected devices!
What We Didn't Like
While the Nighthawk's hardware is excellent, the same can't be said for its firmware. Unexpected reboots are the biggest issue and happen when the Nighthawk transmits to multiple devices at once at max speeds. Thankfully, Netgear has already made strides to fix this, and future firmware updates will address the issue altogether. This device is currently only supported by two mobile operators, both of whom offer expensive data plans.
Tech Specs
Dimensions: 4.2 x 4.2 x 0.8 in.
Weight: 8.5 oz.
Max connected devices: 20
Max download & upload speeds: 1GBps / 150MBps
Battery capacity: 5,040mAh
The Pros
Mobile hotspot and router in one
Informative screen
Acts as power bank and media server
Supports large number of devices simultaneously
The Cons
Reboots due to faulty firmware
Supported by few mobile operators with expensive data plans
2. Best Value – GlocalMe U2 4G Mobile Hotspot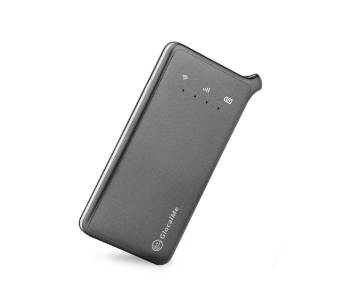 View on Amazon
Editor's Rating: 4.6/5
Other Wi-Fi systems on review might work fine in the US, but what if you want to take a road trip to Canada or Mexico? In that case, you can either pay your operator's roaming fees or get the GlocalMe U2. This device is the result of a successful Indiegogo campaign that promised a mobile hotspot you could use in 100 countries worldwide without having to buy a local SIM card! The U2 delivers on its promise and is an excellent solution even if you aren't a globetrotter.
Overview of Features
The first thing you'll notice about the U2 is its compact design. It is small enough to comfortably fit in your pocket or take up little space on the dashboard. There's no LCD screen, but you can get a general idea on Wi-Fi & mobile signal strengths as well as the battery life via a series of lights. Speaking of batteries, the U2's has a capacity of 3,500 mAh and can power the device for 12 hours straight. Recharging it takes 3 hours, impressive given its size.
You have to install the GlocalMe app to be able to use the U2. This is so you can create an account and choose your payment options. Data usage works through a cloud-based service. You select the country you wish to use the U2 in, decide how much data you want to purchase, and pay for it using Alipay or PayPal. How much you'll pay varies by country. The U2 also has two SIM card slots for when you're using it in the States, in which case your operator's fees apply as usual.
The U2 is a capable mobile hotspot. The secure connection it provides is its biggest advantage over choosing untrusted connections, which is great if you have to conduct business while on the go. The device's maximum download speed is 150 Mbps, so streaming demanding content like 1080p videos isn't a problem.
The app deserves a special mention as it is easy to navigate and lets you access settings or additional information with a few taps. Its dashboard tells you how much data is left and a package's expiration date. The dashboard's lower third has icons for account options, settings, a screen with package purchasing options, and information on the U2. Tapping these lets you check the connection strength and battery level, buy additional funds, or manage SIM cards & data consumption.
What's Bad About It?
The U2 can connect to only five devices. There are also a few design flaws – the power button is hard to press, and you have to hold it down tightly for a press to register. The device supports two SIM cards but doesn't have slots for them. You have to open the U2 up instead, which is not an intuitive step and is poorly explained in the manual.
Tech Specs
Dimensions: 5 x 0.6 x 2.6 in.
Weight: 5.3 oz.
Max connected devices: 5
Max download & upload speeds: 150 Mbps / 50Mbps
Battery capacity: 3,500mAh
The Pros
Can be used in many countries around the world
Great value for the money
Supports two SIM cards
Excellent companion app
The Cons
Connects to only five devices
Minor design flaws
3. Skyroam Solis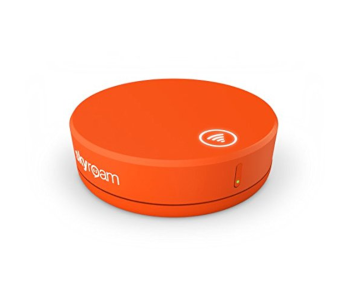 View on Amazon
Editor's Rating: 4.5/5
Using a mobile hotspot involves purchasing a separate SIM card, searching for the right pricing options, and making sure that the carrier you chose actually has decent coverage in your area. What if you could get rid of all those complications and get a device that works straight out of the box? You're in luck, because that's the idea behind Skyroam Solis, a mobile Wi-Fi hotspot that requires no SIM cards and works flawlessly in 130 countries!
Overview of Features
The Solis is by far the prettiest and most innovative item on the list design-wise. It is orange and puck-shaped, looking nothing like the competition. The Solis' user experience is different as well – there's only one button and one USB-C port. You get a USB 3.0 adapter so you can charge a phone or tablet too. While it's primarily a mobile hotspot, the Solis is also an exceptional power bank. Its battery has a massive capacity of 6,000mAh. Recharging it takes 8 hours, but you can look forward to 20 hours of surfing after that.
So how do you use the Solis? The principle is similar to that of the U2 – you need to buy 24-hour passes and can use as much data as you want! A single day pass costs $9, or you can buy 5 of them for $40. Skyroam initially placed a severe restriction on data usage. You were able to use up 550MB on 4G speeds and were then throttled down to 2G. They've since remedied this and have implemented a fair use policy that lets you transfer data at higher speeds the less Skyroam's network is in use in your area.
Interacting with the Solis is intuitive and straightforward. You need to hold the ON button for 5 seconds to power it up and are greeted with a circular white light with a Wi-Fi symbol inside of it. The light serves as a cleverly-designed indicator since the circle starts losing sections as the battery is drained. How many bars in the Wi-Fi icon are lit up informs you about its strength, and a blinking icon indicates it's time to buy a new day pass.
You gain access to more advanced settings through Skyroam's web app. Accessing it involves connecting to the Solis' SSID and creating an account. After that, you can view your credentials, see how much time and how many day passes you have left, the battery's charge level, and currently connected devices. The interface is clean and minimalistic, but it was designed for mobile phones and looks strange if you access it from a laptop.
Are There Drawbacks?
The day passes are expensive. They'd be a fantastic investment if data usage wasn't restricted. As it stands, they're more useful as a means of checking your mail or uploading pictures no matter where you are. The Solis takes a long time to connect to its network the first time you use it. This continues to happen every so often and each time you use it in a new country.
Tech Specs
Dimensions: 3.5 x 3.5 x 1 in.
Weight: 5 oz.
Max connected devices: 5
Max download & upload speeds: 150 Mbps / 50Mbps
Battery capacity: 6,000mAh
The Pros
Allows for effortless connection without reliance on mobile providers
Excellent battery capacity
Intuitive user interface and web app
Works all over the world
The Cons
Data throttling makes it useless for large transfers
Connecting to the internet can be slow
4. Alcatel LINKZONE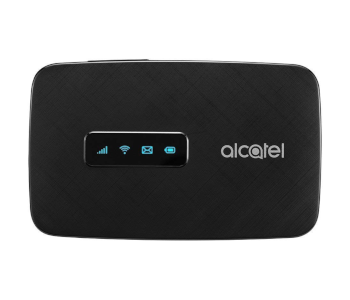 View on Amazon
Editor's Rating: 4.3/5
T-Mobile has the best rates when it comes to mobile data usage. Problem is, there aren't many in-car Wi-Fi devices that support it. The Alcatel Linkzone is the best one that does, offering a reliable connection functional web interface, and support for 15 devices. It works exclusively with T-Mobile though, which is why this device isn't higher up on the list.
Overview of Features
The Linkzone's design is unremarkable. It's a black box with four blue lights for mobile & Wi-Fi signal strength, text messages, and battery life. The first two only show that the device is connected and won't tell you how strong the signal is. The Linkzone packs a smaller 1,800mAh battery and isn't as useful as a power bank as some other entries. Still, you get six hours of Wi-Fi per charge and can replace the battery if you need one with more juice.
The best thing about the Linkzone are the data plans it supports. T-Mobile is generous and offers plans starting at $10/month for 2GB up to $85/month for 22GB. The speeds drop down to 2G levels once you use up the monthly allotment, so you can still perform basic tasks like answering emails or browsing forums.
This is another model with a web-based interface you use to check up on data usage, buy or change subscription plans, and more. The interface also lets you access the Linkzone's router options. These include IP blocking, port forwarding, and DMZ for added network security.
What We Didn't Like
This device works only with T-Mobile. To make the matter worse, it ships with an outdated SIM card that won't let you go online. You'll have to buy a new card to get it to work. The Linkzone is excellent for use in your car as it gets decent reception and can achieve close to top speeds. However, using it indoors results in drastically reduced speeds the more walls separate it from a base station.
Tech Specs
Dimensions: 4.1 x 0.5 x 2.5 in.
Weight: 3.2 oz.
Max connected devices: 15
Max download & upload speeds: 150 Mbps / 50Mbps
Battery capacity: 1,800mAh
The Pros
Affordable
Gives you access to fair data plans
Comprehensive web interface works well outdoors
The Cons
Only works with T-Mobile and requires new SIM card before doing so
Bad indoor performance
5. TP-LINK M7350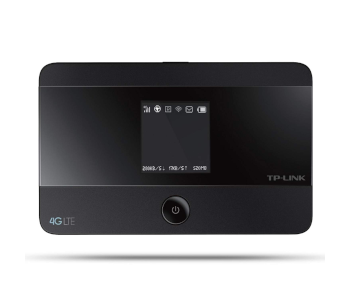 View on Amazon
Editor's Rating: 3.9/5
4G coverage is extensive in urban areas, but what if you live in the countryside or want a reliable wireless internet connection when on a field trip? TP-Link has the answer in the form of the M7350, a mobile hotspot that seamlessly switches between 3G and 4G, ensuring you've got the most stable connection and best possible speeds at all times.
Overview of Features
The M7350 is a black, box-shaped device with a matte finish and small OLED display. It can accommodate everything from standard to nano SIM thanks to two included adapters. The device comes with a removable 2,550mAh rechargeable battery. It lasts for 7 hours, but the charge is handled efficiently since the M7350 turns itself off if the Wi-Fi hasn't been used in 15 minutes.
A straightforward interface shows you the basics like the upload and download speeds, which network you're on, and the battery life. You use two buttons to navigate additional menus. These show you info on the M7350's password and login name, allow you to switch between 2.4GHz and 5GHz networks, and choose between 4G and 3G. The 4G preferred option is particularly useful as it keeps the device in 4G mode as long as there's a signal and automatically switches to 3G when the signal fades.
The M7350 doesn't have a mobile app. You can connect to its web interface to view more information like the Wi-Fi SSID or how much data you've used this month instead. You're granted access to more advanced options like limiting data usage or blacklisting connections too.
You can connect up to 15 devices to the M7350. It also has an SD card slot that takes 32GB cards and turns the device into a media server. The M7350 is able to achieve connection speeds close to its maximum 150/50 Mbps and maintain a stable link even when you're far from a base station.
Are There Drawbacks?
You'll need to be careful not to damage the M7350's screen as it is prone to scratching. The device comes with a 3-year warranty and is prone to malfunctioning just after the cutoff period, leaving you with no support and in need of a replacement.
Tech Specs
Dimensions: 2.4 x 2 x 3.5 in.
Weight: 9.1 oz.
Max connected devices: 15
Max download & upload speeds: 150 Mbps / 50Mbps
Battery capacity: 2,550mAh
The Pros
Switches from 4G to 3G as needed
Easy to use and configure
Comprehensive web interface
Maintains stable connection
The Cons
Screen scratches easily
May stop working after a while
6. Best Budget Option – Netgear Unite 770S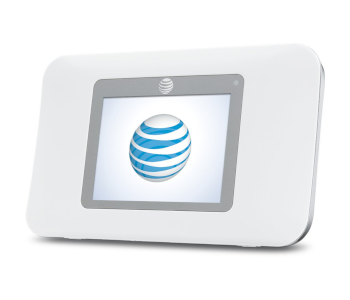 View on Amazon
Editor's Rating: 4.2/5
Our budget pick is another hotspot made by Netgear, the Unite 7705. It's an older model, but that shouldn't stop you from choosing it since its performance remains above average. The device has an excellent touchscreen, its battery lasts for hours, and indoor use won't limit its performance. Best of all, the Unite 770S's price was cut to under $60, making it a deal you shouldn't pass up!
Overview of Features
The Unite 770S looks like a cross between a router and a tablet due to its 2.4-inch touch-operated LCD screen. It comes in either black or white and has both a USB and an external antenna port. The latter is particularly useful since it lets you upgrade the Unite 770S's signal strength and use it indoors without suffering lower connection speeds. Its battery isn't the best we've seen at 2,500mAh. On the other hand, its runtime is 10 hours, which puts the Unite 770S among the most energy-efficient models on review.
You gain access to most of the Unite 770S's features through its touchscreen. The interface looks dated but is clear and easy to use. The main screen shows the SSID, Wi-Fi password, and data usage. Glancing at it tells you how much data remains and days left until the plan renews. There are icons for Wi-Fi and general settings as well as text messages in the screen's bottom third.
You can tinker with the Wi-Fi settings in detail. For example, you can create a guest network and connect devices to it without compromising the main one. Using the Unite 770S allows you to also change the SSID & password or manage connected devices. Connecting to its web interface opens up more routing options like port forwarding and MAC address filters.
The770S's screen is customizable to an extent. This includes adjusting its brightness and the auto-off period, which turns the device off after a specified amount of inactivity. There's a slight delay between touching an icon and getting a response, but this doesn't impact the Unite 770S's performance in other areas.
Are There Drawbacks?
There's a chance that your Unite 770S might come with a faulty battery. Netgear will send you a replacement, but something like this shouldn't happen in the first place. Inserting a SIM card requires a delicate touch because the card might get stuck if handled clumsily. A stuck SIM card is hard to remove and may be damaged during the process.
Tech Specs
Dimensions: 4.3 x 2.7 x 0.6 in.
Weight: 4.2 oz.
Max connected devices: 10
Max download & upload speeds: 150 Mbps / 50Mbps
Battery capacity: 2,550mAh
The Pros
Good value at a great price
Excellent touchscreen
Controls are clearly laid out and easy to access
Signal strength can be enhanced with external antenna
The Cons
SIM cards are hard to remove and can get stuck
Might ship with a faulty battery