6 Best CarPlay Head Units of 2019
3D Insider is ad supported and earns money from clicks and other ways.
2019 is the year that Apple CarPlay finally steps into the limelight. Most major car manufacturers offer it in at least one of their new models, promising to change the way we approach multimedia while driving forever. The good news is, you don't need to buy a new car to take advantage of CarPlay – you just need to upgrade your head unit.
Manufacturers like Kenwood, Pioneer, and Alpine are offering CarPlay as part of their aftermarket car infotainment systems. Their state-of-the-art head units let you use CarPlay to navigate, access music or audiobooks, place calls, or reply to messages, all without using your hands or endangering other drivers. The most advanced head units feature high-res touchscreens, support for different multimedia types, and even interfaces of their own that enhance CarPlay's functionality even more.
There aren't that many aftermarket CarPlay-compatible head units yet, but it's already clear that a handful are better than the rest. This review looks at the best head units available today and showcases their advantages over older models. Getting a new head unit is a considerable investment, so read up on all of them to see which head unit is the best for you in terms of price and features.
Budget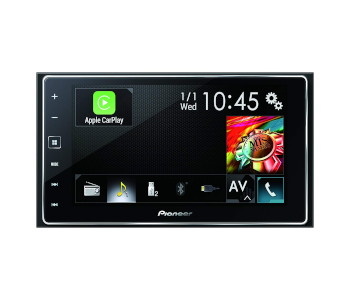 Pioneer SPH-DA120
4.1/5.0
Screen Size: 6.2 in.
DINs used: 2
Can be expanded with wide array of upgrades.
Check Amazon
Best Value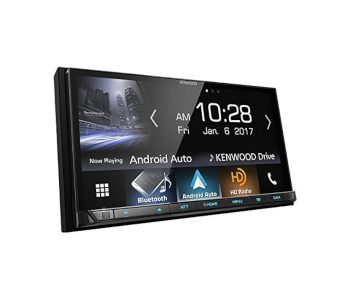 Kenwood DMX7704S
4.6/5.0
Screen Size: 7 in.
DINs used: 2
Works with multiple devices through Bluetooth.
Check Amazon
Top Pick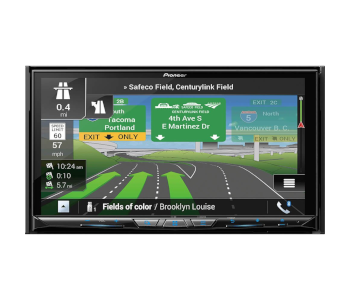 Pioneer AVIC-W8400NEX
4.7/5.0
Screen Size: 7 in.
DINs used: 2
Flawlessly mirrors smartphone screen.
Check Amazon
CarPlay-Capable Head Units Comparison Table
1. Best Overall – Pioneer AVIC-W8400NEX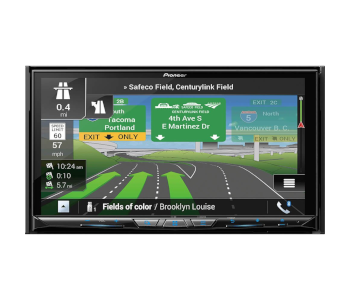 View on Amazon
Editor's Rating: 4.7/5
True to its name, Pioneer is at the forefront of the modern car infotainment market. The AVIC-W8400NEX is their flagship head unit capable of supporting CarPlay as well as Android Auto. It's much more than a way to get these interfaces into your older car though! It. The AVIC-W8400NEX is also a CD & DVD player, can connect to two cameras as well as external speakers, and has a fantastic interface of its own. This is one of the more expensive head units out there, but it's worth every penny!
Overview of Features
The AVIC-W8400NEX is dominated by a sleek capacitive touchscreen under which you'll find seven control buttons. These are small but illuminated with LEDs for easier orientation. Lifting the screen also reveals a DVD drive and SD card slot. You can attempt to install the unit yourself since you get an in-depth user guide, but leaving it to the professionals might be a better idea.
Even if it didn't support CarPlay, the AVIC-W8400NEX would be a superb standalone head unit. It has its own software including a responsive turn-by-turn navigation system with voice commands! This is especially useful in the backcountry where you can't rely on Wi-Fi. You can connect your iPhone and mirror its screen without turning on CarPlay. The AVIC-W8400NEX reacts without noticeable lag, and the experience is akin to using a large smartphone in the horizontal position.
You can connect your smartphone to the AVIC-W8400NEX either through Lightning to USB or wirelessly through both Wi-Fi and Bluetooth. A wired connection lets you use the unit's own interface to access your contacts or review calendar events.
CarPlay on the AVIC-W8400NEX works flawlessly! Its interface is mirrored perfectly, and all the icons are easy to make out thanks to the screen's high resolution. You get a Bluetooth microphone that lets you wirelessly tell Siri to reply to a text message or bring up a playlist even around noisy passengers. Speaking of playlists and noise, the AVIC-W8400NEX can enhance your cruising experience by turning its screen into a light show that changes with the beat.
What We Didn't Like
This head unit suffers from two minor issues – small buttons and a long boot-up time. The buttons are tiny, and most are clustered together. This doesn't matter while the car is standing still but causes you to direct too much attention to finding the right one instead of watching the road. The AVIC-W8400NEX takes twenty seconds to boot up once you turn on the engine.
Tech Specs
Screen Size: 7 in.
DINs used: 2
Has CD/DVD player: Yes
Wireless CarPlay: Yes
The Pros
Outstanding onboard software
Flawlessly mirrors smartphone screen and behavior
Supports CarPlay wirelessly
Responsive touchscreen
The Cons
Small physical buttons
Long boot-up time
2. Best Value – Kenwood DMX7704S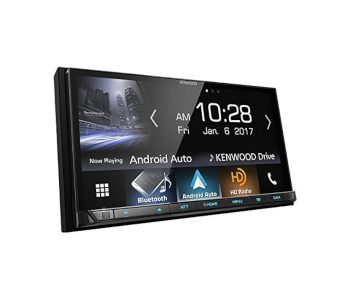 View on Amazon
Editor's Rating: 4.6/5
Would you like to turn your car into a CarPlay-ready multimedia center? In that case, Kenwood's DMX7704S should be your go-to choice. Apart from high fidelity sound that's synonymous with the Kenwood brand, this head unit boasts wireless support for multiple devices through Bluetooth, can work with two smartphones at the same time, and has one of the best touchscreens in the industry. It's also comparatively cheap, making the already sweet deal even better.
Overview of Features
The best thing about the DMX7704S is its responsive 7-inch touchscreen. It is backlit by LEDs which produce vivid colors and offer excellent visibility even if the sun is shining on the head unit directly. The touchscreen responds to commands instantly whether you're using your phone or the built-in interface. Speaking of which, Kenwood did an amazing job of making their interface user-friendly and easy to access. The home screen can be customized with frequently-used icons and different backgrounds, while navigation is done through small physical buttons located under the screen.
The DMX7704S acts as a multimedia hub. It supports up to 10 devices connected via Bluetooth and has two USB ports. Connecting your phone or music player to one of the ports lets you play the media stored on it and recharge the device at the same time! Kenwood gives you a plethora of equalization options to play with. These include bass management, individual volume settings for different sound sources, and more. Whatever the source, audio is played back through your car's speaker system with impressive clarity.
This head unit also excels at safety and versatility. Support for dash cameras is of particular note since connecting a compatible dash cam model lets you view its feed, zoom in, or take videos and pictures through the DMX7704S. Two cameras can be connected simultaneously, and it's easy to switch between front and back camera views.
CarPlay integration is seamless, and the screen behaves like a larger version of your phone's display. Siri comes through loud & clear, and booting CarPlay up is done in seconds. You can even share the car with someone who doesn't have an iPhone as the DMX7704S has dual phone support! Plugging an Android phone alongside your iPhone allows you to switch between CarPlay and Android Auto, giving you the best of both worlds.
What's Bad About It?
Even though physical media is going the way of the dodo, we wished that the DMX7704S had a DVD player like our overall winner. Infrequent firmware updates are its only other noticeable flaw. Months go by without firmware issues being addressed, so if you encounter a problem, it might not get fixed soon.
Tech Specs
Screen Size: 7 in.
DINs used: 2
Has CD/DVD player: No
Wireless CarPlay: Yes
The Pros
Excellent value for the money
Responsive touchscreen with great output
Works with multiple devices through Bluetooth
Can quickly switch between CarPlay and Android Auto
The Cons
Firmware updates are few and far between
No DVD player
3. Alpine iLX-F309 HALO9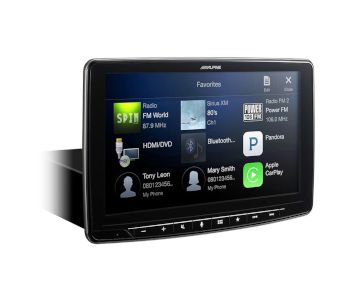 View on Amazon
Editor's Rating: 4.6/5
The problem with most head units is that they take up the entire double-DIN space in your dashboard and are set in place. This means you can't adjust their angle for better visibility, so you have to move your head instead and not pay attention to the road. Alpine's iLX-F309 HALO9 solves this problem by having a screen that protrudes outwards and which you can angle back or forth in increments. It is an expandable, versatile head unit that works flawlessly with CarPlay.
Overview of Features
The 9 in the iLX-F309 HALO9's name refers to the beautiful 9-inch touchscreen while HALO signifies how it "hovers" in front of your dashboard. You can customize the head unit's depth and height as well as tilt the screen to a pre-set angle for a better overview. The iLX-F309 HALO9 takes up a single DIN slot, meaning you can use the remaining one to install a DVD player or upgrade the unit with one of many modules.
The iLX-F309 HALO9's interface is clean and has a similar design philosophy to Kenwood's – its home screen is fully customizable as favorite programs and settings take on the form of large icons. The unit comes with its own maps, an HD radio tuner, and Bluetooth support for hands-free calls without needing to access CarPlay or Android Auto, both of which are supported too.
The base unit can be upgraded with a slew of add-ons. For example, you can hook it up to iDatalink Maestro and turn the display into an info screen detailing various car stats like tire pressure, steering wheel controls, or engine codes. The iLX-F309 HALO9 supports only one camera and HDMI output but can be expanded with a second one with the right module. Other options include an add-on that enables SiriusXM and an accessories module that controls lights, winches, and more.
Are There Drawbacks?
The iLX-F309 HALO9 is the most expensive head unit in the guide. The cost goes up even more if you account for professional installation and optional upgrade modules. Wireless CarPlay isn't supported. There's also only one USB port, so switching between smartphones isn't possible either.
Tech Specs
Screen Size: 9 in.
DINs used: 1
Has CD/DVD player: No
Wireless CarPlay: No
The Pros
Large touch-sensitive screen
Tiltable and easy to adjust
Supports lots of useful upgrade models
Seamless CarPlay integration
The Cons
Single USB port
Expensive
4. Pioneer AVH-3400NEX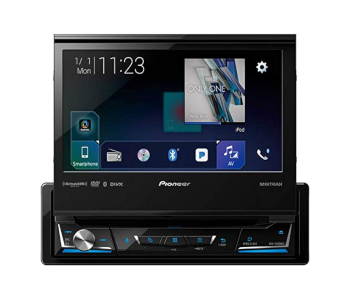 View on Amazon
Editor's Rating: 4.4/5
For all their usefulness, modern head units can be distracting. That's why Pioneer's AVH-3400NEX has a 7-inch screen that retracts, leaving you free to focus on the road! It's also a boon for anyone with a single-DIN stereo slot as it fits snugly into the smaller space. The head unit comes with its own user interface similar to CarPlay but supports Apple's solution without issue too. Pioneer's AVH-3400NEXcosts less than $400, so it's a bargain on top of being practical and rich in features.
Overview of Features
The flip-out screen is the AVH-3400NEX's best feature. It retracts or slides out with a single button push and can be tilted once out. Even though it fits into a single Din slot, the AVH-3400NEX sports a DVD player and an assortment of buttons that handle playback, volume control, voice activation, screen retraction, and so on.
The AVH-3400NEX's screen has a resolution of 800×480 and is among the best at its price point. You can customize its display with different menu colors and background screens. Not using the screen for a while will cause it to dim and drain the car battery less.
This head unit is compatible with CarPlay but also comes with Pioneer's AppRadio, a proprietary interface that connects to your phone and lets you handle text messaging, calendar appointments, or hands-free voice calls similarly to CarPlay. It has Waze for your navigation needs while music is taken care of by Pandora and Spotify. These apps have CarPlay equivalents, but their AppRadio versions are better designed and offer more info on songs and albums.
You don't need to use the internet to get your groove on though since the AVH-3400NEX has a USB port and can read a plethora of audio and video files including FLAC! The Mixtrax feature allows you to enhance your jams with different transitions or cheesy sound effects. There's also the option to accompany music with a choreographed light show that turns your car into a party on wheels.
What We Didn't Like
The AVH-3400NEX is a single-DIN unit, meaning it can be installed into older cars. While this is great, it also means that the screen can obscure vital parts of the dashboard like climate controls when extended. The faceplate is partially detachable to deter thieves. Usually, this makes it impossible for a head unit to turn on without its original faceplate. The AVH-3400NEX turns on normally without its faceplate though, making this supposed anti-theft feature useless.
Tech Specs
Screen Size: 7 in.
DINs used: 1
Has CD/DVD player: Yes
Wireless CarPlay: No
The Pros
Takes up single DIN slot and compensates with retractable screen
Excellent proprietary interface
Plays wide variety of media files
Custom sound profiles and light show option
The Cons
Partially detachable faceplate is useless as thief deterrent
Screen can obstruct dashboard controls
5. Sony XAVAX210SXM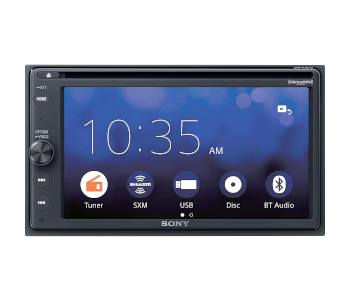 View on Amazon
Editor's Rating: 4.3/5
Sony is new to CarPlay-compatible head units, and the XAVAX210SXM is the first model to have this feature. Still, their first attempt is a valiant one as the XAVAX210SXM has one of the best CarPlay integrations on the market. The unit features excellent physical controls, a fantastic interface, and support for expansions like iDatalink Maestro and SiriusXM.
Overview of Features
The XAVAX210SXM differs from other head units on review in its physical control placement. Rather than being underneath the screen, its controls are to the side. The volume knob is especially helpful since adjusting the volume through it feels intuitive and is much easier than fumbling around for the right button. It can also be pressed and act as a toggle between sound sources or bring up Siri when CarPlay is active.
Sony's interface is minimalistic but designed well. Its style complements CarPlay, so the two are easy to transition between. This doesn't just apply to appearance since pressing a button on Sony's display activates the corresponding option on CarPlay when your iPhone is connected. When the aesthetic does differ, it doe so for the better. For instance, the XAVAX210SXM's on-screen volume control has a large slider that lets you see the current volume at a glance.
Sony has put a lot of thought into the XAVAX210SXM's multimedia presentation. You can switch between its AM radio, a Spotify playlist, and the music stored on a thumb drive with the home button. Skipping entire songs or fast-forwarding to your favorite part is handled by physical controls too. Everything has been engineered to give you a driving experience that is rich in multimedia options while requiring minimal screen time.
What's Bad About It?
The reason the XAVAX210SXM is so far down on the list is the quality of the display. At 6.4 inches, it's on the smaller side. While it has good contrast and pleasant colors, the screen is barely visible in sunlight. There's also a slight delay between tapping a button and the XAVAX210SXM springing into action. We wouldn't exactly call it lag, but the screen's responses aren't instantaneous as seen on other reviewed head units.
Tech Specs
Screen Size: 6.4 in.
DINs used: 2
Has CD/DVD player: Yes
Wireless CarPlay: No
The Pros
Outstanding interface
Well-made physical buttons with multiple functions
Good transition to and compatibility with CarPlay
Good sound quality
The Cons
Screen isn't visible in sunlight
Touch controls are less responsive than those of competing models
6. Best Budget Option – Pioneer SPH-DA120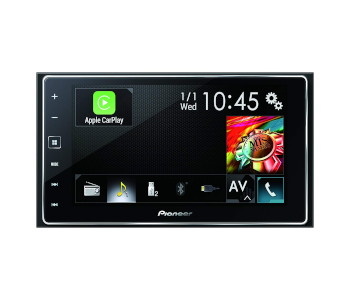 View on Amazon
Editor's Rating: 4.1/5
The head units we've reviewed so far have lots of cool extras, but what if you just need one that can run CarPlay and doesn't cost much? Pioneer has the answer yet again – the SPH-DA120! This is Pioneer's most affordable CarPlay head unit. While it doesn't play DVDs or have a navigation system of its own, CarPlay works without a hitch. You can also look forward to support for many audio & video formats, the Mixtrax feature, and backup camera integration.
Overview of Features
With its silver trim and button-filled left side, the SPH-DA120 looks similar to a real iPhone. Unlike Sony's model, its buttons are touch-operated. Six of them control playback & volume settings, switch between AV and app mode, and bring up the home menu. You can even customize the color they glow in and match it to your dashboard's color scheme.
While the SPH-DA120 is basic, looking at its back panel reveals it was built with expansion in mind. There are ports for a GPS antenna, iDatalink devices, backup cameras, and SiriusXM. Users who don't intend to upgrade can still appreciate the unit's two USB ports and hands-free calls via Bluetooth. You'll need to use a Lightning to USB cable for CarPlay, however.
The SiriusXM uses an older version of AppRadio. This means you get access to features like calls and calendar reminders when you plug any kind of smartphone into it. If you do so with an iPhone, a large CarPlay icon appears in the top left corner and is easy to access. The CarPlay interface pops right up, and you can start listening to audiobooks or plan a trip without delay.
While you can't watch DVDs, the SiriusXM does let you play media off of devices connected through USB or HDMI. Expect the SiriusXM to be able to play all the videos and music in your collection since it can open a variety of formats including Matroska and DivX.
Are There Drawbacks?
This unit has no physical buttons. While this makes it look sleek, it's impossible to find the right button by feel alone. You'll need to look at the screen to adjust the volume or change a track, and you'll have a hard time using the buttons while wearing gloves. This is the head unit with the smallest screen we've tested. The picture quality is adequate, but the small size means details are hard to make out, forcing you to concentrate on the screen rather than the road.
Tech Specs
Screen Size: 6.2 in.
DINs used: 2
Has CD/DVD player: No
Wireless CarPlay: No
The Pros
Affordable yet has lots of features
Can be expanded with wide array of upgrades
Has two USB ports
AppRadio is an excellent complement to CarPlay
The Cons
Details are hard to make out due to small screen size
Touch buttons need to be looked at to be used