6 Best Cheap 360 Cameras of 2019
3D Insider is ad supported and earns money from clicks, commissions from sales, and other ways.
Are you interested in 360-degree photography and videomaking? Creating content in this unique way was prohibitively expensive until recently. Now, however, models that would have cost you a fortune a couple of years ago are bargains well worth your time. You'll miss out on the latest features, but you'll still be able to produce jaw-dropping 360 footage that looks good, whether viewed from a phone or your new VR headset.
These are the six best cheap 360 cameras for bargain hunters who don't want to compromise on quality. They're all easy to use, have great companion apps, and are great purchases for anyone who wants to dip their toes into this new and exciting creative medium. Discover in our reviews which fits your needs best, and get into the 360-degree world frugally.
Budget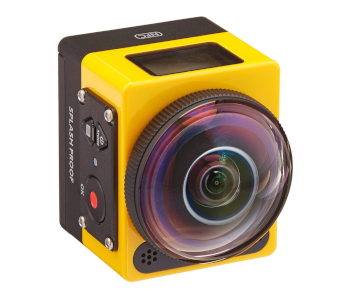 Kodak PIXPRO SP360
3.9/5.0
Photo resolution: 16MP
Battery life: 160 minutes
It has lots of different photo and video modes.
Check Amazon
Best Value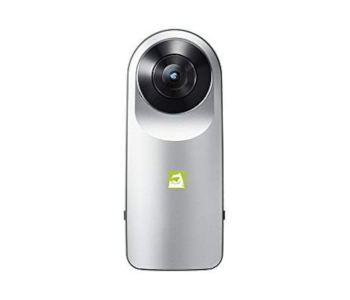 LG G5 Friends 360 Cam
4.5/5.0
Photo resolution: 13MP
Battery life: 50 minutes
Versatile protective case and good image quality.
Check Amazon
Top Pick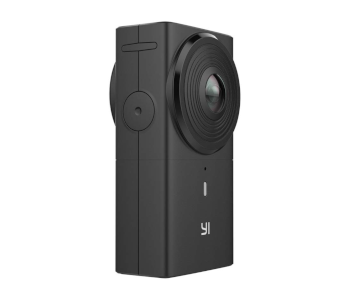 YI 360 VR Camera
4.6/5.0
Photo resolution: 16.6MP
Battery life: 45 minutes
Photos and videos are crisp & colorful.
Check Amazon
Cheap 360 Cameras Comparison Table
1. Best Overall – YI 360 VR Camera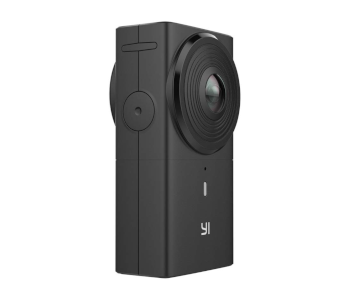 View on Amazon
Editor's Rating: x/5
It's a testament to how fast 360 camera technology is developing that you can get one with a 5.7K resolution for well under $200. Yi's 360 VR Camera delivers outstanding photo & video quality for its price. It packs numerous professional features like manual image adjustment and makes it easy to either live stream or share your work with people online. The camera does have a few quirks, but nothing so serious as to rob it of the best-in-class title.
Overview of Features
Yi won't be winning any awards for this camera's design, but its practicality is another matter. The uniformity of its square black housing is broken up by two 220-degree lenses and a flap concealing slots for an SD card as well as charging & HDMI cables. An OLED display is another trick up its sleeve, lighting up to tell you how much juice is left and giving you access to basic controls thanks to two adjacent buttons.
Yi's camera excels at producing quality photos and videos. Its video resolution is 5.7K at 30 frames per second, which rivals competitors that are twice as expensive and is better than GoPro Fusion's 5.2K. While no current commercial 360-degree camera makes perfectly sharp videos, the 360 VR cam comes close. There's a lot of detail to be explored in the foreground as well as in the back. Color saturation is excellent whether you're shooting out in the open or indoors.
Interior shots are a bane for 360 cameras, but Yi's model handles them well. It has a maximum ISO of 6,400 for videos, allowing you to record in poorly-lit areas with minimal denoising in post-production. Speaking of which, the 360 VR Cam's photo mode has two color profiles, one of which is flat and perfect for bringing out every nuance of the picture in your favorite editing software.
The Yi app features a simple interface with editing and sharing tools that are easy to access. It connects to the camera through either 2.4 or 5GHz Wi-Fi, so the link is always stable. The app lets you control the camera remotely, play with settings, and export media for online use. Livestreaming is also supported, as is in-app stitching up to 4K.
What We Didn't Like
Yi's camera battery has a low capacity. Don't expect it to last a whole day of intense shooting. Moreover, it gets hot when shooting in 5.7K for a long while or when transferring large files. You can stitch footage in the camera, but the results display stitching prominently. You'll have to transfer the data over to a PC and use Yi's desktop software for the best results.
Tech Specs
Dimensions: 4 x 2.1 x 1.2 in.
Weight: 5.9 oz.
Photo resolution: 16.6MP
Video Resolution: 5.7K, 30fps
Battery life: 45 minutes
The Pros
Exceptional performance at a great price
Straightforward to use but offers many editing options
Photos and videos are crisp & colorful
User-friendly app with stable connection and lots of features
The Cons
Battery gets hot and runs out fast
Footage needs to be stitched on a computer to look its best
2. Best Value – LG G5 Friends 360 Cam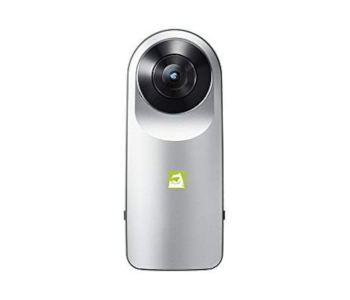 View on Amazon
Editor's Rating: 4.5/5
The 360 Cam from LG was introduced as part of the G5 Friends program and quickly gained a following. It's been around for a while now, so don't expect the newest features or incredible video quality. On the other hand, the price is amazing for what you get, and the Cam is a pleasure to use. Get one, and you can look forward to excellent accessories, a user-friendly app, and easy content sharing.
Overview of Features
The LG 360 Cam is among the smallest and lightest ones on review. At only 2.7 ounces, it's light enough to be mounted to a drone. Its front and back are silver plastic while the sides are made from a slip-resistant material that ensures you always have a tight grip. There's no LCD; you physically control the camera by pressing the shutter or power buttons alone or together and with varying duration.
The camera takes two MicroSD cards you have to supply yourself. Its accessories are limited to a USB charging cable and a versatile protective case. We loved the case since it increases the Cam's durability without hindering operation. You can put it on all the way to protect the whole camera or partially to give it more height. The bottom isn't obstructed whichever way you use the cover, so you can charge the camera with it attached.
Two 13-megapixel cameras take photos of above-average quality. White balance is spot on most of the time, while colors are both rich and true to life. There's some chromatic aberration when small dark shapes meet larger bright areas. Flaring is also present, so you'll want to avoid shooting in direct sunlight. You get to adjust the camera settings manually from the app. Videos have a resolution of 2K and look OK on smartphones. They aren't as good-looking on virtual headsets because their resolution is low, and the results are soft.
The app is intuitive and easy to use. Remote control is the best thing about it – you can activate the Cam from anywhere by using it instead of having to press the shutter physically. Files are stitched together in the app and saved to your phone. You can then export them to your computer or social media. The camera works well with all Android and iPhone devices even though it was first offered as part of LG's G5 promotion.
What's Bad About It?
This model doesn't have a live stream option. You'll have to record videos and upload them afterward instead. The app shows a live preview. Its usefulness is limited since you can only view one lens at a time. The feed has a low framerate and a two-second lag.
Tech Specs
Dimensions: 6.5 x 3.2 x 1.5 in.
Weight: 2.7 oz.
Photo resolution: 13MP
Video Resolution: 2560 x 1280, 24fps
Battery life: 50 minutes
The Pros
Excellent value for the money
Versatile protective case
Good image quality
User-friendly app with remote shutter
The Cons
Laggy preview
Can't stream live
3. Samsung Gear 360 SM-R210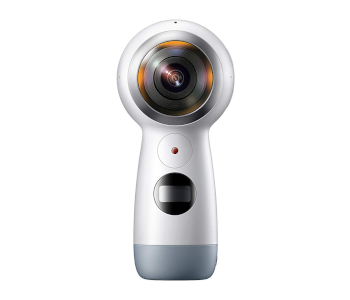 View on Amazon
Editor's Rating: 4.3/5
Samsung's original Gear 360 was a fun if restrictive camera that needed refinement before being ready for the mainstream market. The SM-R210 fixes most of its flaws as it is lighter, easier to use, and works with a broader range of devices. Expect the video & image quality to be excellent for its price as well. Add to that an intuitive mobile app, and you've got a well-rounded 360 camera no budget-conscious buyer should ignore.
Overview of Features
The Samsung Gear looks like a board game piece with its slender body and a large head that houses two bulging lenses. It's almost entirely white and is curved to fit comfortably in your hand. There are easily accessible buttons for power and recording. You've also got an informative LCD that shows the remaining battery life along with how much footage you can record. There are LEDs next to each lens which glow blue when the camera is connected to a phone, green when it's in standby, and red to record.
You can position the Gear 360 on any horizontal surface since it has a flat bottom. A unique rubber ring accompanies the camera and can be used as a makeshift tripod to elevate it slightly. Alternately, it acts as a rest for the other lens if you're shooting in single-lens mode. You may even use a tripod as the camera's bottom holds a standard thread.
Shooting with the Gear 360 is a pleasant and straightforward experience. You pick which mode you want, hit record, and that's it. Monitoring is done through the companion app that connects reliably to the camera through Wi-Fi. The app stitches videos together, lets you preview or export them, and creates outputs in different formats. These include 360 view, single lens, separate views for both lenses, and round a.k.a. tiny planet on other devices.
The sensors for this version of the Gear 360 were downgraded from 15 to 8.4 megapixels. Nevertheless, they produce captivating 360 stills with good clarity. You can even tinker with settings like white balance and EV compensation if you're so inclined. Videos are shot in 4096 x 2048 at 24fps. You can go lower to increase the framerate, but that will degrade the already unimpressive video quality even more.
What We Didn't Like
Samsung has added iPhone support to this iteration of the Gear 360. However, it still only supports Samsung's Galaxy phones. You're out of luck if you have any other Android model. The battery lasts for close to an hour, two if you use only one lens. It can't be removed, meaning you won't be able to carry spares.
Tech Specs
Dimensions: 1.8 x 1.8 x 4 in.
Weight: 11.2 oz.
Photo resolution: 8.4MP
Video Resolution: 4096 x 2048, 24fps
Battery life: 55 minutes
The Pros
Great ergonomics
Easy to use and share your footage
Informative LCD
Solid picture and video quality
The Cons
Battery can't be replaced
Doesn't work with Android phones not made by Samsung
4. Ricoh Theta SC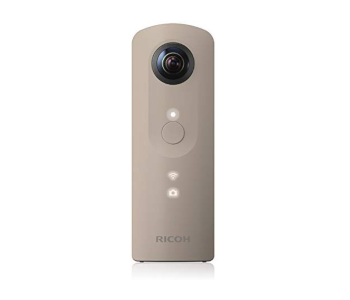 View on Amazon
Editor's Rating: 4.2/5
Cheap 360 cameras will always suffer from mediocre video quality. Ricoh accepted that when designing the Theta SC, a camera that focuses on delivering exceptional 360 images at an attractive price. It boasts an ergonomic design, has a long-lasting battery, and comes with competent editing programs. Don't expect to be blown away by its videos, but everything else is on point.
Overview of Features
The Theta SC looks similar to LG's 360 Cam. It has an elongated shape and a slim profile except for its two protruding lenses. The candy bar proportions and lightweight frame make it ideal to carry in your pocket when not in use. The shutter is recessed and acts as a natural thumb rest, while the camera's bottom lets it stand on its own and supports tripods.
Unlike cameras discussed so far, the Theta SC has four physical buttons, allowing you to control everything from recording modes to Wi-Fi connection without whipping out your phone. There are also indicator LEDs whose glow pattern tells you if there's a connection and whether you're shooting. This is another model whose battery can't be removed, but it has a runtime of 70 minutes when making videos with the Wi-Fi off.
Three hundred sixty images have a resolution of 14.4 megapixels. They look vibrant and sharp, so expect lots of detail and no muddying, even if shooting landscapes. The camera's maximum ISO is 1,600 but too noisy for pro shots. Still, you can use it in less than ideal lighting conditions with acceptable quality degradation. However, you'll need to steer clear of high-contrast areas as there's prominent chromatic aberration in the form of purple outlines.
You'll need to download three apps to use the Theta SC's full potential. There's the basic Theta S app for file management, stitching, and simple editing. Theta+ is a more advanced photo editing app that lets you apply exposure settings or filters along with combining images into time-lapses. Theta + Video opens up more video editing options and shares the results on social media.
Are There Drawbacks?
The Theta SC is not a good video camera, as evidenced by its soft footage. 10880p doesn't offer enough pixels to cover a 360-degree area without significant detail loss. The camera doesn't have a memory card slot. Instead, you're limited to 8GB of fixed storage.
Tech Specs
Dimensions: 0.7 x 7.8 x 5.1 in.
Weight: 3.5 oz.
Photo resolution: 14.4MP
Video Resolution: 1,920×1,080 30fps
Battery life: 70 minutes
The Pros
Easy to use and ergonomic
Great image quality
Intuitive physical controls
Apps are well-made and offer deep photo & video customization
The Cons
No external memory
Poor video quality
5. 360Fly 4K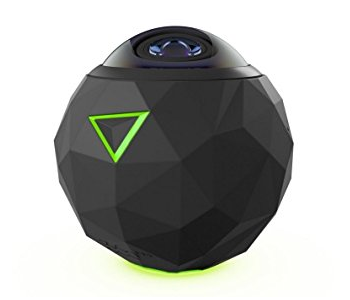 View on Amazon
Editor's Rating: 4/5
All the inexpensive 360-degree cameras mentioned so far create their footage by stitching together feeds from two opposing cameras. The 360Fly 4K is different; it has a single large lens that captures everything in a dome around it. The camera has a unique shape, is water-resistant, and is accompanied by an app anyone can start using in minutes.
Overview of Features
The 360Fly 4K gets our vote for the best-designed camera on review. It's a sphere comprised of various geometric shapes that are textured for a more natural grip. There's a single triangle-shaped button surrounded by an indicator light. It blinks when the battery is low or glows a different color depending on the camera's status. The camera's bottom has a tripod mount and is flat for easier positioning. It attaches via magnets to a charging dock, so there are no USB cables to worry you.
Think of the 360Fly 4K as a hybrid between an action cam and a 360-degree camera. On the one hand, its lens can shoot in 1080p at a wide angle, creating action cam footage. It's also water-resistant down to 150 feet, meaning you can use it while surfing or snowboarding. On the other, the shale of the lens lets you create spherical footage and upload it for followers to enjoy. There are also some interesting features neither camera type usually has, like a motion sensor and the ability to trigger recording with loud noises.
We love how beginner-friendly the 360Fly app is. Running it for the first time shows you step-by-step instructions on pairing the camera. You may then select which mode to shoot in or start tinkering with settings through intuitive sliders. All that's left is to choose a filter and social media site on which you want to share your creation.
The app is also a capable editing tool. You can add music and effects to videos, trim them, and adjust playback for different parts of a video all without needing to turn on a computer. You will want to do so eventually since then you get to play with 360Fly Director, the company's versatile editing software. It lets you do everything the app does and more. Watch Me is a particularly useful feature as it puts you in the director's seat. It creates 16:9 videos from 360 footage using your directions as cues on which part of the scene to focus on and when.
What's Bad About It?
In spite of its name, this isn't a true 4K camera. Its resolution is limited to 2,8800×2,880, which results in soft shapes and mediocre detail levels. Chromatic aberration is a problem as well; you should avoid mixed light conditions as these lead to considerable purpling. The camera records audio, but it is muffled due to waterproofing.
Tech Specs
Dimensions: 2.4 x 2.4 x 2.4 in.
Weight: 6 oz.
Photo resolution: 16MP
Video Resolution: 2,880×2,880 30fps in 360 mode, 1080p 30fps in normal mode
Battery life: 60 minutes
The Pros
No stitching thanks to single-lens design
Excellent build quality and accessories
Versatile app and desktop software
Can be used in water
The Cons
Videos are of mediocre quality and not truly 4K
Audio is muffled and hard to understand
6. Best Budget Option – Kodak PIXPRO SP360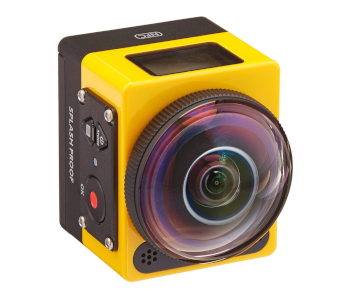 View on Amazon
Editor's Rating: 3.9/5
The PIXPRO SP360 was among the first 360 cameras to hit the consumer market. In spite of being over five years old, the camera still holds its own in the budget section. It comes with a considerable number of accessories, is straightforward to handle once you get used to it, and there's an app that lets you create all kinds of fun and unique videos.
Overview of Features
Kodak's camera works on the same principle as the 360Fly 4K. Its shape is much more conventional, unlike Kodak's characteristic yellow color that adorns it. One side houses physical recording and menu controls while the other is home to an informative LCD. A spherical lens dominates the top and has a transparent cap useful for protecting it from scratches until it's time to press the shutter. A large panel is at the camera's bottom, concealing USB, micro HDMI, and MicroSD ports.
The accessory bundle you get with the SP360 is versatile and welcome. There are three options depending on your preferences. The Extreme accessory pack holds everything you could want to enhance your 360 camera experience. There are suction and adhesive mounts for even and uneven surfaces, helmet mounts, head straps, a waterproof case, lens cleaning cloth, and much more. This comprehensive pack has also been split into two to make the camera even cheaper. They're called Aqua Sport and Explorer, and each made up of roughly half the stuff contained in the Extreme pack.
There's a lot you can do with the PIXPRO SP360. Depending on how you're pointing the lens, it's either a 360 camera or an action cam. You can shoot single photos or bursts of ten or create time-lapses. The PIXPRO SP360 would also work as a dashcam or a surveillance device since it supports loop recording in f- and 10-minute intervals and can be triggered by motion.
You'll have to use the Pixpro app to frame your shots as there's no viewfinder. There are several ways to unwrap footage, depending on the mode you're using. Panorama is best for the 360 effect and lets you choose among fun presets like little planet, dome, or ring. There's also a desktop program with advanced recording options. These work like 360Fly's Watch Me mode and capture the screen as you're moving around in a 360 video to translate it into a 16:9 format.
Are There Drawbacks?
Video quality lags behind modern alternatives, which isn't surprising considering the SP360's age. 1,440×1,440 isn't detailed enough for large screens, and the quality degrades further once you unwrap it. There's a slight delay between turning the camera on and starting to record since the Wi-Fi connects first. This happens each time and may end up costing you a perfectly-timed shot.
Tech Specs
Dimensions: 1.6 x 2 x 1.5 in.
Weight: 3.7 oz.
Photo resolution: 16MP
Video Resolution: 1,440×1,440 30fps in 360 mode, 1080p 30fps in normal mode
Battery life: 160 minutes
The Pros
Affordable yet rich in features
Comes with excellent accessories bundle
Lots of different photo and video modes
Lots of video playback effects
The Cons
Poor video quality
Can't be used until it boots up Wi-Fi