5 Best Cheap 4K Monitors
3D Insider is ad supported and earns money from clicks, commissions from sales, and other ways.
In the past, shopping for the best cheap 4K monitors was a difficult task due to the limited number of viable options on the market. Today, shopping for one is still not an easy task, but for the opposite reason: there are so many good options to choose from.
We're here to make shopping for budget 4K monitors easier for you. The monitors included in this guide are the best ones you can get for under $400. Some only cost $300 or less. If you want a budget 4K monitor for photo/video editing, watching movies, and gaming, then you've come to the right guide.
Budget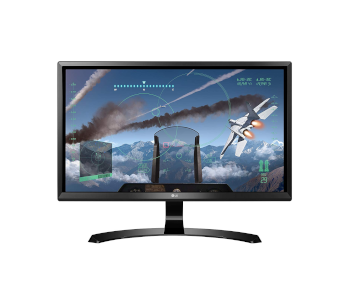 LG 24UD58-B
4.1/5.0
Response Time: 5 ms
Panel Type: IPS
Great picture quality and good response time.
Check Amazon
Best Value
Asus MG28UQ
4.2/5.0
Response Time: 1 ms
Panel Type: TN
Fast response time and convenient menu navigation system.
Check Amazon
Top Pick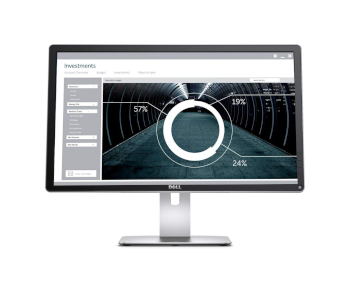 Dell P2415Q
4.5/5.0
Response Time: 6 ms
Panel Type: IPS
Gorgeous picture quality and easy to set up.
Check Amazon
About the Specs
Before we go to our individual descriptions of each product, we'll define important terms you'll encounter when shopping for 4K monitors. Or more specifically, the four items mentioned in our comparison table: size, refresh rate, response time and panel type. Feel free to skip to the descriptions if you already know about all the technical specs concerning monitors.
Size
This refers to the screen size, not the actual physical dimensions of the entire monitor. The best thing about going for a 4K monitor, which boasts a resolution of 3840 x 2160, is that you get to enjoy a larger screen without sacrificing picture quality. But you shouldn't set your expectations too high when shopping for budget options. Most cheap 4K monitors are under 30 inches. If that's something you're not OK with, we recommend that you increase your budget.
Refresh Rate
The refresh rate refers to the number of times the monitor can refresh the image per second. It's measured in Hertz (Hz). The higher the number, the better. A higher refresh rate translates to a much smoother performance, assuming the monitor is paired with the right graphics card. Cheap 4K monitors under $400 typically have a 60 Hz refresh rate, so don't expect too much.
Response Time
Measured in milliseconds, the response time refers to how fast an individual pixel can change from black to white or from one shade of gray to another. Unlike with refresh rates, a lower response time is better and translates to a better picture quality. For competitive gaming, you'll want the lowest response time possible. For casual or regular gaming as well as non-gaming tasks, you'll want to prioritize overall picture quality – which takes into account color reproduction, contrast, and viewing angles, among others – over response time.
Panel Type
Monitors use different panel technologies. Monitors using in-plane switching (IPS) technology offer the best picture quality, making them the most ideal for graphic designers, video editors, and photographers. But they have slower response times and are generally more expensive. Monitors using twisted nematic (TN) technology are cheaper and have the best response times, making them more ideal for serious gamers. On the other hand, TN monitors fall short in picture quality and have poor viewing angles.
Vertical alignment (VA) monitors are much better than TN monitors in terms of color reproduction and viewing angles – but not on the same level as IPS monitors. They have fantastic contrast but are not that great when it comes to response times. Considering all panel technologies come with pros and cons, you should go for the monitor best suited for whatever you want to do on your computer.
Cheap 4K Monitors Comparison Table
1. Best Pick: Dell P2415Q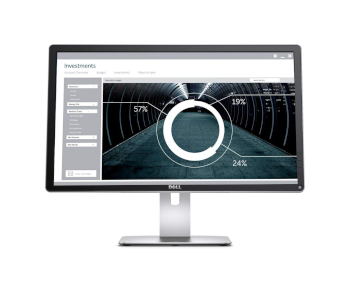 View on Amazon
Editor's Rating: 4.5/5
The Dell P2415Q is the best cheap 4K monitor you can get without spending over $400. It has a simple and functional design, featuring multiple connection options, a sturdy stand, and fantastic image quality. While not the most aesthetically attractive 4K monitor on the market, it can get the job done, and the best part is that it sells for just around $350.
An IPS monitor with a 24-inch screen, the P2415Q comes in silver and black, with its minimalist profile making it a perfect fit on almost any work desk. It has the right amount of thickness and includes a rigid stand with a small hole for clutter-free cabling. The monitor is VESA compatible, so feel free to remove the stand for a wall-mounted monitor setup. There's no built-in speaker, which isn't all that surprising considering the price.
At the back, the monitor includes multiple connection ports – including HDMI, a DisplayPort Input, a DisplayPort Output, a Mini DisplayPort Input, a standard audio out, and multiple USB ports, one of which is for charging. While it's nice to have multiple connection options, the way the ports are positioned could be improved. Except for one USB port, all the connection ports are positioned upside down at the bottom of the unit, which means you can't easily see the holes, making plugging cables a bit of a hassle, but it's not a deal-breaker.
A big part of what makes the P2415Q a great monitor is its full adjustability. The stand allows for height adjustment and forward and backward tilting. Additionally, the monitor can be easily swiveled and permits a full pivot to a portrait setup. Whether you're a casual gamer, a graphic designer, a programmer, or a photo/video editor, it's easy to appreciate the P2415Q's full adjustability, which allows for a more comfortable and customized setup.
The P2415Q is capable of producing extremely accurate and vibrant colors. Unless you receive a defective unit with dead pixels, the picture quality will immediately impress you. It has excellent contrast and good brightness distribution. It makes photo editing and streaming high-definition movies more enjoyable, with the anti-glare screen making coding, which involves a lot of texts, easier on the eyes.
For competitive online multiplayer gaming, the P2415Q definitely won't cut it, considering its response time which, according to the official specs, tops at 6 milliseconds when the monitor is in fast mode. But for regular gaming or for those who don't put too much stock in response times, this 4K monitor should be good enough.
Overall, the P2415Q is an excellent budget 4K monitor. It sets up easily, offers full adjustability, and produces gorgeous visuals out of the box. It has a rigid stand with height adjustment and is made of up quality materials all around. Dell certainly didn't cut too many corners just to bring the price to a more affordable point.


Tech Specs
Size: 24 in
Resolution: 3840 x 2160
Refresh Rate: 60 Hz
Response Time: 6 ms
Panel: IPS
Weight: 12.5 lb
The Pros
Gorgeous picture quality
Easy to set up
Multiple connection options
Sturdy removable stand
Fully adjustable screen
Great viewing angles
The Cons
No built-in speaker
Connection ports are not easy to access
2. Best Budget: LG 24UD58-B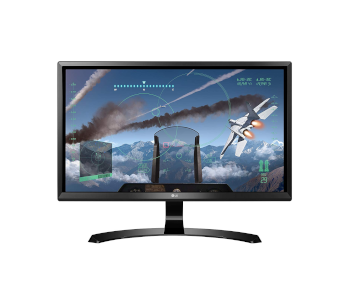 View on Amazon
Editor's Rating: 4.1/5
When it comes to monitors, you can never count out LG. The South Korean company is one of the best in the business, offering a wide selection of monitors at different price points. For those in the market for a budget 4K monitor, LG offers the 24UD58-B, a 24-inch IPS monitor suitable for both gaming and non-gaming tasks.
At just around $250, the 24UD58-B is easily the cheapest on this list, making it a highly appealing monitor for those unwilling to cough up over $400 for a good 4K monitor. LG offers others sizes for this particular model, two of which are also budget options, with the 31.5-inch model going for just a hair above $400.
The 24UD58-B puts function over aesthetics, featuring a slim, minimalist design with zero hints of fanciness. While definitely noticeable, the bezel is not thick enough to distract you while working or gaming. The unit comes with a stand with a curved base, which is meant for more stability (more on this later). From top to bottom, the 24UD58-B sports a handsome all-black finish, with minimal branding around the frame.
Concerning connection ports, LG's budget 4K monitor offers both good and bad news. The good news is that, compared to the Dell P2415Q, the ports are not positioned upside down at the bottom of the monitor; they are easily accessible at the back of the unit. The bad news is that there are much fewer input and output options compared to our top pick in this guide to the best cheap 4K monitors, so don't expect a monitor with all-around connectivity.
The 24UD58-B has a DisplayPort and a pair of HDMI 2.0 ports. That's it. Not a single USB port in sight, which might disappoint some people, especially those not used to seeing a monitor without at least one USB port. But you can't really blame LG for sacrificing some features, considering this cheap monitor sells for less than $300.
Speaking of things that might disappoint some people, the 24UD58-B's stand which, as mentioned, comes with a curved base, is not as stable as LG advertised it to be. Users find it a bit wobbly due to how the mount is positioned on the frame. On top of that, the stand has very limited adjustability, which means tinkering with the monitor positioning for a more custom or convenient setup is out of the equation.
While sacrifices had been made in certain areas, LG certainly didn't cut corners regarding overall picture quality. For a 4K monitor under $300, the 24UD58-B can produce great visuals with accurate colors and contrast, assuming other factors (read: the graphics card) are on point. It can output in split-screen for multitasking and includes several gaming-centered features, including FreeSync support and a couple of game modes designed specifically for first-person shooter games. The response time is good, too, at least for a budget IPS monitor.
With the 24UD58-B, you get what you pay for. LG obviously cut corners in some areas to make the sub-$300 pricing possible, but the product is worth the money. It has great picture quality, includes on-screen controls for convenience, and is easy to set up out of the box. For those unwilling to spend over $300 on a 4K monitor, the 24UD58-B is the best option on the market.


Tech Specs
Size: 24 in
Resolution: 3840 x 2160
Refresh Rate: 60 Hz
Response Time: 5 ms
Panel: IPS
Weight: 8.8 lb
The Pros
Low price
Easy to set up
Great picture quality
Good response time
Convenient on-screen controls
Multiple options for split-screen mode
The Cons
Limited connection options
Limited stand adjustability
No built-in speaker
3. Best Value: Asus MG28UQ
View on Amazon
Editor's Rating: 4.2/5
Compared to our other top picks, the Asus MG28UQ is a lot more gaming-centered, featuring a larger screen and multiple settings designed to enhance gaming performance. It sells for around $350-380, making it an appealing option for gamers who want to get into 4K monitors but can't afford to spend a fortune on one.
Unlike the Dell P2415Q and the LG 24UD58-B, the 28-inch MG28UQ is a TN monitor, largely explaining the low price for such a large monitor. It has a simple, all-business design with a sturdy stand. It includes multiple connection options – including HDMI ports (only one HDMI 2.0), a DisplayPort, a standard audio out, and a couple of USB ports for extensions and charging small electronics such as tablets and smartphones.
As with our top pick from Dell, the connection ports on this cheap 4K monitor are positioned upside down at the rear, which sometimes makes accessing them inconvenient. On the plus side, Asus did a great job on the menu navigation controls. The MG28UQ has a joystick-like control mechanism that allows you to quickly go through the settings.
While not on the same level as the Dell P2415Q, the MG28UQ offers an adjustable screen, with options to tilt and swivel the screen and adjust the height. The screen can also be switched to portrait mode. However, considering it has a TN panel, such a feature isn't all that attractive, especially for digital artists. Overall, the MG28UQ's design is simple and functional, featuring a rigid stand and a bezel that's neither too thick nor too thin.
Unlike our other top picks here, the MG28UQ comes with a built-in audio system. But don't get too excited about it since the 2-watt speakers are not that great, especially for gaming and watching movies. Unless you don't mind a poor audio quality, it's still better to rock an external audio system.
While the MG28UQ works well in other applications, it shines the most in gaming, which is unsurprising considering Asus markets it as a gaming monitor. It has a fast response time – a given for a TN monitor – and includes FreeSync support and Asus's GamePlus technology for gaming enhancements. It's designed to reduce eyestrain and works well during action-packed games, including online multiplayer first-person shooter games.
In all, the MG28UQ is a solid budget 4K monitor that offers great long-term value. It produces accurate and vivid colors, comes with multiple connection options and a rigid adjustable stand, and features a convenient menu navigation control. It has an ergonomic design and, most importantly for gamers, a set of options designed to improve the gaming experience. All of that for less than $400.


Tech Specs
Size: 28 in
Resolution: 3840 x 2160
Refresh Rate: 60 Hz
Response Time: 1 ms
Panel: TN
Weight: 17.6 lb
The Pros
Fast response time
Convenient menu navigation system
Adjustable and stable monitor stand
Multiple connection options
Includes USB port for charging gadgets
The Cons
Bad viewing angles
Poor audio quality
4. Samsung U28E590D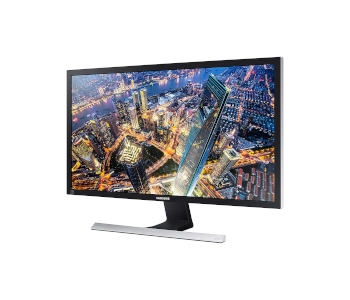 View on Amazon
Editor's Rating: 3.9/5
Considering Samsung's reputation regarding entertainment systems, it's fair to expect great things from the Samsung U28E590D, which sells for about $300. For the most part, the 28-inch budget 4K monitor delivers, but a few caveats hold it back from making it to our top three spots here.
The U28E590D is a 4K monitor with a matte black finish and metallic highlights around the frame and on the stand. The power button and connection ports are all located at the back. It has two HDMI 2.0 ports, a DisplayPort, and a 3.5-millimeter audio out, all of which are easy to access due to their positioning.
Unlike the Dell P2415Q and the Asus MG28UQ, the U28E590D has very limited screen adjustability options. You can't adjust the height, which is a big turn-off for some people. You can tilt the screen by a few degrees, but that's it. Like Asus's 4K monitor above, this unit is a TN monitor, which translates to poor viewing angles but faster response times.
Concerning performance, the U28E590D is good for a $300 4K monitor, with the capability to produce excellent visuals with accurate colors. It has FreeSync support as well as a split-screen mode for multitasking, allowing you to work on documents while watching a movie. And with the Eye Saver Mode, working in front of it for extended hours will be more forgiving for your eyes.
Although Samsung says the response time is at 1 millisecond, the U28E590D feels a bit slower than that, as pointed out by some customers. Still, it works well for gaming purposes, even during action-packed online multiplayer games. And while its poor viewing angles and limited adjustability make for a less flexible setup, it can make watching movies, streaming or otherwise, more enjoyable.
The monitor stand is the real lowlight here and has been the subject of more than one customer complaint due to its design. While the T-shaped stand appears optimized for stability, it's not as stable as you might expect, and the way it stretches far out increases the overall footprint and prevents you from positioning your keyboard under the monitor to save desk space. Furthermore, the mount at the back of the monitor is badly positioned, which makes it unsuitable for a regular wall-mounted setup.
Wrapping up, the U28E590D is a good budget 4K monitor with positives that outweigh the negatives, making it a viable option for those looking for an economical 4K monitor selling for just around $300. It has good brightness distribution, includes easy-to-access connection ports, and boasts a sexy 28-inch screen.


Tech Specs
Size: 28 in
Resolution: 3840 x 2160
Refresh Rate: 60 Hz
Response Time: 1 ms
Panel: TN
Weight: 11.6 lb
The Pros
Low price
AMD FreeSync support
Easy-to-access connection ports
Split-screen mode with multiple settings
Fast response time
The Cons
Poor viewing angles
Limited stand adjustability
Badly positioned stand/VESA mount
5. AOC U3277PWQU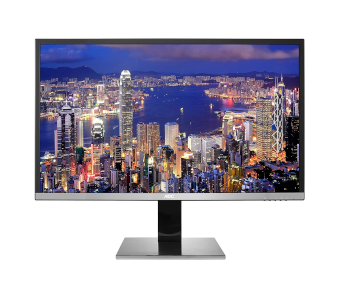 View on Amazon
Editor's Rating: 4.2/5
When shopping for the best cheap 4K monitors, one of the first things you'll notice is the limited screen size options. Most products usually come with a screen smaller than 30 inches. If you want a budget 4K monitor with a massive screen, you'll have to dig really hard. Or more conveniently, you can just head straight for the AOC U3277PWQU.
The U3277PWQU boasts a massive 32-inch screen, easily making it the largest monitor in this guide. It goes for around $400, which is also tops among the products included here, including our best pick. It has a professional design, featuring an adjustable stand, a thin bezel, and a bunch of connectivity options.
While its design is solid, the U3277PWQU is guilty of a few design flaws that can make operating it a bit of a hassle. First, the location of the menu navigation buttons couldn't be more annoying. The controls are at the lower-right corner, positioned under the frame, which makes pressing them awkward. And second, the connection ports – which include VGA, HDMI, DisplayPort, and DVI – are all positioned upside down at the back of the monitor, so accessing them can be inconvenient.
The good news is that the USB ports are separate from the main connection ports and are instead placed in a more convenient location. The U3277PWQU boasts a USB hub with four ports: two USB 3.0 ports (one of which is for quick charging) and two USB 2.0 ports. Additionally, it has an audio in and out, with the latter being the more useful one considering the unit's 3-watt speakers are not that good.
A monitor as large and heavy as this product needs a rigid and stable stand. Sadly, AOC missed the memo about that as the U28E590D's stand has wobbling issues, so make sure it's well-secured on your work or gaming desk. On a more positive note, this monitor has a height adjustable stand and can switch to portrait mode, though the latter isn't exactly the most appealing feature considering the massive screen.
The U28E590D is an all-around 4K monitor that works well for casual gaming, photo editing, watching movies and Netflix shows, internet browsing, and reading documents. It has better picture quality and viewing angles than a TN monitor and a good response time, at least for a monitor equipped with VA panel technology. When the settings are on-point, it can produce gorgeous visuals, the kind of results that would make you grateful you switched to a 4K monitor.
All in all, the U28E590D is an excellent budget 4K monitor. It boasts a massive 32-inch screen, multiple connection options, great viewing angles, and an easy setup out of the box. If you want a 4K monitor with a massive screen but don't want to spend over $500 on one, the U28E590D is the monitor for you – its 32-inch screen size alone is worth the money.


Tech Specs
Size: 32 in
Resolution: 3840 x 2160
Refresh Rate: 60 Hz
Response Time: 4 ms
Panel: VA
Weight: 21.9 lb
The Pros
Massive screen size
Lots of connectivity options
Includes fast-charging USB port
Easily adjustable stand
Great viewing angles
Includes built-in speakers
The Cons
Unstable stand
Poorly positioned main ports and control buttons