Cheap Action Cameras
3D Insider is ad supported and earns money from clicks, commissions from sales, and other ways.
We live in a time when photography and filming have never been as much fun. It's not only easier for amateurs to produce exceptional results, but they're instant and affordable too.
Just a generation ago serious photographers and filmmakers had to drag heavy and expensive equipment around. It's not like that today. The age of Lights… Camera… Action… is long gone.
Now cinematic quality video and amazing photos are just a few clicks away. This guide looks at affordable yet amazing action cameras at prices you won't believe.
These Point Of View or POV camera picks are so good that even a raw novice can produce outstanding results in no time. The question, though, is how well do they compare to the legendary GoPro brand?
Budget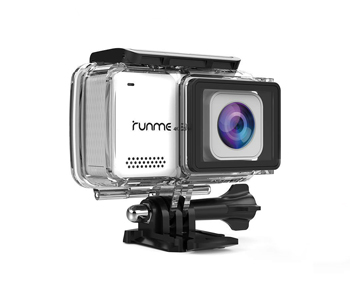 RUNME R3
4.4/5.0
Camera: 16MP
Weight: 635g
Quality video and stills, wide-angle lens.
Check Amazon
Best Value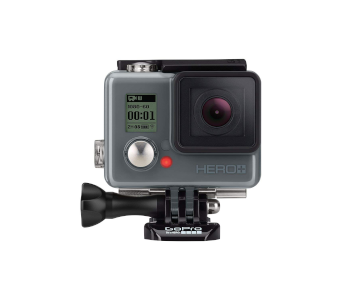 GoPro HERO+
4.2/5.0
Camera: 8MP
Weight: 127g
Extremely wide field of view, impressive underwater range.
Check Amazon
Top Pick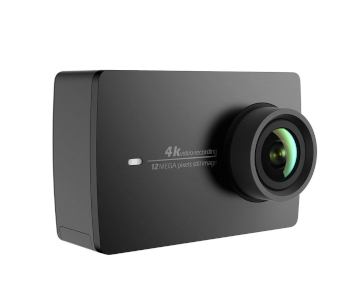 YI 4K
4.7/5.0
Camera: 12MP
Weight: 96g
Swift and clear video playback, nice GoPro alternative.
Check Amazon
Action Cameras and Consumer Drones
You Don't Have to Go GoPro
A Motion Sensor Action Camera Defined
What to Look for in a Quality Action Camera
I have created the format of these reviews with you in mind. I don't assume anyone here has any technical knowledge. Everything on this page is in an easy-to-read style and simple to grasp.
Where it's necessary to use a technical term I explain what it means in layman's terms. The chart at the end of each review highlights the main tech specs along with two columns for pros and cons.
I've written about these products based on personal experiences, opinions from experts, and real user feedback. The reviews are in the order of Editor's Rating, from the cheapest to the most expensive.
Choose Your Budget:
Cheap Action Cameras Comparison Table
OK, that's my top 10 picks. There should be something for everyone in this list. Enjoy the reviews below.
Cheap Action Camera Options for Under $50
The three action cameras in this section range from just $37 to $49 at the time of writing. Try not to let the low price tag put you off. We have some very capable cameras here as you're about to discover.
Although they're feature-rich you still have to have sensible expectations. I think you get a lot of bang for your buck. However, you can't compare them with items at three times the price or higher.
You've got some excellent entry-level underwater, sports, and fast-action choices here. If you get the bug—and you probably will—these little beauts will prepare you well for your next upgrade.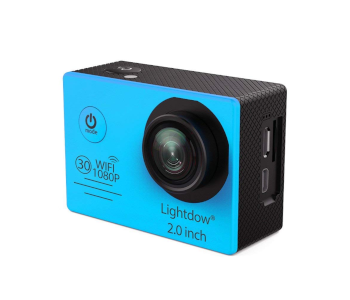 View on Amazon
Editor's Rating: 4.2/5
The final pick in my less than 50 bucks category is the Lightdow LD6000 sports cam. They haven't used the best quality plastics but it still does the job. There are also seven colors to choose from.
Another plus point to this action camera is that it can use GoPro accessories to enhance its features and functionality. That's a major plus point if you or a friend already has a GoPro action camera.
This is another action camera that's compatible with many GoPro accessories. There are plenty of drone reviews where the user has successfully mounted the Lightdow LD6000 to their quadcopter.
There's a ton of extras included in the box like there was with my previous pick. You get the protective waterproof case, a bunch of action camera mounts, and a few other useful bits and pieces.
This is a basic action camera and it doesn't take long to figure out how everything works. That's just as well considering its user manual isn't the easiest to follow.
The camera comes with a nice and intuitive high-definition 2.0 LTPS screen at the back. You can take a range of photos using the different resolutions available. It's all very intuitive.
The Lightdow LD 6000 provides various video recording options. Although the quality won't blow you away it's still exceptional for the price. You won't find many complaints there.
You can shoot video at 720p and 1080p. It's fine for wet action events like skiing, surfing, and diving (waterproofing down to 30m). The camera is also great for recording driving, biking, and riding, etc.
The image stabilization is another welcome feature. It means you get to concentrate while taking quality photos or recording video as the camera manages any shakes or vibrations.
The 12MP camera comes with a CMOS Sensor and a 170° ultra-wide angle lens with 4x digital zoom. You get accurate, fast motion capture, with a field of view wide enough to take in all the surroundings.
Using this camera is a simple case of downloading the app and connecting to the built-in WiFi. You're then free to control and view all your footage using either an Android or iOS device.
The storage is a 32GB TF card. It may not sound much but it should provide you with around 8-hours of video at 720p or 5-hours when shooting in 1080p.
It would be easy to pick holes and look at what this camera lacks. Considering its price, though, it's hard to find too much fault. Just think of all those extra accessories and feature-packed options.
The Lightdow LD6000 scores really well on Amazon. That alone speaks volumes about the satisfaction people get with this product. It may not be a GoPro but it's a great budget alternative.


Tech Specs
Size: 2.3 x 1.1 x 1.6 inches
Weight: 64g (2.3 oz. 0.1 lb.)
Battery: 3.7V900mAh li-ion
Charging Time: 180 minutes (3 hrs.)
Display: Liquid Crystal Display 2.0LTPS
Waterproof Range: 30m (98.4 ft.)
Wide-angle Lens: 170-degree fisheye
Video Resolution: up to 1080P FHD
Photos: 12MP
The Pros
Excellent value for money
Lots of accessories
Easy to operate
Compatible with GoPro accessories
Powerful battery
Rotating function
4x digital zoom
Dash-cam mode
Image stabilization
Motion detection
Bright LCD display
The Cons
Long recharging time
Cheap materials
Poor user manual
Storage limit 32GB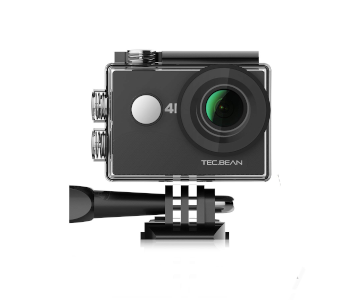 View on Amazon
Editor's Rating: 4.3/5
The TEC.BEAN 4K Action Camera is another gem sold for under $50 on Amazon. It's also a great GoPro alternative for anyone on a budget or who don't want to spend a lot on their first sports camera.
The size, weight, design, and grip are quite typical of a standard sports action camera. The current version is in matt black but the company plans to introduce other colors in the future.
Some drone pilots—flying the DROCON Blue Bugs 3 Drone in particular—have had great results with this camera. The aerial footage is amazing, though some tweaking was likely necessary to set it up.
There's everything in the box to get started. You have various mounting brackets, tape (useful for padding out thin bars), a charger, and cables, etc. There's also a spare translucent backplate.
Another bonus is the extra rechargeable battery that comes with the TEC.BEAN 4K. You even get a special cleaning cloth in the box. It's a small thing but it's still a nice touch for a budget product.
Experienced users will get by with the quick setup guide which is more than adequate. And there's the full-color comprehensive user manual for anyone who needs more detailed guidance.
Everything about this product's controls is intuitive. It shouldn't take too long for anyone to find their way around. The handling is quite self-explanatory even if it's your first ever action camera.
The 2″ LCD screen is an acceptable size for most users. It's also vibrant and displays nice colors indoors and out. The usual info is available at the top like time/date, resolution status, fps, etc.
https://www.youtube.com/watch?v=tiyh4ywNIbc
There are some extra LED indicators to the left of the screen that show things like battery status.
The ability to record video up to 4K (UHD) is an impressive feature for a camera in this price range. It's not as good as the 4K on more expensive action cameras but it's more than adequate nonetheless.
The video recording options include video resolutions 4K 30fps, 1080p 60fps, and 720p 90fps. Video modes include sound recording, time-lapse, loop recording, and slow motion special effects.
The camera has a SONY IMX 179 sensor. It opens at 16 megapixels by default for still images. Again, this is an extraordinary feature considering the low price tag. The results are more than acceptable.
The free app and WiFi let you control the camera from Android or iOS supported devices.
The camera lens has a 170-degree ultra-wide angle fisheye that protrudes about 1cm from the body. The ability to capture more of the surroundings gives things a nice perspective for action footage.
The storage is standard MicroSD card up to 64GB capacity. At the time of writing the product doesn't include an SD card. Make sure you buy one before your camera arrives.
The 900mAh battery that comes with the TEC.BEAN 4K performs really well. Its life depends on what you're shooting of course. Expect to record anywhere from 88—176 minutes per charge.
Don't forget there's a spare battery included with this product too.
What I like about this action camera is the number of quality features they've managed to pack into an inexpensive package. I don't know how they can do it for the money—but they do.
You can't expect the quality of a high-end GoPro but you can expect a lot. It's a perfect entry-level action camera or a good choice for anyone who's happy with great—rather than exceptional—results.


Tech Specs
Size: 9.4 x 3.9 x 2.8 inches
Weight: 113g (4 oz., 0.2 lbs.)
Battery: 900mAh (includes spare)
Charging Time: 120+ minutes (2+ hrs.)
Display: 2 inches LCD
Waterproof Range: 30m (98.4 ft.)
Wide-angle Lens: 170-degree
Video Resolution: up to 1080P FHD
Photos: 16MP
The Pros
Affordable action camera
Lots of extras included in box
Compact and lightweight
Great quality video and still images for the price
Powerful battery
Easy to learn/use
Bright LCD screen
Textured case for enhanced grip
The Cons
No macro (close-up) option
No touchscreen display
Budget Action Cameras for Under $100
If you've never used an action camera before you're in for a pleasant surprise. A little experience with any of these products and your life will never be the same again. It'll become a part of you.
Costing less than 100 bucks, these are still at the budget end of entry-level. Don't be put off. You're going to shoot some very impressive video footage and still shots like you've never seen before.
You don't need to fork out hundreds of dollars to enjoy action-style videography and photography. But it's my bet that you'll want to upgrade once you get the bug—and you will!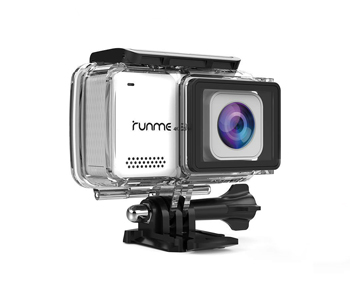 View on Amazon
Editor's Rating: 4.4/5
RUNME R3 is an affordable, feature-packed action camera and our Best Budget pick. It boasts 4K ultra-HD video and tack-sharp 16MP photos. Available shooting modes are single, burst, and time-lapse.
The camera has electronic image stabilization (EIS) with an active 3-axis gyro. It does an excellent job at stabilizing shaky video for a model in its class.
Other standout features are the 170° wide-angle lensandintuitive 2.45" touchscreen. The LCD is responsive, easy on the eyes, and simple to use. The playbacks are quick, easy, and lots of fun.
Sharing captured moments is a breeze with the downloaded OKCAM app. The WiFi connection lets you upload precious moments to social media sites in seconds.
A quality waterproof case protects this little action camera up to 98 feet (30 meters). It does restrict access to various controls though. Therefore, it needs to be on 'record' before it's submerged.
Operators can attachthe RUNME R3 in all manner of ways. It comes with a surprising number of accessories too. They include a multi-functional clip, a bike mount, a helmet mount, and more.
This camera even includes two rechargeable batteries. That's just as well considering the short battery life. You can expect around 40 minutes or even less on a single charge.
Average materials are another setback. It's not fair to be too critical considering the quality of the stills and video, plus all the accessories. Even so, the build quality is noticeably inferior to a GoPro.


Tech Specs
Size: 9.7 x 4.8 x 3"
Weight: 635g (1.4 lbs.)
Battery: 3.7V/1000mAh
Charging Time: Not specified
Display: 2.45" touchscreen
Waterproof Range: 30 m (98 ft.)
Wide-angle Lens: 170-degree
Video Resolution: Up to 4K
The Pros
Affordable and feature-packed
Quality video and stills
3-axis gyro stabilization
Intuitive LCD touchscreen
Wide-angle lens
Free OKCAM app
Waterproof casing
WiFi connectivity
Bonus battery (2 total)
Lots of handy accessories
The Cons
Average quality build
Short battery life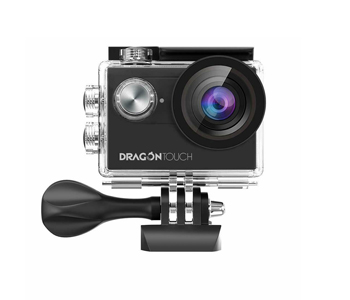 View on Amazon
Editor's Rating: 4.6/5
This action camera is the AKASO EK7000 4K Pro version—an upgrade on the AKASO EK7000. It delivers 4K at 25 frames per second (fps), 2.7K at 30fps, and 1080P at 60fps. Photos are 16MP.
Users love the 2" touchscreen display of the AKASO EK7000 4K Pro. It's bright, responsive, and easy to navigate. Being able to set, preview, and shoot with ease is the mark of every good action camera.
This camera isa multi-functional product that can also work as a quality dash cam. It's capable of loop recording and filming upside down with impressive clarity.
Another of the cameras best features is its adjustable lens angles. There are four in all, i.e., narrow, medium, wide, and super wide. These view angles provide users with many creative opportunities.
AKASO's EK7000 Pro has a plethora of shooting methods too. They include Diving Mode, Special Effect, Burst Photo, and Time Lapse Photo. You also get Continuous Lapse and Time Lapse Video.
The camera comes with built-in Electronic Image Stabilization (EIS). Stabilization is a vital feature when the going gets shaky, and this one works really well. However, EIS is not available with 4K.
An upgraded waterproof case is one more of the EK7000 Pro's attributes. It lets the camera submerge and function to a depth of 131 feet (40 meters). Think diving, swimming, snorkeling, and surfing, etc.
There are many useful accessories in the box. They include a bicycle stand, 7 mounts, 2 clips, a helmet mount, bandages, 5 tethers, and more. The camera's also compatible with most GoPro accessories.
There are 3 cons for this camera. One is the exaggerated 90-minute battery life—expect 60 minutes at best. The 4K video tends to be choppy. And the user guide is not as clear as it could be.


Tech Specs
Size: 2.4 x 1.6 x 1.3"
Weight: 59g (0.13 lbs.)
Battery: 2x 1050mAh
Charging Time: 120 minutes (2 hrs.)
Display: 2" IPS
Waterproof Range: 40m (131ft.)
Wide-angle Lens: 4 adjustable angles
Video Resolution: Up to 4K
The Pros
Multi-functional action camera
Bright, intuitive touchscreen
Flexible lens angles
Lots of shooting modes
Built-in image stabilization
Upgraded waterproof casing
Loads of mounts & accessories
The Cons
Exaggerated battery life
Choppy 4K video (no EIS)
User manual unclear in places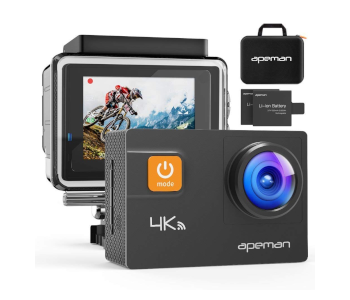 View on Amazon
Editor's Rating: 4.6/5
APEMAN is a smart little high-performance pocket-sized sports/action camera. It's perfect for anyone on the go who's always on the lookout to capture life's moments and events in an instant.
This is an affordable alternative to the popular GoPro Hero4. Despite its low price, the Apeman 4k Action Camera performs extremely well underwater and in the air attached to a quadcopter drone.
The camera even comes with its own carry case. That's a nice extra considering it cost less than 80 bucks. In the case you get a bonus battery, a bunch of mounts, stickers, and all the other usual bits.
The User Manual is in English with text and illustrations to help you prepare the camera for action. The features packed into this little light-tight box are on a par with a lot of costlier action cameras.
The 2″ LCD display is my main gripe with an otherwise perfect little cam. Viewing it indoors or in the shade is no problem. But using the screen in bright outdoor light is not so easy on the eyes.
You can expect steady video footage thanks to APEMAN's excellent stabilization. Unlike many action cam stabilization claims, this one really is usable and makes a huge difference to the results.
The series A80 uses an impressive HD video processor. The video quality is awesome for a sports action camera at this price. It WILL impress you, especially if it's your first ever action cam.
Stills photography won't let you down either. The 20MP photos are incredible for a camera in its class. There's a handy tripod mount too. That may sound standard but you don't get one with all cameras.
You're in luck if underwater filming is your thing. The protective case lets you dive down up to 30 meters. A lot of user reviews praise the Apeman 4K A80 for its underwater capability.
Add to this the anti-shake technology, time-lapse photography, and car cam loop recording capability. You can see why the A80 takes my top slot in affordable GoPro alternatives under 100 bucks.
Another nice thing is the adjustable zoom. This gives you much more control over the area of footage you want to capture. The zoom ranges from 70° to 170° super-wide angle.
Like so many sports/action cameras you'll need to buy a microSD card as it doesn't include one in the box. It can support a card up to 128GB. That's impressive considering some cameras stop at 32GB.
The two rechargeable batteries are a bonus and a nice touch to an already exciting package. Battery recording time gives you an average of 60 minutes per battery (120 minutes per shoot).
There's a lot to get excited about with this little action camera and I've only touched on some of its key features. For full specs follow the Amazon price check link below.
Summing up—you get a serious action camera for the money. There's professional looking 4k video, 20MP photographs, and up to 30M underwater capability.
There's also a whole range of other great features to boot. If ever there was an affordable alternative to the GoPro Hero5, the Apeman 4K A80 Sports Action Camera is the one to consider.


Tech Specs
Size: 1.8 x 0.7 x 1.2 inches
Weight: 726g (1.6 lbs.)
Battery: 3.7V Li-ion Battery 1050 mAh
Charging Time: 180+ minutes (3 hrs.)
Display: LCD 2.0LTPS
Waterproof Range: 30m (98.4 ft.)
Wide-angle Lens: 70-170° adjustable
Video Resolution: Up to 4K
Photos: 20MP
The Pros
Affordable GoPro alternative
Loads of accessories
Impressive 4K video
Exceptional 20 megapixel stills
Adjustable zoom lens
Bonus battery included
Spare batteries cheap
Feature-rich action camera
The Cons
Not so good in low light
Battery can die suddenly
Poor audio
LCD screen difficult to see in bright sunlight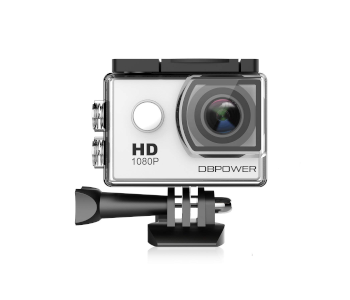 View on Amazon
Editor's Rating: 4.7/5
The DBPOWER Action Camera is the first of my cheaper picks and comes in seven different colors. Okay, so it might not be a GoPro Hero4 Silver, but it's certainly an affordable alternative.
If you want to fly this little beaut you'll be happy to know that it attaches to any drone that uses GoPro mounts. In fact, the camera matches all the GoPro/Akaso mounts out there.
It's not a bad looking camera though it does appear somewhat bulky in its case. And at 1.1 lbs. it's fairly heavy compared to others here. Still, that's an observation more so than a criticism.
Another nice thing about the DBPOWER is the 16 accessories. I'm impressed with the range of mounts that come in the box. Seriously, you should be able to clamp this camera to almost anything.
Some reviewers complain that the 1.5″ LCD display is on the small side for the size of the camera. They have a point. But I don't think it's an issue to sway the decision-making as it serves its purpose.
The LCD display settings and on-camera buttons are all intuitive so it doesn't take long to get familiar with this action-cam.
There's a nice detailed user manual to help get you up and running. It has some clear illustrations and no-nonsense instructions. It's a perfect little guide for anyone but especially newbies.
Some of the camera modes include time-lapse, time stamp, motion detection, loop recording, and a few others. You have the option to shoot photos up to 14 megapixels and video at 1080P HD.
The image and video quality are more than satisfactory considering the low price of the DBPOWER 12MP Action Camera. The colors seem to be well-balanced and the frame rates are nice and smooth.
To appreciate the quality you'll want to view your footage on a computer screen or an HD monitor. The camera's LCD screen is okay to check and test footage, but it's no substitute for proper display.
The wide 170-degree fisheye lens captures everything that surrounds the subject. And if you don't like the curved outer edges you can always crop them out later.
For storage, you can plug in a MicroSD card up to 32GB which is not great. If you're going to do a lot of videoing I recommend you take a spare card with you. After all, they're cheap enough these days
There's good news on the power front. The package includes a bonus battery which effectively doubles the time you get to use the camera. You potentially have up to three hours recording time.
There's even a built-in noise-cancelling mic with the camera. It's not bad either. There's no option to attach an external mic, though, but hey, we can't have it all at this price.
Is this camera perfect? Of course it's not. And if it cost a few hundred bucks I'd find plenty to gripe about. But it doesn't. So I'd go as far to say that it's perfect for the price.
Anyone who buys this as their first action camera is going to be pleased with its features, functions, and more than adequate footage. It's an ideal learning tool and one that won't break the bank.


Tech Specs
Size: 2.98 x 5.92 x 4.1cm
Weight: 499g (1.1 lbs.)
Battery: 2 x 900mAh
Charging Time: 180 minutes (3 hrs.)
Display: 1.5 "
Waterproof Range: 30m (98.4 ft.)
Wide-angle Lens: 170-degree fisheye
Video Resolution: up to 1080P HD
Photos: 14MP
The Pros
Affordable price
Excellent entry-level camera
User-friendly, intuitive
Bonus battery (good battery life)
Waterproof casing
Fisheye lens
Satisfactory stills and video
The Cons
Long recharging time
Small LCD display screen
Max 32GB MicroSD storage
Affordable Quality Action Cameras over $100
If you've jumped straight to this section you're either curious or you're ready for an upgrade. All three picks here cost less than 200 bucks and considered the high-end of budget action cameras.
At a glance they share a lot of similar features as the cheapest action cameras. On closer inspection, though, you'll see why the price has gone up. It's an upgrade on overall quality and functionality.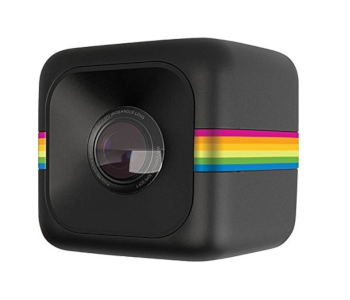 View on Amazon
Editor's Rating: 4.0/5
You won't find another lifestyle action cam quite like the Polaroid Cube+. It's for folks who want more fun than seriousness when shooting video and pics. Users refer to it as the funny, cute, action cam.
The Polaroid Cube+ is only one cubic inch in size (35mm x 35mm). That's so tiny it's almost a spy cam. Okay, so let's see what Polaroid's second-generation action camera comes with.
1 x black Polaroid CUBE+ Lifestyle Action Camera
1 x 8GB microSDHC Card
Bumper Case
USB Cable
One year warranty
The "bumper case" has fashion appeal for fans of the Cube+. You can buy other protective accessories for the cube if you want to go underwater or expect to get extra hard knocks.
The Polaroid Cube+ is not officially a drone camera. Despite this, there are plenty of drone pilots who discover innovative ways to take to the skies with this tiny light-tight box. With satisfactory results too.
Personally, I'd say there are better action cameras for recording aerial photography and videography. Yes, it's a versatile little tool but its appeal is more niche-orientated.
It doesn't take more than a few minutes to become familiar with the Polaroid Cube+. To be honest there's not much to grapple with. It's a lot easier to use than any GoPro or alternative action cameras.
There's a nice big shutter button positioned on the top. Press once to take a photo and twice to start recording video. Press once to stop recording. That's it! Things don't get much simpler than that.
Obviously there's no LCD screen. And even if there was it'd be so tiny you'd need a magnifying glass to see it. There's still a lot to marvel over with the Polaroid Cube+ despite its drawbacks.
Four of its standout features include:
WiFi for operating via the FREE smartphone app
Image stabilization feature
Water/weather resistant
Improved video and photo options
There's nothing exceptional about the higher resolution 8MP photos and HD video. That is until you consider the size and portability of this tiny action cam. Here's what you can expect from the video.
Enjoy video in HD up to 1440p @ 60fps and also 120fps for special slow-motion effects. There's even a time-lapse feature. The footage won't win any awards but it's more than acceptable for fun filming.
Expect to get an impressive 107 minutes of 1080p recording time @ 30fps with the WiFi off. And as long as you have a metal surface the magnetic mounting will cling on like you wouldn't believe.
There's plenty of scope to catch close-up action with a 124° wide-angle lens. Add to this the camera's protective weatherproof and shockproof qualities and there's a lot to like.
The 8GB Polaroid microSD card (included) is enough to get you going, but it can support up to 64GB. The video and image stabilization included in this tiny bundle is another great standout feature.
The Cube+ is not for you if you're looking for a serious entry-level action camera. You should definitely skip it if you want high-quality video, stills, & audio.
On the other hand, it's a fantastic little product for those who want the minimal fuss and maximum enjoyment. In other words, definitely stick it on your shortlist if you want fun over features.


Tech Specs
Size: 35 x 35 x 35mm (1.4″)
Weight: 60g (2.1 oz.)
Battery: 600mAh integrated
Charging Time: 60+ minutes (1+ hr.)
Display: None
Waterproof Range: 10 m (33ft.) w/case (optional extra)
Wide-angle Lens: 124-degree
Video Resolution: HD up to 1440p
Photos: 8MP
The Pros
Fun and affordable
Tiny/lightweight/ unobtrusive
Easy to use
Video and photo quality acceptable for price
Expandable memory
Wi-Fi connectivity
Image Stabilization
Strong magnet
The Cons
Built-in battery
Poor audio
No LCD screen
Waterproof case not included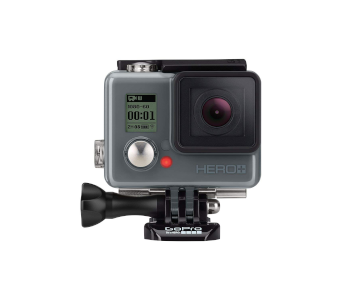 View on Amazon
Editor's Rating: 4.2/5
When it first came out the GoPro Hero+ LCD was a handsome little action cam. As technology moves on, the aesthetics are not as appealing as they used to be. The cameras, though, most certainly are.
The GoPro HERO+ LCD doesn't come with as many accessories in the box as my cheaper picks. This is probably because they don't need to—yet! Reputation and guaranteed quality still sell these cameras.
Here's what you get in the box with the current offer:
GoPro HERO + LCD with a touchscreen built-in display
Battery: built-in
1X Skeleton backdoor
Touch Backdoor
3 x mounts: curved and flat adhesive plus quick release
1 x micro-USB Cable
That's everything you need to get started. Some drone enthusiasts will be disappointed with the fixed polycarbonate casing. This prevents attaching the camera to a quadcopter's stabilization gimbal.
Some UAVs have static mounts that will accommodate the HERO+. Alas, it's a compromise solution. The built-in battery is another negative as you can't replace it with a spare when the power drains.
But gripes aside, this is an entry-level GoPro and a great choice for those who don't want to gamble with lesser-known products. Being a market leader for so long does have its advantages.
Another appealing aspect to the GoPro HERO+ LCD is its user-friendly appeal. The controls are intuitive and the user manual's easy-to-follow. This isn't the case with all sports/action cams.
The live-view 1.5″ touchscreen on the rear of a camera is a welcome touch for an entry-level product. If you're new to action cameras, just know that touch-enabled live-view screens are rare additions.
The inbuilt touch display allows you to preview all your footage, frame by frame, if you want to. You can also use it to play back recent video/photos and to seamlessly navigate the camera's menus.
GoPro is a tried and tested brand and that means you get exactly what it says on the box. For audiovisual you can expect high-quality 1080p60 and 720p60 video and some easy shooting modes.
The video modes include QuikCapture, SuperView™, and Auto Low Light. There's plenty of versatility for taking 8MP photos too. You can share all your footage right away on social media.
The popular photographic modes include Time-lapse and Burst mode—perfect for shooting fast action.
This camera comes with an ultra-wide angle lens that captures just about everything in front of the optic. The SuperView takes in a taller perspective that's ideal for close-up people shots.
The camera's actual field of view (FOV) varies depending on the settings at the time.
There's a microSDHC card slot next to the screen. The GoPro HERO+ LCD supports MicroSDHC cards up to 64GB. It's not the best but it's twice the 32GB storage found with some products.
A major gripe is with the inbuilt battery. As it's not removable it restricts how long you can use the camera. There's nothing worse than running out of power mid-shoot.
One alternative to this problem is to connect to an external battery pack when possible. At least this way you can continue recording. Otherwise, you just have to wait until the battery has recharged.
Complaints aside, it's important to remember this is a GoPro entry-level sports action camera. We can't expect the same bells & whistles that come with products at twice its price or more.
Overall there's a lot to like if this model checks enough of your boxes. Unlike some of the GoPro alternatives, this is one brand that doesn't have to prove itself.


Tech Specs
Size: 4.25 x 4.06 x 6.42 inches
Weight: 127g (4.5 oz.)
Battery: Li-ion 1160 mAh (built-in)
Charging Time: 120+ minutes (2+ hrs.)
Display: Touchscreen LCD
Waterproof Range: 40m (131 ft.)
Wide-angle Lens: 170-degree
Video Resolution: Up to 1080p
Photos: 8MP
The Pros
Budget GoPro camera
Robust design
Numerous available mounts
Built-in Wi-Fi and Bluetooth
Built-in speaker / decent audio
Extremely wide field of view
Impressive underwater range
Helpful instructions
First-rate customer support
The Cons
No backlight for front LCD
Casing not removable
Built-in battery
Needs extra accessory for tripod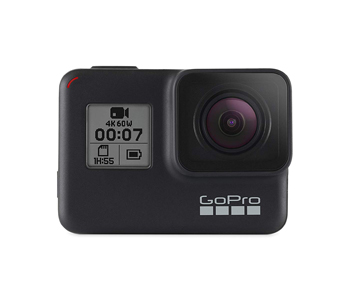 View on Amazon
Editor's Rating: 4.4/5
Last on the list of action cameras is the favorite GoPro HERO7. It's not cheap, but it does offer excellent value. GoPro is a well-established brand and one that delivers on its promises.
This camera boasts stunning 4K60 video and tack-sharp 12MP photos. Its SuperPhoto auto-analyses any scene. It then auto-adjusts to produce the best possible results based on the available light.
HyperSmooth Video Stabilization is something else. It works by predicting movements and makes corrections accordingly. There isn't a gimbal is such, but you'd never know the difference.
GoPro fans love the live streaming ability of this camera. Friends and family can view your footage on social media as it unfolds. You can also save high-resolution streaming video to an SD card.
TimeWarp Video captures stabilized time-lapse video as you move around a scene. You can increase the speed as much as 30x to convert longer captures into more watchable moments.
Slo-Mo (slow-motion) video lets users reduce video captures down as much as 8x. It comes into its own when slowing down spectacular actions scenes or to relive special moments.
Another favorite GoPro feature is Voice Control. Hands-free operation is invaluable for all kinds of situations. The most used voice commands are "GoPro, start recording," and "GoPro, take a photo."
The HERO7 is resilient and waterproofwithout the need of protective housing. You can submerge this action camera and capture the underwater world down to 33 feet (10 meters).
There's so much to love with this action camera though it's not perfect. The biggest gripe is the battery life. It doesn't even reach 2 hours on standby, and the battery is built-in (non-removable).
Waterproofing without housing is welcome, but some will find the 33ft. too restrictive. Finally, this camera falls short in low-light situations much to the annoyance of many owners.


Tech Specs
Size: 1.8 x 2.4 x 1.3"
Weight: 119g (0.26 lbs.)
Battery: 4.40V 1220mAh
Charging Time: 120 minutes (2 hrs.)
Display: 2 LCD
Waterproof Range: 10m (33 ft.)
Wide-angle Lens: Linear 90° → Wide 130°→ Superview 170°
Video Resolution: Up to 4K
The Pros
Superb video and stills quality
Video stabilization
Time-warp video
Live streaming
Slow-motion up to 8x/td>

Voice controls
Waterproof without housing
The Cons
Poor battery life
Built-in (non-removable) battery
Restrictive underwater depth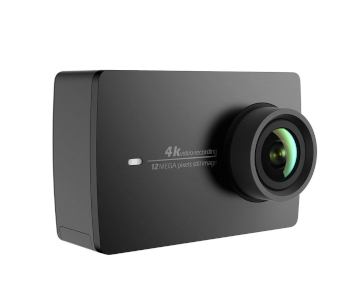 View on Amazon
Editor's Rating: 4.7/5
The YI 4K sports/action camera is the best challenger yet to the established GoPro brand. It also looks and feels different to other cameras on this page. So just how good is it for the $236 price tag?
If aerial photography and videography is your thing then check out the YI 4K Action Camera with the amazing YI Erida three-rotor drone. Aerial footage doesn't get much better than this for the price.
Aesthetically, you have a choice of three colors, matte black, white, and a cute rose/gold option. The materials look tougher than most of the competition and it has a quality feel to match.
One downside is what you get in the deal—or more to the point—what you don't. There are none of the accessories that come with even the cheapest picks on this page:
Here's what a new YI 4K can include in the box:
The action camera
1 x USB cable
1 x 1400mAh battery
1 x mount
Waterproof casing (optional extra)
The YI handheld Gimbal (optional extra)
User Manual
You still have everything you need to start shooting high-quality video and still images. But if you want more flexibility and mounting options they'll cost you extra.
It's easy to find your way around the camera's user interface. There are also plenty of impressive features and manual settings for creative types. There's also a standard user guide included.
At 2.19″ the YI 4K action cam sports a bigger LCD touchscreen display than the GoPro Hero5 Black.
They've also made the screen using impact resistant Gorilla Glass for extra toughness and quality.
This is my most serious Point Of View or POV camera pick here. It's well-made and shoots 4K 30fps video along with 12 megapixel still images. It's like the GoPro Hero5 but without the high price tag.
It's easy to transfer quality video and images to a mobile device thanks to the camera's frustration-free app and connectivity options. The Bluetooth and dual-band Wi-Fi work seamlessly every time.
There are the usual shooting modes as you'd expect. These include time-lapse, slow-motion, timer and burst modes. There's a lot to like and plenty to explore. It's all great quality too.
The lens is a fixed 155° wide-angle with a fast f/2.8 aperture. For some, it offers the perfect field of view (FOV). Others may prefer a zoom or an ultra-wide fisheye lens. These things are subjective.
For storage there's a standard MicroSD slot though you'll have to buy your own card. YI recommends using from a range of U3-class microSD cards for optimal compatibility and 4K recording.
In reality, people have used class 10 and U1 cards and say they work just as well. A 64GB card should give an average 80 minutes of recording time in 4K.
The Lithium-ion 1400mAh battery that comes with the YI 4K action camera is first-rate and better than any GoPro to date. A single charge should give around 2-hours of 4K footage before it needs charging.
My biggest gripe with this camera is the lack of accessories. I particularly begrudge the 40m (132 ft.) waterproof casing being an optional extra. Not everyone wants or needs underwater protection though.
On the whole, I love everything else about the Yi 4K including the way it looks and feels. The image quality is simply amazing. And it has a long battery life compared to the competition.
The high-quality touchscreen display is another major plus point. And let's not forget the super-reliable Wi-Fi and Bluetooth connectivity. All in all, this is a very worthy GoPro alternative.


Tech Specs
Size: 1.65 x 2.56 x 1.18 inches
Weight: 96g (2.4 oz.)
Battery: Lithium-ion 1400mAh
Charging Time: 120 minutes (2 hrs.)
Display: 2.19″ LCD touchscreen
Waterproof Range: 40m (132 ft.)
Wide-angle Lens: 155-degree
Video Resolution: Up to 4K
Photos: 12MP
The Pros
Nice GoPro alternative
Great value for money camera
Quick setup and connectivity
Fast boot & load times
Swift and clear video playback
Built-in Electronic Image Stabilization (EIS)
Expandable memory up to 128GB
The Cons
Field of view quite narrow
Audio not the best
Waterproof housing extra
No memory card included