Best Cheap FPV Goggles for Drones
3D Insider is ad supported and earns money from clicks, commissions from sales, and other ways.
First Person View (FPV) is the way drone pilots get to experience full immersive flying. It's the nearest we can get to being in the actual pilot's seat. I can promise that you're in for a treat if you've never tried it before. The way to fly in FPV is either via an external screen or by wearing special FPV goggles. It's the goggles that provide the ultimate FPV experience but they're not all equal.
Budget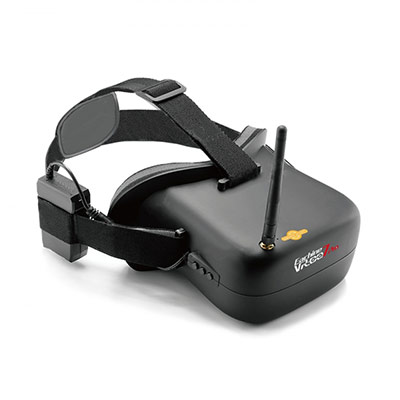 EACHINE VR-007 Pro
4.3/5.0
7.7 oz
Comfortable fit, auto scan 40ch and battery included.
Check Amazon
Best Value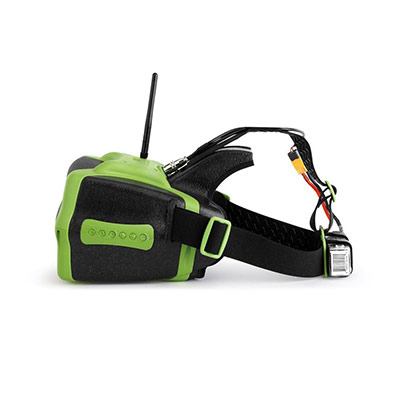 Headplay SE V2
4.6/5.0
15.5 oz
RHO lens included and auto-scan channel finder.
Check Banggood
Top Pick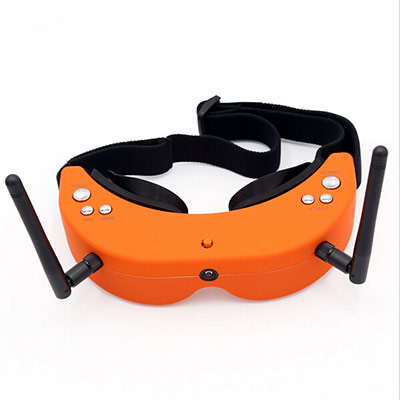 Skyzone SKY01S Upgraded
4.8/5.0
17 oz
Effective binocular display and head tracking.
Check Banggood
Which FPV Goggles
Some FPV goggles have two screens to display what the drone camera sees—in real time. Others have just one. FPV flying also gives users more control. For example, you can avoid obstacles better and fly further while maintaining good vision ahead. FPV is an absolute necessity for racing quadcopters.
The two types of FPV goggles include:
Box goggles (bulky but comfortable)
Compact goggles (slim and lightweight)
There are pros and cons to each type. The smaller compact goggles tend to cost more and are the most sought after for obvious reasons. This guide looks at some of the cheaper FPV goggles around.
The Cost of FPV Goggles
All FPV headsets used to be expensive and the high-end products still are. But prices have come down and the quality has gone up as consumer demand rose. Today, it's quite possible to experience First Person View with goggles on a budget. It's the focus of this guide to highlight these less expensive products from the entry-level box FPV goggles to a few in the lower mid-range.
The table below shows my seven picks in the order they appear in this guide. I've arranged them in price order starting with the least expensive at the top.
Cheap FPV Goggles Comparison Table
1. EACHINE VR-007 Pro 5.8G 40CH FPV Goggles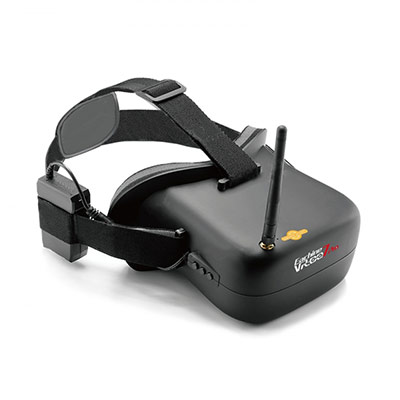 View on Amazon
Editor's Rating: 4.3/5
The EACHINE VR-007 Pro 5.8G 40CH FPV Goggles have an upgraded receiver and sell at the budget entry level. They come complete with a power indicator and a full frequency display panel.
The customized eyeglass means users with myopia (nearsightedness) below 400° don't need to wear glasses. These goggles are a comfortable fit and offer great value for money. You won't find a much better introduction to flying in FPV, at least not at this price.
Tech Specs
Dimensions: 6.97 x 5.94 x 4.06″
Weight: 7.7 oz
Screen size: 4.3″
Resolution: 480×272 px
Head Tracking: No
Battery: 1600mAH 3.7V (1S) Lipo
The Pros
Excellent value for money
Easy to use
Comfortable fit
Autos scan 40ch
Battery included
The Cons
Build quality just average
No head tracking
2. JJPRO F01 64CH 5.8G Full Band VR Headset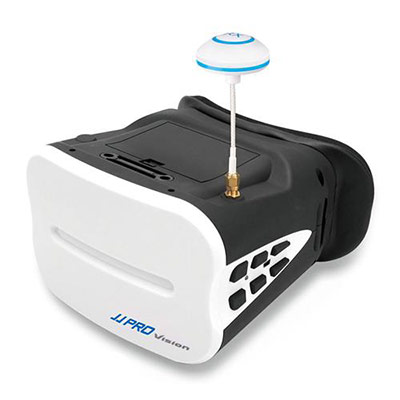 View on Amazon
Editor's Rating: 4.5/5
The JJRCJJPRO F01 is another great value FPV headset at the budget end. It comes with 5.8G 64CH, full-band 5645M~5945M. The automatic scan will match the transmitter and allow users to even watch others fly (ride along).
The build is surprisingly robust and the design provides a comfortable fitting faceplate. The inbuilt battery takes 30-60 minutes to charge and should last at least an hour in ideal conditions. These FPV goggles may be cheap but they're not short on features or quality.
Tech Specs
Dimensions: 6.7 x 6.7 x 4.3″
Weight: 13.6 oz
Screen size: 5″
Resolution: 640 x 480(WVGA)
Head Tracking: No
Battery: 1S 2000mAH
The Pros
Affordable price tag
Nice build, comfy fit
Good sized screen
64 channels full band
FPV ride-along capable
The Cons
Only suitable for JJRC H6D, H8D, H11D quadcopters
No battery on/off
No DVR function
3. SJ RG01 5.8G 48CH Dual-Displays FPV Goggles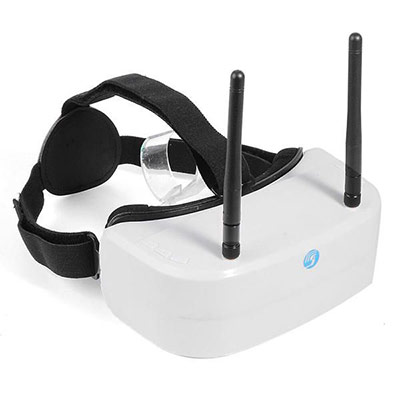 View on Banggood
Editor's Rating: 4.6/5
We're still at the sub $100 mark with the SJ-RG01 Goggles. This puppy comes with dual displays and adjustable sight distance. It's compatible with all the popular 5.8GHz bands on the market and the diversity receiver module ensures consistently stable image quality. I like the smaller more compact design of these goggles compared to some of the bigger boxier options on this page. They're comfortable to wear too and the user doesn't look as robotic as with the bigger goggles.
Tech Specs
Dimensions: 6.8 x 4 x 2.6″ (L x W x H)
Weight: 9.8 oz
Resolution: 960 x 240 px
Head Tracking: No
Battery: 3.7V 1500mAh
The Pros
Affordable price
Compact and lightweight
stable image quality
Sleek design
Adjustable interpupillary distance
Supports real-time video
The Cons
A higher resolution screen would be a welcome upgrade
4. EACHINE EV800 5.8G 40CH Raceband FPV Goggles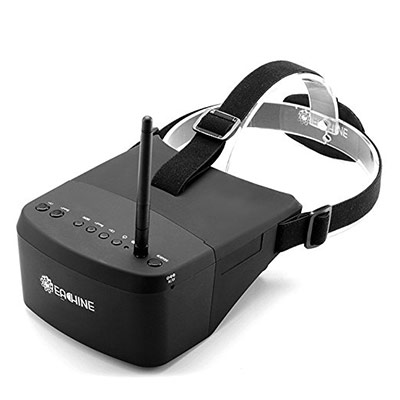 View on Amazon
Editor's Rating: 4.1/5
These FPV goggles are another popular set by EACHINE. The EV800 is a 5.8G 40CH Raceband headset with advanced auto-search that displays the working frequency on the inbuilt display. This product focusses specifically on quadcopter FPV racing.
It sports an HD LCD screen with high brightness. The comfortable face sponge means users can wear the headset for long periods without irritation. It's a worthy product that should give over three hours of fun per charge (battery included).
Tech Specs
Dimensions: 7.1 x 5.7 x 3.2″
Weight: 13.3 oz
Screen size: 5″
Resolution: 800×480 px
Head Tracking: No
Battery: Built-in 3.7V/2000mAh
The Pros
Great entry-level goggles
Ready to go out of the box
Easy to use at beginner level
Big screen
Clear sharp image
Easy channel locator
The Cons
Average antenna (consider upgrading)
Battery level meter not accurate
5. Eachine EV100 5.8G 72CH FPV Goggles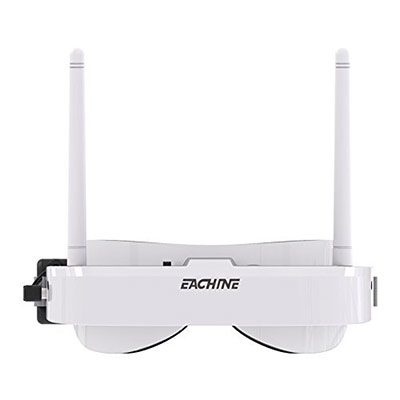 View on Amazon
Editor's Rating: 4.7/5
The cool EACHINE EV100 5.8G 72CH FPV goggles come with dual antennas. These are the coolest headsets around for a little over 100 bucks (at the time of writing).
Aside from the sleek design, they really are feature packed. You get an adjustable focal length, AV in/out, auto search, three racing modes, and debug mode. There's also a cooling fan, low battery alert, and much more besides. The image quality is bright and crisp and the product's compact design provides a comfortable fit.
Tech Specs
Dimensions: 6.5 x 3 x 1.2″
Weight: 14.1 oz
Screen size: Not specified
Resolution: 720×540 px
Head Tracking: No
Battery: 2S 7.4V 1000mAh
The Pros
Affordable FPV headset
Sleek design, comfortable fit
Five direction button
Racing mode
Independent control for both sides
Stable performance Low battery alert
The Cons
Antenna is not the best. Consider upgrading
Battery life low side of average
6. Headplay SE V2 5.8G 40CH FPV Goggles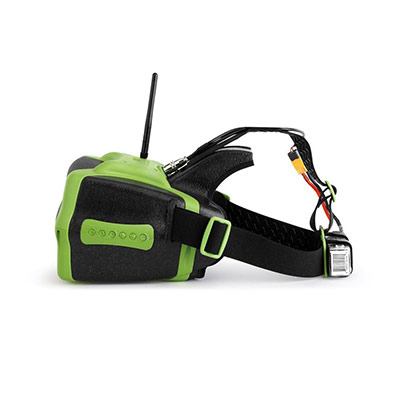 View on Amazon
Editor's Rating: 4.6/5
The HeadPlay Headset offers HD FPV at an affordable price for entry-level enthusiasts. It looks a bit bulky, odd even, at a first glance, but don't let appearance put you off. This is a good quality product that's super comfy and a great performer. Some of the standout features include a large low latency LCD display and an RHO Lens (great for racing). There's also a DVR included, a Hypersensitive 5.8 GHz audio/video receiver w/ speaker, an HDMI input, and much more.
There's certainly a lot packed into this ergonomic design which makes it a great choice for this guide.
Tech Specs
Dimensions: 10.6 x 8.2 x 8.2″
Weight: 15.5 oz
Screen size: 7″
Resolution: 1024 x 600 px
Head Tracking: No
Battery: 2S-4S 7.4V 1000mAh
The Pros
Ultra comfortable ergonomic design
Five colors available
HDMI input
Low latency 7″ LCD
RHO Lens included
DVR included (can save live flights to SD Card)
Auto-scan channel finder
Excellent value
The Cons
The large size will be too big for some users
7. Skyzone SKY01S Upgraded 5.8G 48CH FPV Goggles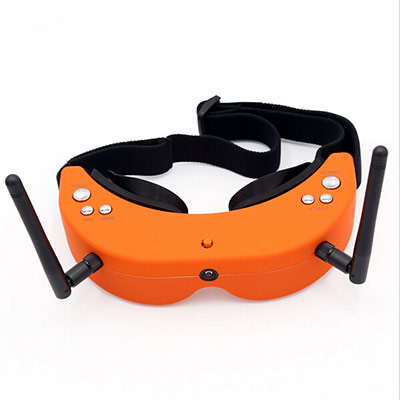 View on Amazon
Editor's Rating: 4.8/5
The Skyzone SKY01S FPV goggles are the last and most expensive choice in this guide. It's also the only headset here that sports an in-built dual-axis head-tracking system. There are noticeable improvements in the quality and feel compared to the other picks on this page. But does it offer enough to justify the extra cost on those low-budget options? Only you can decide that.
Some of the key features include the IPD adjustable feature, the front view, wide-angle adjustable camera, and dual antennas. The diversity receiver does a splendid job at keeping its connection with a transmitter. The headset is also comfortable to wear and fairly compact in design.
Tech Specs
Dimensions: 8 x 5.3 x 2.4″
Weight: 17 oz
Screen size: Not specified
Resolution: 854 x 480(WVGA)
Head Tracking: Yes
Battery: 2S-6S lipo 7V-28V
The Pros
Quality build
Fairy compact, comfortable fit
Effective binocular display
Wide angle front view camera (built-in)
Supports 6 bands and 48 channels
Head tracking
Supports upgrading
The Cons
No on-screen menus
No case for battery support
No channel auto-search