Best Cheap GoPro Gimbals and Stabilizers
3D Insider is ad supported and earns money from clicks, commissions from sales, and other ways.
We all know the saying 'you get what you pay for', and it's true. But when it comes to camera stabilizers and gimbals there's such a thing as value for money even at the cheaper end. There's some worthless stuff around too but there's also good low-priced stabilizers when you know what to look for.
Budget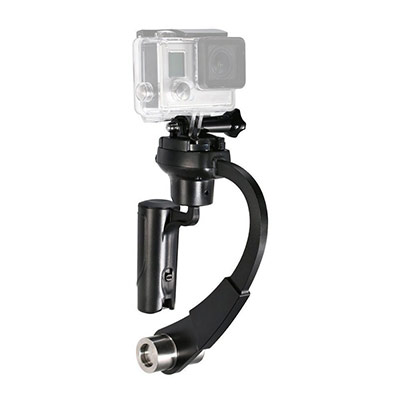 ASOCEA 3-Axis Gyro Stabilizer
4.1/5.0
0.7 lbs
Durable aluminum frame. Comfortable, ergonomic design.
Check Amazon
Best Value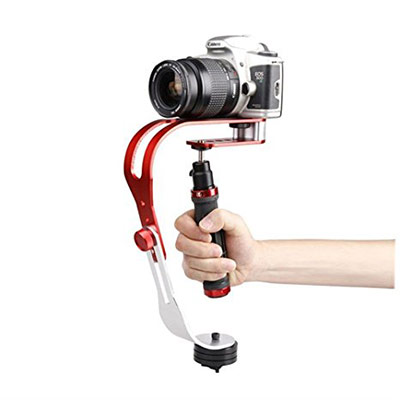 KOFANI PRO Handheld Stabilizer
4.8/5.0
1.98 lbs
Durable aluminum alloy and 360-degree rotational handle.
Check Amazon
Top Pick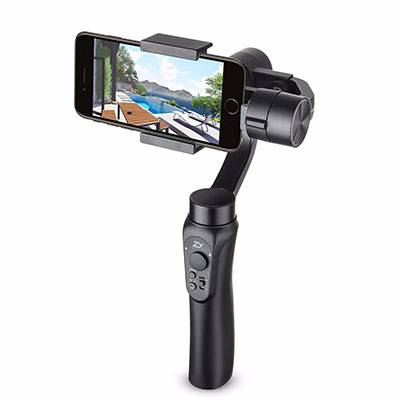 Zhiyun Smooth-Q
4.3/5.0
1 lb
Weather/temperature resistance. No counter weighting.
Check Amazon
This guide looks at inexpensive or reasonably-priced products rather than cheap ones. There is a difference here. Cheap often refers to crude or substandard products that are "cheap" for good reasons. Affordable tends to refer to low-cost items that still offer value minus a few bells & whistles.
Beware of the Hype
Mechanical Stabilized Gimbals Vs Electronic
Why these Affordable GoPro Gimbals
Best GoPro Gimbals Comparison Table
About My Guide
I've looked through most of the affordable handheld GoPro stabilizers available right now. It wasn't too difficult to weed out the substandard products. The seven picks here are all good tools. They are for those who want to experience the benefits of image stabilization for the first time. They are also amazing compromise gimbals and stabilizers for folks on a tight budget.
You certainly don't need to spend a small fortune to improve the quality of your videos. Although these products are not perfect, they're a huge improvement compared to no stabilizer. The ones here start from as little as 20 bucks and don't exceed much more than 100 dollars.
1. Steadicam CURVE-BK Handheld Stabilizer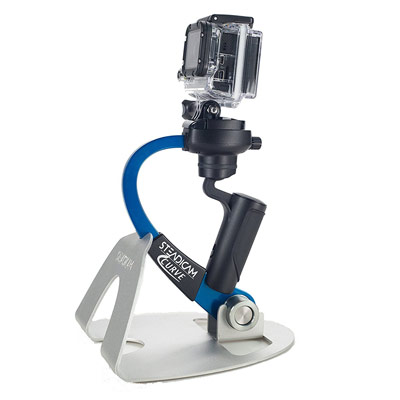 View on Amazon
Editor's Rating: 4.0/5
First up is the Steadicam CURVE-BK. This is an affordable handheld camera/video stabilizer grip. It's compatible with the GoPro Hero 3, 4 Black, and the GoPro Hero 5 Blue.
Best Feature 1: Durable aluminum frame
Best Feature 2: Compact & lightweight
Plus points: Easy to set up, one-handed operation, low price tag, four colors
Minus points: Learning curve
If you invested in a compatible GoPro action camera you can afford the Steadicam® curve. This puppy has a durable all-aluminum frame despite its low price. Weighing just 0.5 lbs. it's also incredibly light and fits easily into a small bag or even a big pocket. Once you've set it up with your GoPro all you do is hold the stabilizer in one hand and go about filming.
Perform a test shoot with and without the STEADICAM curve to appreciate just how good it is. The results might not win any prizes but the difference is amazing considering the low price. You can also choose from four colors, black, blue, red, and silver.
What's Could Be Better
There's not much to complain about though I suppose you could argue for even better results. But then you'd pay triple figures—not 20 or so bucks—for a superior outcome. The results are so much better than filming with no stabilizer. Setup can be a tad fiddly for first-time users but anyone can do it with a little patience and persistence.

Tech Specs
Compatible: GoPro Hero Cameras 3, 4 Black, and Hero 5 Blue
Dimensions: 3 x 5.2 x 7″
Product Weight: 0.5 lbs. (8 oz.)
The Pros
Sturdy aluminum frame
Compact design, lightweight
Easy to set up and use
One-handed operation
Low price
Choice of 4 colors
The Cons
Simple setup but may prove fiddly for first-time users.
2. ASOCEA Action Camera 3-Axis Gyro Stabilizer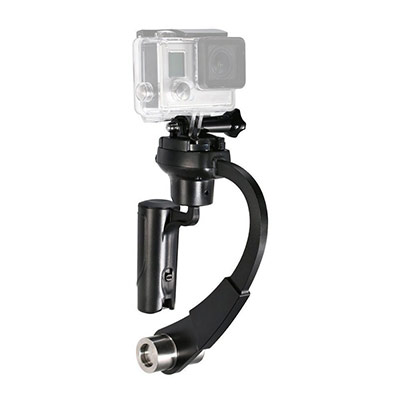 View on Amazon
Editor's Rating: 4.1/5
My second pick is another product for around 20 bucks. This one's a mini 3-axis gyro stabilizer by ASOCEA. It supports the GoPro 4 Silver, 5 Black, Hero 6, and Hero Session action cameras.
Best Feature 1: Built-in mini mechanical 3-axis gimbal system
Best Feature 2: Durable, quality aluminum frame
Plus points: Ergonomic design, comfortable handgrip, luggable, affordable
Minus points: Weights have a tendency to slide, potential noise interference
The frame material of the ASOCEA Action Camera 3-axis gyro handled stabilizer is aluminum. It doesn't have the same quality feel as the first pick but it's still durable enough. The ergonomic design and comfy handgrip make it easy to use with a compatible GoPro or other action cameras.
This product is also lightweight and tiny enough to pack into a small bag or large pocket. Compared to no stabilizer, your footage will have less shake and produce a smoother video. It's spot-on as a low-cost mechanical stabilizer but don't expect 100% perfection.
What Could Be Better
Some users say the three weights used to counterbalance the camera become loose after a while. I didn't experience this but then I only had the product for a couple of days. This would mess with the balance and may create noise that interferes with recorded audio. Although it's not a common complaint I read enough reviews to know it's an issue for some users.

Tech Specs
Compatible: GoPro Hero 6/5 Black/Hero 4 Silver/ GoPro Session
Dimensions: 10 x 6 x 2″
Product Weight: 0.7 lbs. (11.2oz.)
The Pros
Built-in 3-axis inertia gyro stabilizer
Lightweight, compact and luggable stabilizer
One and two-handed operation (latter better for bigger hands)
Comfortable, ergonomic design
Durable aluminum frame
Affordable
The Cons
Balancing weights may come loose after a while
Audio interference because of the above
3. Movo VS01 Handheld Video Stabilizer System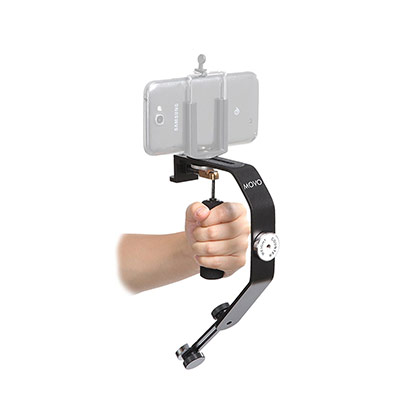 View on Amazon
Editor's Rating: 4.0/5
The Movo Handheld Video Stabilizer System is slightly bigger, heavier, and costlier than the first two products. It's the ideal tool for the GoPro HERO, HERO2/3/4/5, and various smartphones.
Best Feature 1: Ball joint gimbal design
Best Feature 2: Multi-camera and smartphone support
Plus points: Great outdoor tool, bubble level for extra fine-tuning, price
Minus points: Takes some getting used to
It may not be as cute as the earlier picks but it's certainly practical. You'll be able to achieve more professional results in no time with a little practice. The Movo handheld video stabilizer will help to improve your panning shots by a lot. The ball joint gimbal helps the stabilizer to function smoothly and provides jitter-free shooting.
You can pair this stabilizer with a wide range of modern smartphones as well as GoPro cameras. It may look a little clumsy but it's more comfortable to use than first meets the eye. This is a good outdoor stabilizer for capturing anything on the move. There's even a bubble level for extra fine-tuning. You get a lot for the money and this one's a great choice for first-time gimbal users.
What Could Be Better
Most of the complaints come from impatient users. I think some people expect to stick on a camera and enjoy perfect shake-free footage from the off. This would not be an unreasonable demand from a 3-axis electronic gimbal costing hundreds of dollars. But these affordable handheld mechanical stabilizers do take practice, patience, and a little persistence to boot.
Those who have none of these attributes will always be disappointed.

Tech Specs
Compatible: GoPro HERO, HERO2/3/4/5, and popular mobile devices up to 9 cm in width
Dimensions: 8.9 x 6.9 x 1.5 inches"
Product Weight: 1 lb. (16 oz.)
The Pros
Effective ball joint gimbal design
Compatible with mobile devices as well as popular GoPros
A flexible tool, great for outdoor usage
Bubble level for extra fine tuning
Value for money
The Cons
Takes practice, patience, and persistence to perfect technique
4. KOFANI PRO Handheld Camera Stabilizer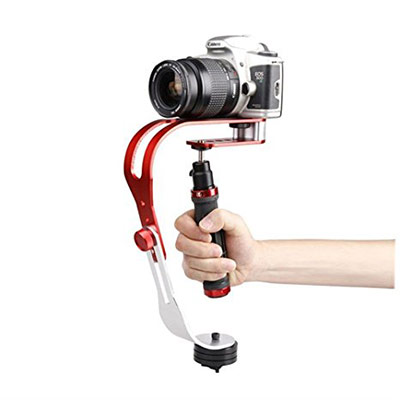 View on Amazon
Editor's Rating: 4.8/5
The KOFANI PRO is another video camera stabilizer that pairs with GoPro 5/4/3/3+. It's also compatible with other smartphones and Digital-SLR cameras like many products on this page.
Best Feature 1: 360-degree rotational handle
Best Feature 2: Strong aluminum alloy frame
Plus points: Comfortable rubber handgrip, easy to use, intuitive function
Minus points: Heft
This is another durable handheld stabilizer that uses aluminum in its construction. It's ideal for compatible smartphones and GoPro cameras but will also accommodate bigger DSLRs. The 360-degree rotational handle strip allows for smooth rotation and lessens interference from shaking.
The rubber handgrip is an improvement on harder plastic grips and foam. Foam is fine until it gets damp or wet. It can then become uncomfortable or can even freeze in colder outdoor climates. The rubber handgrip is a practical choice because of the above.
It's quick and easy to adjust the balance on this stabilizer. Like all these products you may need to play around a bit to get the balance just right for your particular camera. With a little practice, though, you'll be fine-tuning this puppy with your eyes shut.
What Could Be Better
This product is heavier than the previous picks. At around two pounds plus the camera weight, it'll take a while for some people to get used to, especially on long shoots.

Tech Specs
Compatible: GoPro 5/4/3/3+, compatible smartphones and DSLRs
Dimensions: 10.2 x 8.3 x 2.7″
Product Weight: 1.98 lbs. (32 oz.)
The Pros
360-degree rotational handle
Durable aluminum alloy
Rubberized handgrip for ultimate comfort and control
Easy to use/balance
Intuitive design and function
Attractive price tag
5. Fantaseal Action Camera 3-Axis Stabilizer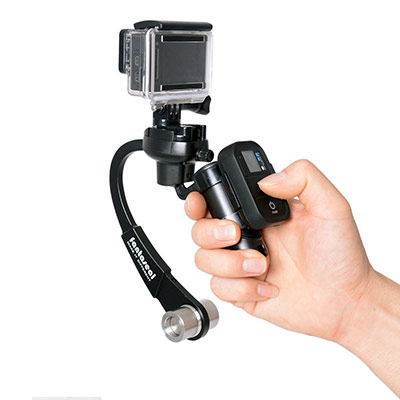 View on Amazon
Editor's Rating: 4.6/5
This Fantaseal product is a 3-axis inertia gyro stabilizer. It even comes with its own built-in remote control holder for GoPro. Compatible devices include GoPro Hero 6/5/4/3 and Session.
Best Feature 1: Integrated mini mechanical 3-axis gyroscope stabilizer
Best Feature 2: Lockable handle with built-in remote control holder
Plus points: Lightweight, sleek C-curve design, quality aluminum alloy, compact & luggable
Minus points: Smartphone mount restrictions, no instruction guide, takes practice
This is another built-in mini mechanical 3-axis gyroscope stabilizer. It does a great job despite its tiny size and lightweight. The Fantaseal stabilizer has a few extra bells and whistles compared to other pocketable designs on this page. There's a useful lockable handle for better camera balance and a convenient built-in remote control holder.
This beauty feels as good as it looks with its sleek C-curve design and high-quality aluminum alloy. The ergonomics is an important consideration with tiny GoPro stabilizers. Being small and light also adds to the lugability factor. This is another product that falls into the 'pocket-sized' category.
What Could Be Better
There are some reports that the smartphone grip is overly strong and could potentially mark or damage certain models. The important thing here is not to try and squeeze a phone into the mount if it exceeds the maximum 3.25″ opening. Make sure the mount is big enough if you expect to use this stabilizer with a smartphone as well as your GoPro action camera.
Another gripe is the absence of an instruction manual. I'm not sure why this is but there should be plenty of YouTube videos to fall back on. Video tutorials are probably better anyway. This GoPro stabilizer will take some practice to perfect so be patient.

Tech Specs
Compatible: GoPro Hero 6/5/4/3 and Session
Dimensions: 6.3 x 5.9 x 2″
Product Weight: 0.6 lbs. (9.3 oz.)
The Pros
Integrated mini mechanical 3-axis gyroscope stabilizer
Lockable handle
GoPro remote control holder
Lightweight C-curve design
Compact and luggable
High-quality aluminum alloy
The Cons
No instruction manual
Restrictive smartphone mount
Takes practice to master
6. The OFFICIAL ROXANT PRO Camera Stabilizer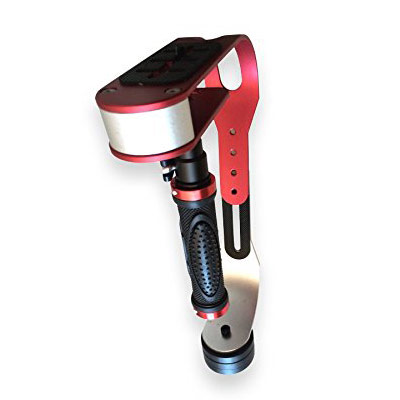 View on Amazon
Editor's Rating: 4.7/5
The original ROXANT PRO is one of the best camera stabilizers in its class. It sells well on Amazon and enjoys high ratings from users. It's a great GoPro stabilizer but it has a much wider use.
Best Feature 1: Great stabilization at an affordable price
Best Feature 2: Supports up to 2.1 lbs
Plus points: Solid build, non-slip grip, easy to assemble, works with heavier cameras
Minus points: Awkward to balance, zooms and flip screens can unbalance the stabilizer, heavy
The ROXANT PRO is a popular GoPro stabilizer that arrives in three simple parts. There's the handle, the frame, and the all-important weights. It provides excellent stabilization at an entry-level price for any GoPro or other compatible recording devices up to 2.1 lbs. It's easy to set up but it's not quite so simple to use (keep reading).
This sought-after stabilizer has a solid metal construction so it's robust but heavy too. The grip has a nice non-slip cover which makes holding and handling the device easier and more comfortable. The grip helps to reduce sway too so the design is important for a few reasons. This affordable stabilizer is not without its faults but it still sells well and remains popular for its many good points.
What Could Be Better
Despite the easy assembly it can take a while to perfect the balance for different devices. The 'balancing act' is the major drawback of this tool. If you intend to use various cameras you'll hit frustrations from time to time. Once set up, though, it works beautifully even with heavier DSLRs. Always be mindful that the smallest tweak may throw the ROXANT PRO out of whack. Even zoom lenses and flip screens can upset the delicate balance.
You WILL get accustomed to it but it may take a while to find the sweet spot that's all. It's heavy too but the weight will become less of an issue with regular use.

Tech Specs
Compatible: GoPros, DSLRs, Video Cameras, Smartphones and any cameras up to 2.1 lbs.
Dimensions: 13.4 x 2.2 x 8.1″
Product Weight: 1.83 lbs. (29 oz.)
The Pros
Great value handheld stabilizer
Amazon's Choice product; sells and rates well with buyers
Easy to assemble
Supports all GoPros and other compatible devices up to 2.1 lbs.
Solid metal build w/ intuitive non-slip grip
The Cons
Not always easy to get the balancing just right
Gets out of balance if you're not careful
Zoom lenses and flip screens can affect the balance
Heft
7. Zhiyun Smooth Q w/ Plate, 3-Axis Gimbal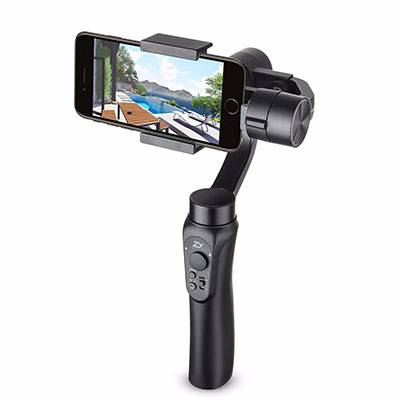 View on Amazon
Editor's Rating: 4.3/5
The Zhiyun Smooth-Q is an amazing little 3-axis gimbal. The only reason it falls short with the editor's star rating is that it tips over the 100 bucks mark—just. That makes it the least affordable pick.
Best Feature 1: Eachshot GoPro Adapter Mount Plate
Best Feature 2: Weather resistance
Plus points: No counter weighting, built-in 26650 li-ion battery, intuitive on-handle buttons
Minus points: External mic affects balance, reports of glitch software
This is the only battery operated electronic stabilized gimbal in this guide. I was hoping not to go over 100 bucks but this puppy is currently on offer for just over. It was too good to skip. The Zhiyun Smooth-Q comes with eachshot GoPro adapter mount plate but it can accommodate other action cameras and smartphones.
You can use the Zhiyun Smooth-Q in hot and cold conditions. It also tolerates splashes and snowfall according to the company. There's no need to manually counterweight either thanks to the advanced electronic 1-step balancing. The inbuilt battery should give around 12 hours of work time in ideal conditions. This really is a great little electronic gimbal to produce cinematic-quality stills and video.
Look at these functions found on the handle's intuitive buttons:
Photo/Record
Zoom In/Zoom Out
Get Rear Camera/Selfie Mode
The updated APP-ZY PLAY APP takes control even further with its support for Auto-Tracking, Time-Lapse, and Filter Options. There's a lot to like and these are just the highlights.
What Could Be Better
There is an issue of the balance going out of whack if you add an external mic. I also read a few reports on software glitches. Still, software bugs are not always permanent as most companies attempt to fix known issues via updates. I do love this gimbal but it's stuck somewhere between the lower and mid-price range which is an unusual market.

Tech Specs
Compatible: Gopro Hero 6 / 5 / 4 / 3, Smartphones, and Xiaomi Yi action camera
Dimensions: 15.7 x 6.5 x 3.1″
Product Weight: 1 lb. (16 oz.)
Battery: Built-in 26650 li-ion battery
Battery life: 12 hours
The Pros
Electronic stabilized 3-axis gimbal
Built-in 26650 Li-ion battery
GoPro Adapter Mount Plate
Weather/temperature resistance
No counter weighting
Intuitive on-handle buttons
The Cons
External mic interferes with balance
Software glitches at the time of writing this guide