6 Best Cheap Mechanical Keyboards
3D Insider is ad supported and earns money from clicks, commissions from sales, and other ways.
Mechanical keyboards offer many advantages over their membrane counterparts. They last ten times as long and feel brand new even after months of use. Typing on one increases accuracy while letting you execute complex combos without stalling. With a variety of switches at your disposal, there's something for people who love to type silently and those that prefer a more audible and tactile experience.
So, why doesn't everyone switch to a mechanical keyboard given their clear advantages? The short answer – price. Top-tier mechanical keyboards are prohibitively expensive, and even the budget segment was full of keyboards costing close to $100 just a year ago. Manufacturers are finally starting to put out models that appeal to first-timers and budget-conscious buyers. Prices might be plummeting, but the quality remains high.
Here's our round-up of the six best cheap mechanical keyboards you can get today. We've included standard as well as compact models and went with models that support multiple switch types when available. See what makes each one worth buying and find out why no one goes back once they go mechanical.
Budget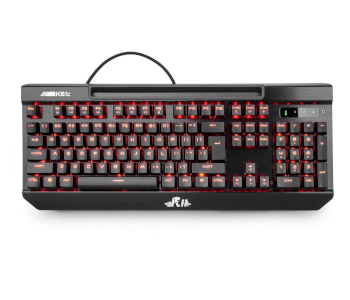 Rii K61C
3.8/5.0
Dimensions: 17.6 x 1.8 x 7.4 in.
Weight: 2.8 lbs.
This supports a custom lighting profile.
Check Amazon
Best Value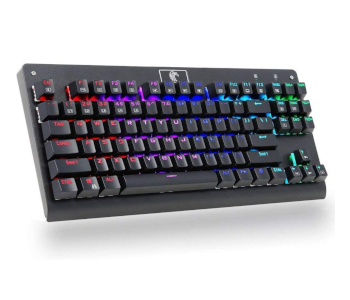 Granvela MechanicalEagle Z-77
4.6/5.0
Dimensions: 15.0 x 7.6 x 1.7 in.
Weight: 2 lbs.
This has a customizable key illumination.
Check Amazon
Top Pick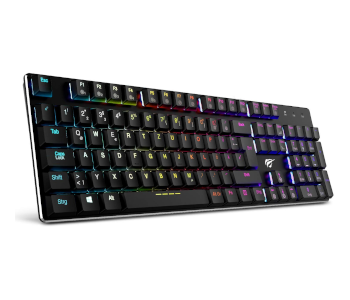 Havit RGB Mechanical Gaming Keyboard
4.9/5.0
Dimensions: 16.8 x 5 x 0.9 in.
Weight: 1.3 lbs.
Exceptional level of key and color customization.
Check Amazon
Cheap Mechanical Keyboards Comparison Table
1. Best Overall – Havit RGB Mechanical Gaming Keyboard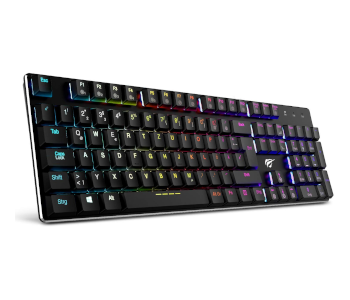 View on Amazon
Editor's Rating: 4.9/5
Havit's RGB keyboard is proof that you don't have to spend upwards of $100 to get a sleek, responsive, and infinitely tweakable typing tool. You can accidentally press a wrong key lightly and it won't register, or execute complex combinations without worrying that only part of the combo will be accepted. Add individual key customization and robust configuration software, and you'll be just as confused as we were when first seeing its low price tag.
This keyboard comes in different shapes and sizes, the full 104-key version offering the best bang for your buck. Our other recommendation is its tenkeyless variant if there's not enough space on your desk.
Overview of Features
A low profile is the keyboard's stand-out physical feature. It is less than an inch high and weighs well under two pounds, which makes this model portable in spite of its standard size. The baseplate is made from an aluminum alloy while the entire keyboard feels sturdy and unbendable.
Havit used Blue Kailh switches for a clicky and responsive experience. The keys have a travel time of 3 millimeters but register keystrokes at 1.4, ensuring that even soft presses won't go unnoticed. You can change the response time from two to twenty milliseconds if the defaults don't seem right.
Each of the 104 keys is individually backlit. They have a bold, easy-to-read font that lets a lot of light through. Conversely, there's no light bleed around the keys, and the rows in between remain dark. That's excellent news for people who plan to use the keyboard for productivity as well as gaming since its RGB isn't a distraction.
Excellent key customization options are another feature to consider. Most keyboards offer limited changes either by restricting which keys you can alter or providing only one alternative. Havit's model lets you assign any function to any key, even sacrosanct ones like Escape or the Spacebar! Each key can act either as another but also turn into a multimedia control button or one that opens a specific program. Complex macros are supported too.
Finally, there's color customization. Havit's desktop software has an intuitive layout and allows you to make color profile changes with a few mouse clicks. These can be as simple as turning the whole keyboard purple or executing a series of effects with each keypress. You may save sixteen presets to the F and arrow keys, and the software supports six profiles so multiple users can tailor the keyboard's layout and colors to their needs.
What We Didn't Like
There's little to complain about with this model. It would be great if Havit were to release a red version of the Kailh switches because the Blue ones are loud. Another minor gripe is the lack of multimedia keys, but you can easily map them yourself.
Tech Specs
Dimensions: 16.8 x 5 x 0.9 in.
Weight: 1.3 lbs.
Switches: Kailh Blue
Available sizes: Standard, tenkeyless
Backlight: RGB
The Pros
Exceptional level of key and color customization
Lightweight yet durable
Responsive, clicky switches
Intuitive companion software
The Cons
Not suitable for quiet environments
No dedicated multimedia keys
2. Best Value – Granvela MechanicalEagle Z-77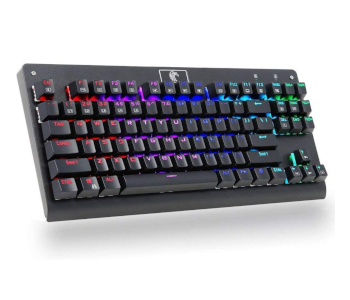 View on Amazon
Editor's Rating: 4.6/5
What kind of mechanical keyboard can you get for less than $40? According to Granvela, one that feels like you're using authentic Cherry MX Blue switches combined with a great build, attractive look, and varied lighting options. The MechanicalEagle Z-77 ticks all the right boxes, and its price-to-features ratio is fantastic. There's no software customization, but you can still create custom lighting profiles for different situations.
Overview of Features
There's not much going on with the Z-77 design-wise. It's a minimalistic keyboard that nevertheless manages to look good thanks to pronounced floating keys. It's a tenkeyless model but heavy for its size at 2 pounds even. That's because there's a steel support bar running through the keyboard's middle. It gives ample support and a welcome increase to durability. There's also a pair of feet you can flip up to adjust the Z-77's height.
Granvela doesn't specify which manufacturer makes their switches, but they closely resemble Chery MX Blues in appearance and feel. Expect keystrokes to be clicky and tactile while registering even slight pressure. Typing and gaming are equally pleasurable since the Z-77 quickly responds to input and doesn't drop commands thanks to n-key rollover. A key extraction tool is included, too, and lets you remove keycaps as well as replace the switches with different ones.
Lighting on the Z-77 is limited in some ways and smart in others. You can't alter light colors as one has already been assigned to each row. What you can do is change the way the LEDs behave through various key combinations. The selection is large and varied. You can make the lights ripple out form keys or have them leave a trail showing which ones you pressed last.
There's also a partial illumination mode with multiple presets. The simplest one is a kind of gaming mode where the arrow and WASD keys are lit, but everything else stays off. There are eight of these to choose from, plus two custom ones where you get to choose which keys should glow.
What's Bad About It?
Some colors are brighter than other ones. Specifically, the red and orange of the F and number rows are noticeably dimmer than other LEDs. Granvela claims the switches are removable, and that's true in most cases. However, some units arrive with soldered switches that are stuck in place. The Z-77 can be sent back for a replacement if this happens to you.
Tech Specs
Dimensions: 15 x 7.6 x 1.7 in.
Weight: 2 lbs.
Switches: Off-brand Blue
Available sizes: Tenkeyless
Backlight: Different color for each row
The Pros
Excellent value for the money
Internal steel bar prevents it from bending
Wide array of effects
Customizable key illumination
The Cons
Different colors aren't the same brightness
Some units have soldered switches
3. HyperX Alloy FPS Pro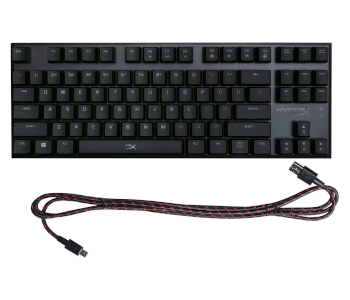 View on Amazon
Editor's Rating: 4.4/5
RGB has its uses, but it brings the price of keyboards up without adding actual value for the seasoned typist. That's why HyperX took a different approach when designing the Alloy FPS Pro and concentrated on delivering the best typing experience for as little money as possible. The result is an unassuming beast of a keyboard outfitted with a selection of genuine Cherry MX switches. It responds instantly, is easy to transport, and will help improve both your frag and word counts.
Overview of Features
You'll love the Alloy FPS Pro's appearance if you're a minimalist since it's as barebones as it gets. We're reviewing its cheapest version, which is a tenkeyless model whose LEDs glow only red. You could turn them off altogether as the etched keys are visible enough on their own. However, leaving the light on provides a pleasant red glow limited to individual keys that's very easy on the eyes.
The keyboard's small form factor means it's a good choice if you work on the go or run the tournament circuit. There's no dedicated case for extra protection, but the Pro's cable is braided and detachable, connecting to the keyboard through a MicroUSB port.
A simple feature set is in line with the Pro's sparse appearance. There's Gaming mode, which disables the Windows key and prevents you from pressing it during a heated match. Lighting presets boil down to choosing the brightness and one of several standard effects. Nothing too fancy, but it gets the job done when you want to show the keyboard off.
The Cherry MX switches are the main reason you'll want to get this keyboard. You may choose between noisy Blues, silent Reds, and middle-of-the-road Browns. Whichever color you get, the original feel is unmistakable. The keys never get stuck or stop responding, and every press is rewarded with an instant response followed by satisfying bounceback. It's easy to transition to the Pro no matter your keyboard background. Expect to be hitting old WPM records within the first week of using it and surpassing them shortly after that.
Are There Drawbacks?
While the Pro's switches might be great, we can't say the same for its keycaps. They tend to pop off and put a serious damper on your gaming session. Luckily, the Esc key seems to be the main culprit, but other keys will follow after a while. The keycaps also fade with use. Their lettering begins to rub off, leaving you with ugly caps and a keyboard that's brighter than it should be.
Tech Specs
Dimensions: 14.1 x 5.1 x 1.4 in.
Weight: 1.8 lbs.
Switches: Cherry MX Blue, Red, and Brown, HyperX Red
Available sizes: Standard, tenkeyless
Backlight: Red
The Pros
Outstanding typing experience thanks to authentic switches
Wide choice of switch types
Tasteful backlight
Detachable power cable
The Cons
Some keys tend to pop out
Keycaps wear down over time
4. Redragon K552-RGB KUMARA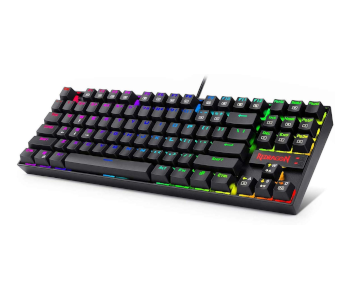 View on Amazon
Editor's Rating: 4.3/5
Do you like RGB but can't be bothered to set up custom configurations for it? The Kumara is a budget-friendly mechanical keyboard from Redragon that takes trial & error out of setting the RGB up by offering a comprehensive selection built into the hardware. While this does mean it's not as feature-rich as the competition, the Kumara is sure to find an appreciable audience because of its quality make and feel.
Overview of Features
The Redragon Kumara is a tenkeyless mechanical keyboard designed for cramped desks and people who frequent LAN parties. A combination of hard plastic and aluminum alloy makes the keyboard sturdy, and spill resistance ensures it will keep going even if you have a soda accident. We particularly love the rubberized feet that extend the keyboard's height. They're backed by two fixed feet in the front and won't budge regardless of how much you move.
Redragon uses Outemu Blue switches, which look and feel similar to original Chery MX Blues. They make a racket but respond instantly to touch, so you don't have to press down hard. The Kumara is a snappy performer, allowing you to pull off complex maneuvers or fire off a series of abilities in a split second. It has n-key rollover to ensure that everything you type in rapid succession comes true.
There are no multimedia or macro keys. No surprise, as this is an 84-key model. However, each F key doubles as a media control or opens up frequently-used programs like the calculator if pressed together with the Fn key. The font is a typical gamer-esque bold with a sci-fi feel. It might not appeal to purists, but the font excels at letting enough light through for a pleasant typing experience.
Everything you need to adjust the lighting comes as part of the Kumara's hardware. All associated actions require you to hold down the Fn key. The up and down arrows change brightness, the right arrow flips through solid colors, while the left one changes effect direction. You cycle through effects by pressing Fn plus Delete through Page Up. Each of these holds multiple effects you'll uncover by pressing the combination repeatedly.
The effects range from multi-color waves through explosions of light on a keypress to random displays of vibrant colors that make the keyboard look like a string of Christmas lights. There's a preset in there for the pickiest of gamers, and you're encouraged to tinker with the settings until you find one you enjoy.
What We Didn't Like
The Outemu Blues have a travel distance of 4mm, which might be too deep for people used to other mechanical keyboards, and especially for ones switching over from membrane models. A more concerning problem is that keys might stop working after a while and need to be pressed multiple times to register.
Tech Specs
Dimensions: 13.9 x 4.9 x 1.5 in.
Weight: 2 lbs.
Switches: Outemu Blue
Available sizes: Tenkeyless
Backlight: RGB
The Pros
Durable and compact
Lots of lighting presets
Responds well in games
N-key rollover
The Cons
Keys might stop working after a while
Long travel distance
5. Velocifire VM01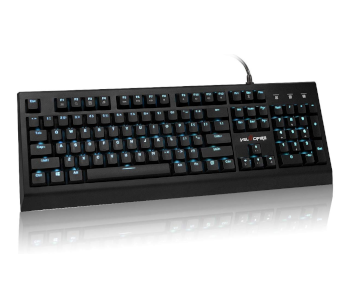 View on Amazon
Editor's Rating: 4.1/5
Most keyboards we've talked about come with either Blue or Red switches, forcing the user to choose between soft & silent on one end and loud & clackety on the other. Brown switches bridge this gap, offering the tactile feel of Blues without the telltale click. The Velocifire VM01 is among the cheapest mechanical keyboards to offer Brown switches. Even though they aren't Cherries, the switches feel right and help the VM01 deserve a spot on our list.
Overview of Features
You'll feel right at home using the VM01 if you're transitioning from an office keyboard. Its standard design incorporates 104 keys made from robust ABS plastic that won't wear out even after thousands of presses. The font isn't aggressive either, yet it lets enough light shine through in a pleasant teal color. You'll have to invest in an RGB mouse if you want matching peripherals as the color is distinct.
This is another model whose lighting is understated; one might even say utilitarian. The LEDs are enclosed by the keycaps and only shine through letters & symbols. There are no effects to choose from, only two brightness presets and an off function.
Speaking of functions, the VM01 lacks a set of multimedia keys. The F row pulls double duty in tandem with the Fn key instead, offering playback, volume, and search. The Windows key can also be locked for stress-free gaming.
In the end, it all comes down to how the switches perform. The answer is very well, provided you get a good unit. The Zorro Browns require 55 grams of force to be pressed down, so you'll have to put more power into keystrokes if your last keyboard had Red switches. That being said, Velocifire got the travel time right and you can count on reliable responses whether you touch each key briefly or hammer them down.
What's Bad About It?
Your experience with the VM01 will depend mainly on the quality of the unit you got. When manufactured correctly, the keyboard is a fine instrument worth more than its asking price. The soldering process isn't always consistent, though, so some units come with sticky keys or ones that produce a scratching sound when typing. Six feet keep the VM01 firmly in place. It's a pity you can't raise them, though.
Tech Specs
Dimensions: 18 x 6.4 x 1.2 in.
Weight: 3.2 lbs.
Switches: Zorro Brown
Available sizes: Standard
Backlight: Teal
The Pros
Tactile brown switches at a great price
Unobtrusive lighting
Well-made keycaps
The Cons
Can't be raised
Inconsistent production quality
6. Best Budget Option – Rii K61C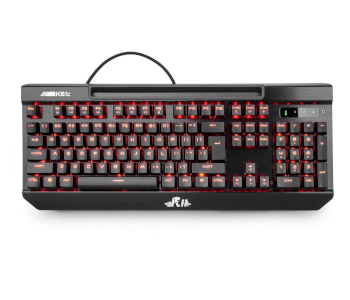 View on Amazon
Editor's Rating: 3.8/5
You'd think that a mechanical keyboard that costs less than $20 is more suitable for the garbage rather than the bargain bin. And yet, the Rii K61C has a passable performance and is ideal as a non-demanding typist's first mechanical model. Give it a spin and see if the typewriter-like clack of keys is something you'd want to invest in more later.
Overview of Features
The K61C is a fine-looking keyboard with clever and unique design decisions at every turn. Its aluminum alloy baseplate coupled with a hard plastic exterior makes the K61C rigid and shock-resistant. The keycaps are lightly brushed to prevent slipping, and they're etched with a tasteful font. It has a standard key complement enhanced by multimedia and light adjustment settings accessible via the Fn key.
The fist unusual thing you'll notice about the K61C is a groove near the top. It's designed to hold a smartphone or tablet so they're always visible and within reach. Some people might find this gimmicky, but anyone with no desk space and the need to keep an eye on their messages will appreciate it. Turning the K61C over reveals more goodies. There's a dedicated compartment for the key removal tool along with one for four green keycaps that replace any of the regular ones.
Another feature worth mentioning is the power cable. It's braided and won't tangle easily. There's a guide on the keyboard's bottom that prevents it from bending, and the end you plug into the computer is longer than usual for the same reason.
The switch manufacturer isn't mentioned, but popping a keycap reveals ones that look like Cherry MX Blues. Rii is going for a similar feel as well since the switches need a lot of force to be pressed and are loud. Their travel distance is longer than that of the original, and the feel is generally inferior, but the K61C performs well considering its price.
Lastly, there's lighting performance. The only color you get is a pleasant red that glows at different brightness levels. You can access several effects and adjust their speed. There's also the custom key lighting feature we saw with the Z-77 that lets you light as many or as few keys as you want and save the preset.
Are There Drawbacks?
The popping problem we already saw with the HyperX Alloy FPS Pro is even more pronounced here. You'll have to learn how to balance the K61C's firm typing requirements with its tendency to catapult keys onto the desk. Production quality is inconsistent, as well. You may get a fine-tuned unit or one whose keys stop working after a few months.
Tech Specs
Dimensions: 17.6 x 1.8 x 7.4 in.
Weight: 2.8 lbs.
Switches: Off-brand Blue
Available sizes: Standard
Backlight: Red
The Pros
Serviceable mechanical switches at a fantastic price
Has a phone and tablet holder
Snap-proof braided cable
Supports a custom lighting profile
The Cons
Popping keys
Inconsistent manufacturing quality