5 Best Cheap Thermal Cameras of 2019
3D Insider is ad supported and earns money from clicks, commissions from sales, and other ways.
Thermal cameras have long been out of reach to the average tradesman due to their high price of entry. However, companies like Flir have introduced an array of affordable yet powerful models any person working with piping or electrical wiring can afford.
Below you'll find the five best cheap thermal cameras on offer. They may lack the resolution and advanced features of industry-grade models but are more than capable of detecting any leaks or heat sources during a home inspection. There's everything from compact and versatile standalone imagers to cameras you attach to a smartphone, so decide on a budget, pick the format you like, and add a powerful new inspection tool to your arsenal.
Budget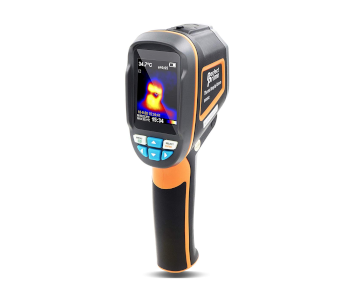 Perfect-Prime IR0002
4.1/5.0
Sensor resolution: 60 x 60
Field of view (vertical & horizontal): Not specified
Easy to control & hold and has multifunctional keys.
Check Amazon
Best Value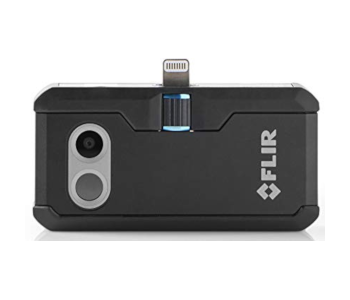 FLIR One Pro
4.3/5.0
Sensor resolution: 160 x 120
Field of view (vertical & horizontal): 50° x 43°
Has an excellent thermal sensor and comprehensive app.
Check HomeDepot
Top Pick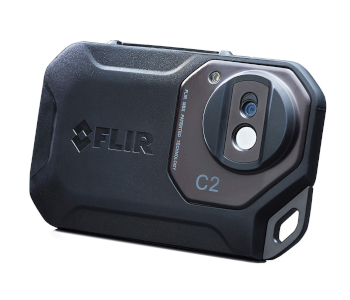 FLIR C2 Compact Thermal
4.5/5.0
Sensor resolution: 80 x 60
Field of view (vertical & horizontal): 41° x 31°
It has an intuitive interface that doesn't clutter up the screen.
Check Amazon
Cheap Thermal Cameras Comparison Table
1. Best Overall – FLIR C2 Compact Thermal Imaging System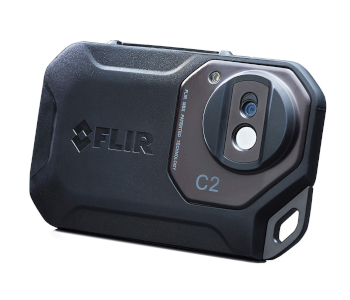 View on Amazon
Editor's Rating: 4.5/5
The problem with all but the most expensive thermal cameras is that the images they capture are hard to make out. You may get accurate thermal data, but it's sometimes hard to put into context if all you're getting are differently-colored blotches. Flir's C2 deals with this annoyance through MSX technology (i.e. by overlapping the thermal data onto an image taken with its standard optical camera). The resulting images are crisp and clearly show contours. If your day-to-day work depends on accurate thermal imaging, the C2 is the tool to get!
Picture-Perfect Thermal Imaging
The C2 looks like a very thick, rugged smartphone and is handled in a similar way. Its plastic exterior is rubberized at places for better grip and can easily survive falling damage. The optical & thermal cameras are grouped together and protrude outward. Next to them is a strong white LED for when you need some extra light. The camera comes with a sturdy lanyard that threads through a hole in its corner and locks into place.
The thermal sensor has a resolution of 80 by 60 pixels and combines with the 640 x 480 optical camera to produce images of unprecedented detail as thermal cameras go. It's easy to distinguish contours or textures when viewing them, even text can be read in thermal mode! Another nice feature is live center spot temperature data which gives you the exact temperature of whatever the camera's center is pointing at. You can choose between four visualization pallets and get a bar on the right of the screen that shows temperature ranges for the current scene.
The C2 is easy to operate. There are only two buttons to press – a power button and shutter release. The latter is large and rubbery and will take a picture no matter where on it you press. The C2 can store 500 images in MPEG format. These are exportable via USB to a PC and come encoded with both visual and thermal data as well as the temperature range scale and central spot temperature.
What We Didn't Like
The C2 has a short battery life of only 2 hours. It is perfect for home improvement and maintenance tasks, but it can't penetrate concrete or thick drywall, making it unusable in industrial application.

Tech Specs
Dimensions: 3.1 x 4.9 x 1 in
Weight: 4.6 oz.
Temperature range: 14 – 302°F
Sensor resolution: 80×60
Field of view: 41° x 31°
Color palettes: 4
The Pros
Excellent image quality
Rugged design
Easy to use
Intuitive interface that doesn't clutter up the screen
The Cons
Suitable for home use only
Short battery life
2. Best Value – FLIR One Pro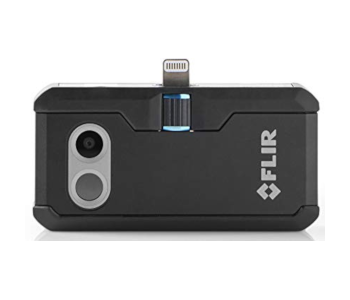 HomeDepot
Editor's Rating: 4.3/5
Are you looking for something even more compact than the C2? How about a tiny thermal camera that attaches to your smartphone and comes with almost all of the features the C2 has? The One Pro is the ideal solution for homeowners and DIY enthusiasts – it fits inside the smallest pockets and snaps onto any modern smartphone even if it has a case. The camera also takes advantage of Flir's MSX technology, can record videos, and export images in 1440 x 1080 JPEGs.
Turn Your Smartphone into a Thermal Camera
The One Pro is a small, lightweight thermal camera with rubberized edges and a prominent USB-C connector. It isn't as rugged as the other entries on the list but can survive a 5-foot drop without consequences. It attaches firmly to your smartphones and feels stable. The USB port can be extended to accommodate phone cases as well without compromising stability.
The thermal sensor is even more advanced than the C2's – it boasts an increased resolution of 160 x 120 and has a slightly wider field of view. There are also 9 color pallets instead of four including wheel, arctic, and lava for a more customizable temperature representation. The resulting images are of great quality and come with encoded thermal data which lets you bring out or tone down the contrast before exporting. You're able to take three-point measurements per picture. There's also the option of displaying an average of a central square or circle.
The MyFlir app is filled with easily-accessible settings used to fine-tune the final picture. You can turn MSX off and take either ordinary RGB or thermal images without the overlap. Videos and time lapses can be shot too, albeit at 9fps due to government restrictions. The app's interface is somewhat cluttered since most options are accessible without having to go into a menu, but it's manageable.
What's Bad About It?
This is another Flir product with battery issues. It's great that the One Pro doesn't drain your smartphone, but its own battery lasts less than an hour and takes as much to recharge. Its app is comprehensive but sluggish. You'll sometimes need to restart it for the camera to be recognized and the live view may freeze up too.

Tech Specs
Dimensions: 0.6 x 2.7 x 1.4 in
Weight: 1.3 oz.
Temperature range: : -4 – 752°F
Sensor resolution: 160 x 120
Field of view: 50° x 43°
Color palettes: 9
The Pros
Lightweight and compact
Works with any modern smartphone
Excellent thermal sensor
Comprehensive app
The Cons
Awful battery life and long recharge time
App is cluttered, sluggish, and prone to freezing
3. CAT PHONES S60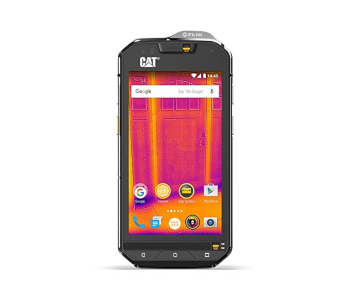 View on Amazon
Editor's Rating: 4/5
Why settle for a thermal camera dongle when you could get a new work phone with a built-in Flir camera? Cat phones has partnered up with Flir to make the C60, the world's first thermal imaging smartphone. It's a tough, functional, and comprehensive smartphone designed to handle the toughest work environments and potentially save your life. The S60 is a bit bulky and may not be at the cutting edge of mobile technology, but it's fantastic for boosting on-site productivity and lets you lighten your toolbox by ditching a stand-alone thermal camera.
The Working Man's Smartphone
The best thing about the S60 is its outstanding durability. It is waterproof up to 15 feet, certified to survive a 6-foot drop, and has a scratch-resistant screen. This comes at the cost of a thicker body and more weight, neither of which make a difference at a job site. Another design feature of note is the SOS button. Pressing it sends a text containing GPS data to your contact of choice, which is very useful in hazardous work situations.
A Flir sensor is at the core of the C6's thermal imaging experience. It has the same resolution as the C2 and its images can be interpreted through 9 filters seen on the One Pro. The use of MSX gives images good clarity. This version of the MyFlir app is more streamlined and doesn't have as much visual clutter as the One Pro's. In it, you can turn on spot temperature reporting, adjust which filter to use, and save JPEGs. Each picture is accompanied by data on temperature highs & lows and an average temperature rating for the shot.
The C60 is a capable smartphone too. It features a 13-megapixel back and 5-megapixel front camera. A 3,800 mAh battery gives it enough juice to last for two days and more even if you've been using it throughout your workday. Apps take a short time to open and accessing the internet to check in on emails is quick. Its Snapdragon 617 processor may struggle with newer games but can handle video streaming adequately.
Are There Drawbacks?
The C6 comes with Android 6.0 Marshmallow pre-installed. This Android version is several years old and sadly can't be updated. You do get periodical firmware updates, but these fix only a few issues at a time and aren't enough to ensure up-to-date security. The MyFlir app crashes and can freeze up for a second before becoming responsive again.

Tech Specs
Dimensions: 5.8 x 2.9 x 0.5in
Weight: 7.9 oz.
Temperature range: -4 – 248°F
Sensor resolution: 80 x 60
Field of view: 46° x 35°
Color palettes: 9
The Pros
Durable & waterproof
SOS button
Good thermal image quality
Long battery life
The Cons
Comes with outdated Android OS that can't be updated
Buggy app
4. FLIR TG130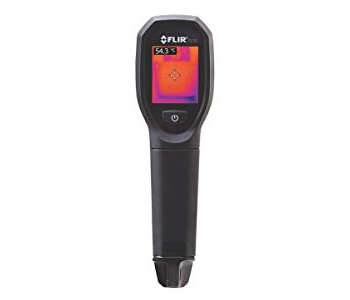 View on Amazon
Editor's Rating: 3.6/5
Flir has one final ace up its sleeve – a simplistic thermal imager that's designed to do one thing and do it well. The TG130 can't even save images. This may not be a deal breaker if you're looking for a simple tool that provides reliable temperature measurements and a temporary usable image instantly. It is much cheaper than other Flir products to make up for a lack of features, which should entice many hobbyists and DIY enthusiasts to buy it.
The Barebones Approach to Thermal Imaging
Everything about the TG130 is basic, starting from its shape. The all-black imager has a comfortable pistol grip with a lanyard hole on the bottom. Controls are limited to the on/off button and a trigger that freezes a picture of the viewfinder and stores it for inspection. Once you press the trigger again, the image is erased to make room for another. The TG130 draws power from 3 AAA batteries and will work for 4 hours per charge.
The sensor is the same as the C2's. It has a resolution of 80 x 60 and can detect temperatures from 14 to 307 degrees Fahrenheit accurately. Iron is the only color palette at your disposal. It ranges from black and purple at the bottom end of the scale to white and yellow for the hottest temperatures. This scale is particularly useful when you need to detect leaks as the suspected spot on a wall or floor will be darker than its surroundings and easy to identify.
Are There Drawbacks?
For an imager which can't save pictures, the TG130 has a very small screen. At 1.7 inches, it is too small to make out details and is only suitable for close-ups. The display is barely visible in sunlight and works best under dim artificial lighting.

Tech Specs
Dimensions: 6.6 x 4.4 x 1.9 in
Weight: 7.4 oz.
Temperature range: 14 – 302°F
Sensor resolution: 80 x 60
Field of view: 55° × 43°
Color palettes: 1
The Pros
Affordable
Easy for anyone to use
Takes accurate readings
The Cons
Very few features
Small viewscreen
Unusable in sunlight
5. Best Budget Option – Perfect-Prime IR0002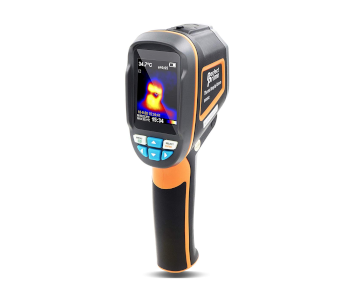 View on Amazon
Editor's Rating: 4.1/5
Perfect-Prime's IR0002 is a good entry-level thermal camera. It will be most useful to professionals and homeowners who value simplicity and use their thermal camera for spot checks. Its 60 x 60 sensor is adequate for detecting heat emissions, faulty wires, and built-up humidity. This model strikes a good balance of price and performance – its picture quality can't compete with Flir's products, but the accurate temperature readings, good handling, and appealing price ensure that the IR0002 will find its place in many toolboxes.
Thermal Imaging Made Easy
The TR0002 features a bold plastic exterior with a black & yellow finish that's easy to spot. It has a pistol grip design and fits well in the hand. You take pictures by squeezing a trigger with your index finger. A prompt then shows up on the screen asking you if the image should be saved. The camera comes with a 4GB SD card so you're good to go. It needs 4 AA batteries though, which you must buy separately. A set of batteries lasts for 6 hours or more.
This camera doesn't have Flir's MRX technology, but it does employ a similar technique. You can snap an image in regular camera mode and superimpose the thermal data over it like a transparent filter. Collected data can be interpreted through five filters. Grayscale is best if you want the equivalent of rough night vision. Rainbow and contrast are useful when the temperature range of the shot is wide and close readings need to be distinguishable.
The interface is small but it provides important data like spot temperature, the battery's status, and temperature averages at a glance. Navigating the IR0002's menus is easy as they're logically laid out and accessed by pressing on clicky navigation buttons under the screen. The keys have multiple functions depending on how long you hold them. For example, pressing the up arrow for 5 seconds will clear up the noise before a picture is taken while doing the same to the image capture key will turn on an LED.
What's Bad About It?
Images taken with the IR0002 have poor resolution. Since the IR sensor measures only 60 by 60 pictures and there's no true image overlapping in thermal mode, it's hard to make out what the image shows. This might be a problem when you're writing up documentation and need to back a decision up with photo evidence.

Tech Specs
Dimensions: 8.4 x 3.7 x 2.4 in
Weight: 11.3 oz.
Temperature range: -4 – 572°F
Sensor resolution: 60 x 60
Field of view: Not specified
Color palettes: 5
The Pros
Easy to control & hold
Multifunctional keys
Good temperature accuracy
Included SD card
The Cons
Poor image quality