6 Best Cheap Cameras for YouTube of 2020
3D Insider is ad supported and earns money from clicks, commissions from sales, and other ways.
Many prospective YouTubers give up before even creating a channel, thinking they won't attract an audience due to a limited budget. Fortunately, you don't need to break the bank when getting a viable YouTube camera, especially while you're still learning and developing skills both in front and behind it.
A good starter camera can be had for $500, less if you shop around or don't mind buying used. The most important things to look out for when shopping for one are how its autofocus performs and what you can expect from the camera in different lighting. Today's budget cameras can handle both competently and produce professional-looking videos you could never recreate with a smartphone.
In this review, we go over six candidates for the best cheap camera for YouTube. The selection ranges in price, performance, and format, so you'll have no trouble finding a suitable model no matter what kind of content you're keen on making. Take a look at the individual reviews, upgrade your gear, and start getting your name out there!
Budget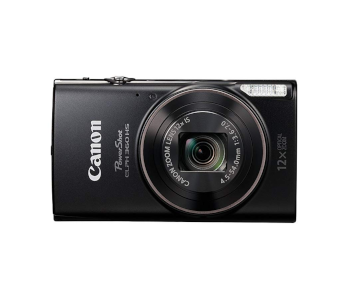 Canon PowerShot ELPH 360
3.9/5.0
Type: Compact
Sensor: 1/2.3 inch
Has a good autofocus given its price.
Check Amazon
Best Value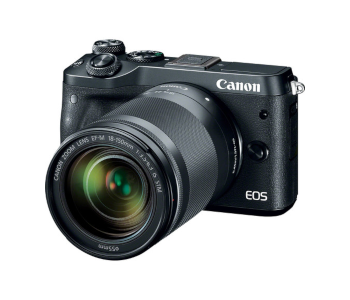 Canon EOS M6
4.6/5.0
Type: Mirrorless
Sensor: APS-C
It has a responsive autofocus.
Check BH
Top Pick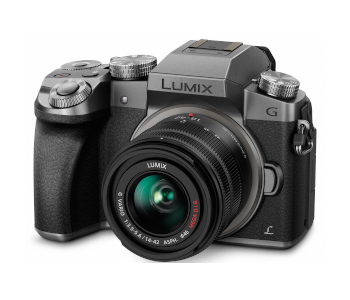 Panasonic G7
4.6/5.0
Type: Mirrorless
Sensor: 4/3
Good-quality EVF and touchscreen.
Check Amazon
Cheap Cameras for YouTube Comparison Table
1. Best Overall – Panasonic G7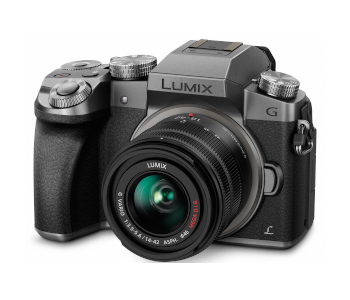 View on Amazon
Editor's Rating: 4.6/5
Panasonic's G7 is proof that it's worth picking up an older model if its price to performance ratio is excellent. It's an all-around camera designed for high-quality 4K video as well as speedy photo capture. It's lightweight, highly customizable, and delivers above-average video quality for its now modest asking price.
Overview of Features
The G7 is a mirrorless camera but weighs only 19 ounces when outfitted with its kit lens and battery. It won't give you a hernia if you film outdoors yet is robust enough not to be knocked over accidentally f on a tripod. The camera has three dials and six customizable buttons, so you can map frequently-used features for easier access. There's also a quick menu where you can group settings that are otherwise multiple menu levels apart.
The EVF and LCD are the G7's best physical features. Its EVF is an OLED display with a resolution of 2.36 million dots. It reproduces colors faithfully and has a smooth refresh rate. The LCD can be tilted and swiveled to help you frame a scene. It is touch-sensitive and responsive to the point that you might want to turn touch controls off if your nose keeps changing focus. The screen is usable in all but direct sunlight and great for assigning focus points with a single tap.
The G7's video quality is excellent considering its cost. On the one hand, you've got 4K at a maximum of 30fps, ensuring that the G7 will stay relevant for years. On the other, it delivers respectable results. The color balance is dull out of the box but can be spruced up by selecting a different color profile. The G7 uses depth from defocus to hone in on subjects and does an excellent job tracking them. It's not ideal for fast-moving targets but works well in a studio environment. The dynamic range is handled well, too, with minimal need for EV compensation.
Another noteworthy feature is the ability to extract 8MP stills from 4K video. You can take photos continuously at 30fps and even set it so that thirty frames before and after using the shutter are stored. That way, you won't miss a single moment and can make high-quality thumbnails for your videos.
What We Didn't Like
The G7's ergonomics aren't for everyone. Its design is boxy, and the grip might not extend far enough for people with large hands to hold it comfortably. Low-light performance isn't good either. Make sure you have adequate artificial lighting when shooting indoors, or else the video autofocus will slow down significantly.
Tech Specs
Dimensions: 4.9 x 3.4 x 3 in.
Weight: 19.1 oz.
Type: Mirrorless
Sensor: 4/3
ISO range: 200 – 25,600
Max still resolution: 16 MP
Max video resolution: 4K, 30fps
The Pros
Great degree of customization
Versatile photo burst modes
Good-quality EVF and touchscreen
Videos are crisp and easily corrected
The Cons
Slow video AF in low light
Clunky body
2. Best Value – Canon EOS M6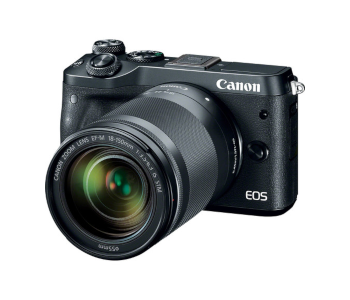 View on BH
Editor's Rating: 4.6/5
Do you often make videos outdoors and capture subjects while moving? If so, you need a camera with quick and reliable autofocus. Canon's EOS M6 has some of the best subject tracking thanks to Dual Pixel CMOS AF. It delivers videos of excellent quality, albeit at 1080p. Still, it's a wonderful choice for content creators, especially vloggers. We wouldn't normally recommend this camera due to its price, but B&H Photo has recently discounted it to less than $500. Now that's a true bargain!
Overview of Features
Even though it's another mirrorless model, the M6 has a different design than the G7. It's less angular and easier to hold in hand thanks to a protruding rubberized grip. You'll love this camera if you're used to controlling settings like EV comp manually since it has five dials. Combining them with the M6's responsive touchscreen makes for a fluid and pleasant user experience. Moreover, there's a My Menu you can populate with frequently-used settings to speed workflow up.
We love the reliability and speed of the M6's autofocus. It has no trouble identifying and sticking to moving subjects thanks to the DIGIC 7 processor and Canon's patented dual-pixel technology. It's as responsive for photos as it is for videos. The latter also takes advantage of the touchscreen, letting you shift focus from one point to another by merely tapping each.
The M6's videos are limited to 1080p at 60fps. While it isn't as futureproof as our winner, the M6 delivers top-notch video quality with colors that spring from the screen and white balance that's always on point. Image stabilization is no less important, and the M6 has 5-axis IS for video. That, along with the internal stabilization of compatible lenses, makes for stable footage when using the M6 without a tripod.
This is one of the best-connected cameras on review. It has Wi-Fi for seamless content transfer along with NFC and Bluetooth. Turning on the latter is useful since it lets you control the camera from your phone and turn it into a second touchscreen.
What's Bad About It?
The M6 doesn't have a viewfinder. You can make do with the touchscreen, but its usability in glaring sunlight is limited. The touchscreen flips back 180 degrees, but the camera's body obstructs a small portion. While not a huge issue, it does make on-the-fly adjustments more difficult.
Tech Specs
Dimensions: 4.4 x 2.7 x 1.8 in.
Weight: 24.2 oz.
Type: Mirrorless
Sensor: APS-C
ISO range: 100 – 25,600
Max still resolution: 24.2 MP
Max video resolution: 1080p, 60fps
The Pros
Amazing value at its current price
Responsive autofocus
Combination of dials and touch commands makes for an optimum workflow
Multiple wireless connection options
The Cons
Lacks a viewfinder
Small part of touchscreen is blocked when tilted
3. PANASONIC LUMIX ZS80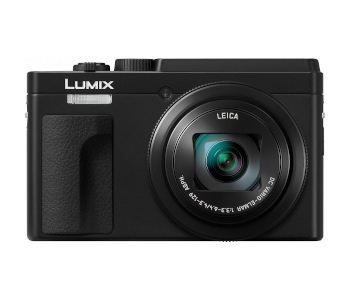 View on Amazon
Editor's Rating: 4.5/5
Travel vloggers rely on compact cameras to record their journeys without taking up much baggage space. If that camera has 30x zoom and a flip-out screen to boot, you know you've got a winner. The Lumix ZS80 from Panasonic is everything an on-the-go content creator could hope for in an affordable model. It has excellent build quality, image stabilization, and 4K video recording.
Overview of Features
The first thing you'll notice about the ZS80 is its premium build. You can clearly tell it apart from a slew of low-quality compacts by the mostly metal body and an emphasis on ergonomics. Even though it isn't deep, the grip provides ample purchase for two fingers. Combined with the thumb rest in the back, it makes sure you'll hold the camera firmly in any situation.
Owners of the ZS70 will notice minimal physical differences but will also appreciate changes made to the EVF. It's a pop-out model and has a resolution of 2.3 million dots. Expect crisp detail and effortless framing regardless of the weather. The touchscreen remains unchanged. It is 3 inches in diameter, flips all the way back for selfies & vlogging, and can be used to access settings or previous footage.
The ZS80 can zoom in by a factor of 30x and remain steady thanks to internal image stabilization. Depth from defocus makes an appearance on this model as well, ensuring sharp images and videos alike. Speaking of which, the ZS80 shoots video at 4K, 30fps. Its dynamic range is decent, but the camera leans towards overexposure that leads to less detail in highlights. Applying a stop of EV compensation is an easy fix for this, though.
Like the G7, the ZS80 has unique photo capturing features related to video output. Specifically, you can record short 4K videos and take frames from them to create composite shots. Use these for a cool effect that shows subjects in various stages of an activity like running, doing backflips, and so on. It's a fun feature to experiment with that can create eye-catching thumbnails.
Are There Drawbacks?
Compact cameras like the ZS80 have smaller sensors, which takes its toll on low-light performance. Making footage brighter by increasing ISO isn't a solution since significant noise can be seen on values as low as 800. Switching to movie mode applies a slight crop to the view. Keep this in mind when framing to avoid unwanted objects in your scenes.
Tech Specs
Dimensions: 4.4 x 2.7 x 1.6 in.
Weight: 11.5 oz.
Type: Compact
Sensor: 1/2.3 inch
ISO range: 80 – 3,200
Max still resolution: 20.3 MP
Max video resolution: 4K, 30fps
The Pros
Robustly built
Responsive touchscreen and detailed EVF
Depth from defocus is quick and reliable
Solid video quality
The Cons
Slight view crop in video mode
Poor low-light performance
4. Sony DSC-HX99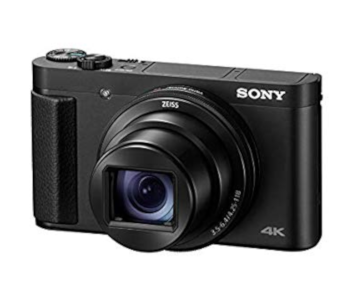 View on Amazon
Editor's Rating: 4.3/5
Next up is another compact superzoom that places an even bigger emphasis on taking up as little space as possible without sacrificing performance. Sony's DSC-HX99 is designed to record stunning vistas or your travel experiences and deliver them to your audience. It's customizable, has a tiny form factor, and fits the price range of budget-conscious vloggers.
Overview of Features
The HX 99 is noticeably thinner and smaller than mirrorless cameras. Even so, Sony has managed to cram a lot of features into it, including a pop-up viewfinder and flash. These come at the cost of a hot shoe mount, though. Keep that in mind when shooting audio in windy or crowded environments.
A small format means that the control scheme has to be smart and versatile. There's only one dial on the camera itself used for mode selection. Another is cleverly placed around the lens and lets you change a wide array of settings like ISO, autofocus or shutter priority, and others you can set up from the menu. The touchscreen articulates fully and reacts instantly to commands. We particularly enjoyed using the viewfinder since popping it out also makes the HX99 spring to life.
This is the smallest camera in the world to feature a 30x zoom. It can focus on far-away buildings or animals in one moment and snap back to closer subjects in the next thanks to a responsive autofocus system. You may track subjects either using continuous autofocus or Eye AF, a feature that was only present on Sony's pricier mirrorless cameras until now.
The HX99 is another camera that can shoot videos in 4K. Its footage is uncropped, and you may use the zoom freely, even at the highest resolution. Switching to 1080p is great for creating slow-motion videos as they're shot at a maximum of 120fps. The GX99 doesn't have an external mic input, but its stereo mics do a passable job in calm environments.
Are There Drawbacks?
The viewfinder is handy o have in bright light, but its quality leaves much to be desired. Its resolution is a mere 638,000 dots. Coupled with a magnification of 0.5x, this means that finer details are lost during framing. The LCD's touch functionality is limited to assigning focus points. You'll have to use the D-pad for menu selection, image browsing, etc.
Tech Specs
Dimensions: 4 x 2.3 x 1.4 in.
Weight: 8.5 oz.
Type: Compact
Sensor: 1/2.3 inch
ISO range: 80 – 3,200
Max still resolution: 18.2 MP
Max video resolution: 4K, 30fps
The Pros
Compact camera with excellent zoom
Clever utilization of space
Eye AF tracks moving subjects well
Can make slow-motion videos
The Cons
Low-quality viewfinder
Limited touchscreen functionality
5. GoPro Hero 7 Silver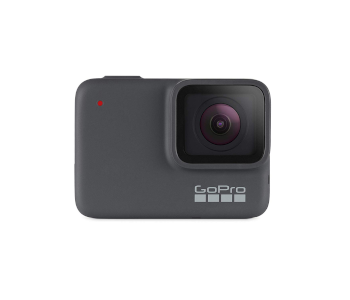 View on Amazon
Editor's Rating: 4.2/5
GoPro is the personification of action cameras, but the flagship Black models are prohibitively expensive. Luckily, the HERO 7 Silver is an affordable, slightly downgraded version that delivers first-rate 4K videos of your active adventures. It's small, sturdy, and waterproof without needing a housing. Add video stabilization and voice controls, and you've got a well-rounded camera for when you want to experience things rather than just record them.
Overview of Features
You'll notice that the HERO 7 Silver differs little from older GoPro models. It's a small gray square with a prominent lens on one end and a 2-inch touchscreen on the other. It lacks the monochrome info display seen on the Black but has a blinking status light that tells you recording is on. You can use the camera in 30 feet of water out of the box or hook it up to a wide selection of GoPro mounts. That allows you to place it on helmets, pets, cars, and anywhere else you can think of.
The HERO 7 Silver was designed for streamlined control. Its touchscreen is detailed and has a rotating UI suitable for landscape or portrait modes. Voice control is an option as well – give it a voice command, and the GoPro will do everything except turn itself on. You accomplish that by pressing the only physical button.
The GoPro's video quality is superb. It can't record at 60fps like the Black, but 30 is more than enough for smooth 4K clips. Speaking of smoothness, the Silver has built-in image stabilization that lets you hold the camera when walking in rough terrain and streamlines footage recorded on uneven downhill paths. The default color profile delivers vivid results while Wide Dynamic Range ensures highlights aren't blown out, and details in shadows are preserved. Its microphones aren't the best in the business, but the Silver records usable audio.
No less important than the HERO 7 Silver is its software package. You can connect it wirelessly to your smartphone or hook it up to a computer through USB-C. You may then transfer footage, publish it to YouTube as-is, or create and publish stories. These are stitched together from clips you've recorded on the same day. GoPro's software trims them into smaller bites, adds music, and lets you design captions. The results are fun and look presentable.
What's Bad About It?
The Silver's touchscreen isn't as responsive as we'd hoped. You'll sometimes need to tap or swipe more forcefully for a command to register. The flap that protects the battery and SD card is hard to open. While that's understandable given the Silver's waterproofing, it becomes annoying if you frequently use and recharge the camera.
Tech Specs
Dimensions: 2.4 x 1.8 x 1.1 in.
Weight: 3.3 oz.
Type: Action cam
ISO range: 100 – 1,600
Max still resolution: 10 MP
Max video resolution: 4K, 30fps
The Pros
Outstanding video quality
Robust build and waterproofing
Easy to use in multiple ways
Easy to create and share content
The Cons
Protective flap is hard to open
Touchscreen's response rate is unpredictable
6. Best Budget Option – Canon PowerShot ELPH 360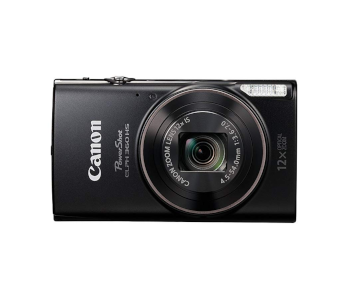 View on Amazon
Editor's Rating: 3.9/5
Cameras relegated to the bargain bin are on par with today's smartphones. Still, some can surpass them even at the sub-$200 point. Such is the case of the ELPH 360, a no-frills, straightforward compact you can whip out anywhere and start recording as long as the lighting is good. Its sparse control scheme will be appealing to new users and might make Canon's camera the ideal starter for a younger YouTuber.
Overview of Features
There's a lot to like about the ELPH 360's simplistic design. There are no wheels to confuse the newbie, and a dedicated movie button makes filming straightforward. You set shots up through the LCD, which is big but isn't as detailed as ones seen on more expensive models. This is the thinnest camera on review. You can keep it in a pants pocket, close at hand. Holding the camera with large hands might be tricky, though, since its body is entirely plastic and isn't textured.
Autofocus is the ELPH 360's best feature. It takes little time for the AF to acquire a subject, and maintaining focus isn't hard unless the camera or subject starts to move erratically. Keeping things sharp isn't a challenge even when you're zoomed in 12x, and the autofocus is equally responsive for photos and videos.
The ELPH 360 shoots video at 1080p, 30fps. Even though this seems mediocre on paper, keep in mind that the overwhelming majority of YouTube videos still use these exact specs. Expect crisp results with vivid colors and decent color balance as long as you're shooting outdoors. Canon has also included Hybrid Auto, a unique cross between photos and videos. It works by recording a four-second video that ends in a picture. While situational, this is a fun way of spicing up your edits.
Are There Drawbacks?
The ELPH 360 is the worst performing camera we've tested when working in unfavorable light. Not enough of it will introduce noise and cause the AF to slow down to a crawl. There's no viewfinder, and the LCD isn't a touchscreen, so you'll have to access every option through buttons.
Tech Specs
Dimensions: 3.9 x 2.3 x 0.9 in.
Weight: 5.2 oz.
Type: Compact
Sensor: 1/2.3 inch
ISO range: 80 – 3,200
Max still resolution: 20.2 MP
Max video resolution: 1080p, 30fps
The Pros
Inexpensive entry into YouTube video recording
Good autofocus given its price
Slim, light, and portable
Hybrid Auto mode
The Cons
Screen isn't touch-sensitive
Poor low-light performance