6 Cheapest 4K Camera Picks for 2020
3D Insider is ad supported and earns money from clicks, commissions from sales, and other ways.
4K resolution has made the transition from cool-sounding tech buzzword to reality for many of us. High-resolution TVs and monitors are slowly but steadily becoming the norm, so it's wise to adapt to the new format as soon as possible. Shooting in 4K is better even if you only have 1080p in mind. You have greater freedom for detail recovery during post-production and can create downsampled videos that look better than any shot on devices limited to HD.
Best of all, the price of entry for 4K has fallen dramatically. You can now get traditional and action cameras that produce quality 4K video for a couple hundred bucks. We've rounded up the cheapest 4K camera picks that are worth getting in this helpful review. You might find even less expensive cameras that claim to be 4K, but these blow up 1080p footage to fit a 4K screen while the quality suffers dramatically. All our picks offer genuine 4K at rock-bottom prices, so pick a favorite and get with the times.
Budget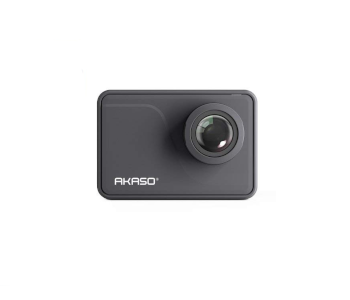 AKASO V50 Pro
4.0/5.0
Type: Action cam
ISO range: 100 – 1,600
Great for making underwater videos.
Check Amazon
Best Value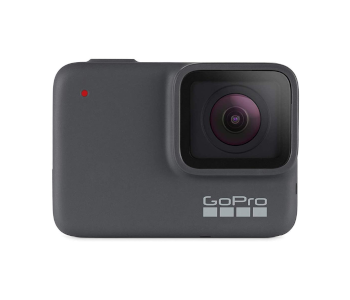 GoPro HERO7 Silver
4.3/5.0
Type: Action cam
ISO range: 100 – 1,600
Great video quality, robust and waterproof.
Check Amazon
Top Pick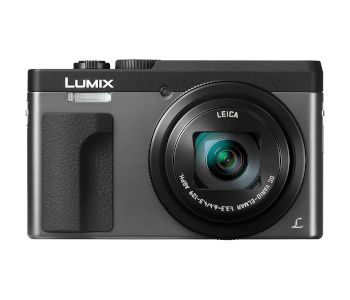 Panasonic LUMIX DC-ZS70
4.5/5.0
Type: Compact camera
ISO range: 80 – 3,200
Excellent dynamic range and photo quality.
Check Amazon
Cheapest 4K Cameras Comparison Table
1. Best Overall – Panasonic LUMIX DC-ZS70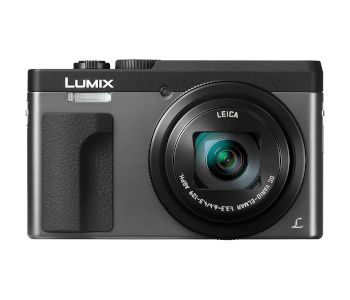 View on Amazon
Editor's Rating: 4.5/5
The DC-ZS70 is the best compact camera you can get on a tight budget regardless of your needs. It has a tilting touchscreen great for selfies, can shoot bursts of 30images in 4K quality, and has crisp 4K video to boot. It's the perfect sophisticated travel camera that works well under challenging lighting conditions while keeping your subjects in razor-sharp focus.
Overview of Features
We're amazed that the DC-ZS70 costs less than $300 since it feels anything but cheap. Its body is a mix of polycarbonate and metal rounded out by rubberized finger and thumb grips that let you operate it single-handedly with ease. It's not stingy when it comes to physical controls either since there are three mappable buttons along with a multifunctional D-pad and a customizable focus ring on its fixed lens.
You wouldn't suspect that such an inexpensive camera would have a viewfinder, but the DC-ZS70 surprises yet again. True, its viewfinder is small and doesn't boast a high resolution, but it's invaluable when you're framing a shot in glaring sunlight. The 1-million-dot LCD tilts forward for selfies, and the DC-ZS70 will recognize the movement and guide you on taking the best self-portrait you can. It's touch-sensitive and stops working to save power once your eye is close enough to the EVF.
The DC-ZS70 is powered by the Venus processor and speedily brings subjects into focus with Depth from Defocus technology. It performs well in low light, too, delivering images with little noise on ISO 1,600 and lower. The DC-ZS70offers JPEG and RAW shooting with support for RAW processing in-camera. Either way, the photos it takes are rich in color and detail. Expect well-defined colors and no washed-out parts of an image, whether you're indoors or snapping pics of the city during a cloudy day.
Video doesn't disappoint either. The DC-ZS70 can shoot 4K at 30fps. Videos are ordinarily uncropped, but you can introduce a slight crop to frame a scene better by panning and tilting without moving the camera. Slow-motion and time-lapse videos are also supported at smaller resolutions.
What We Didn't Like
The DC-ZS70 looks tough, but it isn't weather-sealed. Avoid leaving it out in the rain or shooting in sandy conditions to keep it in working order. The pop-up flash is positioned awkwardly. It's close to the shutter release, which might cause your finger to obstruct it when taking photos.
Tech Specs
Dimensions: 4.4 x 2.6 x 1.6 in.
Weight: 11.4 oz.
Type: Compact camera
Sensor: 1/2.3 inch
Burst: 10fps
Zoom: 30x
Battery capacity: 380 shots
ISO range: 80 – 3,200
Max still resolution: 20.3 MP
Max video resolution: 4K, 30fps
The Pros
Exceptionally versatile
Excellent dynamic range and photo quality
Shoots detailed 4K video
Has a viewfinder and tilt screen
The Cons
Lacks weather sealing
Awkwardly-placed flash
2. Best Value – GoPro HERO7 Silver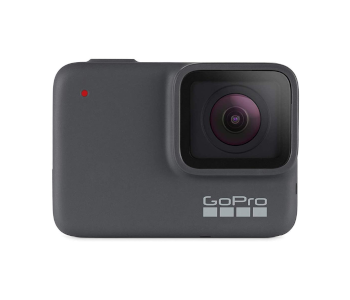 View on Amazon
Editor's Rating: 4.3/5
There are two things you can rely on when it comes to GoPro. They make the best action cameras in the business, and older models always get a hefty price drop once the latest ones are released. That's the case with the GoPro HERO7 Silver, the company's most affordable 4K action camera. You can take it underwater or snowboarding and get up-close, quality 4K video every time. The camera is small, effortless to use, and offers enough options to get your videos out there quickly.
Overview of Features
The HERO7 Silver differs little from the previous two generations of GoPro cameras. It's a tiny gray box made from rubberized plastic with a prominent lens and only two buttons. One toggles between photo and video modes while the other acts as a shutter release and REC button. You can use the Silver in 30 feet of water and equip it with a broad selection of mounts & accessories to attach it anywhere.
7th-gen GoPros have an improved touchscreen with streamlined controls and bright green indicators that tell you how much storage space & battery life is left. You can use its interface either by touching it or issuing voice commands. The interface now rotates to accommodate portrait shooting.
Videos are the Silver's main selling point, and they look great, whether you're shooting in 1080p or 4K. It was never a flagship model, so 4K is limited to 30fps, while 1440p and lower are limited to 60fps. That's enough for slow-motion videos at half speed, but you'll want to get the Black version if you want slower results. The Silver's microphone is decent for a built-in recording device and has a setting that helps keep down wind noise.
GoPro supports its action cameras with a versatile app. It lets you use your phone as a second viewfinder, publish pics & videos to social media, and perform basic editing work. Quik is now built in and can be used to assemble clips you shot during the day into fun stories worth sharing.
What's Bad About It?
GoPro cameras are renowned for their image stabilization, but the feature is limited to 1080p on the Silver. Its small sensor makes the camera unsuitable for use in low light, so make sure there's plenty of ambient illumination if you want to make internet-worthy videos.
Tech Specs
Dimensions: 2.4 x 1.8 x 1.1 in.
Weight: 3.3 oz.
Type: Action cam
ISO range: 100 – 1,600
Max still resolution: 10 MP
Max video resolution: 4K, 30fps
The Pros
Excellent value for the money
Robust and waterproof
Great video quality
Has helpful companion app
The Cons
No image stabilization for 4K videos
Poor low-light performance
3. Panasonic Lumix FZ80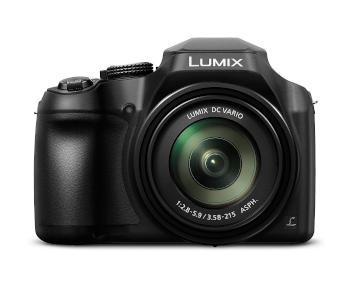 View on Amazon
Editor's Rating: 4.4/5
Panasonic has a knack for producing cheap yet worthwhile 4K cameras, as evidenced by the company's second entry on our list. The FZ80 is different from our overall winner since it's a bridge camera with a powerful telephoto zoom lens that lets you achieve 60x magnification. It's a solid entry-level choice for photographers and filmmakers interested in documentaries, landscapes, and wildlife.
Overview of Features
The FZ80 is a bridge superzoom and looks like a compact DSLR, even though it has a fixed lens. It's easy to hold, and there's a lot of space for each physical control. There aren't many of them, but the essentials like a mode dial and directional pad are present. The build is solid and intuitive, but the omission of a zoom ring is disappointing. You control the zoom level with a switch surrounding the shutter release instead.
You can frame photos & videos either through the electronic viewfinder or the 3-inch touchscreen. We prefer the latter as the screen is responsive and fully functional, so you can use it to set focus points and navigate the menus. The EVF has a low resolution and magnification, so it's harder to work with than the LCD. However, it's still a better option if you're dealing with glaring light.
The FZ80's photo quality is a mixed bag. On the one hand, you have exceptional white balance that reproduces colors accurately and wide dynamic range useful for recovering details in contrasting images. On the other, the camera's small sensor struggles in low light. We were pleased with the autofocus, though. It follows subjects around reliably, and you can take multiple pictures with different AF points to select the best one or combine them to achieve a wider depth of field.
Video performance is much better. 4K videos are crisp and retain vivid colors. Blues are more vibrant than the rest, but that's negligible. The DC-FZ80 has a hybrid image stabilization system that works well to keep video smooth at close to mid focal lengths. There's also focus peaking to help you keep subjects sharp.
Are There Drawbacks?
The DC-FZ80's small sensor is a hindrance for image quality. Photos shot with it can exhibit slight graininess and artifacts even on ISO 100, not to mention noisiness at higher values and in dim light. Image stabilization works well, but only up to a point. It isn't supported when the camera is zoomed in completely, so you'll need a tripod to avoid wobbling.
Tech Specs
Dimensions: 5.1 x 3.7 x 4.7 in.
Weight: 21.7 oz.
Type: Bridge camera
Sensor: 1/2.3 inch
Burst: 10fps
Zoom: 60x
Battery capacity: 280 shots
ISO range: 80 – 3,200
Max still resolution: 18.1 MP
Max video resolution: 4K, 30fps
The Pros
Excellent zoom capabilities
Exemplary white balance and dynamic range
Competent image stabilization that works for photos and videos alike
Responsive touchscreen
The Cons
Image stabilization doesn't work when zoomed in all the way
Noisy images at any ISO
4. DJI Osmo Action
View on Amazon
Editor's Rating: 4.4/5
GoPro might be synonymous with action cameras, but competing products like DJI's Osmo Action are a worthy alternative you shouldn't pass up. The Osmo Action has a lot going for it, including a second screen, great image stabilization, and quality 4K video at 60fps. It lacks some of the latest GoPro HERO Black features like stabilized time-lapse video but more than makes up for that with its specs and intuitive companion app.
Overview of Features
Superficially, the Osmo Action looks similar to a GoPro with its bulging lens and square shape. That's where the similarities end as the Action's body is made of metal and has a rubber strip running along its sides and top for better grip. Its front screen is a welcome feature for vloggers looking to capture themselves from the best possible angle. It's bright enough to be easily visible in bright light, as is the 2.25-inch 16:9 back display that looks much larger than a GoPro's.
You can submerge the Action in 36 feet of water. Unlike the Hero 7 Silver, it is compatible with waterproof housings that increase the depth further. DJI sells an assortment of accessories for its camera like mounts, external microphones, and ND filters. The Osmo action is also compatible with GoPro accessories.
We love the Action's intuitive interface. DJI kept the physical controls simple as there are only three buttons for power, mode selection, and recording. You access parts of the main interface by swiping on the screen in different directions. For example, going up from the bottom towards the middle brings up a menu with resolution and framerate options while swiping from the left takes you to the media gallery.
The Osmo Action shoots 4K videos of great quality. You can choose between two color profiles; the default one is vivid and creates appealing videos ready for sharing while D-Cinelike looks flatter yet retains more detail you can bring back in post. The default dynamic range is good and can be improved further by turning on HDR. Feel free to tackle rocky downhill bike tracks and turbulent waves since the Action has RockSteady, an image stabilization system on par with that of older GoPros.
The DJI Mimo app is also worth mentioning since it opens up even more possibilities and makes controlling the Osmo Action easier. Using your phone as the viewfinder makes framing easier, and using it is the only way to access advanced features like focus peaking. The app lets you transfer even large 4K videos quickly through Wi-Fi and then publish them online.
What We Didn't Like
Action cameras struggle with low light, and the Osmo Action is no different. The resolution and aspect ratio selection is limited compared to GoPro. There's no 1440p, and setting the aspect ratio to 4:3 in 4K mode limits you to 30p. Most users won't mind either, though.
Tech Specs
Dimensions: 1.7 x 2.6 x 1.4 in.
Weight: 6 oz.
Type: Action cam
ISO range: 100 – 3,200
Max still resolution: 12 MP
Max video resolution: 4K, 60fps
The Pros
Robust design with useful front screen
Excellent companion app
4K videos are crisp and benefit from image stabilization
choice of log profiles lets you publish videos right away or enhance them in post
The Cons
Not as many resolution options as a GoPro
Poor low-light performance
5. RICOH WG-6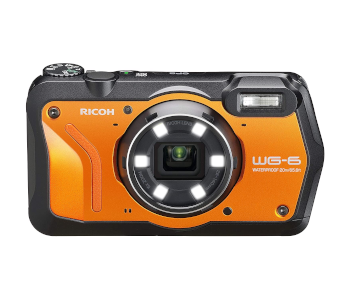 View on Amazon
Editor's Rating: 4.2/5
The WG-6 by Ricoh attempts to give you the best of both regular and action cameras by offering superb build quality, waterproofing, and better photo capabilities. It's a camera you can give to your kids without worrying they'll damage it and have them produce cool-looking underwater videos. It's easy to handle, performs decently under optimum circumstances, and has good battery life.
Overview of Features
The WG-6 is the toughest model on review despite facing competition from some of the world's best action cameras. It's pocketable yet waterproof down to 66 feet, not to mention shock-and crush-resistant. You can get it in either somber black or bright orange, the second being a better choice if you plan on using it on the beach or ski slopes.
There's a V-shaped protrusion instead of a grip, and the camera's back houses a thumb rest. You can attach the included strap for extra security and even loop a small carabiner through a hole. The physical controls feel solid and are a little hard to press on account of waterproofing. The camera can zoom in 5x and has a 33mm equivalent focal range of 24-140mm. The lens doesn't extend when zooming.
The WG-6 can pull off some amazing photos, provided you're using it under good lighting conditions. It has dedicated underwater photo & video modes that increase the quality of aquatic footage, but there are also several creative filters at your disposal. White balance is on point in most situations and leans slightly towards warm colors. The camera can focus on subjects 1cm away and has an array of six LEDs around the lens, making it a great performer for macro shots.
You can shoot 4K videos at 30fps or switch to lower resolutions for smoother framerates, Switching to 1080p lets you enhance the dynamic range through HDR. There's no image stabilization, and you can't make adjustments to the optical zoom once you start recording. However, videos are shot with a reasonably high bitrate and look good if there's enough light for proper exposure.
What's Bad About It?
The WG-6 is the worst conventional camera on review when it comes to shooting in low light. You'll want to use it in bright conditions for best results and limit ISO to 400 to minimize noise. This is a camera designed for underwater work and other extreme situations. You aren't likely to bring a tripod when shooting in such conditions, which makes the lack of image stabilization a serious omission.
Tech Specs
Dimensions: 4.7 x 2.6 x 1.3 in.
Weight: 8.7 oz.
Type: Compact camera
Sensor: 1/2.3 inch
Burst: 3fps
Zoom: 5x
Battery capacity: 340 shots
ISO range: 125 – 6,400
Max still resolution: 20.2 MP
Max video resolution: 4K 30fps
The Pros
Exceptionally durable and waterproof
Long-lasting battery for a compact camera
Shoots good-looking videos in bright light
Has dedicated underwater photo and video modes
The Cons
Not suitable for low light
Lacks image stabilization
6. Best Budget Option – AKASO V50 Pro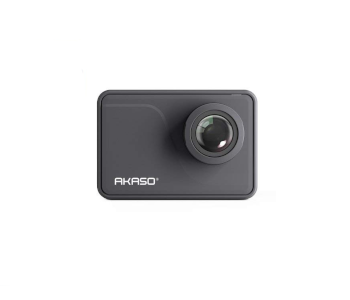 View on Amazon
Editor's Rating: 4/5
Our budget pick is an action camera made by Akaso and the cheapest we'd go for when looking for acceptable 4K video. The V50 Pro is less expensive than GoPro cameras. Still, it has many of the same features, including a bright touchscreen, image stabilization, and access to loads of accessories thanks to its universal mount. It even performs better for taking photos as the sensor can snap 20MP stills.
You should also consider the V50 Elite if you can spare $20more. It has similar specs to the pro version but can shoot 4K at an impressive 60fps.
Overview of Features
The V50 Pro looks nearly identical to a GoPro when not in its waterproof housing. Surprisingly, the quality of its rubberized housing feels on par with the competition despite the price difference. The V50 Pro has an edge over the GoPro HERO7 Silver since its rechargeable battery can be removed. You get a spare and a dual-battery charger along with several mounting options. The camera supports GoPro accessories too.
We were impressed with the V50 Pro's screen. It has a touch interface that lets you quickly make adjustments to settings like the video resolution and framerate or browse images & video from the SD card. It's noticeably brighter than screens seen on other GoPro clones and remains visible in strong light.
The V50 Pro creates 4K videos of great quality at 30fps. Akaso did an excellent job during calibration as the exposure and white balance settings are spot on and require no interference. The camera also uses electronic image stabilization to remove camera shake while you're snowboarding down a hill or traversing the desert on dirt bikes. It's no HyperSmooth, but the improvement over leaving it off is substantial.
You'll love the V50 Pro if you plan on making lots of videos underwater. It has a unique underwater mode that compensates for the lack of red light and delivers more vibrant footage than the default setting.
Are There Drawbacks?
The V50 Pro's 4K videos are a pleasure to watch, but the same can't be said of lower-resolution clips. Decreasing the resolution leads to pixelated and flat videos that look like they've been painted rather than recorded in the real world. The camera is fragile without its underwater housing. You'll have to adjust everything before placing it inside since you can't access the touchscreen after the camera is sealed.
Tech Specs
Dimensions: 2.4 x 0.9 x 1.6 in.
Weight: 2.8 oz.
Type: Action cam
ISO range: 100 – 1,600
Max still resolution: 20 MP
Max video resolution: 4K, 30fps
The Pros
Solid 4K video quality at an amazing price
Has two interchangeable batteries
Great for making underwater videos
Has shake-reducing image stabilization
The Cons
Non-4K videos look weird
Waterproof housing disables touchscreen functionality