7 Best Christmas Drones of 2019
3D Insider is ad supported and earns money from clicks, commissions from sales, and other ways.
There's something special about owning and flying your own drone. Part of the excitement is that this is still a relatively new phenomenon. Low-tech kite flying is still popular today and hobby drones are also here to stay. Drones are a great Christmas gift that will get people outdoors for hours on end.
Here are some of the popular uses for today's unmanned aerial vehicles or UAVs:
Fun flying both indoors and out
Drone racing: this is becoming an increasingly popular sport
Taking stunning aerial photographs and video
Delivering small items
There's also a more serious side to UAVs. These flying robots are now invaluable in search & rescue. Aerial surveillance for commercial purposes is another practical use. Various industries fly drones for professional filmmaking, exploration, construction, real estate, and more besides.
Budget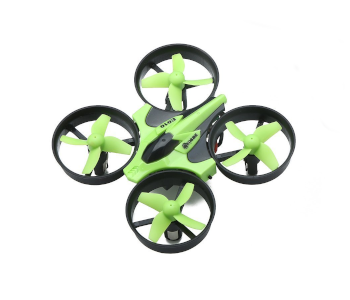 EACHINE E010 Mini UFO
4.4/5.0
Range: 30 m
Flight Time: 5 minutes
This is incredibly robust and crash resistant.
Check Amazon
Best Value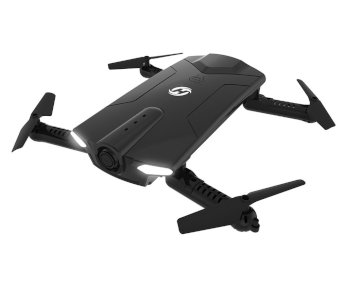 Holy Stone HS160 Shadow
4.8/5.0
Range: 50 m
Flight Time: 8 minutes
Has a clean design, foldable, and portable.
Check Amazon
Top Pick
Autel Robotics X-Star Premium
4.8/5.0
Range: 1.9 km
Flight Time: 25 minutes
This has a 4K UHD camera w/ 12MP stills.
Check Amazon
What Type of Consumer Drone Is Right for You
The ideal drone for a Christmas gift depends on budget, needs, and expectations. A supervised child will be happier with a lightweight mini or micro drone for flying around indoors. Someone older could be into racing. The most popular use, though, is to film from above and take stunning photographs. It's the purpose of this guide to present you with a variety of personal hobby drones.
Keeping things Simple
I always suggest readers of my review guides make a simple checklist of their preferences. Read a couple of reviews first if you're unsure. You'll then get a better picture of your personal expectations.
Here are a few examples of things you may want to consider prior to purchase:
Type of drone: toy, mini/micro, racing UAV, camera quadcopter
Budget range
How long the battery lasts measured in maximum flight time
Camera capability/quality
Control distance, i.e. how far can you fly the drone from the controller
Design, style, durability, and anything else you can think of
My best Christmas drone picks are all popular models for good reasons. I base these reviews on personal thoughts, feedback from industry experts, and—most important of all—real user feedback. At the end of each no-nonsense review is a simple table. One column includes the most important tech specs (at a glance). The other two columns highlight any pros and cons of the product.
This table shows the drones that make perfect gifts for Christmas. It's also the order they appear in the guide. I've organized these UAVs by type first then by editors rating.
Christmas Drones Comparison Table
Best Drones for Kids and Beginner Pilots
We start with three popular kid's drones. They're also a good choice for any beginner at any age. The first two even come with cameras. These give new users a great introduction to aerial photography and filming as well as valuable flying experience. The third choice is an inexpensive mini-drone. This one is ideal for younger operators to develop their flying skills indoors—under supervision.
1. Best Value: Holy Stone HS160 Shadow FPV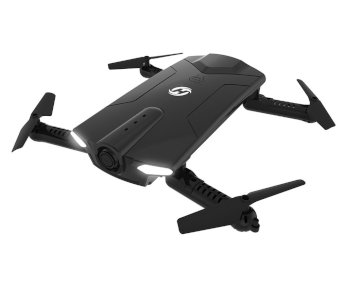 View on Amazon
Editor's Rating: 4.8/5
Holy Stone is a quality brand known for producing excellent drones at affordable prices. The one here is the Holy Stone HS160 Shadow FPV RC Camera Quadcopter. Everyone can enjoy flying this drone but it's particularly attractive for kids and beginners. This palm-sized craft has a foldable structure that makes it nice and portable for carrying around.
To fly the HS160 Shadow you need a WiFi connection and an Android or iOS smartphone attached to the remote controller (included). You then just download the free flight app. Once you pair the drone to your mobile you're ready for takeoff.
The 720P HD camera captures aerial photos/videos and sends them straight to your mobile device. You also get to view live footage in First Person View or FPV on your mobile screen. You can instantly share your new footage with friends and family on social media directly from the phone.
Flying the Holy Stone HS160 Shadow
The altitude hold, one-key start, takeoff, and landing make flying this drone a breeze. It's a smooth little flyer and performs amazingly well for a craft that costs less than 100 bucks. The flight time is around 8-minutes but you do get a bonus battery which prolongs your fun in the air.
The Bottom Line
This affordable little camera FPV quadcopter has it all for the money—plus some. You get a bonus battery, a spare set of propellers, spare landing pads, and even a dustproof case. It's currently a #1 bestseller on Amazon and reading the user reviews it's easy to see why.


Tech Specs
Drone dimensions: 2.6 x 5.5 x 1.2″
Weight: 83g (2.9 oz.)
Maximum flight time: 8 minutes
Maximum flight range: 50 m (164 ft.)
Charging time: 100 minutes (1:40 min)
Camera: 720p HD
Controller type: 2.4GHz RC
The Pros
Amazon Best Seller
Clean design, foldable, portable
Failsafe flight modes
Stable flyer, smooth operator
Integrated HD camera
Includes a bonus battery
Suitable for indoor (larger spaces) and outdoor flying
Intuitive remote controller
The Cons
Limited control range
Doesn't have headless mode
Not too good in blustery conditions
2. Altair Aerial AA108 Camera Quadcopter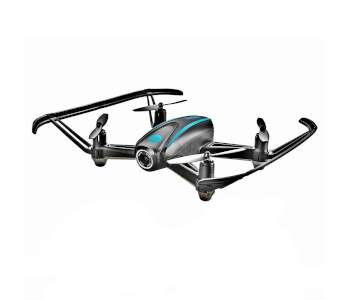 View on Amazon
Editor's Rating: 4.7/5
Altair Aerial AA108 is one of the best camera quadcopters for beginners and kids. It happens to be a good looking craft too. It's super easy to fly and is safe to use indoors as well as outside. There are three skill modes that let beginners develop their abilities in their own time. Other features that make it easy to pilot are one-button takeoff and landing, headless mode, and altitude hold.
All drone operators have crashes and the occasional collision for all kinds of reasons. Newbie pilots are particularly prone. The good news is that the Altair Aerial AA108 is pretty robust and can withstand plenty of mild bangs. Once you master this little beauty there shouldn't be too many crashes anyway.
There is also a camera drone with First Person View (FPV) capability. That means you can view footage from the 720P camera and its 120° wide-angle lens in real-time on your phone's screen. Because this is an affordable entry-level quadcopter the camera and FPV quality is far from amazing. That said, a lot of users are surprised at just how good it is for a product in this price range.
Flying the Altair Aerial #AA108
You can enjoy a flight time of around 10 minutes per fully-charged battery. That may not sound like much but it's on the high side of average for an inexpensive quad. The good news is that the drone comes with a bonus battery which effectively doubles your flying fun to 20 minutes. The flight range is around 100m in ideal conditions which is plenty for an entry level quad.
The Bottom Line
The Altair Aerial AA108 is a fun and affordable beginner drone. It's feature-packed and provides pilots with a great introduction to aerial photography and video. It's a stable flyer and easy to use right out of the box—just perfect for Christmas.


Tech Specs
Drone dimensions: 10 x 9.1 x 4.3″
Weight: 771g (1.7 lbs.)
Maximum flight time: 10 minutes
Maximum flight range: 100m (328 ft.)
Charging time: Not specified
Camera: 720P HD 120° wide-angle
Controller type: Standard RC
The Pros
Smart design, easy-to-fly drone
Reasonable flight time
Good flight range
Stands up to mild crashes
Includes built-in camera
Includes extra propellers
Bonus battery
Good customer service
The Cons
No GPS feature
Fixed camera angle
3. Best Budget: EACHINE E010 Mini Quadcopter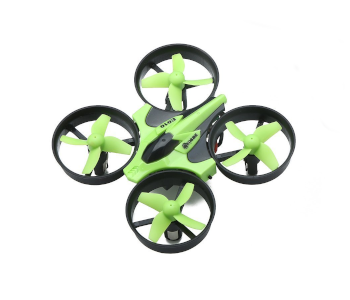 View on Amazon
Editor's Rating: 4.4/5
The EACHINE E010 Mini Quadcopter is the last of my best Christmas drones for kids and beginners. It's also the smallest, lightest, and cheapest in this guide. It's a perfect little craft for younger kids to practice with under supervision. The E010 nano even has a built-in positioning system that brings the drone back to its remote controller with the simple press of a button.
This is also a fun craft that allows you to perform special effects like 3D rolls, but there's more. Move the remote controller (included) and the drone will change its direction thanks to its compass mode. This is a nice feature that makes flying the quad much easier for the beginner. You can even fly it in the dark thanks to the bright red and blue LED lights.
The 5-minute flight time is fairly short but not untypical for a tiny toy quad. The battery takes somewhere between 30-50 minutes to charge depending on the power source. The flight distance is around 30 meters. Any further and you'd soon lose sight of this cute little flying robot.
The Bottom Line
The EACHINE E010 Mini quad is the perfect Christmas gift for any youngster or beginner pilot who wants to fly their own drone. It's fun to fly and simple to master.
At just 20-something bucks you can't go wrong!


Tech Specs
Size: 3.7 x 3.7 x 2″
Weight: 51g (1.8 oz.)
Maximum flight time: 5 minutes
Maximum flight range: 30m (98 ft.)
Charging time: 30+ minutes (0.5+ hr.)
Controller type: Basic RC
The Pros
Great value-for-money drone
Popular choice of nano quad
Simple to fly and control
Incredibly robust and crash resistant
Two speed modes
Beginner-friendly: stable self-level, compass mode, one-key return, and headless mode.
Fast charging time
Bright colorful LEDs
The Cons
Short flight time
Flies outdoors in calm weather but easy to lose in the wind
Tiny transmitter (RC)
Best Drones for Aerial Photography and Videography
Next up are a couple of higher quality camera drones. The two picks here are suited to more experienced pilots who want to upgrade and take their aerial photos and filming to the next level. Any of these flying cameras will put a smile on the face of any drone enthusiast this Christmas.
4. Top Pick: Autel Robotics X-Star Premium Camera Drone
View on Amazon
Editor's Rating: 4.8/5
You could mistake the Autel Robotics X-Star Premium Camera Drone for the popular DJI Phantom—at a glance. However, this is not a Phantom rip-off but a quality camera quad in its own right. If you want something that's easy to fly and perfect for aerial photography then look no further. This product even comes with a custom hard-shell carry case to protect it while traveling.
The size and bright orange color are useful for tracking this drone. It means you won't lose sight of it against a mass of low white clouds. The Autel Robotics X-Star Premium is stable, easy to operate, and smart. It's smart because of its Starpoint Positioning System. This is an optical system that measures the craft's height at any given time and thus tracks its position. It's particularly useful for flying at lower altitudes and when there is no available GPS or a weak GPS signal.
Flying for Beginners
This ease of flying and smart, failsafe features let you concentrate on photography and filming with more confidence. The drone comes equipped with an ultra-HD 4K video camera with a 108° field of view (FOV). Photos are 12MP. The camera attaches to an integrated 3-axis gimbal that helps to control its range of functions and keep the footage steady.
The beginner mode that comes with this impressive camera drone is invaluable. The auto-flight safety restrictions provide new pilots with a smooth introduction to aerial photography and flying. The intuitive remote controller is easy to grasp and displays all the critical flight information.
The transmitter has an adjustable clamp to house modern smartphones. Simply download Autel's Starlink app and you're ready to experience flying and filming in FPV.
The Bottom Line
This is a flexible quality camera drone that has a removable gimbal (many don't). It's perhaps one of the most capable and user-friendly consumer drones around at the time of writing. It's certainly a perfect gift for Christmas for anyone who wants to take their aerial photography to the next level.


Tech Specs
Drone dimensions: 19.5 x 19.5 x 8.5″
Weight: 1451g (3.2 lbs.)
Maximum flight time: 25 minutes
Maximum flight range: 1.2 mi (1.9 km)
Battery: Li-Po 4900mAh, 14.8V
Charging time: 60+ minutes (1+ hr.)
Camera: 4K Ultra HD, 12MP
Controller type: Standard RC with LCD
The Pros
Nice design, steady flier
4K UHD camera w/ 12MP stills
Decent flight time
64GB memory card included
Good quality hard case included
One-touch button control
Follow/Orbit/Waypoints modes
The Cons
No collision avoidance
Landing gear needs improving
5. DJI Phantom 3 Standard Camera Quad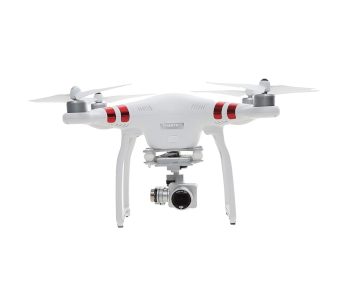 View on Amazon
Editor's Rating: 4.5/5
The DJI Phantom 3 Standard is an amazing 2.7K HD video camera quadcopter. All you need to take to the skies is a modern smartphone or tablet and the free Go app. DJI have engineered their Phantom 3 so that it's easy to fly while recording aerial footage.
The one-button return-to-home feature lets you bring the drone back to base without effort. This safety feature helps pilots— inexperienced ones in particular—fly with more confidence.
The stills photos are 12MP and the video resolution a clear 2.7K. The integrated camera has 3-axis stabilization which ensures your footage remains constantly sharp. You can also enjoy First person View (FPV) live video in 720p HD real-time on your mobile screen up to a distance of half a mile.
Flights are GPS-assisted which lets you concentrate on photography and filming knowing the drone is on a safe flight path. The popular flight modes include Point of Interest, Follow Me, and Waypoints. The battery life is pretty decent at 25-minutes so you have plenty of time to shoot your footage.
The Bottom Line
DJI is a reputable brand and the DJI Phantom 3 Standard is a high-quality camera drone. It makes the perfect Christmas gift for the serious hobbyist or prosumer who wants a serious value for money quad.


Tech Specs
Drone dimensions: 15 x 14 x 8.2″
Weight: 3719 g (8.2 lbs.)
Maximum flight time: 25 minutes
Maximum flight range: 1000m (3281 ft.)
Battery: 15.2v, 4,480mAh
Charging time: 60+ min (1+ hr.)
Camera: 2.7K HD
Controller type: RC built specifically for the Phantom 3 Standard
The Pros
Amazon Choice product (at the time of this guide)
Quality camera drone from reputable DJI brand
Excellent value for money
Long flight time & flight range
Great drone for the serious beginner and enthusiasts
Includes intelligent flight modes
Free feature-rich app
Live video feeds in HD
The Cons
Fixed (integrated) camera
Proprietary battery means you can buy cheaper alternatives
Landing gear not retractable
6. ARRIS C250 V2 RTF FPV Racing Quad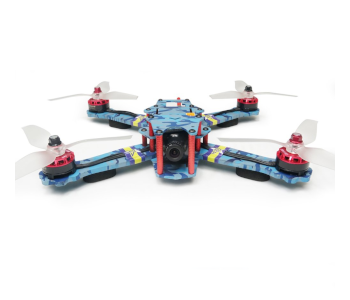 View on Amazon
Editor's Rating: 4.4/5
My first pick is the ARRIS C250 V2 RC Quadcopter. This is an FPV Racing Drone that arrives at your door Ready-To-Fly (RTF). It's a mean looking machine that looks restless on the ground. I can tell you that any budding drone racer is going to get a lot of fun and heaps of experience with this racing robot.
The manufacturers calibrate and pre-test each of these drones before they leave the factory. That means the user can get on with flying without having to tinker around beforehand. The powerful brushless motors and super-efficient propellers make this beast ready to race right away. It has everything you'd expect from a racing quad like high-speed, solid build, and durability.
Is This the Right Racing Quad for You
Flying consumer drones today doesn't take a lot of expertise and training. Flying drones for racing, though, is a whole different thing. The ARRIS C250 V2 is a perfect, pre-assembled racing quad for anyone who already has some experience flying drones. But I wouldn't recommend it as a gift for the total beginner, not even in this RTF version.
You can expect around 10 minutes of drone racing fun between charges in optimal conditions. That's not too bad for a high-speed racer. Every pilot experiences a few crashes now and again, so how does the ARRIS C250 V2 hold up? You'll be pleased to know the 1.5mm carbon fiber frame is incredibly tough and very resistant to crash landings and mild collisions.
You can race this drone via line of sight (LOS) or in First Person View (FPV). The latter lets you pilot the craft from the virtual pilot's seat and view the race from the camera's perspective. The camera quality is suitable for FPV racing but not amazing in terms of overall image quality. There are no delays in the recording, though, which is a major plus point. The HD camera is also adjustable from 0° to 20°.
You can also wear goggles (not included) for the ultimate FPV racing experience.
The Bottom Line
There's no doubt that the Arris X-Speed FPV 250 is a worthy racing drone. It may not have an awesome camera but it still lets you race in FPV without issues. It's what this RTF racer DOES HAVE that's most important. It offers a seamless visual connection, a solid build, high speeds, agility, and everything else that's important to racing quads. Best of all is its price tag for a drone in this class.


Tech Specs
Drone dimensions: 11.8 x 9.8 x 8.8″
Weight: 2041g (4.5 lbs.)
Maximum flight time: 10 minutes
Maximum flight range: Not specified
Maximum speed: 60+ mph
Charging time: Not specified
Camera: FPV mini HD
Controller type: RadioLink 2.4GHz 9CH
The Pros
Affordable RTF FPV racer
Great looking quad (for a racer)
Decent flight time (for a racer)
Pre-calibrated and flight tested
Fast and agile
Well-built, crash resistant
The Cons
Too much power for the complete beginner
Instructions could be clearer
7. RISE Vusion 250 Extreme FPV Racer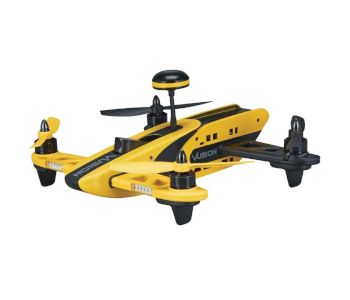 View on Amazon
Editor's Rating: 4.2/5
The RISE Vusion 250 Extreme is an FPV Racer that looks the part and is ready to compete. This "finished look" is not typical of racing drones. The 250 Extreme is another Ready-To-Fly (RTF) quad out of its box and the perfect Christmas gift for the eager enthusiast.
It's nice to have a great looking quadcopter even though aesthetics are the last priority for a drone racing quad. But the RISE Vusion 250 Extreme has both the looks and the performance to match. The injection-molded body and modular construction make this a robust craft. It's also quick and easy to repair in the event of any damage.
You're free to lose yourself in the exciting world of FPV racing once you take to the air. The race pack even comes with a set of FPV goggles, an LCD video monitor, and a 5.8GHz remote controller. In other words, you get all the essentials neatly packaged into a single box. And in case you're wondering, yes, the goggles are compatible with the all popular smartphones.
The RISE Vusion 250 Extreme can easily hold its own as an RTF drone racer. The four powerful 2280kV brushless motors and other technologies all contribute to its high speed and amazing agility in the air. The competent 600TVL FPV camera will capture all your racing footage in great detail, in real time. You can even save your footage to a MicroSD card and view it at your leisure.
The Bottom Line
Some drone racing enthusiasts like to build and tweak their own UAVs for optimal performance. Others just want a well-designed, fast, agile racer, that's ready right out of its box. The RISE Vusion 250 Extreme FPV Race Pack fits the bill perfectly.


Tech Specs
Drone dimensions: 19 x 12.4 x 6.6″
Weight: 502 g (1.1 lb.)
Maximum speed 50+ mph
Maximum flight time: 7-8 minutes
Maximum flight range: Not specified
Battery: 1S 3.7V 1400mAh LiPo
Charging time: 90 minutes (1.5 hr.)
Camera: 600TVL
Controller type: 6-channel 2.4GHz
The Pros
Unique design
Powerful brushless motors
Fast, agile and reliable
Airframe injection-molded
Includes goggles and LCD screen for totally immersive FPV
Onboard 600TVL FPV camera
The Cons
Poor max flight time
480 x 272 screen small for FPV