10 Best Coffee Lake Laptops
3D Insider is ad supported and earns money from clicks, commissions from sales, and other ways.
This guide will show you the best Coffee Lake laptops. Coffee Lake CPUs are Intel's 8th generation of processor and they provide around a 40% increase in speed compared to the previous Kaby Lake CPUs.
Look out for Core i7 or Core i9 processors if you want the most performance, as well as powerful GPUs such as the Nvidia GTX 1060 or GTX 1070. Some of the laptops can be configured to have the specs you want, so look out for your desired CPU/GPU, the amount of RAM/Storage, and display resolution. See the table below to compare the best 2018 laptops featuring these powerhouse CPUs.
Budget
Asus TUF FX504
3.8/5.0
Specs: Core i5-8300H, GTX 1050, 1TB HDD, 8GB RAM, 15.6" 1080p Display
Offers good specs for the price, just needs an SSD.
Check Amazon
Best Value
Acer Predator Helios 300
4.6/5.0
Specs: Core i7-8750H, GTX 1060, 256GB SSD, 16GB RAM, 15.6" 1080p Display
You won't find a laptop with this much GPU power for a lower price.
Check Amazon
Top Pick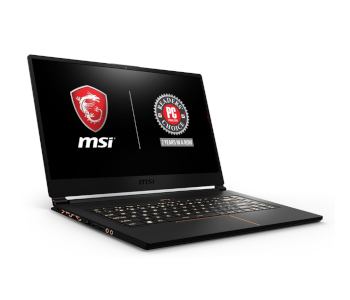 MSI GS65 Stealth
4.7/5.0
Specs: Core i7-8750H, GTX 1070, 256GB SSD, 16GB RAM, 15.6" 1080p Display
This laptop offers stunning performance with a killer design.
Check Amazon
Coffee Lake Laptops Comparison Table
1. Acer Aspire 7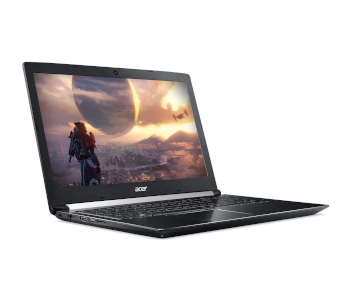 View on Amazon
Editor's Rating: 4/5
The Acer Aspire 7 combines a powerful core i7 8750H processor with a mid-range GTX 1050Ti graphics card to provide good value for the consumer.
The design, while being rather boring, is completely functional and would melt into any work or business background, while still packing a punch under the hood. An aluminum lid and interior give it a solid feeling, although unfortunately there is a fair amount of flex in the lid despite the metal.
Performance with the high-end CPU and included 128 GB SSD is very good, as expected. The 1TB hard drive also included leaves plenty of space for documents, photos and videos. Of course, both drives are easily upgradeable to faster SSDs, as is the included 8GB of RAM (it supports up to 32GB of RAM). The GPU, in this case the GTX 1050Ti, offers good gaming performance at 1080p resolution- you will be able to play all games at 60fps or higher with medium settings.
Perhaps the worst part of this laptop is the display- we have no problem with the 15.6" size and 1080p resolution, but it does not get very bright, so outdoor use is challenging. Also the screen is dull with poor color accuracy so photo or video editing is not recommended. The bezels are also fairly thick, although at this price point it is not very important.
On a more positive note, the keyboard is decent with its good key travel and the trackpad is also good enough for the price. In addition, the fingerprint reader was a pleasant surprise to see and it worked well, but the placement within the trackpad is not ideal.
A good selection of ports, including USB type C (no thunderbolt 3 support), a SD card reader, an HDMI port, and 3 USB-A ports, complete an overall well rounded laptop. For about $950, the Acer Aspire 7 represents good value, with only its mediocre screen and weak battery life holding it back from true greatness.


Tech Specs
Dimensions: 10.35 x 15.02 x 0.94 in
Weight: 5.18 lbs
Screen Size and Resolution: 15.6″ Full HD (1920 x 1080)
RAM and Storage: 8 GB (1286 GB SSD + 1TB HDD)
Graphics Card: GTX 1050Ti
The Pros
Performance
Build quality
Upgradability
Value for money
The Cons
Dull and dim display
Weak battery life
2. Asus TUF FX504 (Best Budget)
View on Amazon
Editor's Rating: 3.8/5
At just under $700, the ASUS TUF FX504 is one of the cheapest laptops available with a new Coffee Lake processor.
Compared to the Acer Aspire 7, this laptop offers a more striking black and red design, which evokes a 'gamer' feel. The all plastic build is brushed to make it look like metal, but after picking it up you wouldn't mistake it for real aluminum. The laptop isn't too flashy, but the red accent color does make it stand out a lot more compared to an all-black look, so you will have to decide whether this is an issue or not.
The Core i5 8300H offers good performance, but is only a quad core compared to the hexa core setup in the i7. You can pay $250 more for the i7 model, which also upgrades the slow 1TB hard drive to a 256GB SSD, but we would recommend sticking with the Core i5 and adding an SSD in yourself for maximum value. It is a shame not to see even a basic 128GB SSD included out of the box at this price, but it is not the end of the world as the ASUS is easily upgradeable. All in all, performance is good, but not great until it is upgraded with an SSD.
Much like the Acer Aspire 7, the screen is a major weak point of this PC. It is also dull, but with poor viewing angles as it is a TN panel. You certainly wouldn't want to watch movies with your friends on it. The resolution (1080p) is fine for the price, and the GTX 1050 graphics card provides good entry level gaming potential. Also, even under a heavy load the laptop remains cool, so no thermal throttling here even while gaming for extended periods.
The keyboard is comfortable to use, as is the trackpad. We can see some people not liking the backlighting color though, because you can't change the red glow. We did like the color however, as it matches the laptop's crimson theme. The selection of ports however, definitely is a downside as no USB-C or SD card readers are offered, which is a real shame. The poor battery life is also disappointing, with only a few hours of use possible when away from the charger.
Overall, the ASUS TUF FX504 (strange name aside), is a very good budget offering, with our biggest complaints being the lack of SSD on this base model as well as the below average screen quality and battery life. We enjoyed the keyboard, design, and surprisingly good speakers, while the easy upgradability means that if you throw in an SSD, the core i5 will handle pretty much anything you throw at it fluidly. For $700, there is little to complain about and even entry level gaming was a pleasant experience considering the good thermals.


Tech Specs
Dimensions: 15.2 x 10.31 x 0.98 in
Weight: 5.07 lbs
Screen Size and Resolution: 15.6″ Full HD (1920 x 1080)
RAM and Storage: 8 GB (1TB HDD)
Graphics Card: GTX 1050
The Pros
Price
Speaker Quality
Upgradability
The Cons
Dull display
Poor battery life
No SSD
Port Selection
3. MSI GV62 8RD-200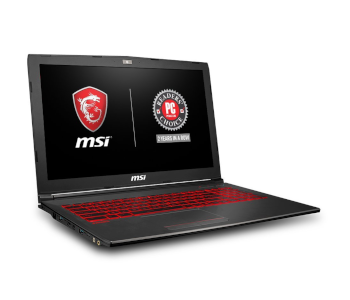 View on Amazon
Editor's Rating: 4/5
At roughly $800 the MSI GV62 8RD-200, offers surprisingly good value for both professionals and gamers.
Similar to the ASUS TUF FX504 reviewed above, this MSI also has a red accent color, although more subtle. We really like the design, but the all plastic build holds it back from feeling like a premium product.
It also shares the same i5 processor and 1TB hard drive as the aforementioned ASUS. The distinction however is that the MSIs HDD comes with 16GB of Intel Optane memory, essentially boosting program launch times, similar to an SSD, but it is not as fast as a standard SSD. We would have preferred to see a standalone SSD, but this is a decent alternative and is certainly better than a normal hard drive. The GTX 1050Ti GPU is also better than the GTX 1050 in the ASUS, so 1080p gaming is no problem for the machine.
Another dull display can be found on this laptop, however this time it is an IPS panel so viewing angles are a lot better than a TN one. It has the same size and resolution as the Acer and ASUS above, so no issues here. We just wished for more vibrancy- still, it's certainly not a bad screen.
The keyboard looks really good, and more importantly feels great. Again, it has the red backlighting, but we subjectively find it pleasing. The trackpad is fine, and it has two dedicated buttons for left and right mouse clicks- something I'm not a fan of. Fortunately the port selection is excellent, it includes 3 USB-A ports, mini DP, HDMI, SD card slot and USB-C, so professionals won't be disappointed. On the other hand, the battery life is disappointing so expect to bring the charger with you if you venture outside.
A pair of decent speakers rounds off an overall good machine, with a plastic construction, lifeless display, and below average battery life being the only drawbacks. The design, performance, and pleasant keyboard as well as plenty of ports make the positives outweigh the negatives so we can certainly recommend this device.


Tech Specs
Dimensions: 15.07 x 10.23 x 1.16 in
Weight: 4.8 lbs
Screen Size and Resolution: 15.6″ Full HD (1920 x 1080)
RAM and Storage: 8 GB (1TB HDD with 16GB Intel Optane memory)
Graphics Card: GTX 1050Ti
The Pros
Good performance
Thin design
Decent speakers
Good value
Port selection
The Cons
Dull display
Poor battery life
Plastic construction
4. ASUS ROG Strix Scar Edition GL703GM-DS74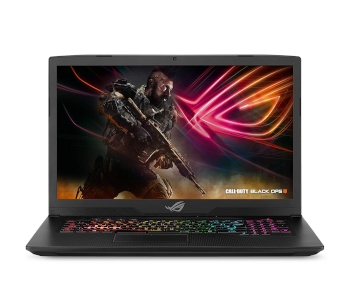 View on Amazon
Editor's Rating: 4.1/5
This ASUS laptop hits most of the key areas needed to make a good laptop, without having an extortionate price.
An understated black design is complemented by a red ROG logo on the lid making for a clean but not a boring aesthetic which we like a lot. The build quality is also very good, so from the outside we have 0 problems with this device.
Performance is excellent as expected with the 6 core i7-8750H, 16GB of RAM and a 256GB SSD (backed up by a 1TB HDD). The internal drives and RAM are very easily upgradeable as you only need to remove 1 screw to take off the back plate. The GTX 1060 provides great performance in games at 1080p. it is able to max out pretty much any game and get above 60 FPS, although for some of the newest titles you will want to reduce the graphics settings a little bit to take advantage of the 120Hz display.
Moving onto the display, we can find a very color accurate TN panel with a 120Hz refresh rate and a 3ms response time. This means that the screen refreshes 120 times every second (most laptops have a 60Hz panel) which allows for silky smooth visuals in games, while the low response time means latency is virtually nonexistent. Clearly the large 17.3" display is prioritizing features to maximize an immersive gaming experience. The only drawback of the TN panel are the weak viewing angles, but we think this is a fair trade off.
The keyboard and trackpad are simply average, although the speakers are quite good. Meanwhile the battery life is mediocre. All the ports we could want are present and correct- there is even a mini DisplayPort!
This laptop is clearly primarily a gaming machine with powerful innards and an ideal screen for this purpose. However it isn't limited to this functionality- anyone looking for a great performing and larger laptop would be pleased and there are no deal breaking issues with it. Good job ASUS.


Tech Specs
Dimensions: 16.22 x 10.8 x 0.94 in
Weight: 6.5 lbs
Screen Size and Resolution: 17.3″ Full HD (1920 x 1080)
RAM and Storage: 16 GB (256 GB SSD + 1TB HDD)
Graphics Card: GTX 1060
The Pros
Nice design
Excellent performance
120 Hz screen with 3ms response time
Easy to open up
Good speakers
The Cons
Not the best viewing angles
Average battery life
Average keyboard & trackpad
5. MSI GS65 Stealth (Top pick)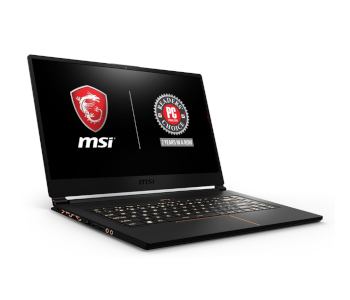 View on Amazon
Editor's Rating: 4.7/5
What do you get when you mix a gorgeous design with the best internals available? The MSI GS65 Stealth, of course.
The MSI GS65 Stealth looks amazing. It has an understated black exterior with a beautiful gold accent color. The bezels are tiny, just 4.9mm thick, and the whole device is super thin and light for a laptop of this caliber. The build quality is not quite as good as a MacBook, but then again, this is a fair amount cheaper. As this is a mid specced-option, you can opt for more RAM and Storage should you need it.
Packed into this 0.67 inch thick laptop, you will once again find the Core i7-8750H backed up by 16GB of RAM, a 256 GB SSD and finally a GTX 1070 GPU. This is the mid-specced option so you can opt for more RAM and storage should you need it. These components account for a blazing fast system that can handle anything you throw at it. It will chew through any game no problem and render beautiful visuals at stunning frame rates.
The display is another highlight, it has a 144Hz refresh rate, 7ms response time, good viewing angles and great color accuracy so gamers and professionals alike won't be disappointed. There is only a 1080p options, so if you need a higher resolution screen at the 15.6" size then this won't be the laptop for you. The thin bezels allow for fantastic immersion for content consumption or gaming so we are big fans of the modern aesthetic.
While the keyboard doesn't have much travel, we still enjoyed using it and the customisable RGB backlight is a fun feature. The trackpad is large, but somewhat stiff so it certainly takes getting used to. We are disappointed by the lack of a SD card reader, but the inclusion of Thunderbolt 3 support (useful for external GPUs should you want a graphics boost in the future) is welcome. The battery life is decent, with users experiencing around 5 hours of mixed use, but the speakers are subpar for a $2000 PC.
We love this laptop. It is perfect for anyone who wants a powerful machine in a beautifully thin and light form factor. It is easy to see that this device is great for both work and play- by day it is a non-flashy workhorse, while by night it is a 1080p gamer's dream for the ideal mix of portability and power. If you are looking to spend a few thousand dollars on a laptop, shortlist this.


Tech Specs
Dimensions: 14.08 x 9.75 x 0.69 in
Weight: 4.14 lbs
Screen Size and Resolution: 15.6″ Full HD (1920 x 1080)
RAM and Storage: 16 GB (256 GB SSD)
Graphics Card: GTX 1070
The Pros
Fantastic design
Great color accurate 144Hz display + good viewing angles
Thin bezels
Lightweight
Thunderbolt 3
The Cons
No SD card slot
No 4k display option
Not the best trackpad
6. GIGABYTE Aero 15X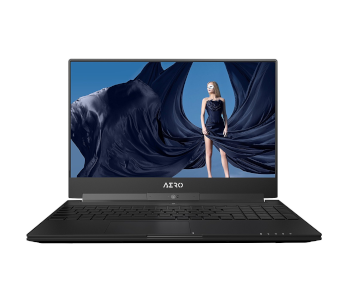 View on Amazon
Editor's Rating: 4.6/5
The GIGABYTE Aero 15X is extremely similar to the MSI GS65 Stealth so picking one over the other is a matter of personal preference.
This is another minimalist design by Gigabyte. It is black, clean, and doesn't really stand out from the crowd. The thin bezels are impressive, but the webcam placement in the bottom bezel is less than ideal as it gives a terrible angle when video calling. The build quality is very good- matching the MSI- but it is slightly larger, thicker, and heavier than the GS65 Stealth.
It has exactly the same specs as its MSI counterpart (Core i7-8750H, 16GB RAM, GTX 1070), but includes a 512GB SSD for around $2250. Obviously performance is basically equal between the two laptops, that is to say- excellent.
The display is also 1080p with a 144Hz refresh rate and offers top notch color accuracy and viewing angles. The good news is there is a 4K option available for those looking for more pixels.
The keyboard and trackpad are good, but nothing noteworthy. However port selection is even better than on the MSI- it has an ultra fast SD Card reader on top of everything else. Battery life is also fantastic, and somewhat better than the GS65 Stealth's. Finally, the speakers are only average in quality.
Overall the GIGABYTE Aero 15X is a compelling package and extremely similar to the MSI reviewed above. The advantage with this model is that it has the option for a 4K screen (although at some cost), it has a SD card reader and better battery life. On the other hand the MSI has the subjectively better design, is a little cheaper and has better thermal performance while being thinner and lighter. The bottom line is, you can't go wrong with either.


Tech Specs
Dimensions: 14 x 9.8 x 1 in
Weight: 4.14 lbs
Screen Size and Resolution: 15.6″ Full HD (1920 x 1080)
RAM and Storage: 16 GB (512 GB SSD)
Graphics Card: GTX 1070
The Pros
Good 144Hz Screen with 4K option
Great battery life
Slim and Light
Good build quality
Thin bezels
The Cons
Poor camera placement
High temperatures under load
Mediocre speakers
7. Dell XPS 15 9570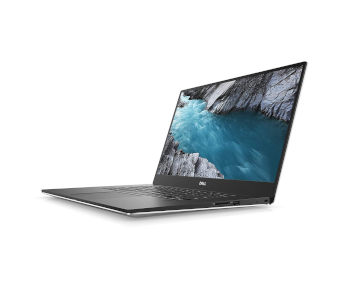 View on Amazon
Editor's Rating: 4.5/5
The Dell XPS 15 9570 is a very well balanced laptop for approximately $1500.
Although Dell has put out this same design for the last 3 years, it still looks modern and refined, if a little boring. The silver aluminum lid looks professional and is complemented well with the black interior. It's very slim and light for a laptop containing such power, while keeping a very solid feel. Our only real complaint is the webcam placement in the bottom bezel- perfect for seeing up your nostrils, but not so great for normal use.
There's no surprise that the Core i7-8750H is present here and the graphics side of things is handled by the GTX 1050Ti, so plenty of power for 1080p gaming. 8 GB of RAM and a 256 GB SSD round things off, providing great performance, as expected. You can configure this laptop in a multitude of ways, including a Core i9 processor and a 4K screen.
The 'Infinity Edge' display is so called due to the tiny bezels which make it very immersive. It also has a brightness of 400 nits which is very high for a laptop screen- outdoor viewing will be no issue. This model has a 1080p resolution which is enough for most users, although some may want to opt for the 4K option. The viewing angles are very good and the colors are vibrant, providing for an excellent viewing experience.
Considering the relatively low key travel of 0.7mm on the keyboard, we still enjoyed typing on it and we had no issues with the trackpad either. The port selection is excellent- it included a Thunderbolt 3 supported USB-C port as well as a SD card reader and HDMI. We also love the LED battery indicator on the side of the laptop- perfect for letting you know how much juice is left without having to switch the screen on. Talking of battery life, it is simply excellent. You will be able to get at least 10 hours of use out of it. As for the speaker… well they are good but some distortion can be heard in high notes.
The Dell XPS 15 is perhaps the most balanced laptop in this list with no major flaws whatsoever. You can configure it how you want from Dell's website- just don't go for the base model as it has a slow HDD. It has great performance and battery life as well as all the ports you would ever need- only the boring design left us wanting.


Tech Specs
Dimensions: 14.1 x 9.3 x 0.66 in
Weight: 4 lbs
Screen Size and Resolution: 15.6″ Full HD (1920 x 1080)
RAM and Storage: 8 GB (256 GB SSD)
Graphics Card: GTX 1050Ti
The Pros
Thin and light design
Very compact for its size
Good bright screen with 4K option
Excellent battery life
Good value
The Cons
Bad webcam angle
No touch screen for 1080p model
Average speakers
8. Acer Predator Helios 300 (Best Value)
View on Amazon
Editor's Rating: 4.6/5
The Acer Predator Helios 300 is a well-rounded gaming laptop for about $1200.
We liked the solid metal construction of the Predator Helios 300, although we weren't so keen on the subjectively ugly design. The red accents weren't over the top though, which we are grateful for. It doesn't have the thinnest screen bezels either, but they aren't offensive and at least the webcam is at the top, where it should be.
Yet another Core i7-8750H is the CPU of choice, while the powerful GTX 1060 handles the graphics. The 16GB of RAM is great for multitasking and the 265GB NVMe SSD is extremely fast. It's no surprise this laptop flies, however under heavy load it does get very hot, something to be aware of if you game for extended periods.
The 144Hz display is very good for the price, if a little dim. However that refresh rate is the key selling point and for $1200 you can't complain. If you're a gamer then you will have no problems with the screen, assuming you don't mind the thick bezels. The GTX 1060 GPU is able to take advantage of such a high refresh rate display at its 1080p resolution, so it is a great combination.
We are more than happy with the keyboard and trackpad, so you won't be disappointed. The key travel is good and the trackpad is accurate, though of course you would most likely be using a mouse with it most of the time. Unfortunately, the speakers are poor so headphones are almost a must. On a brighter note, the battery life is not bad for a gaming laptop and neither is the port selection. In terms of ports, the only thing we would have liked to see is Thunderbolt 3 support, however this isn't a major complain.
You would be getting killer specs for the price with the Acer Predator Helios 300 and you would be hard pressed to find a GTX 1060 for a lower price than this. Our biggest complaints are the high temperatures under load, the thick screen bezels and the lack of a Thunderbolt 3 port. As you can see, these are generally not deal breakers, so it isn't hard to recommend this laptop to gamers.


Tech Specs
Dimensions: 15.53 x 10.47 x 1.05 in
Weight: 5.51 lbs
Screen Size and Resolution: 15.6″ Full HD (1920 x 1080)
RAM and Storage: 16 GB (256 GB SSD)
Graphics Card: GTX 1060
The Pros
Solid Construction
Good keyboard and trackpad
144Hz display
Great value
Good value
The Cons
Weak battery life
Hot under load
9. MacBook Pro 15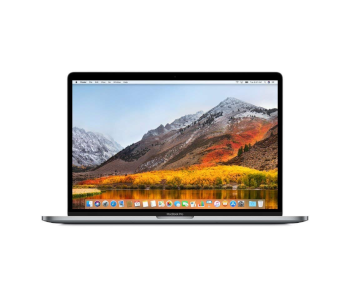 View on Amazon
Editor's Rating: 4.3/5
For well over $2000 the 2018 MacBook Pro 15 is incredibly expensive, even in its base configuration.
The MacBook Pro is the best built laptop on the market. The aluminum looks and feels great and there is no flex in the chassis, even though it is 0.6 inches thick. The solid build is complemented by a beautiful design, although the design does not push any boundaries. There are thinner screen bezels around and even cleaner designs, but the overall package presented by Apple is excellent.
Performance with the Core i7-8750H is lightning fast. If the absolute best performance is what you require then look no further. Apple has put in one of the fastest SSDs available in the MacBook Pro and MacOS is extremely optimised to deliver ultra fast speeds, no matter what you do. You are able to configure this laptop with a Core i9 too (at a lot of extra expense), but there are well documented thermal throttling issues with that chip, so we would recommend sticking with the Core i7. The Radeon Pro 555X or 560X give good graphics performance, but nothing that can match the top Nvidia GTX offerings. You won't be playing many games, especially on MacOS. However for professionals, it is enough, as is the 16GB+ of RAM.
The screen is fantastic with beautiful colors and great viewing angles. This year it includes True Tone display technology which adjusts the displays colors according to the ambient light of your surroundings. It is a nice feature, but one that should be avoided by professionals who need perfect color accuracy. Outside of this, it is the usual pin sharp 2880×1800 resolution that is bright, vivid and a joy to use.
The keyboard is very controversial. There is very little key travel due to Apple's latest generation of the 'butterfly' switches. They have been made more durable though, as a new membrane layer has been inserted underneath the keys to prevent dust and crumbs from breaking them. It also has the added benefit of making them quieter. Still, this is not the best typing experience you will find on a laptop, but you can get used to it. Fortunately the trackpad is amazing. Apple is famed for making the best trackpads in the business and with a great glass surface and huge surface area, not to mention the awesome haptic feedback, it's not hard to see why. The Touch Bar at the top of the keyboard is a bit of a gimmick for us and we would have preferred a row of function keys, but I guess at least it looks cool.
Port selection is extremely limited, with only 4 USB-C Thunderbolt 3 ports. You will almost certainly need a dongle should you wish to connect anything external to this device. While this is disappointing, the speakers certainly are not a let down. They are best in class and sound phenomenal. Battery life is also very good with around 10 hours of usage, but MacBooks are no longer the gold standard of laptop longevity as many Windows machines are able to match or better them, such as the Dell XPS 15 9570.
The MacBook Pro 2018 has crazy good performance, a beautiful screen, amazing speakers and killer build quality. However, it falls short when it comes to the keyboard and port selection. It certainly isn't the best value laptop on this list, but it is the fastest. If you like MacOS, then this is the best laptop you can buy.


Tech Specs
Dimensions: 13.8 x 9.5 x 0.6 in
Weight: 4 lbs
Screen Size and Resolution: 15.4″ (2880 x 1800)
RAM and Storage: 16 GB (512 GB SSD)
Graphics Card: Radeon Pro 560X
The Pros
Best build quality available
Amazing display
Ultra fast SSD
Amazing speakers
Good battery life
The Cons
Extremely high price
Keyboard is not the best
Temperatures and thermal throttling on Core i9 model
Only USB-C ports
10. MacBook Pro 13
View on Apple
Editor's Rating: 3.8/5
Just like its bigger 15" brother, the 13" 2018 MacBook Pro is an awesome piece of hardware.
The new 13" MacBook Pro is a significant upgrade in terms of performance compared to last years offering. The quad Core i5-8259U is blazing fast in all situations and the only thing holding the performance back is the weak GPU. It is the integrated Intel Iris Plus 655, so no dedicated graphics card here. Users who use graphically intensive applications should probably go for the 15" MacBook, or an alternative Windows laptop. Having said this, you are able to take advantage of an external GPU via the 4 Thunderbolt 3 ports, should you have one. You can configure the RAM and storage options as you wish, and again, the SSD inside this MacBook is unbelievably fast.
The display, just like the 15" model, is bold, beautiful and bright- also featuring True Tone technology. The 500 nits of brightness is great for outdoor use and the color accuracy is very good for those who like to edit photos or videos. It has a resolution of 2560×1600, resulting in a PPI (pixels per inch) of 227, which is excellent. Overall, it's an amazing screen, although the bezels around it could be a little thinner.
The keyboard is the same story as the 15" model- butterfly mechanism keys with only 0.55mm of travel. Again, it's alright, but there are much better. The trackpad is huge for the size of this laptop and is perfectly accurate and a joy to use. The Touch Bar is standard for this model and we can't say it is very useful- we only used it to control the volume and brightness, but even then, a traditional function key would have been quicker.
4 Thunderbolt 3 ports gives us 0 diversity in the port selection so this is disappointing, but maybe slightly more forgivable on a smaller device. The speakers, while not quite as good as its bigger brother's, are still fantastic and great for movies and music. Finally, the battery life is not spectacular but still above average, with around 8 or 9 hours of use.
Our criticisms of the 13" 2018 MacBook Pro are pretty much the same as our 15" gripes- only USB-C ports available, a mediocre keyboard and an eye watering $1800 price. Throw in a weak GPU into the mix and it seems like this isn't a great laptop… however, if you can stomach the cost then what you get is an ultra portable and truly beautiful device. It is very good, and if you value portability as well as the user experience MacOS provides, you won't be disappointed. Just know that there are cheaper Windows alternatives before buying.


Tech Specs
Dimensions: 11.97 x 8.36 x 0.59 in
Weight: 3.02 lbs
Screen Size and Resolution: 13.3" (2560 x 1600)
RAM and Storage: 8 GB (256 GB SSD)
Graphics Card: Intel Iris Plus 655
The Pros
Fantastic build quality
Amazing display
Ultra fast SSD
Thin and light
Fantastic trackpad
The Cons
Super high price
Weak GPU
Only USB-C ports