6 Best Compact Cameras for Professional Photographers
3D Insider is ad supported and earns money from clicks, commissions from sales, and other ways.
Smartphones have made low-range compact point-and-shoots mostly obsolete. However, professional grade compact models are still alive and thriving. They're as versatile as your phone since you can carry one inside a pocket and whip it out as soon as something interesting happens. At the same time, compact cameras are vastly superior when it comes to image quality, optical zooming, and taking pictures in low light.
You'd think that this wouldn't be enough of a reason for pros to invest hundreds of dollars into a compact camera, and you'd be mistaken. Compacts offer the professional more freedom since they're lighter and require less supporting gear like lenses and tripods. On the other hand, their fixed lenses force photographers to think about setting up and framing a shot more, which can help you with one's artistic development. Photographers also like to have compacts on hand as secondary cameras.
These are the six best compact cameras for professional photographers on the market. Some of them focus on flexibility, while others are perfect for more specialized purposes like travel or industrial photography. Check out why we've chosen them, and enrich your arsenal with a compact camera today.
Budget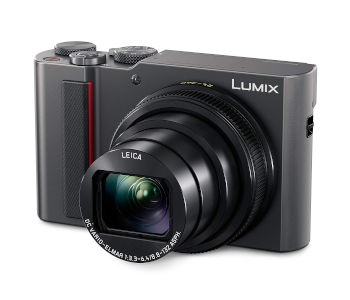 PANASONIC LUMIX ZS200
4.4/5.0
Sensor: 1 inch
Burst: 10f.1ps
It has an intuitive control scheme.
Check Amazon
Best Value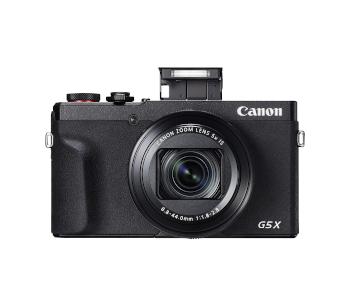 Canon PowerShot G5 X Mark II
4.6/5.0
Sensor: 1 inch
Burst: 20fps
Takes detailed images that look true to life.
Check Amazon
Top Pick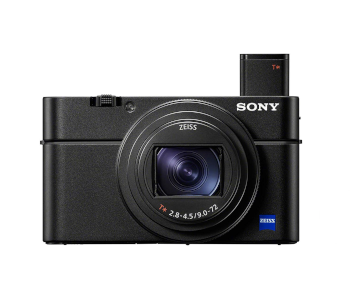 Sony RX100 VII
4.8/5.0
Sensor: 1 inch
Burst: 20fps
Suitable for a wide variety of photography styles.
Check Amazon
Compact Cameras for Professional Photographers Comparison Table
1. Best Overall – Sony RX100 VII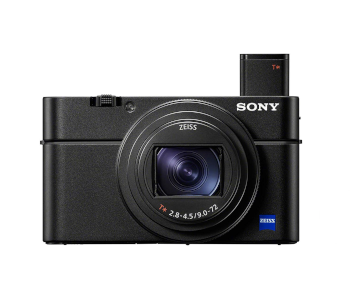 View on Amazon
Editor's Rating: 4.8/5
Sony's RX100 VII makes yet another appearance at the top of one of our lists simply because it is the most advanced and most versatile compact camera in the world today. It can reach insane burst speeds while keeping subjects in focus. Its large buffer lets you pick the best out of dozens of rapidly-shot images, and the processor ensures results are quick and free from noise. No matter what kind of photography you prefer, this is the compact for the job.
Overview of Features
Sony has made barely any changes to the RX100's appearance since it was introduced. It's a sleek compact that's heavier than most rivals yet still comfortably fits inside a coat pocket. There are no handgrips, and its physical interface strikes a good balance between using limited space economically and minimizing menu access. The ring around its lens can be mapped to a custom command, which is handy if you frequently change EV or ISO values.
The RX100 VII is famous for its pop-out viewfinder. It jumps into action instantly thanks to a spring-loaded mechanism. You can use either it or the camera's touch-operated LCD to frame shots or track subjects. Both screens are detailed and bright, so working in daylight isn't a problem. The LCD flips out for selfies and vlogs but can also tilt when you're shooting at unforgiving angles
Photographers of any inclination will love the RX100 VII's lightning-fast autofocus. You can switch between continuous, face, and eye detection AF for the most precise results. The camera recognizes not just human eyes but those of animals too. Coupled with its 20FPS burst speed, this allows for razor-sharp photos of sports action or wildlife. The camera's buffer holds 70 RAW files and 130 JPEGs! There's even a 90FPS mode if you need to kick things into overdrive. It does only take seven RAW pics at that speed, but the setting is invaluable for split-second action shots.
The lens at the heart of the RX VII has a focal range of 24-200mm, covering everything from landscapes and portraiture to wildlife photography. Its 8x zoom is powerful for a compact, and the motor is quiet enough not to startle subjects as you're adjusting the zoom level.
Lastly, there's video. Sony definitely had vloggers in mind when creating the RX100 as the camera can shoot in 4K at two bitrates. It has in-body image stabilization to make handheld clips more pleasant to watch and can shoot super slow-motion if you're willing to drop the resolution.
What We Didn't Like
Given its few physical controls, it's a shame that the RX100 VII doesn't utilize its touchscreen more. All you can do is set autofocus points. At the same time, menu access is only possible via a command dial in the back. The RX100 VII isn't weather-sealed. That limits its functionality in rough terrain and weather.
Tech Specs
Dimensions: 4.0 x 2.3 x 1.7 in.
Weight: 10.7 oz.
Sensor: 1 inch
Burst: 20fps
Lens: 24-200mm eq., f/2.8
Battery capacity: 260 shots
ISO range: 100 – 12,800
Max still resolution: 20.1 MP
Max video resolution: 4K, 30fps
The Pros
Exceptionally fast and accurate autofocus
Large image buffer
Impressive burst speeds
Suitable for a wide variety of photography styles
The Cons
Limited touchscreen functionality
Lack of weather sealing
2. Best Value – Canon PowerShot G5 X Mark II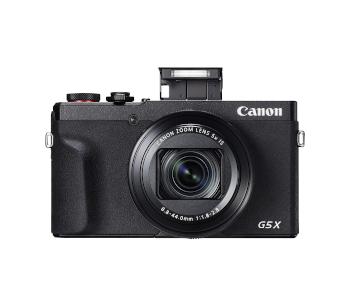 View on Amazon
Editor's Rating: 4.6/5
The original G5 X was a smashing success as pro-level compact cameras go, so Canon made sure that its successor would be even better. The Mark II is smaller, lighter, and has a viewfinder inspired by Sony's RX series. Buffering and burst performance don't lag behind our winner either, while color balance and accurate EV compensation make for stunning images. You get all of this and more at $300 less than you'd have to pay for the RX100 to boot.
Overview of Features
The G5 X Mark II has undergone significant changes since its first iteration. The most noticeable one is the lack of an overt viewfinder, which now pops up and needs to be locked in before use. Some features remain, like a rubberized grip and thumb rest. You'll be able to hold the camera securely yet still pocket it during shoots. Physical controls on the top center around three dials, two of which are stacked. There are standard shortcuts and menu navigation buttons in the back, and you may assign a function to the lens wheel too.
The camera is powered by Canon's newest version of the DIGIC processor. Its 1-inch sensor is large for a compact and produces crisp photos that are rich in detail. The processor and sensor combination translates to high burst shooting speeds and little noise on higher ISO values. Setting the focus point for the first image lets you execute 30 fps bursts, while applying continuous AF reduces it to a respectable 8fps.
The Mark II has a 5x zoom lens whose maximum aperture of f/1.8 ensures great results in low light. Color balance is on point, too, as is EV compensation. The lens has a built-in ND filter, so you can take pictures on sunny days without having to salvage detail in post. Shooting in auto mode for pleasing and vivid JPEGs. Conversely, pros will find nothing to complain about in the Mark II's extensive manual settings.
What's Bad About It?
CIPA rates the Mark II at just 230 shots on a full battery. That means you'll have to carry a charger and some spares when doing all-day shoots. The Mark II has a slow autofocus speed given its price and other specs. It can take as much as a third of a second to lock onto a subject, so high-action environments are not a good fit.
Tech Specs
Dimensions: 4.4 x 2.4 x 1.8 in.
Weight: 12 oz.
Sensor: 1 inch
Burst: 20fps
Lens: 24-120mm eq., f/1.8
Battery capacity: 230 shots
ISO range: 100 – 12,800
Max still resolution: 20.2 MP
Max video resolution: 4K, 30fps
The Pros
Excellent value for the money
Ergonomic and responsive
Great low-light performance
Takes detailed images that look true to life
The Cons
Mediocre battery life
Slow autofocus
3. Fujifilm X100F
View on Amazon
Editor's Rating: 4.5/5
Are you a traditional photographer who's fonder of dials and switches than tapping through menus? In that case, Fujifilm has a unique compact APP-SC camera you'll love – the X100F. It has a hands-on approach to photography that includes lots of dials and buttons to play with along with a hybrid viewfinder. The camera is light on video but features excellent picture quality and Fujifilm's acclaimed film simulation modes for that extra bit of nostalgia.
Overview of Features
The X100 f is a beautiful, classic-looking compact with a premium metal finish and pleasantly textured leather grip. At close to 17 ounces, it approaches the weight of lighter mirrorless models, but the X100's small frame is nevertheless much more compact. You'll immediately notice and be drawn to its extensive physical controls. There are knurled dials for shutter speed and EV compensation, along with a pleasing f-stop dial on the lens. There's an ISO dial in the back accompanied by a couple of shortcut buttons and a navigation pad.
The best thing about the X10F is its hybrid viewfinder. It uses both an electronic screen and a pentamirror optical array you can toggle between by flipping a switch. The traditional viewfinder is great for when you want the maximum amount of detail and are shooting in bright light. The EVF comes in handy when you want to preview image settings. There's even a hybrid mode in which partial EFV data is overlaid onto the OVF output.
A large APS-C sensor gives the X100F a resolution of 24.2 megapixels. Its lens has a fixed equivalent focal length of 35 mm, making the camera ideal for portraiture, wedding, and urban photography. Its optical properties are excellent across the board as there's no color fringing or distortion, while a high degree of detail is maintained across its range of aperture sizes.
Even though it isn't an action shooter, the X100F gets by with a max burst speed of 8fps. Its autofocus isn't the quickest, but it does its job given the camera's niche. We were impressed with how well the X100F does in low light – you can turn the ISO up to 3,200 and notice barely any noise. Higher values are usable, too, but suffer from detail loss.
Fujifilm's excellent film simulation modes that mimic successful films from the past are one last thing to note. There are fifteen to choose from, and they do a fantastic job of bringing portraits to life or preserving details in monochrome cityscapes. The X100F makes great RAW images, but its film modes transform JPEGs into worthy masterpieces that need no touching up.
Are There Drawbacks?
The X100F is getting on in years and will be superseded shortly by the X100V. Its age shows in the lack of 4K support and touchscreen capabilities the most.
Tech Specs
Dimensions: 5.0 x 2.9 x 2.1 in.
Weight: 16.5 oz.
Sensor: APS-C
Burst: 8fps
Lens: 35mm eq., f/2.0
Battery capacity: 270 shots, 390 when using OVF
ISO range: 200 – 12,800
Max still resolution: 24.3 MP
Max video resolution: 1080p, 60fps
The Pros
Exceptional image quality
Encourages a hands-on approach to photography
Comes with fifteen film simulation modes
Rugged and ergonomic
The Cons
No touchscreen
Video limited to 1080p
4. Panasonic Lumix LX100 II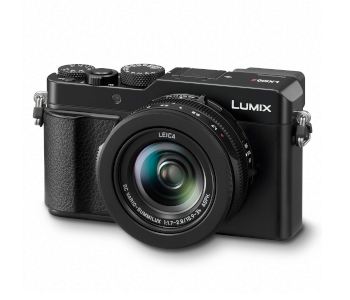 View on Amazon
Editor's Rating: 4.3/5
Nothing gets on a seasoned photographer's nerves like not being able to reach common settings in a few clicks or taps. Panasonic's LX100 II streamlines user operation with its generous amount of control dial, custom buttons, and quick access menus. It's a capable all-rounder with admirable image quality and a flexible lens that works well in different lighting conditions.
Overview of Features
The LX100 looks similar to the four years older original with minor tweaks for better usability. The most apparent upgrade is the addition of a responsive touchscreen, but other components have received a refresh too. Like the lens, which now has more complete weather sealing that prevents dust and moisture buildup. On the other hand, the camera's 720p viewfinder remains the same.
The camera's physical interface is reminiscent of Fujifilm's model and chock-full of dials & buttons. You can assign custom functions to many buttons and a freely rotating wheel on the lens. One button offers quick menu access, and the digital interface also has a "My Menu" category you can populate with obscure settings you tend to use often.
The LX100 II has a 20MP four-thirds sensor whose full capacity you can't use. That's because it has a technology that allows you to change aspect ratios without impacting the overall diagonal. This is useful when you're shooting for different print formats.
This is one of the snappiest cameras on review in terms of autofocus. It needs to be on account of the 11fps burst mode. You can also set the focus point manually either by going over an area of the screen or tapping a focus point directly. Best of all, you can do this while looking through the viewfinder!
Multiple features come together to produce the camera's high image quality. It has a large sensor that lets in more light than on lesser point-and-shoots, increasing low-light performance and bringing noise down. It also lacks an aliasing filter, which results in sharper images without much detail fall-off on the edges. There are models with better dynamic range, but the LX100 II holds its own in high-contrast situations. There are several image presets you can use to make JPEGs shot with the camera as attractive as RAW files-
What We Didn't Like
Even though it has improved significantly, the LX100 II's LCD continues to be problematic. You might not love its focus selection feature if you're a left-eyed shooter since your nose will likely move the focus accidentally. The screen is fixed, meaning the camera isn't suitable for selfies or shooting over crowds.
Tech Specs
Dimensions: 4.5 x 2.6 x 2.5 in.
Weight: 13.8 oz.
Sensor: 4/3
Burst: 11.3fps
Lens: 24-75mm eq., f/1.7
Battery capacity: 300 shots
ISO range: 100 – 12,800
Max still resolution: 17 MP
Max video resolution: 4K, 30fps
The Pros
Great image quality
Seamlessly transitions between multiple aspect ratios
Responsive touchscreen with precise focus settings
Lots of customizable keys and menus
The Cons
Screen is fixed in place
Focus points on the LCD can be moved accidentally
5. Ricoh G900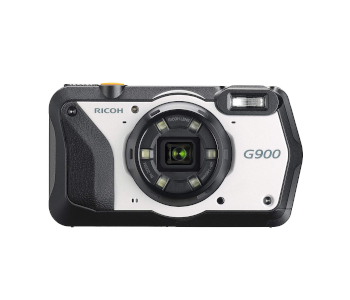 View on Amazon
Editor's Rating: 4.2/5
The compact cameras we've reviewed so far excel at conventional photography but would all be terrible picks for hazardous or underwater environments. Professionals who specialize in industrial and business photography need a camera with a specialized set of features, and that's where Ricoh's G900 shines. It's built like a tank and impervious to all sorts of extremes. It might not be the best in terms of conventional metrics, but the G900 is an invaluable tool, nevertheless.
Overview of Features
The G900 is the most unusual-looking camera on review. It has a rugged, black & white body that can be submerged in 65 feet of water for two hours. Dropping it from a height of six feet or placing 200 pounds of weight on it does not affect the G900, nor do temperature extremes or even chemicals. In spite of this, the camera weighs less than 9 ounces. Understandably, its physical controls are basic but clearly visible and large so that operating the camera while wearing gloves is comfortable.
The proprietary battery can't be removed and needs to be recharged through an external charger. Fortunately, it is rated at 340 shots, which should be enough for a day of industrial shooting. The G900 has a microSD card slot but also comes with 6.5GB of internal memory. This is to prevent you from having to open the camera up to transfer files. It's also an effective measure in minimizing the chance of sensitive photos being misplaced or stolen.
The camera has a 3-inch LCD. It isn't touch-sensitive but does have unique features like a picture overlay. That lets you take a picture and place a transparent version of it over the screen. Useful for when you want to align before and after shots for incident reports perfectly. You can attach brief text messages and even half-minute audio clips to both photos and imported images.
Ricoh is aware of how sensitive photos of industrial facilities can be and has implemented several security measures to prevent tampering. You can password-protect the G9000, totally disabling access to anyone who doesn't know it. Alternatively, you might want to set up a hierarchy with an administrator who has complete control over the camera and users whose access to the menu system and internal storage is limited.
What's Bad About It?
The G900 lacks many features present on standard cameras in the same price range. Its screen doesn't tilt, there's no viewfinder, and there are only nine focus points. A more pertinent downside for this type of camera is the lack of an eternal flash mount. Its own flash might not be sufficient if you're shooting in complete darkness.
Tech Specs
Dimensions: 4.7 x 2.6 x 1.3 in.
Weight: 8.7 oz.
Sensor: 1/2.3 inch
Lens: 28-140mm eq., f/3.5
Battery capacity: 340 shots
ISO range: 120 – 6,400
Max still resolution: 20.2 MP
Max video resolution: 3,840×2,160, 30fps
The Pros
Fantastic build quality
Image overlay and memo system
Advanced password protection and user management
Long battery life for a compact
The Cons
Lackluster photo features when compared to conventional cameras
Doesn't accept external flashes
6. Best Budget Option – PANASONIC LUMIX ZS200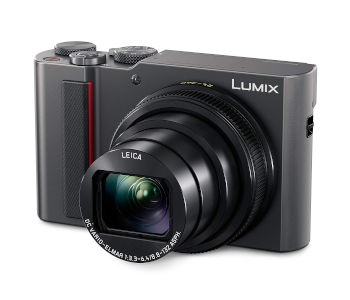 View on Amazon
Editor's Rating: 4.4/5
Professional photographers looking for a top-of-the-line travel zoom camera will find none better than the ZS200 from Panasonic's Lumix series. It has a versatile zoom lens with 15x magnification, produces remarkable results in auto mode, and offers lots of customizable controls. You can even use it to introduce someone to the basics of photography since controlling the camera is so intuitive.
Overview of Features
The Z200 boasts a minimalistic and functional layout designed to let you snap memorable travel pics in no time. Most of its body is metal, and there's a pronounced grip in the front for easier holding. All the controls are clustered to the right, meaning that you can hold and operate the camera with one hand. Three of its buttons are customizable, while the lens ring and one of the dials adjust different settings depending on the mode.
The flexible zoom lens is this camera's highlight. Its focal lengths range from 24 to 360mm, letting you capture everything from your evening meal to animals or boats off in the distance. You could also take pictures of bugs and other small subjects as the ZS200 focuses on things as close as 3cm away. Using the far end of its telephoto range makes for pronounced shakiness, which is why Panasonic included optical image stabilization for photos and videos alike.
In spite of being meant for professionals, the Zs200 is beginner-friendly. Its Auto mode intelligently figures out white balance and dynamic range, leading to images that look natural. The dynamic range is on point as well, so you can expect blue skies and detailed shades when taking pictures in parks during the day. Naturally, you can take matters into your own hands and go full manual, or use one of several priority modes.
Are There Drawbacks?
While the general image quality is good, the ZS200 smooths out the edges, which are less detailed than the center of a photo. The effect can be minimized by avoiding high ISO. The aperture is narrow and decreases even further as you zoom in. This means you'll need a lot of ambient light when shooting far-away subjects and should avoid zooming in poor light.
Tech Specs
Dimensions: 4.4 x 2.6 x 1.8 in.
Weight: 12 oz.
Sensor: 1 inch
Burst: 10f.1ps
Lens: 24-360mm eq., f/2.8
Battery capacity: 370 shots
ISO range: 125 – 12,800
Max still resolution: 20.1 MP
Max video resolution: 4K, 30fps
The Pros
Excellent all-around features at a reasonable price
Offers full manual control but is beginner-friendly too
Powerful zoom lens with balanced optical properties
Intuitive control scheme
The Cons
Noticeable detail loss on edges when using high ISO
Needs a lot of light to take advantage of zoom lens