6 Best Compact Mechanical Keyboards of 2019
3D Insider is ad supported and earns money from clicks, commissions from sales, and other ways.
Today's keyboards are packed with features and the keys you need to access them. That's fine if you have a spacious desk, but what about people who live in cramped conditions or are always on the go? If you're one of them, say goodbye to the Numpad, and hello to compact keyboards!
As their name suggests, compact mechanical keyboards have a smaller form factor than regular ones. Chopping the Numpad off makes the most impact on their size, but some models go a step further by repositioning other keys and getting rid of the directional arrows. Small size doesn't mean that such keyboards are less capable either. Many of them cleverly use existing keys to give you access to advanced features or implement dedicated ones with a minimal impact on the keyboard's footprint.
Below you'll find the six best compact mechanical keyboards you can get. All of them will free up much-needed desk space while providing you with a superior typing experience. Whether you're a hardcore gamer or do most of your work in internet cafés, there's a typing tool with your name on it among our top picks.
Budget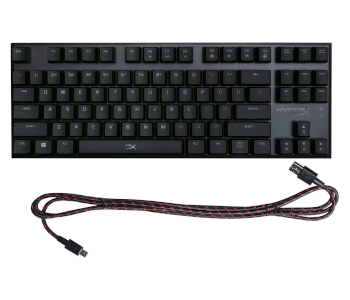 HyperX Alloy FPS Pro
4.0/5.0
USB pass-through: No
Has wrist rest: No
This is great for typing in the dark.
Check Amazon
Best Value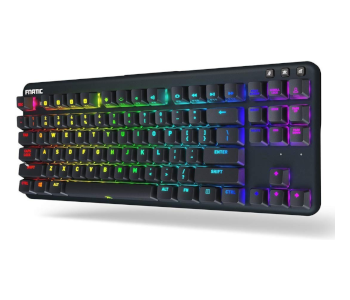 Fnatic miniSTREAK
4.6/5.0
USB pass-through: No
Has wrist rest: Yes
Comfortable thanks to wrist rest and feet.
Check Amazon
Top Pick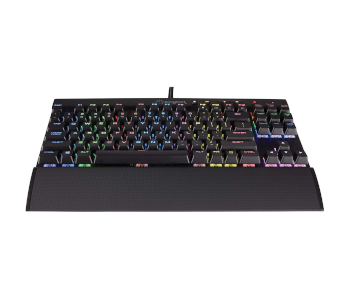 CORSAIR K65 LUX RGB
4.8/5.0
USB pass-through: Yes
Has wrist rest: Yes
It has exceptional RGB customization.
Check Amazon
Soundbars Under $200 Comparison Table
1. Best Overall – CORSAIR K65 LUX RGB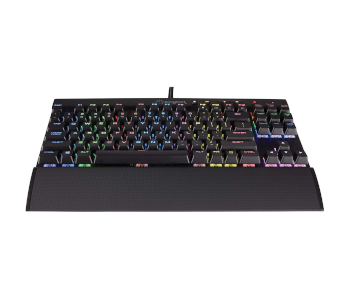 View on Amazon
Editor's Rating: 4.8/5
The K65 LUX is proof that compact mechanical keyboards aren't any less impressive than their full-sized counterparts when RGB is concerned. It's the king of customization, allowing you to implement countless patterns and truly show off your unique taste. On top of that, the keyboard is robust, well-built, and quiet. It's been around since 2017, so the price has dropped from MSRP as well. What more could you ask for from a clear winner?
Overview of Features
Corsair's tenkeyless keyboard closely follows the design standards adopted by the subtype. Its top is made from brushed aluminum and houses plastic keys that float far above the base for the RGB to shine through better. The K65 LUX does make one concession, though – there are four separate buttons above the function keys that regulate volume, brightness, and the keyboard's polling rate. The cable is braided and takes up two USB ports in your PC since the keyboard has pass-through.
Custom-made switches are another unique aspect of the K65 LUX. They are as quiet and responsive as regular Cherry MX Reds, but their base is clear instead of solid black. This allows the color underneath to shine more brightly and defines the lines between keys better. Corsair uses a bold font that's easy to read, even more so thanks to the switch design. You also get two sets of textured keycaps you can exchange if you want extra comfort and speed for FPS or MOBA games.
While the K65 LUX is a great compact keyboard on its own, setting up Corsair Utility Engine gives you access to limitless customization options. Using CUE might be confusing at first since its layout isn't intuitive. However, once you get the hang of it, there are two notable features you can exploit.
The first is key configuration. CUE lets you remap keys, assign complex macros to a single keypress, and decide how the windows lock key behaves. The latter is particularly useful since you can also disable alt-tabbing and even Alt + F4.
The second is Corsair's unparalleled lighting setup. You can set the lighting profile of each key individually. That includes how long it stays lit when pressed, which color it changes to, and what effect it should use. There are 13 effects to choose from, each of which you can combine with others in any order for single keys or groups. Not the tinkering type? Access CUE's social sharing function and download profiles other users have created.
What We Didn't Like
The keyboard's bottom row isn't standard. That means you can't replace a broken or lost key yourself without having to buy one from Corsair. The detachable wrist rest you get with it is flimsy and can rattle if you're pressing down on the keys forcefully.
Tech Specs
Dimensions: 1.5 x 6.5 x 14 in.
Weight: 1.9 lbs.
Switch style choices: Cherry MX Red RGB
RGB: Yes
USB pass-through: Yes
Has wrist rest: Yes
The Pros
Exceptional RGB customization
Access to countless user lighting and key setup profiles
Bright and easy to read
Special keys add functionality without impacting size
The Cons
Non-standard bottom row
Flimsy wrist rest
2. Best Value – Fnatic miniSTREAK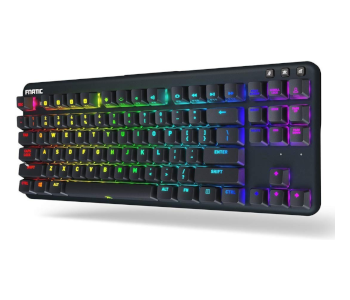 View on Amazon
Editor's Rating: 4.6/5
Fnatic is a well-known manufacturer of gear and apparel related to e-sports whose first attempts at gaming peripherals weren't received well. Fortunately, the miniSTREAK is the complete opposite. It's a tenkeyless keyboard built with comfort and accuracy in mind. It performs well whether you're competing in a tournament or typing up a quarterly report. Best of all, it's reasonably priced for a mechanical keyboard of its caliber.
Overview of Features
At first glance, the miniSTREAK looks much like our overall winner. Fnatic uses a similar kind of transparent MX Cherry switches, so the amount of light that emanates from the keyboard is high. That's especially evident in dark environments as the miniSTREAK bathes its surroundings in a soft glow. Unlike with the K65 LUX RGB, you can choose between different switch types if you want a more tactile response than Red offers.
Fnatic did an excellent job of making the miniSTREAK comfortable to use. On the one hand, there's its adjustable wrist rest. It has three positions and is covered with PU leather that gives it a luxurious feel. On the other, the feet have multiple positions and are placed sideways at a slight angle instead of parallel. That lets you move the miniSTREAK as much as you need to without fear of collapsing the feet.
You access most of the keyboard's special functions with the Fn and F keys. You can choose between four color profiles, adjust the brightness and volume, or cycle through effects without having to open Fnatic's software. There are also three small gaming-related keys above the function row. These are used to mute your mic or headphones quickly and to go into Competition mode.
Fnatic OP is the program you'll use to configure the keyboard's lighting and layout. It's more intuitive than CUE but not as advanced since it lacks profile sharing. Still, you'll be able to color keys individually, create macros, and set keys up to open programs or even specific files. Here's where you get to set up how Competitive mode works too. Turning it on disables the Windows key along with any system keys you choose. These will remain unlit when the mode is on for extra clarification.
What's Bad About It?
The miniSTREAK doesn't have pass-through capabilities. It connects to your PC via a cable with a single USB jack on one end and USB-C on the other. The wrist rest attaches to the miniSTREAK via a holder instead of clipping into it. That might become a problem if you use the keyboard in your lap since the holder breaks easily when under stress.
Tech Specs
Dimensions: 14.8 x 8.6 x 2.9 in.
Weight: 1.6 lbs.
Switch style choices: Cherry MX RGB Blue, Red, Silent Red, Brown
RGB: Yes
USB pass-through: No
Has wrist rest: Yes
The Pros
Great value for the money
Comfortable thanks to wrist rest and feet
Lots of customization options
Intuitive software
The Cons
No USB pass-through
Rest holder prone to breaking if stressed
3. KINESIS Freestyle Edge RGB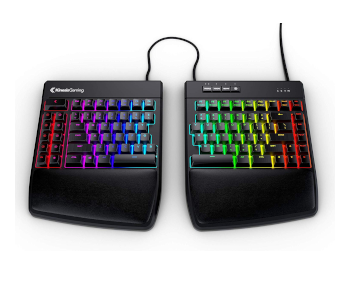 View on Amazon
Editor's Rating: 4.5/5
Have years of gaming or typing for a living left you with wrist and hand injuries? You don't have to quit your hobby or job, just exchange your old keyboard for the Freestyle Edge RGB from Kinesis. This ergonomic keyboard was explicitly designed to provide optimal support and is supremely comfortable to use after an adjustment period. It takes up more desk real-estate than other keyboards on review, but its unique design makes that manageable.
Overview of Features
There's no mistaking the Freestyle Edge RGB since it is a keyboard made up of two halves. A 20-inch cable connects them, letting you position each as you see fit. The idea behind the split is that you'll place the halves so that your hands and shoulders remain straight instead of having to come together. This dramatically improves your posture and relieves stress from your hands, neck, and shoulders.
Dividing the Freestyle Edge RGB gives you other possibilities as well. For example, you can tuck the right part behind your monitor and free a large chunk of your desk up while playing key-light games like shooters. Or, you could free up the central space for a microphone or snack bowl. Each half of the keyboard has a wrist rest. While these add more bulk, they're plush and among the finest we've ever seen.
The keyboard's layout differs from other compact models since there are ten buttons to the left of the Esc key. These store nine profiles or macros, while the last is used to access Kinesis' configuration software. The Freestyle Edge RGB is available in three MX Cherry switch variants and built from high-grade plastic. You might also want to consider an extension kit that lifts its haves from the inside, creating a tent-like tilt that's even easier on your body.
Lastly, there's SmartSet, the configuration tool you use to create profiles. It's nothing special as keyboard software goes, but it gets the job done. Its features include macro ad effect mapping, color configuration for each key, and alternate layouts.
Are There Drawbacks?
SmartSet isn't a driver like other keyboard programs. It is built into the Freestyle Edge RGB's firmware instead and accessed by pressing a combination of keys. You have to save each configuration change manually, and the nine corresponding buttons limit the number of profiles. This is an expensive keyboard, which is why it's disappointing that it lacks features like a USB pass-through and separate media keys present on models that cost half.
Tech Specs
Dimensions: 15.5 x 10.3 x 1.3 in.
Weight: 2.5 lbs.
Switch style choices: Cherry MX Blue, Red, Brown
RGB: Yes
USB pass-through: No
Has wrist rest: Yes
The Pros
Unique split design provides excellent support
Very comfortable wrist rests
Straightforward customization
Outstanding build quality
The Cons
Using the software can be a hassle
Expensive yet lacks some features
4. SteelSeries Apex M750 TKL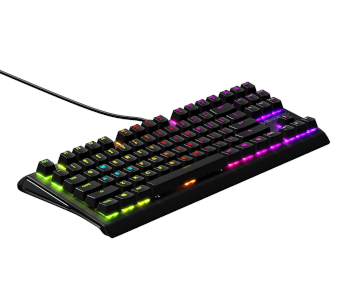 View on Amazon
Editor's Rating: 4.3/5
Cherry MX switches are synonymous with reliability, but they aren't the only option for lightning-fast reaction times. SteelSeries makes proprietary switches you can experience if you invest in the Apex M750 TKL. This compact model performs well for typing and gaming alike. It comes with versatile configuration software and is made from quality materials. It's the keyboard to get if you're looking for a low profile, high-performance solution for all of your computing needs.
Overview of Features
The Apex M750 TKL's appearance is nothing special. Even so, its build quality is noteworthy since the case is made from airplane-grade aluminum while the keys are plastic. The bezel is rounded, and neither hugs the outer keys nor makes the keyboard too wide. The feet can be removed, so the Apex M750 TKL becomes flat, but you may also want to replace them with a second included set that raises the angle for more comfort.
SteelSeries' proprietary QX2 switches are at the core of the Apex M750 TKL's tactile experience. They're clear so that more light can pass through and illuminate the keycaps. More importantly, the switches require only 45cN of pressure to activate and have an actuation distance of 2 millimeters. That means they're essentially on a hair-trigger, requiring minimal effort to register your commands. The keyboard has an N-key rollover so that you may press as many of them in quick succession without fear of ghosting.
The Apex M750 TKL is powered by SteelSeries Engine 3, one of the better configuration tools we've used. You can do a lot with the program, including extensive macro creation and key remapping. There are a lot of lighting modes to choose from, some of which are reactive, i.e., they trigger once you start typing. While these are distracting when using the keyboard seriously, they put on a good show if you want to impress friends.
SteelSeries Engine 3 has support for individual apps and games. For example, you can set the Apex M750 TKL's to work with discord and designate keys to light up in a specified color whenever you receive a notification. An audio visualizer is available, too, turning the Apex M750 TKL's into a light show that improves your room's ambiance while listening to music. There's support for games like CS:GO and DOTA 2, but it isn't fully realized. SteelSeries has made their SDK public, so people who like to tinker with their keyboards can come up with complex setups of their own.
What We Didn't Like
Small size comes at the cost of dedicated profile buttons. While this is an oversight we can forgive for non-RGB models, it hampers your ability to quickly change between lighting modes or access macros without needing to use the Fn key. Some keys might stop working after only months of use. Luckily, this is a rare occurrence and honored by SteelSeries as part of your warranty.
Tech Specs
Dimensions: 14.6 x 6.3 x 1.4 in.
Weight: 1.9 lbs.
Switch style choices: QX2
RGB: Yes
USB pass-through: No
Has wrist rest: No
The Pros
Responsive switches
Interchangeable feet
Custom lighting features for different apps and games
Engine 3 is intuitive to use
The Cons
No dedicated profile buttons
Some units have malfunctioning keys
5. iKBC New Poker II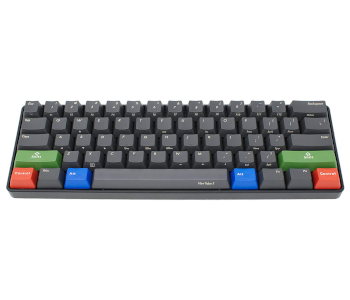 View on Amazon
Editor's Rating: 4.1/5
The compact keyboards we've reviewed so far were all RGB. What if you need one for work or aren't into the modern gamer aesthetic, though? In that case, you should pick up the New Poker II, a 60% keyboard that doesn't look flashy and barely takes up any space. Its design might be barebones, but the keyboard performs well and has hidden functions that increase its versatility.
Overview of Features
We love how small the New Poker II is! It's designed for maximum space conservation and is only 11.5 inches wide. Nevertheless, all the keys are normal-sized and have a font that's laser-etched into the caps for easier reading. Speaking of which, the caps float above their MX switches but don't expose them as much as RGB models do. That protects the keys from sideways impacts and ensures you'll be using the New Poker II for a long while.
Even though it's made of plastic, the New Poker II is heavy and robust. The keycaps don't feel cheap, and you get colorful replacements as part of the package you can use to make frequently accessed keys more visible. You may choose from the standard set of Cherry switches with the addition of MX Clear. It's similar to MX Black in that you need to exert more force for a press to register, but the Clear variant is silent.
Such a small format comes at the expense of function keys, but that doesn't mean the New Poker II is any less useful. It has a standard function-shifting button but also implements three function layers. Toggling between them changes what each key does without having to press additional ones. For example, the number row becomes the F row, while keys to the right of the Space bar become arrows.
Another way of changing key functions is by toggling any of the six DIP switches located on the New Poker II's bottom. Two of them change the layout from QWERTY to less-used ones like Workman or Dvorak. The rest shift the positions of various function keys to suit your typing style better.
The New Poker II doesn't come with support software; everything is programmed and saved to the keyboard itself instead. That is useful since it means every macro you create will be saved and transferred no matter where you use the New Poker II.
What We Didn't Like
Accessing keys you've customized isn't straightforward. You have to cycle through the function layers to get to the one you wish to alter. Then you need to do so again once you want to press it since using Fn plus the custom key doesn't work. The New Poker II has a neat cable channeling feature that makes it possible to lead the cable through either of its sides. Sadly, it doesn't have a USB pass-through.
Tech Specs
Dimensions: 11.5 x 4.7 x 1.1 in.
Weight: 1.9 lbs.
Switch style choices: Cherry MX Blue, Red, Brown, Clear
RGB: No
USB pass-through: No
Has wrist rest: No
The Pros
Small profile
Excellent build quality
Can be customized without software
Support for different layouts through DIP switches
The Cons
No USB pass-through
Getting to programmed keys is convoluted
6. Best Budget Option – HyperX Alloy FPS Pro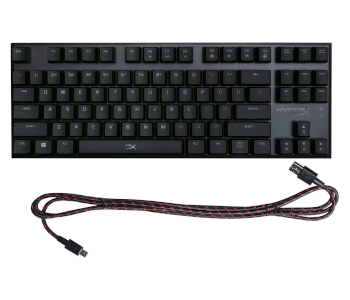 View on Amazon
Editor's Rating: 4/5
Do you need a reliable mechanical keyboard that lights up but isn't RGB? That's the idea behind the HyperX Alloy FPS Pro, a no-frills model that will still get you noticed at LAN parties. You'll find little going on when it comes to additional features, but that's why you're getting a fantastic keyboard at a price that's hard to beat.
Overview of Features
The HyperX Alloy FPS Pro keeps things simple design-wise as there are no extra multimedia or profile buttons. On the other hand, the keyboard is tastefully made with a metal case and elegant plastic keycaps protruding from it at an impressive height. Whichever Cherry switch you choose, they feel responsive and pleasant to touch.
The switches aren't transparent, and there are no channels in-between rows to accentuate the bright red LEDS. That's actually not a bad thing – it means that the light is concentrated and shines mostly through the etched keycaps. Combined with the HyperX Alloy FPS Pro's readable font, that implementation makes it an excellent choice for people who need to type in the dark frequently.
The keyboard makes clever use of its function keys in place of no extra options. Pressing the Fn key with F6 through F8 handles playback while F9 through F12 control the volume and disable the Windows key in Game mode. There's no software, so you adjust the lighting through key combinations too. You can change the brightness in five stages or choose between six lighting effects.
Are There Drawbacks?
The HyperX Alloy FPS Pro's cable ends with a Mini-USB jack. That might become a problem if the cable ever becomes damaged since there aren't that many devices that use this format anymore. The keyboard's feet are rubberized but flimsy. They come off frequently and can be reattached, but that leads to wear and may cause the feet to break.
Tech Specs
Dimensions: 14.1 x 5.1 x 1.4 in.
Weight: 1.8 lbs.
Switch style choices: Cherry MX Blue, Red
RGB: No, solid red light
USB pass-through: No
Has wrist rest: No
The Pros
Exceptional quality for a low price
Great for typing in the dark
Elegant design
Genuine Cherry MX switches
The Cons
Flimsy feet
Has Mini-USB cable