Compare Cricut Machines: The Best One for Your Craft and Hobby Needs
3D Insider is ad supported and earns money from clicks, commissions from sales, and other ways.
Cricut is a company that's going to help you with all your crafting needs. With a few machines available for hobbyists, you want to know which is the right one for you. Not all craft and hobbies are the same, and some of these machines may be perfect for your needs over the other.
One thing is for sure, they're all capable of precision cuts allowing you to make and complete a variety of projects with ease. These are excellent tools that will give you the freedom to create whatever is on your mind, from small paper crafts to custom greeting cards for friends and loved ones.
Cricut Machine Comparison
There are different types of Cricut cutting machines, with each one having their own sets of features. If you're looking for a device to help you with your craft and hobby, here's a comparison, so you'll know which one is right for you.
Cricut Joy
Cricut Explore Air 2
Cricut Maker
Perfect Use
Quick, everyday
projects
DIY hobbies
Next-level DIY
projects
Max Material Width
5.5 inches
12 inches
12 inches
Max Material Length
20 inches
24 inches
24 inches
Material
Compatibility
50+ Materials
100+ Materials
300+ Materials
Cardstock and Paper
YES
YES
YES
Adhesive Vinyl
YES
YES
YES
Iron-on Vinyl
YES
YES
YES
Infusible Ink
YES
YES
YES
Bonded Fabric
YES
YES
YES
Fabric
NO
NO
YES
Balsa Wood
NO
NO
YES
Cricut Felt
YES
YES
YES
Wool Blend Felt
NO
NO
YES
Cricut Faux Leather
YES
YES
YES
Genuine Leather
NO
YES
YES
Garment Leather
NO
NO
YES
Tools and Capabilities
2 (Cutting and Writing)
4 (Cutting, Writing,
Scoring)
12+ (Cutting, Writing,
Scoring, and Other
Effects)
Fine Point Blade
YES
YES
YES
Deep Cut Blade
NO
YES
YES
Rotary Blade
NO
NO
YES
Knife Blade
NO
NO
YES
Scoring Tool
NO
YES
YES
Debossing Tool
NO
NO
YES
Engraving Tool
NO
NO
YES
Perforation Tool
NO
NO
YES
Pen
YES
YES
YES
Double Tool Holder
NO
YES
YES
Commercial-grade
Cutting
NO
NO
YES
Faster Cutting and
Writing
NO
YES, Up to 2x
YES, Up to 2x
Added Cutting Power
NO
NO
YES, Up to 10x
Smart Materials
YES, For long
continuous cuts
NO
NO
Card Mat
YES, For custom cards
NO
NO
Printer Integration
NO
YES
YES
Free Design App
YES, iOS, Android,
Windows, Mac
YES, iOS, Android,
Windows, Mac
YES, iOS, Android,
Windows, Mac
Connectivity
Bluetooth
Bluetooth, USB
Bluetooth, USB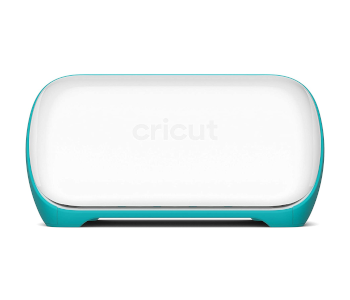 Retail Price: $179
The Cricut Joy is the company's latest model, and it's also significantly different from their previous machines. One of its most notable features is that it's a lot smaller in size compared to their other models. It's more portable and lighter, about the size of a loaf of bread, allowing you to bring it with you so you can do your crafts just about anywhere.
It's still capable of cutting out precise patterns on many different materials. Still, it's not as flexible as Cricut's much larger devices. It's an excellent way to get started on this type of hobby as it's reasonably priced.
Smart Materials
The main difference between the Joy and its larger siblings is its support for Smart Materials. These are new materials specifically designed for this machine, allowing you to use them without using a cutting mat. The unique thick back material makes this possible, as it supports the blade in the cutting process.
Since you're not relying on cutting mats, it makes working with long cuts of up to 20 feet long. With the Cricut Joy, you're able to make crafts not possible with their much larger machines like the Explore Air 2 and the Maker. It also makes working on your hobby a lot easier since you don't have to worry about more materials whenever you're setting it up.
Cricut has made Smart versions of materials such as adhesive, removable, and iron-on vinyl and writable labels. These materials produce the same quality crafts as their non-Smart counterparts. The real advantage that you get is that it allows you to do quick projects since you don't need a cutting mat.
This makes the Cricut Joy an excellent machine for beginners since you don't have to worry about a lot of things before getting started. One problem with Smart Materials is that they're not compatible with the older machines. They are designed together with the much newer Cricut Joy.
Ease of Use
This is probably one of the main reasons why you would consider getting the Cricut Joy over others. It is the latest Cricut device. Its target market is clearly beginner crafters and hobbyists who don't have enough experience.
The new Smart Materials does help as getting started requires significantly fewer items compared to previous machines. It's certainly a lot easier to use than the Explore Air 2 and the Maker. If the Cricut Joy can get you started in exploring this new hobby, then it has done its job.
Performance
The Cricut Joy is the perfect machine if you want to make lots of greeting cards and custom labels. Similar to other Cricut machines, it can handle the most popular materials like vinyl, construction paper, and card stock. However, it does not have the cutting force to take on more rigid materials like acrylic, wood, or metal.
The Cricut Joy is noticeable smaller, which limits the types of projects you can work on. However, the support for Cricut's new Smart Materials is a welcome addition that opens up a few more possibilities due to its size.
One of the things you can do with the Joy is work with infusible ink. This is an ink that allows you to transfer designs to your fabric using a heat press. Bringing you on par with other similar machines.
The type of craft where the Cricut Joy really shines is making greeting cards. You can quickly make two-tone designs with the Insert Card material and the Card Mat to help with cutting them. Making personalized designs is also a breeze with the Cricut Joy. You can make them as intricate as you like since it will handle all the cutting tasks.
A Clever Cutting Machine
The Cricut Joy is certainly a fun device to play around with, especially if you want to make personalized cards, stickers, and many more crafts. It's small and compact, which limits the various projects you can do. But, it's still flexible enough, allowing you to work on a variety of projects, thanks to Smart Materials.
If you're looking for an excellent starting device for your crafts, the Cricut Joy is what you're looking for. It does have some limitations, especially with more complicated projects. Still, if you're a beginner and want to get started, this is the perfect machine.
Cricut Joy Key Features
• Small and portable machine
• Smart materials
• Great for cards
• Makes labels with ease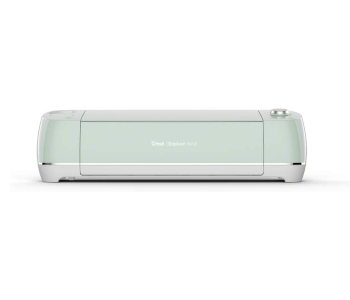 Retail Price: $227
If you're looking for a more advanced craft and hobby machine that's still beginner-friendly, the Cricut Explore Air 2 is the one for you. It can draw, cut, and score on over 100 materials, so you can create just about anything you can think of. It comes with automatic cutting settings that are going to make everything a breeze. It also has a ton of accessories to choose from, so you always get precision cuts every time.
Design
The Explore Air 2 is a well-designed machine. It's a crafter's favorite, especially those with some experience, as it's reliable and easy to use. On top of that, it's a stunning device that looks good even if it's just sitting on top of your desk.
You know that it's well-made since it's a joy to use. It opens up smoothly so you can quickly have access to the different tools and accessories that you can use. It's also sleek and does not take a lot of desk space, allowing you to put it anywhere, so it's ready for use for your craft projects at all times.
Cutting Precision and Speed
One of the best features of the Cricut Explore Air 2 is its cutting performance. Not only that, it can cut exceptionally well, it's also a fast one compared to other similar machines. The cutter is versatile, letting you cut a lot of different materials. It's also accurate that even intricate designs are not a problem.
There is also an accessory adapter where you can attach Cricut pens allowing you to cut and draw while saving you time. Compared with other machines, it can cut up to twice as fast, making it one of the faster cutting and craft tools out there.
The thing that makes this possible is the Premium Fine-Point blade that the Explore Air 2 comes with. It's made from German carbide steel, making it a lot sharper than other blades. It is durable, allowing it to cut a lot of different materials.
The Explore Air 2 is an excellent cutting machine that makes your craft projects a lot easier. It's incredible at cutting various types of materials so you can move on from one project to another quickly.
There are a lot of accessories that you can get for the Explore Air 2. Still, the ones you should get first are two additional blades that will allow you to cut thicker materials. You can get the Deep-Point blade, enabling the machine to cut materials like cardboard, thick card stock, form sheets, chipboard, and others with ease.
Additionally, you can also get the Bonded-Fabric blade to cut more materials that other devices can't. With these three blades, you improve the versatility of the Explore Air 2 significantly since you can cut just about any type of material.
Easy to Use Features
One of the hallmarks of the Explore Air 2 is its many features that make operating it a breeze. It comes with a Smart Set Dial that allows you to choose the material you want to cut. This automatically sets the cutting speed and depth, so you don't have to worry about it. There is also 2x Fast Mode that speeds up the cutting process, meaning you're not waiting for your projects to finish all day long.
Controlling the machine is also straightforward. It does not come with a touchscreen, but you'll be able to use it via the app on your computer or smartphone.
One of the factors that make the Explore Air 2 easy to use is Cricut Design Space. Whether you're a beginner or a seasoned craft hobbyist, you're going to be spending most of your time on the design software to make sure everything's perfect before you start cutting them.
Compared to pro-level design software, Cricut Design Space is reasonably simple and straightforward to use. It's also free with all the tools that you need for your projects. One of its advantages is that it's cloud-based, so you don't have to worry about running it on your computer. You'll be able to access and edit your designs, whether you're on your phone, tablet, or PC.
Best Value for Craft Hobbyists
The Cricut Explore Air 2 is a machine that will provide you with the best bang for your buck. It's easy to use a craft device that will cut just about anything for all of your projects.
Cricut Explore Air 2 Key Features
• Smart Set Dial to take out the guesswork
• 2x Fast Mode for saving time
• Numerous accessories to choose from
• Cricut Space Design software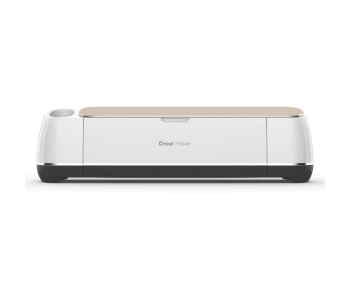 Retail Price: $369
The Cricut Maker is the fastest and most powerful craft machine you can get. It leans toward the more expensive side of the spectrum, but it does provide you with improved features over the Explore Air 2. If you're looking for a device that can handle tasks that the Explore Air 2 is not capable of, the Maker is the one for you.
It can cut more material types like fabric, leather, wood, even hard plastics like acetate. Still, it remains an easy machine to use so you can do the things that you want.
Design
The Cricut Maker is a clear upgrade from its predecessor, the Explore Air 2. They have clearly improved on the features that are clearly working great, and this is where you can see the attention to detail they poured in making sure this machine is an upgrade.
One of the most noticeable features of the Maker is that using it will require you to plug in your phone or tablet. It does come with a holder at the top to securely hold it in place and a charging port so you can continue to use it. This neat feature is useful since you have the design right in front of you as the machine does its work.
Compared to the Explore Air 2, the Maker has clearly removed the Smart Dial. It still retains all those features, but it's now controlled in the software rather than a physical dial. After all, you'll still need to set your material type in the app. The machine automatically adjusts for that making your workflow much quicker.
The machine also comes with an accessory holder to store pens and other tools, making them accessible as you work. Storage is really not an issue with the Maker as it also comes with a front tool drawer for the other accessories that you have.
Features
The feature where the Cricut Maker shines the most is in cutting quality. It's one of the best cutting machines out there right now, as it is capable of cutting just about any craft material without issues. If you're only cutting paper or vinyl, the Explore Air 2 should be enough unless you're working with the thicker types.
With fabrics and harder materials like wood, it cuts significantly better than its predecessor. The difference can be night and day with these trickier materials to work with. The improved cutting features are due to the new Adaptive Tool System giving it more power.
The tool system has a set of gears giving the blade additional movement that controls the blade's pressure and rotation. This allows the Maker to cut different types of materials with the right strength for more optimum cuts.
On top of the pressure control, the Adaptive Tool System also comes with a rotary blade making it the best materials for cutting fabric. Instead of tearing or ripping your fabric with a traditional blade, the rotary rolls over the material, cutting it even if you don't have a backing material for support.
Another component of the Adaptive Tool System is the knife blade. It's a tool that allows the Cricut Maker to cut wood and more rigid materials. It even permits you to cut leather, chipboard, balsa wood, and basswood for all your craft projects. The only downside with the knife blade is that it's a bit slower since you're cutting harder materials.
An exciting feature that gets overlooked easily is that the Maker is Bluetooth-capable. You can connect it to your computer, iPhone, iPad, or Android phone without plugging it in. This allows you to work just about anywhere, even if you don't have the cables with you.
Software
The Cricut Maker comes with a web-based software for all your projects. This means that you're going to need an active internet connection to use it. One advantage of it being connected is that you'll be able to use it on your Android or iOS device whenever you make cuts.
Another great thing about an always-connected software is that Cricut is continually updating it to improve the software. Making it more reliable and faster since releases are available for use right away.
Design Space does have one thing up the sleeve that puts it above other similar software, it supports the SVG file format, and you're able to import it for free and use it to cut files. This will undoubtedly make your life a lot easier if you know where to get files you can use for your projects. This feature also comes in handy if you are a designer since you can use your own work.
On top of the design software, you also have access to Cricut's Sewing Pattern Library. This is where you'll be able to get sewing patterns and make your life a lot easier. Now, you won't have to mark the design on the fabric and cut it out by hand. With the Cricut Maker, it can handle all of this in one quick step.
The library does come with a ton of patterns that you can choose from, especially from known brands. If you're looking to work with these patterns or even create your own designs, Cricut has the software that will make your life a lot easier.
A Hobbyist's Favorite
If you're a professional and want the best cutting machine you can get, the Cricut Maker is surely it. Its ability to cut through thicker materials and fabrics makes it one of the most versatile machines out there.
Cricut Maker Key Features
• Adaptive Tool System
• Blades for different materials
• Sewing Pattern Library for quick cutting
• Washable fabric pen for working with textiles
Which Cricut Machine is For You
Cricut machines are excellent pieces of equipment that can make your life a lot easier as you work with different craft projects. If you're looking for the right one, here's a quick way to know which is for you.
The Cricut Joy is…
For DIYers
Like its much larger siblings, the Cricut Joy can cut and write for you, making it the perfect machine for DIY greeting cards. Apart from that, it's also capable of cutting up to 50+ different types of materials, including paper, cardstock, and vinyl.
Smart Materials also make it easy for you to make extra-long cuts without a cutting mat to get yourself started on your craft projects. It's the perfect machine if you want to get started into DIY crafts as a hobby.
For Space Savers
The Cricut Joy is tiny, and if you live in a small apartment or house but don't want to compromise on your hobby, this is the machine for you. It can easily fit in a cluttered counter or table, and you can even squeeze it in a corner to maximize your space.
For Last-Minute Crafters
If setting up has always been an issue for you, you'll have no problem with the Cricut Joy. It's effortless to use, especially if you want to print out custom greeting cards with Insert Cards so you can add a personal touch to an event every time. If you're busy, Cricut's Design Space software also has projects made specifically for the Joy for quick and easy projects.
CRICUT JOY
• Compact machine for your craft needs
• One of the most affordable cutting devices
• Can cut intricate designs
• Smart Materials is a plus
$179
CHECK PRICE

The Cricut Explore Air 2 is…
For Those Looking for Value
The Cricut Explore Air 2 offers the most bang for your buck. Its flexibility to cut up to 100+ different materials makes it an excellent choice for beginners and pros alike. The precision cuts give you what you want so you can work on your DIY and other fun projects.
For More Material Choices
The Cricut Explore Air 2 is capable of cutting up to 100+ materials, including vinyl, cardstock, and backed fabric. This gives you more choices regarding what you can make, allowing you to create brand new projects with ease.
For Full-Width Crafting
If you're looking for a machine that cuts at full with, the Cricut Explore Air is one to consider. The Cricut Joy, even though it's portable, can't help you with projects that are full-width. So, if you want to cut anything up to 12 inches, the Explore Air 2 will certainly help you out.
CRICUT EXPLORE AIR 2
• Solid and reliable build
• Quick cut settings with the Smart Set Dial
• Precision cutting on cardstock and vinyl
• Import SVG files for custom designs
$227
CHECK PRICE

The Cricut Maker is…
For the Ultimate Cutting Machine
If versatility is something you're looking for in a cutting machine, the Cricut Maker is for you. It's the ultimate cutting machine with up to 10x the cutting power compared to other similar devices.
For Next Level Projects
The Cricut Maker comes with more tools and accessories that open up the door to many possibilities. Able to cut up to 300+ different types of materials, you'll be able to work on a lot of things with the Maker. You can cut the most delicate paper to rigid materials like leather and wood for exciting new projects.
For Creative Crafters Who Wants More Control
Its extensive toolset, especially with its selection of blades, means that you can virtually work on just about any material for different projects. You can be sure that the Cricut Maker's other blades will cut through materials for the best results. Take on any project, even the most intricate ones, without problems.
CRICUT MAKER
• Excellent at cutting fabrics
• Capable of cutting through thick materials
• Can use different types of blades
• Adaptive Tool System is a winner
$369
CHECK PRICE

Wrap Up: Which Should You Get?
These Cricut machines offer different levels of performance. If you're serious about what you do and want one that provides a wide range of cutting features, the Cricut Maker is undoubtedly one to recommend. It's one of the best and most versatile cutters out there with the capability of cutting fabric with ease. If your craft involves working with many intricate designs with multiple types of materials, this is the device for you.
As a hobbyist that work with a few different types of materials, the Cricut Explore Air 2 is an excellent choice. It's not the top of the line, but it offers reliable performance similar to the Cricut Maker. It can work with intricate designs on the most standard craft materials like vinyl, paper, and cardstock. It's a lot cheaper than the Maker, but if you can afford the extra cost, shelling out a few more is recommended.
Finally, the Cricut Joy. It's for DIY crafters that are starting out and exploring this hobby. It's an excellent machine for custom greeting cards and labels that you can use or give out to your friends. One of its most significant advantages is its compact design, opening up a lot of craft possibilities wherever you are in your home.
Cricut machines are reliable and marvelous. They're going to help make your life a lot easier when it comes to doing craft projects. Now, customizing and personalizing cards will not be a problem since you can quickly summon one of your machines for the best results.