6 Best Computer Chairs of 2019
3D Insider is ad supported and earns money from clicks and other ways.
Modern humans lead the most sedentary lifestyle in history. Whether we're working, relaxing, or playing, many of us do so in front of a computer monitor. With so much time spent sitting in one place, the chair you're using must be of the utmost quality.
A good computer chair needs to be comfortable above all else. That means it must offer proper support for your back and neck while also being easy on the circulation in your legs. Such a chair should be one you can spend hours in without feeling the need to change positions and ought to recline to help you catch some well-deserved rest. Last but equally important, a good computer chair should let you adjust its various parts to suit your preferences.
Here are the six best computer chairs you can buy today. We've included both office and gaming chairs at varying price points so that everyone will find a worthy upgrade. Pick the chair you like the most & do away with pain and discomfort for good.
Budget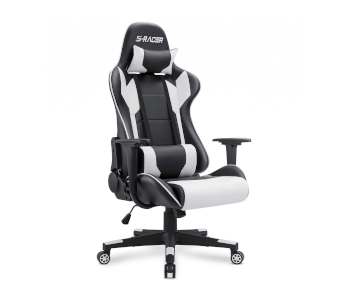 Homall Gaming Chair
3.9/5.0
Max backrest tilt: 180°
Assembly required: Yes
This is firm but reasonably comfortable.
Check Amazon
Best Value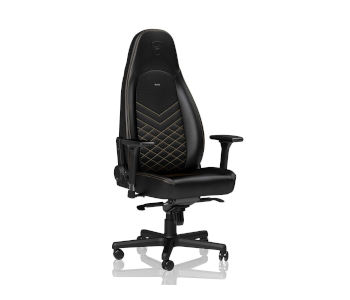 Noblechairs ICON Gaming Chair
4.6/5.0
Max backrest tilt: 135°
Assembly required: Yes
Supports your back well, even when reclined.
Check Amazon
Top Pick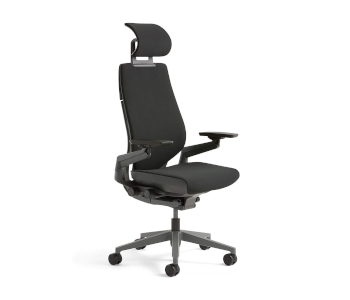 Steelcase Gesture Headrest
4.7/5.0
Max backrest tilt: 125°
Assembly required: No
Made from premium quality materials.
Check Amazon
Computer Chairs Comparison Table
1. Best Overall – Steelcase Gesture Headrest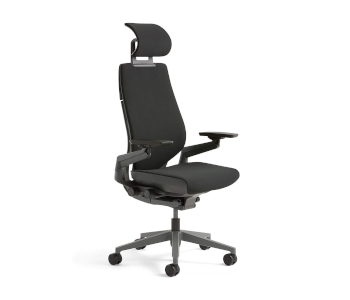 View on Amazon
Editor's Rating: 4.7/5
Most chairs cause terrible discomfort if you try to sit still in them for long. No matter what pose you adopt, it gets uncomfortable after a while, forcing you to fidget and lose concentration. The Steelcase Gesture is designed to optimally support your body whichever posture you adopt for any period. Better yet, it has an intuitive and exhaustive adjustment system that lets you customize it to your linking instantly.
Overview of Features
The Gesture arrives already preassembled in a large box, saving you a lot of time and hassle. It's robust and hard to move at almost 80 pounds, which is great for ensuring that the chair will stay in place and not snap under your weight. The latter is unlikely to happen since it supports 400 pounds. Steelcase produces the Gesture in a wide variety of colors, so it's easy to pair with the décor of your office or game room.
The best thing about the Gesture are its numerous customization options. Everything is intuitively controlled through a series of knobs and levers. You can tilt the Gesture backward, but you may also adjust the resistance level while doing so. The seat slides forward or back depending on the position of a knob. It's easily raised or lowered by pulling a lever. The chair's lumbar support isn't pronounced, but it does slide up and down if you tuat the sides.
The armrests deserve a special mention because they have the most positioning options. You may adjust their height or angle and can even play around with their width. This helps accommodate different body types and support your arms whether you're typing or reading a book.
This is the version of the gesture that comes with a headrest. The headrest slides up and down to accommodate people of various heights. Interestingly, you can also tilt it at an angle.
Sitting in the Gesture doesn't feel like you're sinking into a fluffy cloud. Rather, the sensation is best described as right. You're always supported no matter what position you've assumed. That might be irksome at first if you're a slouch, but the more you use the Gesture, the more comfortable adopting a correct posture will become.
What We Didn't Like
The Gesture Headrest is an expensive investment. There's a version without the headrest that costs $200 less, but that's still more than twice as much as other computer chairs on our list. The seat cushion has a slight downward tilt. Some people might find this weird and feel like they're going to slide out of the chair.
Tech Specs
Dimensions: 23 x 23 x 40 in.
Weight: 78 lb.
Capacity: 400 lb.
Seat height: 16 – 21 in.
Max backrest tilt: 125°
Assembly required: No
The Pros
Superbly comfortable for long periods regardless of position
Comes fully assembled
Made from premium quality materials
Remarkable adjustability
The Cons
Very expensive
Seat is tilted forwards, and its angle can't be changed
2. Best Value – Noblechairs ICON Gaming Chair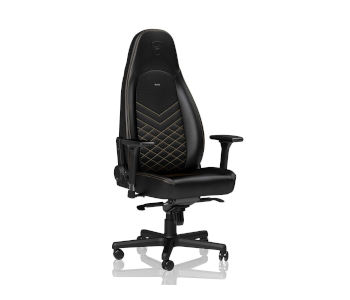 View on Amazon
Editor's Rating: 4.6/5
Do you need a gaming chair but don't like the racecar look that's so popular today? Then feast your eyes on the Noblechairs ICCON, a seat built for royalty that won't break your bank. It has a design that's as much at home in a relaxed office as at a LAN party. The reclining experience is amazing, there's a lot for you to adjust, and the comfort to support ratio is spot-on.
Overview of Features
The ICON is among the best-looking computer chairs out there. Even first-time buyers will notice the quality of its stitching and precise attention to detail. There are lots of colors to choose from, and you can get the chair in a variety of faux leather along with the real deal if you pay extra. Some assembly is required, but the process is straightforward if you get a buddy to help.
Noblechairs first released the EPIC lineup, which was criticized for hard cushions and a weak frame. Both are problems no more since the ICON has a well-padded seat and can handle 330 pounds of weight. The seat is made from a single piece of high-quality foam that won't chafe or squeak. ICON is a quiet chair in general and remains silent even after months of intense use.
The backrest feels soft to the touch but is surprisingly hard once you take a seat. However, that doesn't translate into discomfort since it molds itself to your back. There's a lever you use to recline it at a maximum angle of 135 degrees. Conversely, the backrest can be brought up to stand vertically and keep your spine completely straight. We enjoyed the former more since lounging in the ICON feels luxurious while not being unhealthy.
The armrests are padded and have a full range of motion. You can place them closer or further apart, bring them forward or back, and lower or raise their height. They don't move forward much, though, so you'll want to divide your work into shorter typing sessions and take small breaks every so often.
What's Bad About It?
The ICON offers little lumbar support. The lower part of its backrest is almost entirely flat, which makes the chair unsuitable for people with lower back problems. While the ICON is well made, its adjustment levers aren't. They're plastic, light, and prone to breaking if you apply force.
Tech Specs
Dimensions: 20.5 x 49.8 – 53.7 in.
Weight: 61 lb.
Capacity: 330 lb.
Seat height: 18.3 – 22.2 in.
Max backrest tilt: 135°
Assembly required: Yes
The Pros
Premium quality at a reasonable price
Supports your back well, even when reclined
Cool design
Backrest is hard yet comfy
The Cons
Lackluster lumbar support
Flimsy levers
3. Herman Miller Aeron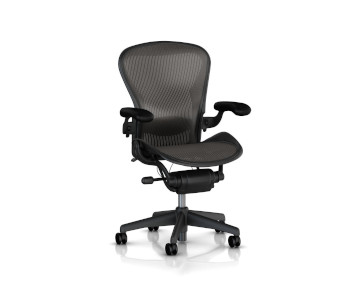 View on Amazon
Editor's Rating: 4.4/5
Herman Miller's Aeron is one of the best-known models in the office chair design industry. Its first iteration was released decades ago, and the current reboot retains the same iconic look while offering a slew of comfort and support features. The best thing about this chair is Herman Miller's modular approach to design, meaning you can get a barebones version or invest in upgrades for individual parts. Even if you go for the most basic version, Aeron offers a sublime seating experience well worth the hefty price tag.
Overview of Features
The Aeron is another chair that comes preassembled. It has an ingenious box that opens to the side, allowing you to remove the chair without making a fuss. Unlike other chairs, there are three sizes of the Aeron to consider. We're reviewing the B version since it's suitable for most people in terms of height and weight. You can always go for A if you're slender or C if you're taller and heavyset. All three models come with a generous 12-year warranty on all parts.
The first thing you'll notice about the Aeron is the breathable 8Z Pellicle mesh that makes up its seat and backrest. The mesh is light yet firm. In the case of the backrest, it is sculpted to follow the contours of the human body correctly while providing a non-slip surface on the seat. It also keeps the chair fresh and free from odors. Other materials are of the best quality too; from quality plastic to its graphite frame, everything is made to last longer than the warranty covers.
There are three main adjustment areas on the Aeron. Its seat can be positioned either horizontally or at a 5-degree forward incline. You may control the height, width, and position of the armrests. Lastly, the backrest tilts backward with varying degrees of tension and also has a forward tilt suitable for people who type a lot.
We already said that the Aero is modular. That means many of its parts are replicable and can be upgraded. Don't like the backrest? Get one with better lumbar support instead. Graphite not your thing? Herman Miller offers different cast aluminum alternatives. Keep in mind that going all-out means you'll have to spend as much as you would on a Gesture or more.
Are There Drawbacks?
The chair's bottom frame is thick, and you may be able to feel it under your calves in spite of the cushioned seat. There's no headrest. While that's not a big deal for office work, it does limit the Aeron as a chair you'd use to relax or watch a movie.
Tech Specs
Dimensions: 17 x 27 x 42 in.
Weight: 48 lb.
Capacity: 325 lb.
Seat height: 16 – 20.5 in.
Max backrest tilt: Not specified
Assembly required: No
The Pros
Made to last and has a warranty that reflects this
Adjustable seat ad forward tilt
Has breathable mesh
Lots of upgrades to choose from
The Cons
No headrest
You might feel the frame while sitting
4. GT Throne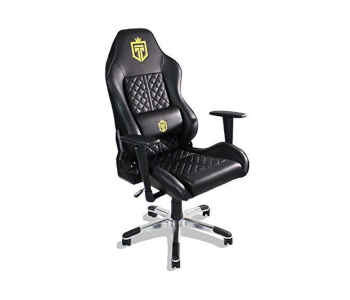 View on Amazon
Editor's Rating: 4.2/5
The chairs we've discussed so far are pleasant to sit on but have no other features. Apart from being a premium-quality chair, the GT Throne delivers an immersive gaming and music experience. It does so by vibrating in tune with the action or the base of your favorite track. Get it if you're a fan of FPS and action games as the kick it gives them makes for unique immersion.
Overview of Features
The GH Throne is a gaming chair through and through. There's the racing seat look, a large GT logo, and side flaps you'd associate with contemporary gaming chair design. However, it's also understated as gaming chairs go. You can choose between all black or black & gold, and neither version looks garish. Both come with some assembly required and two pillows for lumbar & neck support.
This chair would have made our list even without the unique features on account of its solid build. The frame is made from steel, while the bottom is aluminum. Its wheels are sturdy and tread lightly so they won't damage your floors if there's no carpet. The upholstery is stitched together well, and the seat feels comfortable without being too soft. The chair can recline an impressive 140 degrees and has a max weight limit of 330 pounds.
Haptic feedback through a system called Tremor FX is what makes the GT Throne special. With it, you get a receiver and transmitter. The transmitter plugs into a PC or console while you plug your headphones & mic into a passthrough on the receiver. As you play, a series of actuators located throughout the chair vibrates in time with the action and with varying intensity. You'll notice the difference between footprints and explosions, and the feeling is exhilarating. Once it's time to relax, the Throne will rumble along with your songs' baselines. It's not quite a relaxing massage experience, but it gets close.
What We Didn't Like
You have to have a headset to use the Throne's standout feature. PC gamers won't have a problem with that, but you might grumble if you play on console and have a high-end surround system. The chair needs to be plugged in for Tremor FX to work. That means its power cable is always nearby and can get caught up in the wheels if you move a lot.
Tech Specs
Dimensions: 31 x 27 x 15 in.
Weight: 65 lb.
Capacity: 330 lb.
Seat height: 14.5 – 19.5 in.
Max backrest tilt: 140°
Assembly required: Yes
The Pros
Solid build quality and ergonomics
Unobtrusive for a gaming chair
The Tremor FX feature
The Cons
Has power cable that may get tangled
Tremor FX can't be used without a headset
5. Alera Elusion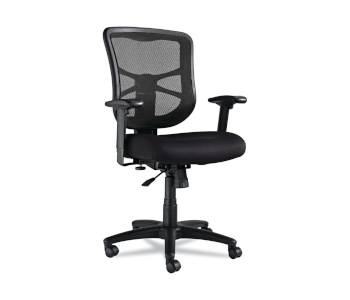 View on Amazon
Editor's Rating: 4/5
The Alera Elusion is often compared to the Aeron chair we reviewed earlier. It's no wonder considering its mesh backrest, adjustable armrests, and comfy seat. While it may not have all of the Aeron's bells & whistles, this chair performs slightly worse at a much lower price. Like the Aeron's aesthetic but don't have the budget for it? Then Alera Elusion is the ideal chair for you.
Overview of Features
Unlike the Aeron, this chair requires some assembly. You'll be done with it quickly since the one-page instructions cover each step thoroughly. We wish that there were more color options since the only choice you are given is between white and black mesh. Even so, the Elusion is an elegant chair that fits perfectly into any office environment.
The mesh material of its backrest is what we like most about this chair. It helps circulate air around your back and keep it from sweating, which is a godsend if you work in a sweltering office. There are two versions of the chair; the mid-back variant has a pronounced curve in the lumbar area and is better for support, so that's the one you're better off buying.
The cushion is generously padded and expertly stitched to prevent the foam inside from moving or bunching up. Its design incorporates a front waterfall edge. That means the front side slopes down gently instead of resembling a cliff. The result is less strain on your legs and better blood flow regardless of how long you're working.
Movable parts of the Elusion include the back and armrests. You can recline in the chair to a limited degree but may lock it in at any step of the way. The armrests are another matter as you can set them at various widths or heights as well as move them farther away or closer to the rest of the chair.
The Elusion is made from 100% recyclable materials and is lightweight compared to other entries on the list.
What's Bad About It?
This chair has a maximum capacity of 250 pounds. That makes it a lousy choice for heavier as well as taller people. The armrests are positioned too much towards the back. Placing your hands on them digs your elbows into the chair, which leads to discomfort if you maintain the position.
Tech Specs
Dimensions: 31 x 27 x 15 in.
Weight: 25 lb.
Capacity: 250 lb.
Seat height: 18.8 – 22.4 in.
Max backrest tilt: 125°
Assembly required: Yes
The Pros
Easy to assemble
Adjustable armrests
Breathable mesh back
Waterfall seat edge
The Cons
Awkwardly-placed armrests
Low weight capacity
6. Best Budget Option – Homall Gaming Chair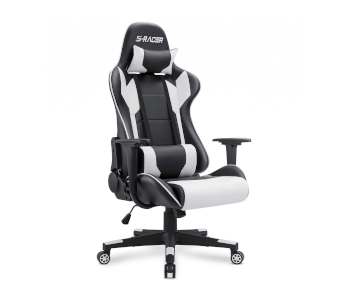 View on Amazon
Editor's Rating: 3.9/5
Our cheapest computer chair recommendation will set you back less than $100 but feels like it's worth twice that. Homall's chair has had worldwide success in the budget gaming chair category due to its excellent reclining abilities, solid build, and contemporary design. There's no better choice for computer users who're looking to get the most out of a modest seating budget.
Overview of Features
Homall's gaming chair caries the racecar seat aesthetic well. It comes in either all-black or a tasteful combination of black with either blue, red, or white. Assembling the chair isn't challenging but might take some time due to the vagueness of its manual. Even so, you should be done and ready to enjoy it in 60 minutes tops.
The chair's frame is made of steel. This gives it both long-lasting durability and stability. At 42 pounds, Homall's chair is not easy to tip over and supports people weighing 300 pounds or less. It's also a model tall users will appreciate because of its high backrest. You'll love the chair if you're over 6 feet tall since the headrest and accompanying neck pillow won't bite you in the back.
This model reclines a full 180 degrees. That means you can use it as a standard computer chair while working and then catch some rest after you're done. You can lock the chair's position in place or let it move backward and forward like a rocker with different resistance levels.
How does sitting on Homall's chair feel compared to competitors that cost ten times as much? It's certainly less comfortable than the Gesture, but not to the point that you couldn't spend your workday in it. The foam in its seat is on the firm side. On the other hand, it doesn't deform or flatten with prolonged use. If you like the chair when you first buy it, you'll continue to do so years down the road.
Are There Drawbacks?
The armrests are fixed in place and can't be adjusted in any way. That might be a problem if you use them as support when typing or holding a gamepad. The seat has raised sides. You may find this uncomfortable if you have thicker hips.
Tech Specs
Dimensions: 32.7 x 15.3 x 29.1 in.
Weight: 42 lb.
Capacity: 300 lb.
Seat height: 17.3 – 21.5 in.
Max backrest tilt: 180°
Assembly required: Yes
The Pros
Excellent value for the money
Reclines to a horizontal position
Firm but reasonably comfortable
Great for tall people
The Cons
Armrests are fixed in place
Seat's sides are raised