Headphones Comparison: Corsair HS60 Pro vs. Logitech G433
3D Insider is ad supported and earns money from clicks, commissions from sales, and other ways.
If you are shopping for relatively budget-friendly gaming headsets under $100, the Corsair HS60 Pro and the Logitech G433 are two of the best options on the market. The former normally sells for about $70 while the latter is usually in the $80 range. But you can get them for around $50-60 on some days, with their prices sometimes dropping to below $50.
You can't go wrong with either headset since both offer good value for the money. However, it's not simply about buying whichever is cheaper at the moment, as each headset has its own advantages. In this head-to-head comparison guide, we'll give you a rundown of the strengths and weaknesses of both headsets, as well as their similarities.
Quick Look
Corsair HS60 Pro
Logitech G433
Form Factor
Over-ear
Over-ear
Enclosure Type
Closed-back
Closed-back
ANC
No
No
Connectivity
3.5 mm analog cable, USB adapter
3.5 mm analog cable, USB
adapter, Y splitter cable
Battery
N/A
N/A
Weight
11.2 oz
9.1 oz
Price
Amazon
Amazon
Design
The HS60 Pro and the G433 are wired gaming headsets with different advantages in design and not many similarities between them. The Corsair product is much better-built, with more metal parts, and has a more convenient on-cup control scheme for gaming. The Logitech product is slightly lighter and more portable, has more versatile controls, and includes more accessories. It also includes two audio cables and more breathable stock earpads. Considering its advantages, the G433 is the better-designed headset overall, but the HS60 Pro is the winner in build quality by a significant margin.
Fit
The HS60 Pro and the G433 are both over-ear headsets with closed ear cups, making them less breathable than open headphones. Both are comfortable to wear for long gaming sessions despite their rather tight headband clamps, with their large ear cups capable of accommodating most ear sizes and their similarly flexible headbands easily adjusting to large heads.
Their earpads are different, though. The Corsair headset has soft memory foam earpads covered with synthetic leather while the Logitech headset has more breathable earpads coated with mesh fabric. An additional pair of earpads are included with the G433, but instead of the same mesh fabric, they are covered with microfiber fabric that feels nicer on the skin. The extra microfiber earpads are not as breathable as the default mesh earpads, though.
Build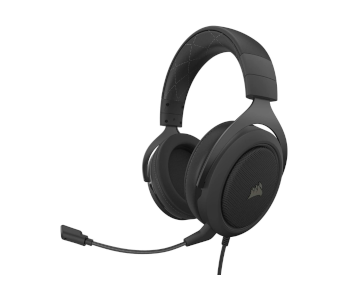 Featuring accented stitching in either white or yellow, the HS60 Pro is much better-built than the G433 and feels like a premium headset. It has a metal headband frame with thick, synthetic leather-coated padding and features metal hinges. Moreover, its matte plastic ear cups have metal grilles on the outer side, which might give the impression of open-back headphones. The default audio cable is braided and also feels durable, but you can't remove it, hurting the longevity of the headset.
Although it has fewer metal parts compared to the Corsair headset, the G433 is still a decently built gaming headset that feels sturdy. It has a metal-reinforced headband that won't easily break after just a few twists and stretches. It's lighter than the HS60 Pro and has a detachable cable, which adds to its overall durability. On the other hand, its hydrophobic, stain-resistant fabric on both the headband padding and ear cup shells feels more vulnerable to wear and tear.
Both headsets have casual designs for gaming headsets, preventing them from standing out too much if you wear them outside or in the office. They lack fancy RGB lighting and can be mistaken for regular headphones if you remove their boom mics. In short, both don't scream "gaming" like other headsets, which is a plus if you intend to use them as everyday headphones. But if you want a more eye-catching headset, Logitech offers flashier color schemes for the G433.
Controls
The HS60 Pro has a simpler and more convenient control scheme for gaming, featuring on-cup controls for quick adjustments on the fly. This is especially beneficial when playing fast-paced multiplayer games. It has a volume wheel and a mic mute button on the left ear cup, with both of them being easily accessible.
Meanwhile, the G433 is more versatile. While it lacks convenient on-cup controls, it includes two audio cables with different remotes: one for gaming on PC and consoles and another for connecting with mobile devices like smartphones and tablets. The gaming-oriented cable has a remote featuring a mic mute switch and a volume wheel – a typical control scheme for a gaming headset. The shorter mobile cable includes a remote with a built-in mic and a multi-function button for managing your calls and music, but there is no volume control.
Portability
Both headsets are large and bulky and don't fold into a more compact format, making them less portable. But if you want a headset that is easier to carry for gaming on the go – either on a Nintendo Switch in handheld mode or on mobile devices – the G433 is a better option. It comes with a soft pouch for storage and has ear cups that can swivel to a flat position, making it slightly more portable and less cumbersome to carry around your neck than the HS60 Pro.
Accessories
The G433 has more accessories than the HS60 Pro and most other gaming headsets in the same price range. In addition to the aforementioned audio cables, extra microfiber earpads, and soft pouch, it comes with a USB adapter for digital audio and a Y splitter cable for separate headphone and mic ports on a PC or laptop. On the other hand, the Corsair headset only includes a USB adapter and a mic windscreen. For both headsets, the included USB adapter is mainly for connecting to a PC and interfacing with the desktop app.
Performance
Unlike in the design department, the HS60 Pro and the G433 have more similarities in performance, but the latter still edges out the former by a small margin. The Logitech headset sounds better overall, with better bass, and has better mic performance, but not by a significant margin in both aspects. Both headsets have mediocre sound isolation, don't need batteries to work, and offer analog and digital wired connection options. Furthermore, both are compatible with PC, consoles (PS4, Xbox One, Nintendo Switch), and mobile devices, with app support when connected to a PC via USB.
Sound
With its more accurate bass, the G433 is a better-sounding gaming headset than the HS60 Pro, whose bass can be overpowering sometimes. But both of them sound good overall, with good clarity and detail and a decent soundstage for closed-back headsets. Both are suitable for different kinds of games, including action-packed games with lots of explosions and gunfire and story-based games filled with dialogue-heavy cutscenes.
You can customize their sound profiles using their respective desktop apps. Both headsets also feature virtual surround sound, which can be activated using their included USB adapters, but only when gaming on PC. Don't expect too much regarding their virtual surround sound features, though, as both are mediocre at best on that front.
Isolation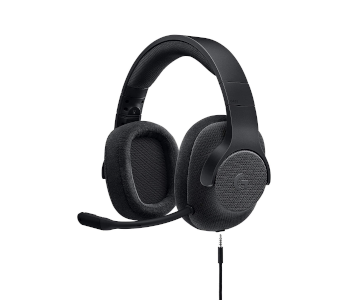 Both the HS60 Pro and the G433 have subpar passive noise isolation, which makes them unsuitable for on-the-go gaming in very noisy places. But for gaming at home, their passive noise isolation should be enough for most people. The Logitech headset is slightly better at reducing background chatter while the Corsair headset has lower sound leakage, but not by much. Both headsets are also decent at reducing noises in the treble range.
Mic
The G433 has better mic performance than the HS60 Pro, with its boom mic providing better recording quality and noise reduction. This is especially beneficial if you regularly play team-based multiplayer games where team communication through voice chat is important. But while the Logitech headset has a better mic overall, the HS60 Pro is not far behind. Its boom mic is still good and similarly works well even in a noisy environment.
For both headsets, the boom mic is detachable and connects to the left ear cup. The Corsair headset also includes a removable mic windscreen, which helps with noise reduction and protects the mic capsule from moisture and dirt.
Battery
Both gaming headsets are completely passive and lack any active features that require an internal battery. This means you can play as long as you want without worrying about running out of battery while in the middle of a game.
Connectivity
The HS60 Pro and the G433 are both limited to wired connectivity. Their audio cables identically terminate in 3.5 mm analog plugs for easy compatibility with PC, consoles, and mobile devices. The Corsair headset has a non-removable audio cable while the Logitech headset, as mentioned, includes two audio cables that you can easily swap out, along with a Y splitter cable for separate headphone and mic ports.
If you want to customize the headsets using their respective desktop apps – Corsair iCUE for the HS60 Pro and Logitech G Hub for the G433 – you'll need to connect them using their USB adapters, which seamlessly connect to their analog audio cables. Regarding customization options, the two desktop apps are about the same, with both offering a graphic equalizer and sound presets, virtual surround sound support, and mic settings.
Wrap-up
Corsair HS60 Pro
The HS60 Pro is a good gaming headset, with its impressive build quality making it stand out among similarly priced headsets. It's much better-built than the G433, with more metal parts, and features a more convenient on-cup control scheme for gaming. It sounds good and has a good boom mic for voice chat, with its removable mic windscreen helping reduce background noise for a cleaner recording. It can easily connect with different gaming platforms – including handheld consoles and mobile devices – and has a good desktop app for customization. If you prefer a well-built headset with convenient on-cup controls, the HS60 Pro is a better option than the G433.

You can also check out the older HS60, which sells for a similar price. Its earpads are not as soft as that of the HS60 Pro, but it's still comfortable to wear. While its audio cable is rubberized instead of braided and its ear cup shells lack the matte finish seen on its successor, it's still better-built than the G433. Its sound quality and app support are just as good while its mic performance is solid, with good noise reduction despite lacking a windscreen. If you can find it at a much lower price and don't care about the few build quality upgrades of the new model, don't hesitate to get the HS60 instead – it remains one of the best budget gaming headsets on the market.
Pros
Cons

Impressive build quality for the price
Good sound quality
Convenient on-cup controls
Removable boom mic with windscreen
Multi-platform compatibility
Decent software customization options

Non-detachable audio cable
Limited swivel adjustment
Mediocre virtual surround sound
Logitech G433
The G433 is one of the best gaming headsets under $100. It sounds better than the HS60 Pro, with a less overpowering bass, and has a better boom mic with excellent noise reduction. While not as good as that of the Corsair headset, its build quality is still decent, with a detachable audio cable that adds to its durability. It's comfortable to wear for long gaming sessions, with its default mesh earpads making for a more breathable over-ear fit. It comes with more accessories than the HS60 Pro – including extra earpads and a dedicated audio cable for mobile devices – and is slightly more portable, making it more suitable for gaming on the go. Overall, the G433 offers better value for the money than the HS60 Pro, edging out the Corsair product in many aspects.
Pros
Cons

Good sound quality
More breathable mesh earpads
Great boom mic for voice chat
Two audio cables with different in-line remotes
Lots of accessories included
Good app support
Multi-platform compatibility

Fabric coating feels more vulnerable to wear and tear
No convenient on-cup controls
Mediocre virtual surround sound