The Creality CR-Scan Lizard – Is It the 3D Printing Accessory You Need?
3D Insider is ad supported and earns money from clicks, commissions from sales, and other ways.
3D printing has become very popular even amongst hobbyists and home users, but there is still a question that perpetually gets asked – where to get models for 3D printing? If you have no 3D modeling skills, then you make do with the free models that you can download online.
Another alternative is to generate 3D models from physical objects. This can be done using a 3D scanner. However, industrial-grade 3D scanners generally cost several thousands of dollars. Creality aims to change the game with the CR-Scan Lizard, a relatively affordable 3D scanner with industrial-grade quality.
A Kickstarter project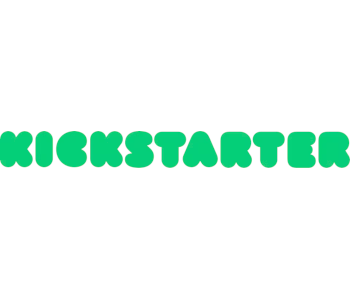 The Creality CR-Scan Lizard was announced as a Kickstarter project back in February 2022 with a funding target of almost $13,000. The goal was target after just several minutes. It went on to raise more than 4 million US dollars with backing by more than 9000 people.
The success of the Kickstarter project is telling of the good reputation that Creality has built over the years. Aside from their line of 3D printers, Creality had previously released an entry-level 3D scanner called the CR-Scan 01. This was a portable 3D scanner that used structured light technology and had a retail price of about $700.
The CR-Scan Lizard was billed as the "new and improved" version of the CR-Scan 01. Although the Kickstarter has since closed, we can expect the CR-Scan Lizard to be widely available in a few months. Is this something worth saving up for? Will this be the next essential accessory to your 3D printer?
Build quality and accessories
Although the CR-Scan Lizard is not yet available to buy, a few review copies have been sent out for testing. The CR-Scan Lizard is still compact yet feels more robust than the CR-Scan 01 predecessor. It is somewhat smaller, although one may argue about whether it can be considered portable.
As with most 3D scanners, the CR-Scan Lizard comes with a tripod that can be converted to a handheld monopod. The mount of the 3D scanner itself is of standard size, so you should be able to use any other tripod.
The other critical accessory is the USB-powered turntable. This requires an external USB power source and rotates at a fixed speed. The turntable does not need to be connected to any other device or software – it works completely independently.
All cables needed to connect the scanner to a computer and for power are included in the package.
Software
The CR-Scan Lizard is fully dependent on the CR Studio software to work. This means that the 3D scanner needs to be connected to a computer for every single scan. This is quite problematic in some cases, as we shall find out later on.
CR Studio offers many features that are designed to make 3D scanning as quick and intuitive as possible. Examples of these include options of auto noise removal, texture mapping, and simplified topology among dozens of others. However, not all of these functions were easy to use or produced results with the expected quality. CR Studio export 3D models as either STL or OBJ files.
The interface of CR Studio also needs some tweaking to make it more intuitive and user-friendly. This can be remedied easily by either a tutorial module or a detailed manual. To be fair, the software is still in its Beta version and we can expect massive improvements for later releases.
Workflow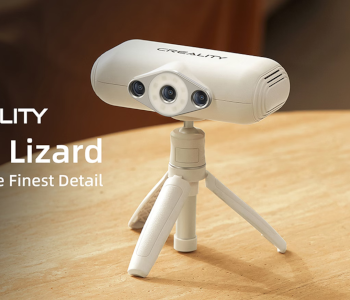 The CR-Scan Lizard can be used in three ways:
Tabletop
To use the CR-Scan Lizard in tabletop mode, you simply need to mount it on the tripod and place the object to be scanned on the turntable. This is the easiest workflow option and is likely to give you the best results. The sole limitation here is whether the object is light enough to place on the turntable or if it's just small enough to fall in the range of the 3D scanner.
The limit for scanning in Table mode is 200 mm. for the object's longest side. Beyond this, the object will no longer be within the scanner's range.
Handheld
For larger objects, the CR-Scan Lizard can be used in handheld mode. This means that you will have to hold the scanner by hand and manually move around the object being scanned. If you want to scan people, then this is the workflow to go for.
The software provides an alignment guide when the scanned is used in Handheld mode. This can be cumbersome considering the fact that the scanner needs to be connected by cable to your computer at all times. This is a method that requires patience, and more likely a healthy dose of trial and error before you get results that you will be satisfied with.
Hybrid
There is also the possibility of combining the handheld mode with the included turntable. This is excellent for objects that can fit on the turntable but are still too large for the range of the scanner. The way it works is that the object rotates on the turntable while you move the scanner around to cover all of its parts.
Scanning in hybrid mode still requires keeping an eye on the software's alignment guide, but it is much less cumbersome as you will not need to move around as much. It can still be frustrating and you're not likely to get an error-free model on your first scan.
Performance
There are already lots of compact 3D scanners out there, but these run into similar performance issues – difficulty in capturing very small details, scanning objects with shiny surfaces, or scanning surfaces that are either very dark or very bright. The CR-Scan Lizard really is no different in that regard.
The specs of the CR-Scan Lizard state that it is capable of scanning features as small as 0.05 mm. This is quite an impressive figure, but it is really only true under the best conditions. The scanner can identify very small details when they are composed of simple lines and have good color contrast. Under more difficult circumstances, parts tend to lose detail and definition.
Lack of definition in 3D scanners is not a new problem. If you encounter this, the easiest solution is to coat the object being scanned with a 3D fixing solution. This leaves a powdery residue on the surface of the object, making it more matte-like and easier to scan. Some have had success in using dry shampoo for this use-case and have gotten good results.
Another saving grace of the CR-Scan Lizard is the flexibility that the CR Studio provides for repeat scans. You can take as many scans as you need for any model, allowing for the repositioning of the model, tripod, or light sources. Bad scans can then be cleaned up in editing mode. There is no limit on how many times you want to process your scans before having to export them.
Price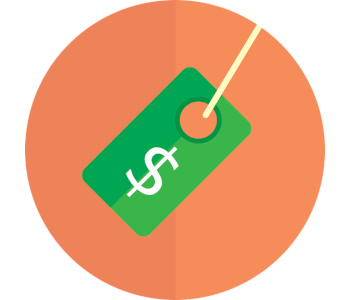 The planned retail price for the CR-Scan Lizard is $599. However, Kickstarter backers will be given an Early Bird discount that brings down the price to about $390. In comparison, a new Creality CR-Scan 01 costs about $800.
Legal issues
It would be unfair to discuss the CR-Scan Lizard without mentioning the legal issues that it is currently facing. Shortly after the Kickstarter launch, Artec Europe claimed that the CR Studio 3D scanning software used code that was copied from Artec Studio.
The Kickstarter page for CR-Scan Lizard now displays a message that the product is the subject of an intellectual property dispute. The court documents for the case can be accessed via the Court Listener website.
How these issues will be resolved is anyone's guess. The major hindrance that this development has created is that there is currently a temporary restraining order that prevents Kickstarter from distributing the funds that were raised to Creality. This likely disrupts the whole product development process, but Creality has assured backers that they will receive the 3D scanner.
Creality had previously committed that the CR-Scan Lizard will be launched in April. With the legal case still ongoing, this launch window will almost certainly not be met. This is a situation we will be keeping an eye on for the coming months.
Is it worth it?
At around $600, the Creality CR-Scan Lizard is one of the more affordable 3D scanners. The hardware itself is quite impressive in terms of simplicity and performance. The fact that the scanner and turntable does not have any on-device controls makes the control scheme more beginner-friendly.
On the software side, the CR Studio feels like it needs a lot of work. Its user interface is not intuitive, and it crashes frequently based on several hands-on tests and reviews. Creality also badly needs to provide better instructional manuals and videos for this product. As it is, the overall experience is ruined by the poorly designed software.
The price tag of the CR-Scan Lizard is what sets it apart as a good entry-level 3D scanner. It may lack a few points in performance, but it is uniquely affordable. The level of quality of 3D models that the scanner can generate is acceptable if you plan to 3D print accessories, tools, toys, or display items. Just don't expect it to replicate those high-end intricately detailed figures.
If you're new to 3D scanning or if you're looking for a good accessory for your 3D printer, then the CR-Scan Lizard is certainly worth keeping an eye on. The product has not launched yet, so there's no downside to going on "wait and see" mode for now.
Of course, all this analysis would not be worth much if the intellectual property case does not turn out favorable to Creality. How the CR-Scan Lizard releases – if it gets released at all – will largely depend on the decision on the case.
Warning; 3D printers should never be left unattended. They can pose a firesafety hazard.