6 Best Mice for CS:GO in 2020
3D Insider is ad supported and earns money from clicks, commissions from sales, and other ways.
Counter-Strike: Global Offensive continues to be one of the biggest FPS games in the world despite being almost eight years old and facing stiff competition from the likes of Overwatch and Rainbow Six: Siege. Mastering it requires perfect reflexes, a tactical mind, and loads of patience in dealing with trolls and noobs alike. Someone has yet to discover a solution for that last part. Fortunately, the best way to develop your skills is by playing the game with a cutting-edge mouse in hand.
Speed and accuracy are at the top of any CS:GO player's ideal mouse wish list. Their rodent of choice needs to be light enough to move in any direction quickly, but adjustable weights for precise aiming wouldn't hurt either. The mouse could use an extra button or two, but not so many as to become overwhelming. It should glide over any surface, maintain stability in the heat of a firefight, and look cool if you decide to show it off on a LAN party or tournament.
The rodents we've rounded up for this review check all the right boxes. We've included mice of different sized, key configurations, and height profiles. One of them is sure to be the best mouse for CS:GO for your particular playstyle. Choose one that feels right, and you'll start scoring victories for your team in no time.
Budget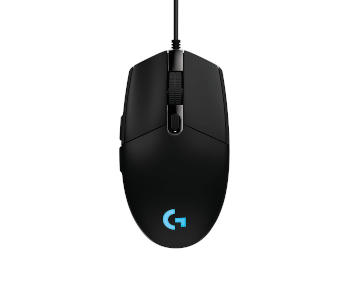 Logitech G203 Prodigy
4.1/5.0
Buttons: 6
Ambidextrous: Yes
Simple design suitable for left-handed players.
Check Amazon
Best Value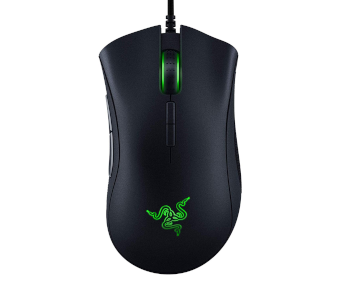 Razer DeathAdder Elite
4.6/5.0
Buttons: 7
Ambidextrous: No
Accurate sensor and superb ergonomics.
Check Amazon
Top Pick
SteelSeries Rival 600
4.8/5.0
Buttons: 7
Ambidextrous: No
Exceptionally accurate and responsive sensor.
Check Amazon
Mice for CS:GO Comparison Table
1. Best Overall – SteelSeries Rival 600
View on Amazon
Editor's Rating: 4.8/5
Nothing is more frustrating than getting into a shootout in front of the palace on Mirage and then missing with half of your AK burst because you accidentally lifted the mouse. This will never bother you again if you invest in the SteelSeries Rival 600, a premium gaming mouse with two sensors. One of them delivers exceptional accuracy while the other makes sure lifting the mouse doesn't register as movement. It's attractive, customizable, and a pleasure to use.
Overview of Features
The Rival 600 has a modern design that stops short of being too angular. It's a pleasure to hold whether you rest your palm on a mouse or apply a claw grip. Its body is mostly made from high-grade plastic, while both sides are coated in rubber to strengthen your grip. Two LED strips run from the scroll wheel down to the sides and have eight RGB channels with seamlessly transitioning customizable colors.
You can make the Rival 600 your own by altering its weight and balance with a series of weights. The sides are magnetized and come off to make room for the weights you may then place in one of 256 possible configurations. The mouse is light without them but can reach a weight of 4.5 oz if all are placed inside for more stable and accurate aiming with the AWP.
Aesthetics and feel are important, but the best thing about the Rival 600 is its dual-sensor setup. TruMove 3 is the main sensor responsible for smooth movement and pixel-perfect tracking. The second sensor figures out what the liftoff distance should be based on the surface under the mouse. The distance ranges from 0.1 to 2 mm and ensures that abruptly lifting the Rival 600 doesn't alter where your crosshair is.
The Rival 600 comes with SteelSeries Engine 3. It's a comprehensive configuration utility that lets you change the light strip colors, assign different functions or macros to buttons, and save multiple profiles for each game. Figuring out which part of the lights you're playing with can be confusing at first, but the rest is straightforward.
What We Didn't Like
Setting up the weights can be a hassle. The side compartments are small, and positioning them inside properly requires dexterity and patience. There are three side buttons on the thumb rest. Two of them are horizontal while the third one is placed diagonally. It's far away and requires you to extend the thumb in an unnatural way.
Tech Specs
Dimensions: Dimensions: 2.7 x 5.2 x 1.7 in.
Weight:
Buttons: 7
Ambidextrous: No
DPI range:
Wireless:
Weight: 3.3 oz.
Buttons: 7
Ambidextrous: No
DPI range: 200-12,000
Wireless:
Optional
The Pros
Exceptionally accurate and responsive sensor
Eliminates accidental movement when lifted
Excellent adjustable weights
Highly customizable LED strips
The Cons
Placing the weights can be a hassle
Unnaturally placed side button
2. Best Value – Razer DeathAdder Elite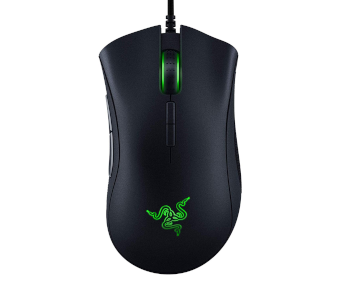 View on Amazon
Editor's Rating: 4.6/5
The DeathAdder Elite is one of the best-selling mice of all time, and with good reason. Its deceptive simplicity hides an ergonomically superb shell, finely-tuned buttons with a good degree of customization, and a sensor with impressive accuracy. Synapse is a bit of a pain, true, but getting to grips with it is a small compromise when you've got such a well-rounded mouse at your disposal. The fact that it costs less than $40 is just the cherry on top.
Overview of Features
Compared to the Rival 600, there doesn't seem to be much going on in the DeathAdder's design. It could easily pass as a high-end office mouse if you turn its two RGB lighting zones off. The mouse should not feel as comfortable to hold as it does, though. The split left and right buttons, a slight lift on its left side, and a bulge that molds itself perfectly to your right wrist are subtle details you'll appreciate only once you're holding the DeathAdder in your hand.
Accuracy is on par with comfort as the DeathAdder Elite's sensor. Dubbed the Razer 5G, it features an accuracy of more than 99 percent and can track 450 inches per second. It's dependable whether you've got a split second to line up the perfect incendiary bomb trajectory or are about to stop the bomb from being planted with a well-placed headshot.
Razer Synapse powers the DeathAdder's advanced settings. Opening it up reveals a gloomy if structured configuration program that covers all the basics. The most important setting is axial sensitivity, which has been split in two. That allows you to separately configure the X-axis for faster turning in-game as well as better cursor movement on large monitors.
Other settings include adjusting the polling rate and acceleration along with setting up dpi steps you can cycle through with two dedicated buttons. Speaking of which, ball buttons except the left one can be reconfigured and assigned to perform basic macros. There's even a stats window that shows how many times you've clicked or used the scroll wheel for the games installed on your PC.
What's Bad About It?
Razer requires you to fill out a registration form and provide an email address before you can use Synapse. It's an unnecessary step other mouse manufacturers don't force upon the user. The cable is braided but rigid and has a slight tendency to pull backwards if your PC is lower than the keyboard tray.
Tech Specs
Dimensions: 2.9 x 1.7 x 5 in.
Weight: 4.6 oz.
Buttons: 7
Ambidextrous: No
DPI range: 100-16,000
Wireless: No
The Pros
Excellent value for the money
Accurate sensor
Superb ergonomics
Speed adjustable based on axis
The Cons
Synapse can't be used without registration
Rigid cable that might tend to pull the mouse back
3. Razer Lancehead Tournament Edition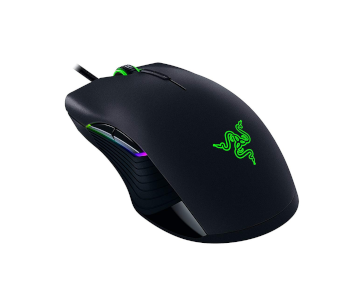 View on Amazon
Editor's Rating: 4.5/5
Most high-end gaming mice are designed for right-handed use, leaving lefties with the short end of the stick. Razer's Lancehead Tournament Edition offers the engineering precision and breadth of customization you'd expect from Razer in a sleek, ambidextrous package. Once you get used to it, you'll have only your lack of skill to blame if the enemy team manages to diffuse in time.
Overview of Features
The first thing you'll notice about the Lancehead is its symmetric hourglass shape. There are two buttons on either side with a grooved rubbery part underneath for extra purchase. The mouse is sleek and thin, lending itself well to claw and pinch gripping. Its backside flares out noticeably, which isn't common among ambidextrous mice. While unusual, this design decision lets the mouse remain flat while also being ergonomically sound.
There are four RGB channels for your color customization pleasure. Two are above the side buttons while the other two light up the Razer logo and scroll wheel, respectively. We love the feel of the wheel as it is ribbed and doesn't strain your index finger's tendons. It provides a tactile scrolling feel and is easy to press like a button. All of the buttons use Proprietary switches made in collaboration with Omron. They're pleasingly clicky and can last for more than 50 million uses.
The Lancehead uses the same 5G optical sensor discussed during the DeathAdder Elite review. It's also powered by the same software, so expect to undergo registration before diving into its configuration.
As it's ambidextrous, the Lancehead's side buttons are mirrored at first. You'll want to either assign different functions to the buttons on the side you don't use or turn them off altogether. There's a physical profile switch that lets you toggle between four profiles stored in the mouse itself. This is a useful feature if you take it along to CS:GO tournaments and want to keep your settings intact.
Are There Drawbacks?
The Lancehead isn't the right mouse for you if you've got large hands and are used to a palm grip. The side buttons are thin and end in a sharp angle that requires you to press firmly.
Tech Specs
Dimensions: 2.8 x 1.5 x 4.6 in.
Weight: 3.8 oz.
Buttons: 9
Ambidextrous: Yes
DPI range: 100-16,000
Wireless:
Optional
The Pros
Excellent ergonomics for left-handed users
Stores four profiles
5G sensor performs well
Grippy and responsive scroll wheel
The Cons
Same software issues as the DeathAdder Elite
Might not be the right fit for people with large hands
4. CORSAIR M65 ELITE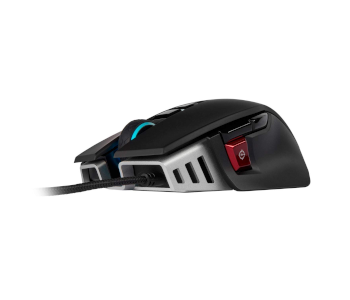 View on Amazon
Editor's Rating: 4.4/5
The original M65 was one of few mice at the time that featured a dedicated sniper button. While the feature has become more widespread, it's the Elite version of this mouse that still reigns supreme in its implementation. That's not its only selling point, though, as the M65 features vibrant RGB, can be customized to no end, and offers superb comfort.
Overview of Features
The M85 is the most peculiar-looking mouse on review with its black & gray body and prominent red sniper button. The lighter underside makes it look like the mouse has a thick carapace. This look is further supported by the curvature of its back and a large thumb rest. The M65 Elite is a fantastic choice for large-handed players used to gripping the mouse in their palm, but other styles work with it as well.
The sniper button and an adjustable weight system are two of the M65's most noteworthy physical features. Holding down the sniper button decreases the DPI, letting you line up precise shots and thwart bomb placement from a mile away on maps like Inferno. The mouse supports multiple profiles, so you can create one that uses DPI switching for CS:GO and use it as a regular extra button in other applications.
The weights aren't as elaborate as those seen on the Rival 600. There are three of them, and you reach them from underneath rather than the sides. The addition of a sniper button may entice you to keep the M65 Elite as light as possible, but it's nice to know that the option is there.
The mouse performs admirably in-game. Its movements are rapid yet fluid, allowing you to quickly assess your surroundings before adopting a steady aim as you wait in ambush. Corsair's advanced optical sensor plays a huge part in the experience, but the large and comfortable thumb rest deserves mention too. It makes lilting the M65 Elite easier and ensures you're rested and ready regardless of how many matches you've played.
We've already gushed about iCUE when reviewing the best keyboards, and it doesn't disappoint when it comes to mouse tweaking either. The program lets beginners quickly reassign buttons and colors but also has a host of options for advanced users. These include setting up multiple DPI profiles complete with separate settings for the sniper button, saving a profile to the mouse, and viewing system settings like fan speeds and CPU core temperatures.
Are There Drawbacks?
Adjusting the M65's weights isn't intuitive. A screw secures each, so removing them involves a Phillips head screwdriver and isn't practical when you're in a tournament. A single issue keeps the M65 Elite from getting first place – there's a widespread problem where the left mouse button will suddenly stop working. Your unit might not be defective but prepare for a lot of back & forth with Corsair if it is.
Tech Specs
Dimensions: 4.6 x 3 x 1.5 in.
Weight: 3.4 oz.
Buttons: 8
Ambidextrous: No
DPI range: 100-18,000
Wireless: No
The Pros
Dedicated sniper button
Excellent configuration software for beginners and pros alike
Adjustable weight
Great for people with large hands
The Cons
Weight adjustment isn't intuitive
Left mouse button might stop working
5. SteelSeries Sensei 310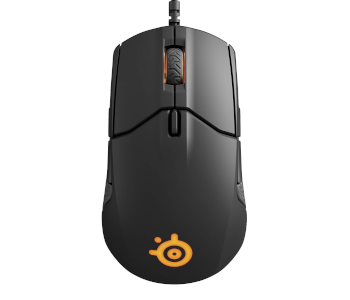 View on Amazon
Editor's Rating: 4.3/5
Did you ever line the SSG 08's scope up for a perfect headshot only to miss your mark because of hands that tremble with excitement? In that case, the SteelSeries Sensei 310 is the ideal mouse for you. It has a clever sensor that prevents micro-movements, is reasonably priced, and caters to southpaws to boot. Get it and watch the pre-kill jitters disappear in a flash.
Overview of Features
The Sensei 310 is another ambidextrous mouse. However, its design is more conventional than the Lancehead's as the hourglass shape and backside flaring aren't as pronounced. There's a single DPI toggle button, and the four sideways buttons are both broader and easier to press. The Sensei's body is matte black and holds your palm in place while being unaffected by sweat and oil stains. Each side has a removable silicone pad with tiny pips that keep your thumb from slipping.
SteelSeries has used the TrueMove 3 sensor in tandem with high-precision mechanical buttons to make the Sensei's user experience flawless. The sensor can detect small involuntary movements and compensate for them, ensuring that your aim remains dead center. At 3.5 oz., the Sensei is a light mouse. Even so, its movements remain precise when fine aiming adjustments are called for while letting you quickly turn around and spray opposing team members with bullets from your P90.
The mouse is compatible with SteelSeries Engine 3. It has the same configuration options as the Rival 600, so expect hassle-free button reassignment, two-zone color customization, and straightforward macro recording. We wish that each game profile would support more than two DPI settings, but the inconvenience doesn't reflect the Sensei's final score.
What We Didn't Like
The Sensei 310 has a standard cable that's stiff and tends to snag on the edge of the keyboard tray. We expect more from mice in this price range. The mouse would have been higher up if it didn't suffer from quality control issues. You might get one that works wonderfully, but yours might also start registering double instead of single clicks.
Tech Specs
Dimensions: 2.8 x 1.5 x 4.9 in.
Weight: 3.5 oz.
Buttons: 8
Ambidextrous: Yes
DPI range: 100-16,000
Wireless: No
The Pros
Pleasing ambidextrous design
Excellent sensor prevents jittery movement
Good companion software
Great price
The Cons
Stiff, regular cable
Might start to register two clicks instead of one
6. Best Budget Option – Logitech G203 Prodigy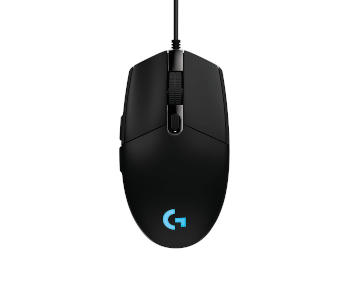 View on Amazon
Editor's Rating: 4.1/5
Our least expensive yet still impressive CS:GO mouse comes from Logitech. The G203 Prodigy is an unassuming rodent both left-and right-handed players will love for its straightforward design and a sensor that you'd expect from much pricier models. It's the mouse to get if you're strapped for cash but want a clear upgrade over the one that came with your computer.
Overview of Features
The G203 Prodigy's design is a point of contention; some users appreciate its basic layout and attractive curves while others find it too small and restricted. You'll be in the second camp only if you're used to the palm grip and have large hands. Otherwise, the featherweight mouse glides across any surface with ease and precision. Its design is ambidextrous, but only the left side has two buttons.
Logitech has equipped the G203 Prodigy with Mercury, a proprietary sensor exclusive to the model. It must be cheaper to make than the likes of PMW3366 seen in more expensive mice yet doesn't lag behind in performance. Sure, its maximum DPI is 8,000, but you wouldn't go past 10,000 in a real-world scenario anyway if you didn't have a large 4K monitor. The important thing is that the mouse and sensor perform very well both for precise aiming and rapid turning.
The mouse is compatible with Logitech Gaming Software and G-Hub. Which one you'll end up using depends on personal preference since both are competent, but G-Hub is the more futureproof option. It allows you to change the button layout and assign one of sixteen million colors to the LED strip that runs along the G203 Prodigy's edges and lights up the logo. The software supports an unlimited number of profiles while the mouse stores one internally.
Are There Drawbacks?
The G203 Prodigy's main buttons are thin but react nicely. The ones on the side aren't as well made, though. They take a lot of strength to press while being both loud and mushy. Build quality is another issue. The more you use it, the more likely it is that a button will start behaving strangely, or the sensor's movement will become erratic. Some satisfied users have been using the G203 Prodigy for years, while others can't get theirs to last even one.
Tech Specs
Dimensions: 1.5 x 2.5 x 4.6 in.
Weight: 3 oz.
Buttons: 6
Ambidextrous: Yes
DPI range: 100-8,000
Wireless: No
The Pros
Great sensor accuracy at a bargain price
Simple design suitable for left-handed players
Companion software is easy to use
Stores one profile internally
The Cons
Build quality is hit and miss
Loud and mushy side buttons