Cubik Full Colour 3D Scanner Up For Sale
3D Insider is ad supported and earns money from clicks and other ways.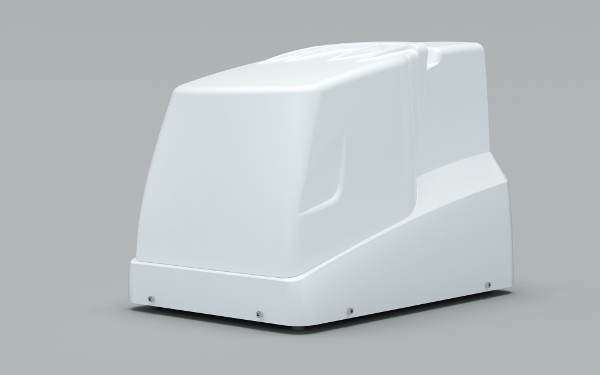 CADScan's Cubik 3D scanner successfully raised over £95,000 on Kickstarter at the start of the year and now they are giving you the chance to purchase the full colour scanner directly off their site.
According to CADScan the Cubik captures high resolution 3D scans by utilizing two 5MP DepthPhase scanning heads.  With its special macro mode, the Cubik can scan a wide range of objects, from a small toy car to a full sized football. The scanner is fully automatic and is about the same size as an inkjet printer. It also includes its own custom software.
CADScan's technology allows them to capture the depth of an object via a series of phase-shifted patterns projected using an LED array. Their patent-pending technique is compact, fast and accurate. It does not use triangulation or lasers, minimising occlusions while remaining totally eye-safe.
The Cubik can scan objects up to 220mm in diameter by 200mm high. It features a turntable-like scanning bed that lets you place objects anywhere on the bed. The max resolution is 0.05mm to 0.15mm, depending on where you place your object.
General
Scanner footprint: 510mm (l) x 340mm (h) x 335mm(w)
Operating systems: Windows, Mac OS X, Ubuntu Linux
Output formats: STL, OBJ, PLY and SketchFab
Power supply: 100V-240V AC (External supply)
Commuications: USB 2.0
Construction materials: White ABS case, steel chassis
Scanning
Maximum object size: 220mm diameter x 200mm high
Minimum object size: 10mm diameter x 10mm high
Maximum object weight: 4Kg
Camera resolution: 5Mp, 24-bit colour
Scanning method: dual DepthPhase™ scanning heads
Light source: LED Array (Eye Safe)
Resolution: 0.05mm – 0.15mm (50 – 150 microns)
Accuracy: +/- 50 – 150 microns
Output data: Full colour point cloud and watertight mesh
The Cubik is priced at £699 plus VAT and has an estimated delivery time of around four weeks.
About CADScan:
CADScan was formed in 2011, motivated by a desire to make 3D scanning easy to use and accessible to all. We have first-hand knowledge of the issues faced by those wishing to capture 3D data, and over 20 years experience of building image processing systems to solve real-world problems. We've built an amazing team of software, electronic and optical design engineers who have collectively been involved in a number of award-winning image processing products, including one of the first automotive Lane Departure Warning systems
In 2012 we secured a SMART grant from the UK's Technology Strategy Board to develop a prototype of a desktop 3D scanner. Through this we developed our unique DepthPhase™ technology, the fast, accurate, full colour depth sensing method at the heart of our easy-to-use, 360 degree scanning system. In early 2013 we launched the first 3D scanning project on the Kickstarter crowd-funding website and, with the goal successfully achieved, have brought low-cost, high performance 3D scanning to the professional and consumer market.
Warning; 3D printers should never be left unattended. They can pose a firesafety hazard.