Cyber Monday 3D Printing 2019 Deals
3D Insider is ad supported and earns money from clicks, commissions from sales, and other ways.
3D printers are the most exciting thing in manufacturing at the moment. They can make things which conventional manufacturing techniques find hard and expensive to make. Big manufacturing companies see the disruption potential of 3D printing and are investing heavily in the technology.
3D printing is an additive process that adds layer upon layer of material to make a part that is designed on a computer. You can either design your own part or download designs that are available online. 
3D printing can be a fun hobby or serious work. Individuals and small businesses can now buy 3D printers easily from online retailers. They generally cost a few hundred dollars or even a few thousand. It all depends on what kind of printer you choose. 
Cyber Monday is an excellent time to purchase your new 3D printer as you can get some serious discounts on popular 3D printer models. We have compiled a list of attractive 3D printer deals below.
FlashForge 3D Printer Creator Pro
Original Price: $899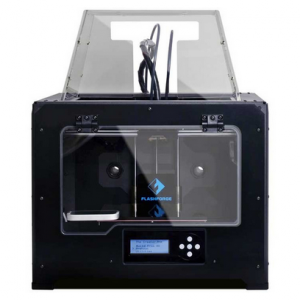 Cyber Monday Price: $637
FlashForge is a well-known 3D printer brand. Their Creator Pro 3D printer is on sale as part of Cyber Monday. You can get a hefty 29% discount and purchase the 3D printer for $637. The printer is quite versatile and compatible with PLA, ABS, PLA Color Change, Pearl, ABS Pro, Elastic, PVA, HIPS, PETG, TPE, TPU, Conductive Filament, Flexible Filament, Metal Filled Filament, Wood Filled Filament, and PP.
The chamber of this 3D printer is enclosed which means that not only is the printed model protected, but the fumes are also contained within the enclosure. The build volume offered by the FlashForge 3D Printer Creator Pro is 8.9 inches by 5.8 inches by 5.9 inches.
There is an LED light that illuminated the printing area. A heavy-duty z-axis rod ensures steady movement of the printer head. This printer accepts STL, gcode, and x3g. The FlashForge 3D Printer Creator Pro is a good mid-range printer.
JGMaker Magic 3D Printer
Original Price: $229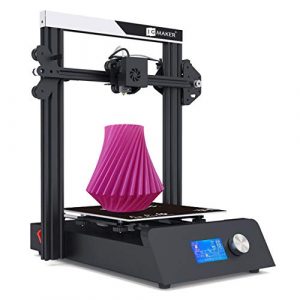 Cyber Monday Price: $180
If you are looking for a low-priced budget 3D printer, then check out the JGMaker Magic 3D printer. It can print a maximum volume of 8.6 inches by 8.6 inches by 9.8 inches. It uses industrial-grade silicone as its filament material.
This 3D printer has a sensor that detects when the filament material runs out and it warns the user accordingly. It also allows you to pull out the SD card while the printing is in progress and then re-insert the card to continue the printing. This feature is very useful in case you notice some error and wish to correct it mid-way through the printing process.
The JGMaker Magic 3D printer can accept STL, gcode, and OBJ. Being a budget printer, it is priced at $229. However, Amazon is running a Cyber Monday discount on this printer and you can purchase it for only $180. That is a decent 21% discount on the original price.
Monoprice MP300 3D Printer Guider II
Original Price: $1500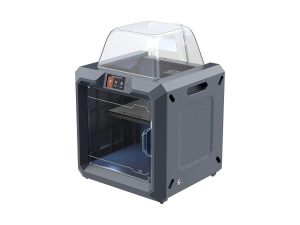 Cyber Monday Price: $1199
If you want to go all out and buy a premium-end 3D printer, then the Monoprice MP3000 is available at a nice 20% discount as part of Cyber Monday. Amazon is offering a deal on this printer and you only have to pay $1199 instead of the $1500 original price.
The Monoprice MP300 has a large build volume. It measures 11 inches by 9.8 inches by 11.8 inches. This printer also has a large 8GB internal memory which can store plenty of model design files. That way, you can print even if you do not have a Wi-Fi connection.
Monoprice also offers a 30-day money-back guarantee and a 1-year repair warranty on this printer. The Monoprice MP300 has a useful auto-resume feature which can resume a printing session that gets interrupted by a power outage or any technical difficulty.
The printing area is fully enclosed for safety and efficiency. Users can operate the printer using a color touchscreen. There is plenty to like about the Monoprice MP300 3D Printer Guider II.
Other interesting 3D printer deals:
Longer LK4 DIY Kit – $160 (was $200)
Dremel Digilab 3D45 – $1529 (was $1900)
LONGER Orange 10 3D Printer – $195 (was $300)
Tiertime Cetus 3D Printer MK3 Standard Version – $271 (was $400)
Warning; 3D printers should never be left unattended. They can pose a firesafety hazard.