6 Best Dash Cameras of 2019
3D Insider is ad supported and earns money from clicks and other ways.
Dash cams are a phenomenal investment because if they can prove your innocence in an accident, they'll save you thousands of dollars on premiums going forward. We have researched the best dash cams and come up with the list below. There is one for every budget.
Budget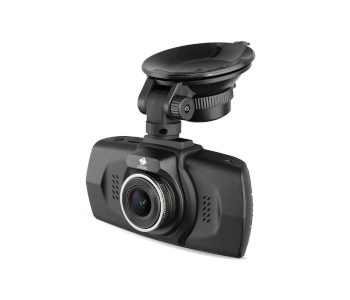 Z-Edge Z4
4.2/5.0
Resolution: 2560×1080
Field of view: 150°
Affordable and has good quality HDR footage.
Check Amazon
Best Value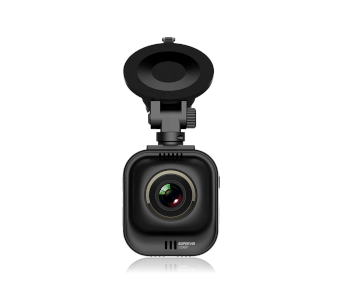 Papago GoSafe 535
4.6/5.0
Resolution: 1296p
Field of view: 160°
Easy to use and excellent value for the money.
Check Amazon
Top Pick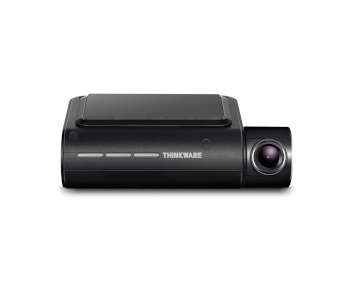 ThinkWare F800 Pro
4.8/5.0
Resolution: 1080p
Field of view: 140°
Outstanding night vision and advanced parking protection.
Check Amazon
What to Look for in a Dash Cam
Mounting & Installation
Resolution, Field of View, and Image Quality
Dash Cam Screen & Size
GPS & Safety Features
Dual Dash Cams
Dash Cameras Comparison Table
1. Best Overall – ThinkWare F800 Pro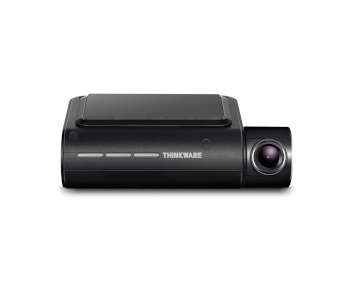 View on Amazon
Editor's Rating: 4.8/5
Most dash cameras today produce serviceable video during the day, but many of them fall flat once the sun goes down. ThinkWare's F800Pro has the best night vision currently available as well as a cloud connection system which sets it apart from the competition. The F800 Pro is among the most expensive models we've tested, but its build quality and assortment of high-tech enhancements make it the most worthwhile purchase for any situation.
Excellent Video Quality Regardless of Weather
The F800 Pro is an unusually-shaped dash cam that has a protruding lens on the left. You install it by securing a mounting plate to the windshield with adhesive tape and placing the camera inside of it. The camera can then be tilted 90 degrees. Unlike other models, the F800 Pro doesn't have an LCD screen. Instead, everything is controlled through its smartphone app. Some basic functions like the on/off button, enabling & disabling the Wi-Fi, or manual recording are located on the camera's bottom panel.
For a camera that doesn't have HDR, the F800 Pro's video quality is outstanding. The 140-degree lens records FullHD videos at 30fps with good clarity and color balance. Street signs or license plates are easy to pick out and the 10Mbps bitrate isn't too hard on the included 32GB microSD card. 400 minutes of footage can be shot before recording over the oldest clips. Night vision is where the F800 Pro really shines though! Whether you're driving downtown or on a country road, the brightness and detail level are unmatched.
You can hardwire the camera into a 12-volt power source or rely on its rechargeable battery and your car's cigarette plug. An alert sounds if the battery is low and recording can be disabled when it falls below a set percentage. Safety features include lane-changing and red light modes, a sensor that detects proximity and prompts you to accelerate when cars in front are moving away, and parking mode. The latter will sound an alarm if motion sensors are triggered. To conserve power, you can set the F800 Pro to continuously record at 2fps while the car is parked.
The ThinkWare Cloud app controls the dash cam's advanced features. It has geofencing which sends a notification when the car leaves a designated zone. The app tracks traffic cams and mobile zones, prompting you to slow down when you're near one. It also lets you access and share recorded footage either with other connected devices or through social media.
Are There Drawbacks?
The camera's smartphone dependency is both a blessing and a curse. If you forget the phone or its battery dies, you'll have no way of accessing the f800 Pro's recordings. Its mount is glued onto the windshield during installation. This limits the camera's mobility since the mount is hard to remove once the glue sets.

Tech Specs
Dimensions: 1.1 x 2.5 x 3.3 in
Max resolution: 1080p
Field of view: 140°
GPS: Yes
The Pros
Outstanding night vision
Advanced parking protection
Geofencing & traffic cam alerts
Comprehensive app
The Cons
Too reliant on its app
Mount is hard to remove
2. Best Value – Papago GoSafe 535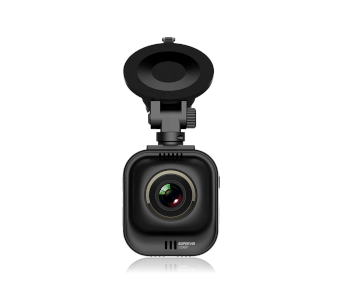 View on Amazon
Editor's Rating: 4.6/5
When an accident occurs it's important to have a complete picture of the incident, and superb video quality helps with that immensely. The GoSafe 535 is a versatile dash camera that boasts an excellent recording resolution along with a slew of safety features. Some, like stop sign detection, are unique to this model. Considering its video quality is on par with high-end models and you can buy it for less than $120, the GoSafe535 is a no-brainer when it comes to getting the most bang for your buck.
Superior Video Quality at a Fantastic Price
The GoSafe 535 is all about simplicity. It has a suction cup mount that secures it onto the windshield and can be adjusted for an optimum angle. If you need a permanent solution, an adhesive mount is included too. Four buttons on the camera allow you to turn it on and off, enable recording of emergency clips which won't be overwritten, and toggle settings like audio recording or security alerts. A rechargeable battery that runs surprisingly cool even during hot weather and an 8GB microSD card are included.
The camera records crisp video in 1296p. This increased resolution lets it capture more detail, so license plates, car makes, and street signs are better visible at greater distances. On top of that, the sensor delivers impressive picture quality. Colors are balanced, the contrast is pronounced but doesn't produce washed-out whites, and there's minimal glare from sunlight or headlights. Street lamps and headlights have a slight halo effect during the night, but this doesn't interfere with overall visibility.
Papago takes your safety to heart as evidenced by a host of security features. The most interesting is stop sign detection which hones in on the sign's characteristic shape and lets out a sound each time you approach one.
The GoSafe 535 is ideal for truckers and others who drive for long stretches as it has a driver alertness alarm you can set to sound after a while. Other safety features include a light sensor which measures rapid differences in light levels and sounds when you enter a tunnel and motion detectors that signal it's time to go once it's green and other cars start to move.
What We Didn't Like
The GoSafe 535 used to be supported by the Cam On app. It allowed users to transfer videos to their phones and share them over email or social media. The app has since been discontinued. The camera's internal memory may become unreliable after a year or more. Time and date data will be erased after each restart, prompting you to set them again which can be annoying if you're using the adhesive mount.

Tech Specs
Dimensions: 2.5 x 1 x 2.5 in
Max resolution: 1296p
Field of view: 160°
Screen diameter: 2 in
GPS: Yes
The Pros
Impressive image resolution and quality
Lots of unique and useful safety features
Easy to use
Excellent value for the money
The Cons
No longer has a working app
Prone to memory resets after prolonged use
3. Garmin Dash Cam 65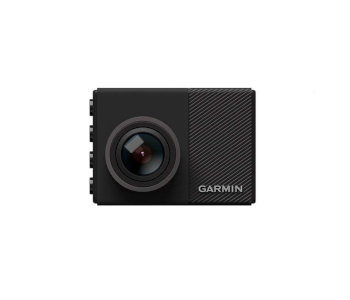 View on Amazon
Editor's Rating: 4.5/5
Do you frequently travel on roads with many intersections and not too bright pedestrians? If so, you need a dash camera with a good side overview. Garmin's Dash Cam 65 sports a 180-degree lens that lets you better assess the situation around your vehicle in crystal-clear 1080p. It comes packed with safety features, has a clever mount, and is easy to use.
Keep a Close Eye on the Road
The first thing you'll appreciate about the Dash Cam 65 is its versatile mounting system. On one end, there's a magnetic disk which sticks to the top of the windshield. On the other, the camera is connected via a flexible ball joint. This lets you adjust the angle while keeping the camera firmly in place. It's powered through a micro USB port to the left and comes with an 8GB microSD card pre-installed.
The Dash Cam 65 produces 1080p videos at 30fps in excellent detail. Videos are rich in color and are usable regardless of the lighting. The 180-degree lens lets you easily see what's going on both in front and to the sides, making for a more secure driving experience. Night vision is better than average too and features a good deal of detail even when the area you're driving through is sparsely lit. There's also a time-lapse mode for creating scenic drive montages.
Extensive safety features like motion sensors, lane transition warnings, and red light alerts are intuitive to grasp. The camera will also indicate if you're lingering too long on a green light. The G-sensor does a good job of distinguishing between bumpy roads and actual emergencies.
You can control the Dash Cam 65 via four keys on its right side, through the VIRB app, or with voice commands. The latter are particularly interesting since they let you snap photos or record videos without taking your eyes off the road. The app grants access to videos & pictures stored on the SD card and can be used to transfer them onto your phone.
What's Bad About It?
The Wide-angle lens has a pronounced barrel distortion on its edges which may lead to loss of detail. Garmin issues periodic updates to the camera's firmware. These updates are installed automatically without prompting you first as soon as they're available. This might cause the Dash Cam 65 to not record a crucial event since the update process stops it from working temporarily.

Tech Specs
Dimensions: 2.2 x 1.6 x 1.4 in
Max resolution: 1080p
Field of view: 180°
Screen diameter: 2 in
GPS: Yes
The Pros
Easy to mount and operate
Excellent video quality
Wide-angle lens
Many safety features
The Cons
Pronounced barrel distortion on lens edges
Can't record during firmware updates
4. Owl Car Cam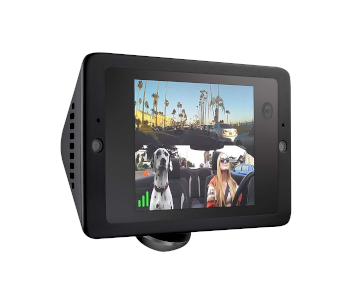 View on Amazon
Editor's Rating: 4.2/5
A dash cam's primary job is to ensure your safety while driving. The Owl cam takes that concept to a new level since it is a competent security camera, two-way intercom, and motion sensor as well. It comes with an ingenious mount, 2nd interior camera, and a free 1-year security plan from LTE. If you don't mind paying extra, it's the dash cam to get for security both on and off the road.
The Vigilant Watch Owl
The first pleasant surprise you get with the Owl Cam are comprehensive installation instructions. You'll need to find your car's OBD II port and connect the camera to it, but this as well as placing the mount is quick thanks to the excellent setup guide. You get handy accessories like magnetic clips and a tuck-in tool which help secure the power cable and mount between the windshield and dashboard.
Both cameras take good-quality videos at 1080p and 720p respectively. The main camera adapts quickly to changes in lighting and works well at night. The interior camera captures everything that goes on inside the car. A message is displayed on the 2.4-inch LCD panel when it is recording so that passengers are aware they're being watched. Video is recorded continuously onto an included 64GB SD card with room for 18 hours of footage. You can also manually record 20-second clips by saying "OK presto".
The best thing about the Owl Cam is that it is a fully-functional security camera. You can view both feeds remotely on your smartphone, engage in two-way conversations with passengers or would-be carjackers, and receive alerts whenever motion sensors are triggered. These are particularly sensitive, so you might need to configure their notification frequency and sensitivity settings.
Owl Cam's app gives you access to a 2-week history of clips which is updated each time you connect the camera to your phone. Clips can be viewed or transferred one by one to a PC. To access the live feed, you'll need to be subscribed to LTE. The first year is free with each month after that costing $10. The subscription includes 60 minutes of live streaming or checking up on 60 incidents each month.
Are There Drawbacks?
A 24-hour shut-off timer is the Owl Cam's current biggest drawback. The camera stops recording when that car hasn't been moved for a day, reducing its effectiveness during vacations and the weekend. The manufacturer is aware of this though and will hopefully address the issue soon. Other than that, this is the most expensive dash cam on the list.

Tech Specs
Dimensions: 1.2 x 2.5 x 3.5 in
Max resolution: 1080p – front camera
720p – back camera
Field of view: 120°
Screen diameter: 2.4 in
GPS: Yes
The Pros
Has 2nd camera and two-way audio
Live feed accessible from anywhere
Responsive motion sensors
Decent video quality
The Cons
Expensive
Turns itself off after being idle for 24 hours
5. Garmin DriveAssist 51 NA LMT-S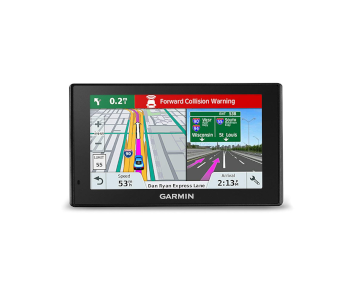 View on Amazon
Editor's Rating: 4.1/5
Smartphones have become adept GPS tools, but fiddling with one while driving can have disastrous consequences. That's why Garmin's Drive Assist is both a comprehensive GPS navigation system and dash cam in one. It gives you detailed live street coverage, a number of alternative routes to choose from, and has a bright LCD screen.
Getting There Safe & Sound
The DriveAssist is bigger than most dash cams, but its size is a good compromise between readability of its GPS instructions and unobtrusiveness. It snaps onto a robust docking cradle that mounts to your dashboard with a suction cup. This set up is stable while allowing for some freedom in adjusting the camera angle. There are two microSD card slots for extra storage. The built-in Li-ion battery lasts only 30 minutes, so you'll want to keep the camera plugged in during longer journeys.
Daytime picture quality is decent. You can record either in 1080p or 720p at 30 fps. The camera records continuously and will imprint a date & GPS coordinates onto the footage if its G-sensor is triggered. Destination view is a feature that switches from an overhead map to the live camera view with a map overlay once you're close to where you need to be. There's also a time-lapse mode like that of the Dash Cam 65.
The 5-inch LCD screen is bright and easy to read. Typing in an address or a postal code will present you with three ways of getting there. The GPS is always on point and augmented by real-time traffic data and arrival estimates. If you don't remember an exact address but do know of recognizable landmarks in the area, DriveAssist can point you in the general direction. It will also inform you which lane you should be in and start to beep if you get too close to the driver in front.
What's Bad About It?
The DriveAssist's camera performs poorly during the night when its footage might not be clear enough for license plate recognition. This model can only be charged through a car's cigarette plug. If you try to connect it to a charging block, even one made by Garmin, it won't work.

Tech Specs
Dimensions: 0.8 x 5.5 x 3.3 in
Max resolution: 1080p
Field of view: 70°
Screen diameter: 5 in
GPS: Yes
The Pros
Excellent GPS navigation
Proximity detection
2 SD card slots
Sturdy mount
The Cons
Poor night vision
Can't be charged through a USB block
6. Best Budget Option – Z-Edge Z4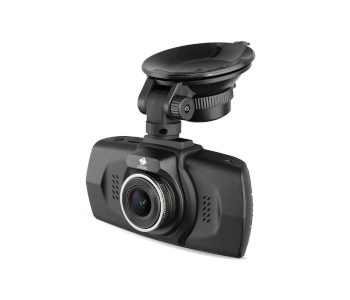 View on Amazon
Editor's Rating: 4.2/5
Good dash cams can even be had for less than $100- Case in point – the Z-edge Z4. This stylish dash cam has an appealing design, records videos in a variety of resolutions, supports HDR, and is intuitive to use. If GPS isn't a priority to you, its other features put the Z4 on par with most of the other dash cams on review.
Vibrant Video on a Budget
The Z4 is the least expensive, yet best-looking dash cam we've tested. It has a slim profile and detailed sides. A suction mount attaches to its top and secures it to the windshield. Next to the mount is a micro USB port for charging. You get a dual USB adapter as part of the package so you can charge your phone along with the camera.
Controlling the Z4 is easy thanks to six buttons placed on the sides of its 2.4-inch LCD screen. They let you turn the power on or off, navigate menus, mute the audio, or take a picture. Recording starts as soon as you turn the ignition and ends when the engine is off. You can set the Z4 to parking mode which will conserve the battery while taking clips if its motion sensors are triggered.
The Z4 has multiple resolution options. Its default setting is 2560×1080, but 2304×1296, 1280×720, and 1920×1080 are also available. We prefer 1080p as it has a framerate of 45fps while the others are capped at 30. It's also the only mode which supports HDR. Footage recorded in 1080p with HDR on is vibrant and has good contrast. While there are cameras with better night vision, the Z4 records serviceable clips even when it's dark.
What We Didn't Like
Aside from lack of GPS, there's not much to complain about given the Z4's appealing price and other features. If your car has an always-on cigarette lighter, the Z4 will continue to record when the engine is off. This will drain the car battery and may cause important footage to be recorded over accidentally.

Tech Specs
Dimensions: 1.2 x 2 x 4 in
Max resolution: 2560×1080
Field of view: 150°
Screen diameter: 2.7 in
GPS: Yes
The Pros
Affordable
Good quality HDR footage
Intuitive menu system
Stylish design
The Cons
No GPS
Records continuously in cars with always-on cigarette plugs