What are Desktop CNC Machines? Benefits, Limitations, and Notable Examples
3D Insider is ad supported and earns money from clicks, commissions from sales, and other ways.
CNC machining has proven to be a revolutionary technology for manufacturing. From purely manual methods, CNC machining made use of computers to automate most of the manufacturing steps across several industries. This has led to an acceleration of production speeds, reduction of manpower, and development of higher quality standards.
While typical CNC machines are found in large manufacturing facilities, there are also miniaturized versions that are small enough for home use. These so-called desktop CNC machines have become a favorite among DIY enthusiasts. What are desktop CNC machines and what are they capable of?
What are desktop CNC machines?
Before we delve into what desktop CNC machines are, it's essential to start with a basic definition of a standard CNC machine. CNC stands for Computer Numeric Control, a computer-aided control mechanism based on a programming code that directs the motion and operations of a manufacturing machine.
Over the years, CNC technology has been integrated into a huge number of manufacturing equipment. CNC mills and lathes are incredibly common nowadays, especially in large-scale production facilities. Far more uncommon are laser engraves, plasma cutters, and waterjet cutters. In any situation, CNC technology plays the role of automating the process so that minimal human intervention is needed. This has allowed industries to speed up the production and manufacturing process, with the corresponding reduction in manpower helping keep the technology economical.
To put it briefly, desktop CNC machines are smaller versions of the industrial CNC machines employed by manufacturing facilities. As its name implies, a desktop CNC machine is small enough to fit and be operated on a standard work desk. Desktop CNC machines are useful for small companies or for DIY enthusiasts who would like to use them as a hobby. Common examples of desktop-scale CNC machines include CNC routers, mills, lathes, and laser cutters.
At this point, it is also worth noting that there are CNC machines even smaller than desktop-scale. These are called benchtop CNC machines that are even more limited in the scale of jobs that they can handle.
Pros and cons of desktop CNC machines
Desktop CNC machines are suitable for very specific use cases. As the sustained use of standard CNC machines proves, desktop CNC machines are no replacement to their full-sized counterparts. As with any technology, a desktop CNC machine has unique benefits and limitations.
PROS:
Small footprint
A standard CNC machine is huge and can easily take up most of the space on the shop floor. This is advantageous for large manufacturers, as they typically need to deal with large workpieces.
Desktop CNC machines don't require as much real estate. They are the perfect solution for smaller businesses that do not have a lot of space but require the flexibility of a CNC machine. There are even CNC routers that are only slightly bigger than a dishwasher. With desktop CNC machines, space is no longer a limitation to enjoying the benefits of a CNC machine.
Less expensive
As they are smaller, desktop CNC machines will necessarily have less powerful motors, less sophisticated systems, and a smaller build platform. This makes them a lot more affordable than full-sized CNC machines. Not that they are exceptionally cheap, mind you – desktop CNC machines can still cost anywhere between $1000 to $5000.
Easy to use
Standard CNC machines are already lauded for being very easy to use, allowing operators to use them as normal with minimal training. The thing about CNC machines is that they don't require a lot of human intervention once the programming code has been loaded for the project. All an operator needs to do is to replace the workpiece or make the necessary tooling changes.
Desktop CNC machines retain this same characteristic and make them even more accessible. Most desktop CNC machines come with open source software for loading a CNC program code, and they are usually compatible with Windows or Apple systems. For some models, carving a design out of a piece of wood is almost as simple as printing a document.
CONS:
Limited build size
The most significant limitation of a small CNC machine is that it can only create appropriately small workpieces. If you need staircase banisters, columns for construction, or large metal plates, then a desktop CNC machine is probably too small for the job. If you're on the market for a desktop CNC router or lathe, its maximum build size is certainly something that you need to consider.
Slower and less price
In most cases, desktop CNC machines are built with less sophisticated technology than full-sized CNC machines. This helps keep them small, as they are built with less powerful motors and smaller controllers. As a consequence, the performance of desktop CNC machines also puts them a notch lower. Less powerful motors lead to slower tool movement, and less granular control also means that they are less precise. The output of desktop CNC machines is usually still excellent, though.
Smaller material compatibility
Desktop CNC machines are not built to handle the heavy-duty work of large CNC machines. The materials that a desktop CNC machine can process may vary from one model to another, but they are usually a combination of wood, plastic, or soft metals like copper and aluminum. Harder materials, like granite and stainless steel, are best left to the more capable tools or full-sized CNC machines.
While desktop CNC machines have made CNC technology more accessible to hobbyists and smaller businesses, it's very apparent that they have significantly downgraded capabilities. The compromises were necessary to scale down the equipment, both in terms of cost and size. Just as in most cases, maximizing the potential of desktop CNC machines is just a matter of using the right tool for the job.
Examples of desktop CNC machines
For this article, we choose not to do the usual list of products ranked according to preference. Desktop CNC machines can differ to each other by a lot, and each model may be suited to a particular use case. Instead, we'll just take a look at some noteworthy desktop CNC machines. All of the entries in this list come highly recommended.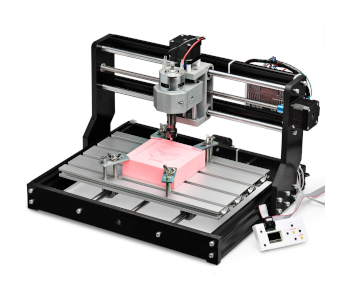 This CNC router from Genmitsu is a general-purpose cutting, milling, and engraving machine. With a workspace measuring 300 mm. x 180 mm., the Genmitsu CNC Router should fit on just about any standard workshop.
The "brain" behind the CNC router is an Arduino micro-computer using the GRBL open-source programming language. For those who aren't familiar with coding in this language, the equipment comes tutorials and training modules. In any case, support for both Arduino and GRBL is easy to find online.
The cutting tool of the Genmitsu CNC router can work for all types of plastics, wood, acrylics, and soft metals like aluminum. There's also a laser module that's compatible with this router, but you will need to purchase it separately.
At around $300, the Genmitsu CNC router is one of the cheapest CNC machines you can buy. Unfortunately, this also leads to a few compromises, chief of which is a lack of documentation that makes assembly of the machine more difficult than necessary.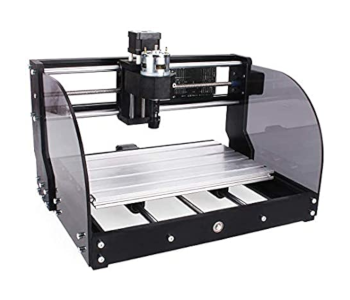 Laser engravers are some of the most versatile tools you can use with a CNC machine. This 2-in-1 CNC machine from Titoe gives you the chance to try out a laser engraver but still retains the old-fashioned cutting and milling tool. Just for offering a wider array of cutting and engraving tools, it deserves a spot on this list.
The main feature of this CNC machine is the 3000-mW laser engraver with a built-in cooling fan and heat sink. The focal length and aperture of the laser can be adjusted for different applications. If you prefer a more old-fashioned approach, then you can also install a cutting tool on the machine's spindle.
Like the previous entry, the Titoe CNC machine is controlled by an Arduino computer and uses the GRBL programming language. This is a well-built piece of equipment with a rigid aluminum frame and acrylic baffles on the sides so that you can monitor the progress of your project safely.
Considering how this set comes with a laser engraver, it's remarkably cheap at only $300. Again, documentation could use a lot of improvement. The saving grace of this CNC machine is that a lot of people already use it, so you're not likely to run out of guides and tutorials online.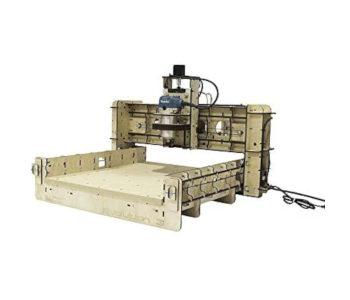 If you need a desktop CNC router with a slightly larger build platform, then the Evolution Router from BobsCNC should be worth considering. Instead of a solid metal frame, most of the parts of this CNC router is made of wood. While this helps keep the cost of the equipment low because of this size, the choice of material certainly results in compromises in a few areas.
The first thing you need to know about this CNC router is that it requires a LOT of assembly. The laser-cut wood pieces, wires, motors, and controller will all need to be assembled. From the experience of most users, the assembly process can take up to eight hours. The good news is that the pieces are designed quite intuitively, leaving little room for error.
Once you have the whole machine assembled, the BobsCNC router doesn't look half-bad. The 16" x 18" build area is a huge upgrade over most other desktop CNC machines. The Makita RT0701 router sits front and center of the machine. It is controlled by an Arduino microprocessor running on GRBL programming language.
One way to describe the BobsCNC is that it's far from being beginner-friendly. Aside from the lengthy assembly process, you will also need to have your own CAM software to generate G-codes for the microprocessor. If you are a DIY enthusiast, however, we think this is one of the best CNC routers that will appeal to your DIY sensibilities.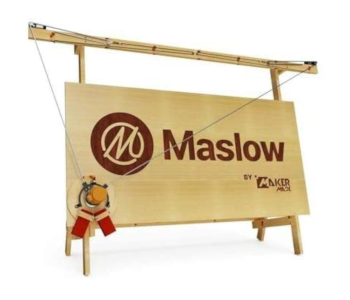 The Maslow CNC Router technically isn't a desktop CNC machine. Instead of a build platform that rests on top of a desk, the cutting tool of this router is suspended from a series of belts. By moving the tool along the belts, the position of the cutting tool on the workpiece can be adjusted.
Initially a Kickstarter project, the Maslow CNC Router is one of the most innovative CNC machines out there. By doing away with the usual build platform, this CNC machine can work on much larger builds without taking up a lot of space on the shop floor. This is because the workpiece is oriented in an almost vertical manner.
Despite the unusual form factor, the cutting tool of the Maslow CNC machine works just like any hand router. It can cut through hardwood, plastics, laminates, and plywood. The Ground Control software used to upload codes to the CNC machine is open-source, fairly easy to use, and doubles as a calibration tool.
It may take a bit of time to get used to the peculiar workflow of the Maslow CNC machine. Another drawback is that it's somewhat expensive at almost $500.
Final thoughts
Desktop CNC machines have become popular because of how they have made CNC machine technology accessible to small-scale users. Although their capabilities have been diminished from the full-sized versions, desktop CNC machines have proven to be quite useful for various commercial and industrial applications. If you're interested in getting a desktop CNC machine of your own, then we have listed several good options that cost less than $500.