6 Best Digital Cameras for Teenagers of 2019
3D Insider is ad supported and earns money from clicks and other ways.
Is your teen constantly asking for permission to use your camera? Do they display genuine talent and have a willingness to learn? If yes, it's time you got them their own camera! How to shop for a digital camera for teenagers, though? What are some of the must-have essentials?
For starters, a teen's camera should reflect their lifestyle. Are they always out and about? Then an action camera or a rugged compact are your best bet. Do they have an eye for the artistic or love taking nature pics? In that case, a mirrorless or DSLR with a few choice lenses is what you should get.
Teen cameras need to be straightforward to use. They have to help the user transition from the fire and forget approach smartphones have and teach them the basics of photography or video making in an engaging way. A good teen-oriented camera also has advanced options they can start to use once they're comfortable with the basics. Finally, the right camera has to be connected for faster content sharing on social media.
Below are the six best digital cameras for teenagers of all ability and interest levels. They aren't too expensive, but neither is at the bottom of the barrel either. We've included DSLR, mirrorless, compact, and action cam examples to make selection easier.
Budget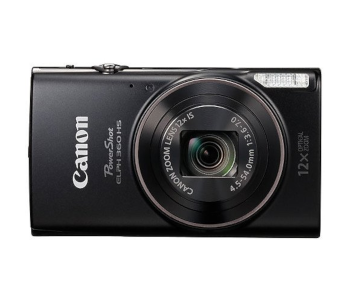 Canon PowerShot ELPH 360 HS
3.8/5.0
Camera type: Compact
Sensor: 1/2.3 inch CMOS
Can be controlled remotely from your phone.
Check Amazon
Best Value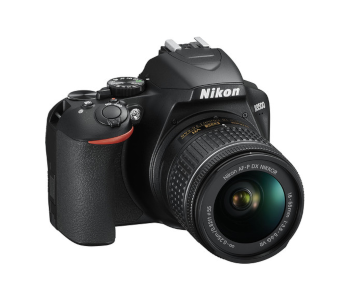 Nikon D3500
4.7/5.0
Camera type: DSLR
Sensor: APS-C CMOS
This is light and portable for a DSLR.
Check Amazon
Top Pick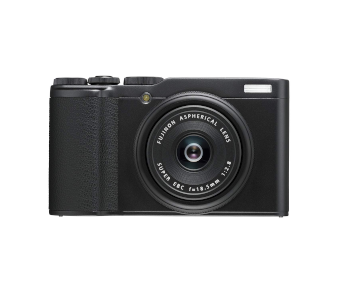 Fujifilm XF10
4.8/5.0
Camera type: Compact
Sensor: APS-C CMOS
Large sensor makes for excellent image quality.
Check Amazon
Digital Cameras for Teenagers Comparison Table
1. Best Overall – Fujifilm XF10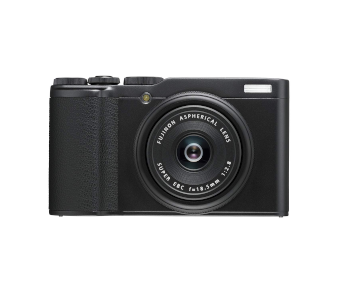 View on Amazon
Editor's Rating: 4.8/5
Has your teen's photography turned from a phase into a serious interest? In that case, you'll want to invest in a camera they can use for years to come and which lets them flourish. The XF10 from Fujifilm is a camera that's approachable for beginners yet offers a lot of room to grow. It has a large APS-C sensor, performs well in low light, and lets your teen express herself with loads of film & video modes.
Overview of Features
The XF10 is a compact camera, yet it packs a massive APS-C sensor. You'd expect its like to show up in mirrorless and DSLR cameras, yet Fujifilm managed to cram one in without compromising on other features. The XF100 is capable of producing fantastic results even when in low light. That's because its sensor is many times larger than smartphone sensors and even ones on other compact cameras. You can turn the ISO up to 3,200 and experience little to no noise!
The camera is small and light yet easy to handle thanks to a protruding thumb grip with a faux leather finish. It has a 3-inch LCD touchscreen that lets you choose focus points and snap a picture by pointing on a specific area of the screen. Physical controls involve two function dials as well as one on the fixed lens. Couple that with a customizable function button & quick menu, and you've got a camera that's easy to tailor to your preferences.
The XF100's picture quality is outstanding! It is quick to focus on any one of its 35 autofocus points and doesn't struggle with moving subjects either. Its lens has a relatively slow shutter speed, so you'll want to take care not to overexpose your photos when shooting on a sunny afternoon. However, it also has a shallow depth of field and can produce artful bokeh effects.
Video isn't the XF10's strong suit. It can shoot in 4K, but the framerate is limited to 15fps which makes 4K videos jerky. You can use the 4K mode to take 15fps burst shots though. The camera's video shines when recorded at 1080p, 60fps, especially if you engage one of its eleven video modes. These include the faded look of old color movies, sepia, a Schindler's list-like effect where the scene is black & white but some colors remain, and more.
What We Didn't Like
The XF10 isn't meant for burst photography, especially if you're shooting in RAW. Its small buffer backs up quickly, so you'll have to time shots carefully. There's no optical image stabilization. This means you'll have to hold the camera with caution and use a tripod when recording videos.
Tech Specs
Dimensions: 4.4 x 2.5 x 1.6 in.
Weight: 9.8 oz.
Camera type: Compact
Sensor: APS-C CMOS
ISO range: 200 – 12,800
Max still resolution: 24.2 MP
Max video resolution: 4K, 15fps
The Pros
Large sensor makes for excellent image quality
Exceptional low-light performance
Customizable controls and touchscreen quick menu
Lots of photo and video effects
The Cons
Small image buffer
No optical image stabilization
2. Best Value – Nikon D3500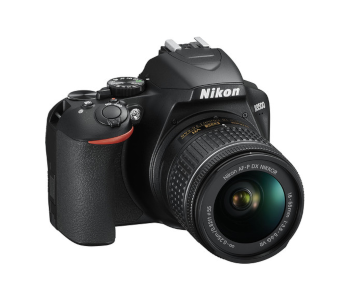 View on Amazon
Editor's Rating: 4.7/5
The D3500 is the best entry-level DSLR in existence and a boon to any teen shutterbug! It's light as DSLRs go but will get them used to working with a hefty camera. Guide Mode helps beginners get their bearings while SnapBridge allows for photo & video transfers to a smartphone or computer. There's even an in-camera editor that can retouch RAW files and cut down on the need for post-processing.
Overview of Features
The D3500 looks the same as its predecessor – it's a sleek, small DSLR which won't give you hernia after using it for a day. It will, however, keep on working as its massive battery captures 1,500 shots per charge! The ergonomics are sound, and a large thumb grip makes sure you can hold the camera firmly and comfortably. You get a snappy kit lens which can retract to lower the D3500's profile.
The best thing about the D3500 is how easy it is to control. On the one hand, you've got a set of straightforward physical controls. On the other, you can let full auto do its thing or adjust everything from color balance to exposure manually.
The stand-out feature here is Guide Mode. Turning this on teaches you how to set up a shot for a variety of scenarios. Guide Mode is split into beginner and advanced options. The former contains presets for close-ups and far-away subjects along with settings like no flash and night mode. The latter shows you how to adjust shutter speed, aperture, white balance, and focus and teaches you when to use which setting.
The D3500 is a quick shooter! It has a burst speed of 5fps, which is very good for an affordable DSLR. There are only 11 focus points to choose from, but the D3500 hones in on subjects quickly in spite of this seeming limitation. Photos shot with the D3500 look impressive, in no small part thanks to its intelligent automatic settings. The metering it employs ensures that you get the most out of high-contrast situations. Meanwhile, automatic white balance reproduces colors accurately whether you're snapping pictures under incandescent lights or taking advantage of the golden hour during sunset.
In-camera editing is another feature both beginners and pros will love. It lets you process RAW files to correct the perspective, remove red-eye effects, and counteract vignetting. You can also add creative effects like monochrome or fish-eye. Finally, you may export pictures and videos to your smartphone through the SnapBridge app. Files can be transferred either individually or in bulk, and you may choose to keep image quality the same or reduce them to 2MP for faster transfers.
What's Bad About It?
SnapBridge turns your phone into a remote shutter, but it doesn't offer a live view of the. That means you'll have to set everything up on the D3500 beforehand. A more pressing concern for vloggers is the fact that the screen is fixed in place and has no touch controls.
Tech Specs
Dimensions: 4.9 x 3.8 x 2.7 in.
Weight: 21.7 oz.
Camera type: DSLR
Sensor: APS-C CMOS
ISO range: 100 – 25,600
Max still resolution: 24.2 MP
Max video resolution: 1080p, 60fps
The Pros
Outstanding value for the money
Exceptional battery life
Guide Mode helps beginners master photography basics
Light and portable for a DSLR
The Cons
Fixed screen without touch controls
SnapBridge can't turn your phone into a remote viewfinder
3. Canon EOS M100
View on Amazon
Editor's Rating: 4.4/5
The cameras we've mentioned so far are great for photography but may come up short for teens interested in making videos, especially vlogs. The EOS M100 from Canon is the ideal choice for them. It has a flip-up screen, great autofocus in both modes, and an intuitive control scheme beginners won't find scary. The M100 is also one of the most compact mirrorless cameras and supremely portable once you remove its lens.
Overview of Features
The M100 is as straightforward to control as it is small. Its on/off button is surrounded by a dial that lets you pick between photo and video shooting modes. The video recording button is close at hand, as is the shutter release complete with a settings dial used when shooting manually. The austere control scheme continues on the camera's back with a menu and dedicated one-click wireless connection button along with a four-way directional pad.
The star of the show is the M100's touchscreen. It flips 180 degrees upwards, meaning it can be used to frame selfies or make adjustments to the scene when shooting vlogs. You can also set it to any angle in between to shoot subjects underneath you. The screen is bright and colorful! You'll even get use out of it during bright daylight if you max out its brightness. The delight in using the screen culminates with its logically-structured and intuitive menus.
The M100 excels at shooting when there's enough light, yet doesn't deliver bad results in sub-optimal lighting conditions. It's another camera with speedy autofocus. Unlike other cameras we've talked about, its autofocus performs equally well for videos with quick results and minimal hunting once a target is acquired.
Videos shot with the M100 are limited to FullHD at 60fps, but they look fantastic! There's no noise as long as the light is good, but turning ISO up to 800 produces respectable results too. The camera's auto mode does an excellent job, but you can change every setting manually as well.
The M100 is beginner-friendly thanks to its automatic and assisted modes. Teens who've just graduated from their smartphone will love Scene Intelligent Auto since it handles settings for different scenes without user input and does so well. Once they're more confident, they can choose Record Mode instead and turn on Creative Assist. This feature lets you adjust parameters like focal length, exposure times, and white balance within certain constraints depending on the type of shot you'd like. Rather than confuse you with values, the settings are adjusted via a set of sliders.
Are There Drawbacks?
Take away its lens, and the M100 becomes essentially a compact camera, at least when the shape of its body is concerned. It's hard to hold onto, especially if you've got large hands. A strap is recommended so you don't drop it. The compact size comes at the cost of no viewfinder. You'll have to either use the LCD or your smartphone instead.
Tech Specs
Dimensions: 4.3 x 2.6 x 1.4 in.
Weight: 10.7 oz.
Camera type: Mirrorless
Sensor: APS-C CMOS
ISO range: 100 – 25,600
Max still resolution: 24.2 MP
Max video resolution: 1080p, 60fps
The Pros
Excellent flip-out touchscreen
Straightforward control scheme
Wide array of assisted and manual options
Good video quality and capable video autofocus
The Cons
No viewfinder
Might be awkward to hold with large hands
4. YI 4K+ Action Camera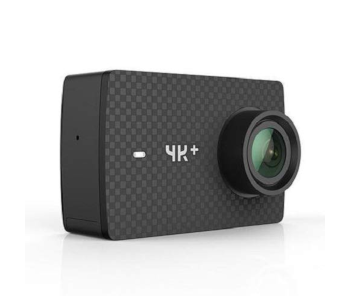 View on Amazon
Editor's Rating: 4.3/5
Nowadays, a digital camera recommendation article for teens couldn't be complete without mentioning at least one action camera. Yi's 4K+ is an enticing alternative to the GoPro HERO series – it's cheaper than the HERO7 black while offering similar video fidelity. The camera is easy to set up and control, works with a wide array of accessories, and simplifies sharing your adventures with followers.
Overview of Features
The 4K+ is stylish as action cameras go. It follows the basic rectangular design but supplements it with a textured checkered grip and sparse interface. It's easy to hold onto and won't slip from your grasp even if your hands are sweaty. There's a single multifunction button that turns it on, takes pictures, or records videos. Depending on how long you press it, the button also lets you access the 4K+'s simple menus. You review these through its bright 2.2-inch touchscreen that remains visible under sunlight.
Even though it creates decent 12MP stills, you'll mainly buy the 4K+ for its exceptional video quality. A quad-core processor enables it to record videos up to 4K at 60fps, matching leading GoPros. The quality of 4K footage is respectable too – colors are vivid and accurate, while much detail is preserved during high-contrast scenarios.
Electronic image stabilization is present and helps smooth out rough footage. It's not as helpful as GoPro's advanced IS technology, but the differences between using it and leaving it off are considerable. Best of all, image stabilization is available for all settings except 4K at the highest framerate.
You can control the Yi 4K+ via the multifunction button, its touchscreen, voice commands, or the companion app. Voice controls are responsive even when you're in a crowded place or biking down a hill on windy days. The camera's audio isn't great, but you can buy a separate USB to 3.5mm converter and attach a quality standalone mic through the USB-C port.
You can broadcast your shenanigans live to your Facebook or YouTube account through the app. It connects your phone to the 4K+ through either Wi-Fi band and also has basic video editing options. These let you add fun filters and effects to make videos unique.
What We Didn't Like
Yi is stingy with accessories. The worst offender is the lack of a waterproof case which comes as a matter of course with other action cameras. You'll either have to pay $40 extra for the case or keep the 4K+ out of harm's way. This camera doesn't do well in the cold. Exposing it to sub-freezing temperatures leads to drastically-reduced operation times.
Tech Specs
Dimensions: 2.6 x 0.8 x 1.6 in.
Weight: 3.2 oz.
Camera type: Action cam
Sensor: 1/2.3 inch CMOS
ISO range: 100 – 6,400
Max still resolution: 12 MP
Max video resolution: 1080p, 60fps
The Pros
Excellent video quality
Easy to control in multiple ways
Great companion app
USB-C port that supports external microphones
The Cons
Reduced running time in cold weather
Isn't waterproof and doesn't come with waterproof housing
5. Fujifilm FinePix XP140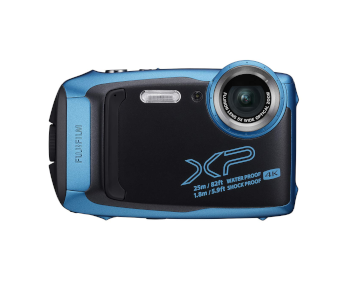 View on Amazon
Editor's Rating: 4.1/5
Is your budding photographer also the adventurous type? If so, she'll need a hardy camera that can keep up! True to its name, Fujifilm's FinePix XP40 is a fine choice for teens who spend a lot of time on the beach and want to document their experiences. It has all kinds of proofing, can be submerged in 75 feet of water, and has an easy-to-use interface. While photo performance is great, look elsewhere if you want a camera that produces equally detailed videos.
Overview of Features
There's no mistaking the XP140. Its bright body is available in four distinct colors and easy to spot, whether you're on a ski slope or swimming in the ocean. It's the second-lightest traditional camera on review and fits easily into a pants pocket. In spite of this, the XP140 has a 5x optical zoom lens that extends inwards, so it's always parallel to the camera's body.
You'll find few compacts as capable of taking a beating as the XP140! It can withstand temperatures well below freezing, won't feel a thing if you drop it from 6 feet up, and its tight sealing ensures no water or dust can get to its sensitive internal components. A viewfinder and function dials are absent to that end, and you charge the battery internally via USB whose port is well protected.
Controlling the XP40 is a snap. Its shutter release is rugged to help you take pictures with wet hands. Zooming in and out is done by manipulating the W and T buttons with your thumb, and you access other functions with the four-way directional pad. The menu system feels dated but is easy to navigate.
This is a no-frills camera that nevertheless performs well. The scene recognition feature intelligently takes into account your situation and delivers good results nine times out of ten. Pictures are sharp, vibrant, and look good in bright light. Underwater photography doesn't have as many options as the Olympus Tough TG-6, but you'll be able to get some impressive snaps with a bit of patience and creativity.
What's Bad About It?
The XP140 doesn't have a manual mode. That means it's an excellent camera to whip out come vacation time, but not so great for deepening one's knowledge of photography. It has 4K, but it is limited to 15 fps and not suitable for smooth videos.
Tech Specs
Dimensions: 4.3 x 2.8 x 1.1 in.
Weight: 7.3 oz.
Camera type: Compact
Sensor: 1/2.3 inch CMOS
ISO range: 100 – 12,400
Max still resolution: 16.4 MP
Max video resolution: 4K, 15fps
The Pros
Waterproof and extremely durable
Good performance under ample light
Doesn't require much user input
Responsive optical zoom
The Cons
No manual mode may stifle growth
Limited 4K capabilities
6. Best Budget Option – Canon PowerShot ELPH 360 HS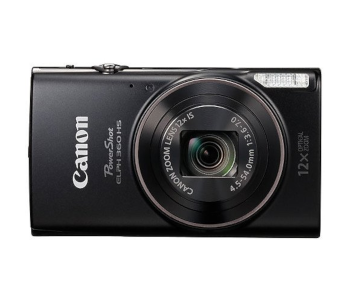 View on Amazon
Editor's Rating: 3.8/5
What if your teen has no ambitions of becoming the next Steve McCurry and just wants an inexpensive camera that blows smartphones out of the water? In that case, Canon's ELPH 360 HS is your best bet! It's a camera that can't compete with the more expensive entries on our list. However, it is the best-in-class model for responsiveness and photo quality in the sub-$200 category. It's the perfect gift for an indecisive teen who doesn't know whether photography is her passion yet but wants to find out in a fun way.
Overview of Features
At less than 6 ounces and with a thickness smaller than 1 inch, the 360 HS is a compact that fits even into girls' jeans. It comes in either black, silver or a vibrant purple, and has an all-plastic body. The control scheme is minimal and similar to that of the XP140. Unlike that model, the 360 HS has an extendable 12x optical zoom lens excellent for capturing far-away subjects.
Taking photos with this camera is a breeze. It's quick to power on and spring into action. There's also no shutter lag, meaning it will take a picture as soon as you press the shutter release. A max resolution of 20MP ensures you'll be able to enlarge and print your most successful pics. Make sure to take then during daylight since that's when the 360 HS shines.
In spite of its small sensor, the camera takes above-average quality pictures for its price. Autofocus recognizes faces quickly and effortlessly, while electronic image stabilization ensures that pics you take while holding the 360 HS turn out well. You can set up and review shots on the 3-inch LCD. It might not be a touchscreen, but it reproduces images and plays back videos with reasonable quality.
Speaking of videos, the 360 HS shoots 1080p at 30fps. Video quality is average, though it rapidly starts to degrade the lower the light level. Pictures and videos can be transferred to your phone wirelessly, and the camera even has NFC for rapid connection.
Are There Drawbacks?
The 360 HS performs poorly in low light due to its small sensor. It has a tiny built-in flash which may not be enough to offset this, and external flashes aren't supported. Low battery life is also a concern – a full charge isn't even enough for 200 shots. Luckily, the battery can be removed for external charging, meaning you can get a spare and keep it at hand for prolonged photoshoots.
Tech Specs
Dimensions: 3.9 x 2.3 x 0.9 in.
Weight: 5.2 oz.
Camera type: Compact
Sensor: 1/2.3 inch CMOS
ISO range: 80 – 3,200
Max still resolution: 20.2 MP
Max video resolution: 1080p, 30fps
The Pros
Great performance at a low price
Above-average image quality for its price bracket
12x optical zoom
Can be controlled remotely from your phone
The Cons
Low battery capacity
Poor low-light performance
Small flash