The Best DIY Security Camera Kits of 2019
3D Insider is ad supported and earns money from clicks and other ways.
The old-fashioned way to install a security camera system in your home involved having to call up a security company to have them come over and install the system for you. They will take care of everything including physically mounting the cameras, running wires across your home, drilling holes through the walls, and setting up the main communications hub. While this method was very convenient, it can also turn out expensive. Some people might also be uncomfortable with the idea of strangers running around the most intimate parts of their houses – more so, giving them control of your security system.
Fortunately, we are at an era when you can DIY practically anything. In this article, we list down the very best security camera DIY kits that you can install and deploy yourself.
Why get a DIY security camera?
The idea of installing a system of security cameras in your office or home by yourself may not sound like a great idea for people who have not done a DIY project at this scale before. Why go through all the trouble anyway, when you can just pay other people to do it for you? Here are just some of the best reasons for choosing a DIY security camera kit.
1. No one else has access to your security system
Having a professional service install a security system for your home usually means letting them manage it for you, as well. While it can be argued that this is the way that home security systems have always worked, people nowadays are understandably a bit more paranoid. If you don't think that having a third-party service manage and control your security camera system is a good idea, then you're better off going the DIY route.
2. No long-term contracts
Security service providers are a lot like telecommunications providers in that they tend to lock you into multi-year contracts when you sign up. This gives the company a lot of security of having you as a customer for the price of you losing any flexibility of signing up to other service providers. To be fair, most cloud-based security systems also require you to sign up to a subscription service, but you have the option of being locked in with the service for as little as one month.
3. Less expensive
DIY security camera systems are much more affordable compared to having a professional service manage your system for you. You can get a complete DIY security camera kit for less than $300, while cloud-based security services can go for as low as $3 per month. Of course, there'll be a bit of hard work involved, but that's par for the course for any DIY project.
The top 5 best DIY security camera kits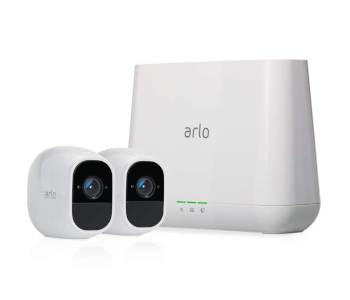 As far as DIY security camera kits go, it's tough to top a product from Arlo in terms of overall quality. The Arlo Pro 2 is certainly a pricey security camera kit, especially considering that it only comes with two cameras, but this is one of those cases where you get what you pay for.
This bundle comes with two cameras and the Arlo home station, which needs to be hooked up to your local network to enable Arlo's cloud-based services. The cameras are completely wireless and come with removable, rechargeable batteries, although you also have the option of installing a hard-wired power supply.
The Arlo Pro cameras are excellent. They record 1080p videos, have night vision up to 25 feet, and have built-in motion detectors. The 2440 mAh batteries that come with the cameras should last around 2 or 3 months if the cameras are set up to start recording only when the motion sensors are triggered. With smart notifications activated, you can also elect to receive notifications on your phone when the camera sensors detect any movement.
Arlo Pro offers free seven days of cloud recording which roll over automatically to make room for more videos. This is a huge relief since it means that you won't need to spend for an additional subscription service on top of the high price tag of the security camera kit. You also have the option of plugging in a USB device to the system, so you'll always have backup local storage. You can, of course, still opt-in for the paid subscription which gives you access to more advanced functions.
The Arlo Pro 2 is an exceptionally well-designed, all-around security camera system that is versatile, reliable, and easy to use. We like how the cameras can be set up wirelessly and that Arlo throws in 7 days of free cloud storage with the kit. It's definitely on the expensive side, though, so it might still not be for everyone.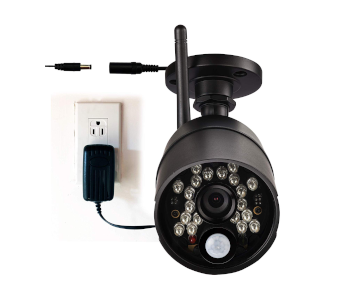 The two-camera Sequro Guardpro system is proof that you don't need to spend a fortune for a reliable security camera system for your home. It will take a bit more work to have this system installed, but it offers all of the necessary features for about half of the cost of the Arlo Pro 2.
This DIY security camera kit comes with two cameras and a portable all-in-one touchscreen monitor. The cameras communicate with the central hub wirelessly but will need a hard-wired connection for power. With an IP66 rating, the GuardPro cameras are robust enough to withstand outdoor conditions.
The 7-inch touchscreen monitor provides real-time video and audio monitoring of up to four cameras at the same time, although the video resolution is limited to only 720p. The monitor also has a microSD slot for local storage of the videos. If you want to be able to store more videos on your microSD card, you can reduce the resolution setting to VGA, although this might make identifying anyone in your security videos problematic.
When you're away from home, you can still monitor your security cameras in real-time through the Sequro GuardPro mobile app. Best of all, every feature comes at no extra cost – just buy the kit, and you're good to go.
Although it's not the most sophisticated security system around, we appreciate how simple and easy to use the Sequro GuardPro is. Aside from the complexity of having to install the cameras with a wired power supply, the system is essentially plug-and-play. Just don't expect a lot when it comes to video resolution.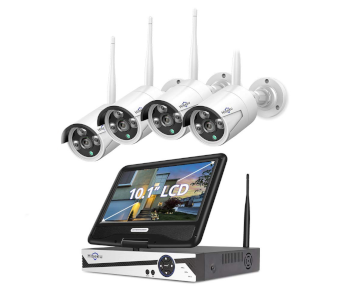 This security camera system from Hiseeu may not far from being cheap, but it does come with four cameras on top of a central monitoring hub with a built-in 1TB hard drive. On the amount of hardware alone, it's easy to see how the Hiseeu camera system has the best value-for-money.
The DIY security camera kit isn't all about quantity, though. The cameras can record videos at 1080p resolution, has night vision up to 98 feet away, is equipped with a motion sensor, and has an IP66 waterproof and dustproof rating. The cameras pretty much stand shoulder-to-shoulder with many of the popular security camera brands, despite the modest price tag.
The central monitoring hub operates wirelessly and has a 10.1-inch LCD screen that allows you to view the feed from all four cameras simultaneously. The built-in 1TB hard drive has enough space for up to 20 days of 24/7 video recording from all four cameras. Since everything is stored locally, the security system is not dependent on a WiFi connection, and videos can be played back quickly.
Connecting the monitoring hub to your local network allows you to receive the video feed from the cameras to your phone through the companion mobile app. You can also activate an option that sends you an alert email whenever the cameras' motion sensors get triggered – a great feature for when you have to be away from the house for a long period.
Overall, the Hiseeu has to be one of the best value-for-money DIY security camera kits out there. All the components of the kit come pre-paired, so there isn't even a need to go through some tedious pairing process. Having a 1TB hard drive for video storage is also a refreshing upgrade from having to make do with microSD cards.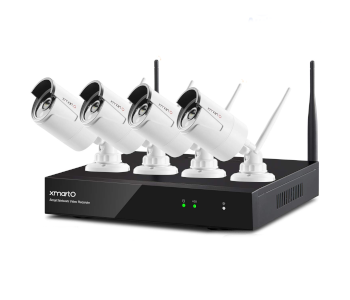 Although the XMARTO security camera kit comes with a lot of hardware for a very friendly price, it does neglect some of the quality of life features that we like with the entries that are higher in this list. Chief of these is the slight downgrade in video resolution and the lack of an LCD screen in the system's base station.
One aspect that XMARTO did not skimp on is the quality of the cameras. They can record videos with 960p HD resolution, come with infrared LEDs for night vision, have an IP66 weatherproof rating. We particularly like how the cameras come with integrated WiFi relay technology which allows you to extend the range of your security camera system up to three times the base station's default range.
The cameras also come with a nifty RCA audio input, allowing you to attach a microphone accessories that give the cameras audio recording capabilities. It might an added expense, but microphones are really cheap.
The base station has a built-in 1TB hard drive for local storage of 24/7 video recording. It does NOT have an LCD screen to monitor the video feeds of the cameras. For that, you'll need to hook up the base station to your local network and have the XMARTO WallPixel mobile app on your phone or tablet.
The companion mobile app may one of the best in the market for DIY security cameras. The app allows you to set up multiple video feeds – up to 16 at a time. It also comes with a quick sharing function that allows you to invite other family or household members to view the footage from the security cameras.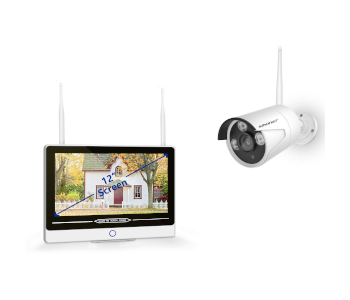 This DIY security camera kit from SMONET is basically an upgraded (and more expensive) version of the Hiseeu system we have already listed above. It also comes with four cameras and a central monitoring hub with a built-in hard drive. This time, the local storage has a hefty 2TB capacity.
The bullet-style cameras are built with an IP66 rating that makes them perfect for use outdoors. They can record videos at 1080p resolution and have a night vision mode that is automatically activated when the cameras detect low light conditions. The cameras communicate with the central hub wirelessly but will need to a wired power supply.
The monitoring hub comes with a 12-inch LCD screen and can be expanded to simultaneously monitor up to eight cameras at a time. It's no wonder that the local hard drive has been similarly expanded to 2TB, with the option to expand further to 4 TB. At this scale, the SMONET security camera system can provide extensive security coverage that suitable for large office spaces or warehouses.
The SMONET camera kit provides free remote viewing at no extra cost either via the IP PRO mobile app the Eseecloud software for your laptop or desktop computer. With so much storage space and versatile monitoring options, the SMONET camera kit is an excellent solution for 24/7 surveillance. It's particularly suitable for those who need a system that can accommodate more than four security cameras.
Final thoughts
If you want something done right, then do it yourself – or so the old adage says. When it comes to security camera systems, this wisdom might only apply to those with a particular penchant for doing DIY projects. While DIY security cameras are not for everyone, there's at least some solace that the products are out there. After all, not everyone wants to have strangers poking and prodding around in their house.
Fortunately, all of the DIY security camera kits we have listed above are as good as plug-and-play. There might be some difficulty in running electrical cables to the cameras, but that's about as complicated as the installation process is. They're reliable, easy to use, and don't involve anyone else in your security system – the perfect solution for those who trust no one.