Pros and Cons of DJI Inspire Series
3D Insider is ad supported and earns money from clicks, commissions from sales, and other ways.
DJI is a market leader in the manufacturing of consumer and professional drones. The company has a wide variety of drones spanning the entire spectrum of the market, from entry-level to industrial grade drones. Whether one needs a drone for recreational use, professional use, or industrial use, DJI has a drone to match the purpose.
The Inspire series of drones is a professional grade product line with camera resolutions going as high as 6K. One can also opt for the 5.2K capable Zenmuse X5S camera. Some models also allow users to choose lenses on their drone cameras. In fact, the Inspire series was the first DJI drone which allowed users to choose the lens that they wanted to use on the drone camera.
The Inspire series has been quite well-received by photographers and cinematographers who value high-end specifications. Since the release of the Inspire 1, there have been two more models, namely the Inspire 1 V2 and the Inspire 2. The latest Inspire drones have an advanced obstacle tracking system, a better battery, and better navigation capabilities.
As the Inspire series drones pack in lots of high-end features, the prices are also pretty high. Paying such high prices adds an element of risk as well. Problems like battery failures and pilot errors can end up becoming quite a costly affair for the user. While DJI has tried to address most of these issues, the Inspire series does have some weaknesses as well. Below are the Pros and Cons of DJI's Inspire drones:
DJI Inspire Series drones
The following are the specifications of the DJI Inspire 1 and 2 drones:
Model
T600 (Inspire 1)
T650 (Inspire 2)
Weight
6.27 lbs (2845 g, including propellers and battery, without gimbal and camera)
7.58 lbs (3440 g, including propellers and two batteries, without gimbal and camera)
Max Takeoff
Weight
7.71 lbs (3500 g)
9.37lbs (4250 g)
GPS Hovering
Accuracy
Vertical: ±1.64 feet (0.5 m)
Horizontal: ±8.20 feet (2.5 m)
Vertical: ±1.64 feet (0.5 m) or ±0.33 feet (0.1 m, Downward Vision System enabled)
Horizontal: ±4.92 feet (1.5 m) or ±0.98 feet (0.3 m, Downward Vision System enabled)
Max Angular
Velocity
Pitch: 300°/s
Yaw: 150°/s
Pitch: 300°/s
Yaw: 150°/s
Max Tilt Angle
35°
P-mode: 35° (Forward Vision System enabled: 25°)
A-mode: 35°
S-mode: 40°
Max Ascent Speed
16.4 ft/s (5 m/s)
P-mode/A-mode: 16.4 ft/s (5 m/s)
S-mode: 19.7 ft/s (6 m/s)
Max Descent
Speed
13.1 ft/s (4 m/s)
Vertical: 13.1 ft/s (4 m/s)
Tilt: 13.1-29.5 ft/s (4-9 m/s)
Max Wind Speed
Resistance
10 m/s
10 m/s
Max Flight Time
Approx. 18 min
Approx. 27min (with Zenmuse X4S)
Approx. 23min (with Zenmuse X7)
Operating
Temperature
14° to 104° F (-10° to 40° C)
-4° to 104° F (-20° to 40° C)
Diagonal
Distance (propeller
excluded)
22.8 inch (581 mm, Landing Mode)
23.8 inch (605 mm, Landing Mode)
Max Speed
49 mph or 79 kph (ATTI mode, no wind)
58 mph or 94 kph(Sport mode)
Cameras
Zenmuse X3
Zenmuse X5
Zenmuse X5R
Zenmuse XT
Zenmuse Z3
Zenmuse X7
Zenmuse X5S
Zenmuse X4S
The Cons
Price
While it is true that one has to pay for quality, the Inspire drones are not cheap by any means. The Inspire drones can easily cost you $3,000 and the more advanced models can run up as high as $12,000. If you are going to use these drones for your work, then your work should pay you really well in order for you to recover the large upfront investment. Additionally, you do not want to crash an Inspire drone because it would end up being an expensive proposition.
Expensive remote controller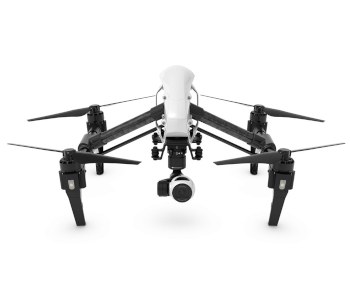 Staying with the money matters, the remote controllers of the Inspire drones are quite expensive. Besides, one has to buy new controllers for newer models of Inspire drones. The Inspire 1 controller will not be compatible with the Inspire 2 drone. The lack of backward compatibility forces the user to shell out $600 or more on a new controller. Using Inspire drones can be an expensive proposition.
Expensive software
High-end video with resolutions like 5.2K and 20 fps use video compression formats like Cinema DNG and Apple ProRes. However, Cinema DNG and Apple ProRes require license keys for full utilization of its video-editing potential. These license keys can cost around $1500, which is pretty expensive considering that you would have already spent a few thousand dollars buying the drone and the controller.
Expensive SSD cards
In order to store high-resolution video with Cinema DNG and Apple ProRes compression formats, one needs to use SSD memory cards rather than standard SD cards. Normal SD cards are capable of recording non-Cinema DNG and non-ProRes video formats at low burst rates. For high-end video, which the Inspire drone cameras shoot, a 480GB SSD card is recommended. Such SSD cards do not come cheap. They can cost up to $900.
No backward compatibility of components
Components like batteries, filters, or even the propellers aren't backward compatible in the Inspire series. Even Inspire 1 components aren't compatible with Inspire 2 components. This means that you have to purchase new batteries if you like keeping a backup. It also means that if you buy a newer Inspire drone, then you will have to sell your older drone or use it independently.
Missing sensors
In spite of the fact that the Inspire drones are professional-grade drones costing north of $3000, they surprisingly do not have all the obstacle sensors. The side or back sensors are missing. Being an expensive drone, a user would want to protect the aircraft body from accidental damages. Obstacle sensors are key in preventing such mishaps and a maximum number of such sensors should have been included on the drone body.
Short flight time
A common complaint with most drones is the short flying time. The Inspire 2 can do 27 minutes while the Inspire 1 offers a mere 18 minutes. These times are far less than some of the Mavic and Phantom drones, which touch a flight time of around 30 minutes.
For anyone wanting to engage in serious cinematography or photography, 27 minutes will seem like a really short time. The shorter the flying time, the higher is a need for backup batteries. And as you may know by now, Inspire drone components aren't cheap and each battery can cost as high as $159.
The Pros
We have spoken enough about the cons and disadvantages of the Inspire series drones. Now let us look at some of the benefits as to why people are willing to pay big money to buy the Inspire drones.
Excellent video quality
Inspire drones offer some of the best video quality among all the drones in the market. The user also gets a choice of cameras that he/she wants to use. Shooting 2.3K and 6K videos is a routine matter with the latest Inspire drones. Video professionals who like to engage in extensive video editing will appreciate the ability of the Inspire drone cameras to record the video in Cinema DNG and Apple ProRes formats.
Fast speed and acceleration
The recent Inspire 2 model can hit a maximum speed of 58 mph and it can go from 0 to 50pmh in just 4 seconds. So, not only is the Inspire 2 one of the fastest in the market, but it is also an excellent accelerator. Action shots and professional high-speed video involving following cars and fast moving objects is quite easy with the latest Inspire drones.
Improved design and durability
The Inspire 1 was one of the first drones to have aerodynamic carbon fiber arms that gave the drone high maneuverability. The Inspire 2's body uses a durable magnesium aluminum composite material. The rotors also have an improved design which improves the stability of the aircraft. Overall, the materials used to make the Inspire drones and the actual design of the drone components make it a stable and highly durable product.
Redundant battery setup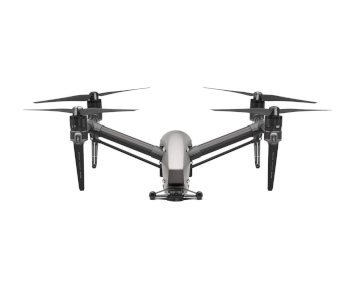 A dual battery design prolongs the flight time and also adds redundancy in terms of battery exhaustion or failure. For example, if something happens to one of the batteries or if it runs out of power, there is a second backup battery ready to step in without you having to fly the drone back and land it to replace the existing battery with a new one. This saves time and effort.
The battery system of the Inspire drones also has a special battery warmer. This allows the drone to operate in a cold environment. Normally, a user would have to first warm up the batteries before taking the drone into the air. But with warmers, the drone can go up in the air the moment you decide to. You do not have to lose that perfect moment when the light and the scene is perfect just because you were busy warming up your batteries.
Accurate flying
The use of dual IMU and barometer means that the flight data is more accurate and the flying has more precision to it. You can confidently fly in a perfectly straight line for shots that need such stability and accuracy. Having dual components also adds redundancy to the flight control system. The GPS system in the Inspire drones uses not only the American GPS, but also the Russian GLONASS satellites for more accurate mapping of the drone location.
Intelligent flight modes
The Inspire drones have intelligent flight modes which allow you to perform complex maneuvers and repeat them without any variation. Normally, one would have to fly drones for years and build up experience to be able to execute such complex maneuvers. The active track function of the Inspire 2 drone can recognize an object or a person and then track that subject for as long as you want.
Another intelligent more is the TapFly mode where you can tap on any point visible on the screen and set a flight path to that point. The Inspire 2 will then automatically fly along that set route. It achieves this intelligence via a 2-axis FPV camera onboard. The camera separates the main camera view from the flight view and then uses the flight view to follow the preset route.
Another powerful tracking mode is the Spotlight Pro. It allows the drone to focus on the subject no matter what flight path the drone takes. If the gimbal reaches its rotational limits while tracking a subject, then the Inspire drone itself will rotate. The Spotlight Pro allows you to do things which would otherwise require a dedicated cameraman.
Smart return-to-home
The multitude of forward and downward facing vision sensors allow the Inspire drones to create and map out its flight route in real time. So, if the battery dies or if you reach the limit of the controller range, then the drone will return back to you using the same flight route that it mapped out in its memory. While returning, it will watch out for obstacles and avoid them as well. It truly is a "smart" system.
Conclusion
There is a lot to like about the Inspire series drones. They allow you to do things that would normally require a team of professional cameramen. The video quality, the build quality of the drone body, and its functions are best-in-class. Of course, quality will cost you money. The lack of backward compatibility is also an issue. Depending on the type of user, some would find the pros far outweighing the cons, while some others may find the costs too steep for their liking.
Remember that Inspire drones are professional-grade products that offer features used by professionals. If you want a drone for light or domestic use, then some of the consumer drones that DJI has can be sufficient for your applications. However, if high end features matter for your business, your reputation, and make the difference between getting a gig and not getting one, then it may be worth getting one of latest Inspire drones.