14 Best Accessories for the DJI Mavic 2
3D Insider is ad supported and earns money from clicks and other ways.
If you are like us and you crazy for drones, then you have probably heard that DJI has released the brand new Mavic 2. We have already written an in-depth review of the Mavic 2 but let us summarize it this way – it is everything we ever hoped for, and possibly even more. It looks great, flies great, and takes beautiful shots! Before you jump in, we would like you to take this moment and make sure that you get the most out of your Mavic 2 experience by getting the best accessories available for your top-of-the-line drone.
1. Mavic 2 Carrying Case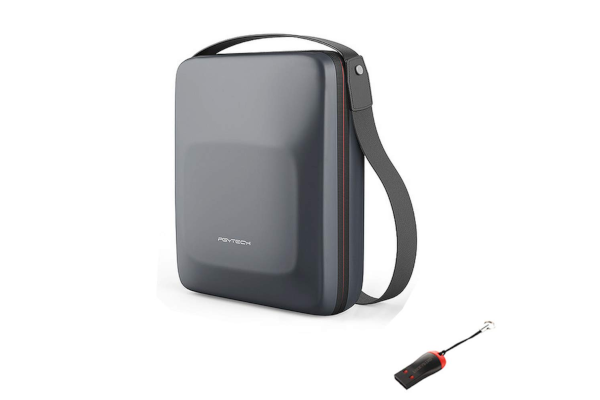 One of the first investments we believe you should make after you buy your Mavic 2 is a rugged protective carrying case. After all, the Mavic drones were designed specifically to be carried around with you anywhere you go. A good carrying case will make sure that your Mavic 2 and all of its accessories are in good shape and ready to go when you reach your destination.
You have a couple of options for a good carrying case for the Mavic 2. The official DJI Mavic 2 Shoulder Bag is generally a very good choice, as it was made to carry not only the drone but a veritable list of the essential accessories: the remote controller, 4 extra batteries, extra propellers, ND filters, SD cards, and a smartphone. This list is surprising given the highly compact design of the bag. The Mavic 2 Shoulder Bag comes with the DJI Mavic 2 Fly More Kit.
If you do not mind a case that is slightly bigger, then you can opt for the Lykus Water Resistant Travel Backpack which is designed specifically for the Mavic drones including the new Mavic 2 and the older Mavic Pro and Mavic Pro Platinum. On top of being able to fit the drone and the essential accessories, the bag comes with additional storage spaces for your other peripherals. The bag is surrounded by a hard EVA (Ethylene Vinyl Acetate) case, giving it protection against external forces and sudden impacts. The bag straps can also be reconfigured to turn it into a shoulder bag or cross body bag.
For a case that looks less casual and more professional, you may get the Mavic 2 Shoulder Bag Carrying Case. This carrying case that resembles a hard briefcase has a hard EVA exterior and interior compartments designed specifically to hold the Mavic 2 drone, the remote controller, and 3 extra batteries. The case comes with a durable hand grip and a should strap attachment for more comfortable transportation.
For the ultimate in protection and ruggedness, you might want to get the Portable Hardshell Case from Ounice. This case is made from durable ABS and is made to be waterproof, weatherproof, and shockproof. It was designed specifically for the Mavic 2 Pro and Mavic 2 Zoom and has compartments for the essential accessories of either models. If you are thinking of carrying your Mavic 2 drone through some very rough conditions, then this carrying case is the best choice for you.
2. Mavic 2 Aircraft Sleeve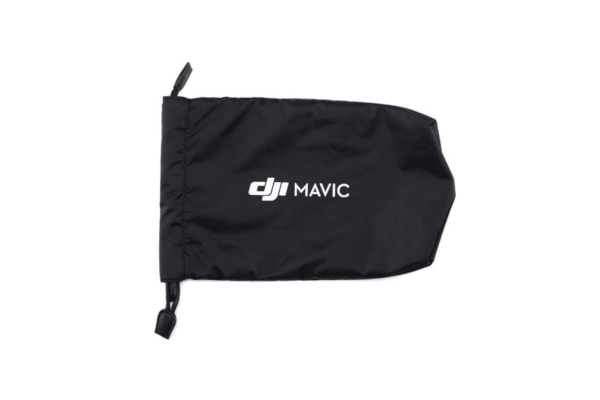 If you are prone to just folding up your drone and tossing it into your backpack, then you have to get the Mavic 2 Aircraft Sleeve. The sleeve is made from a wear-resistance and durable material, ensuring that your drone is protected from minor scratches and surface wear. For such an expensive drone, buying a relatively cheap aircraft sleeve to protect it from surface damage seems almost obvious.

3. Mavic 2 Intelligent Flight Batteries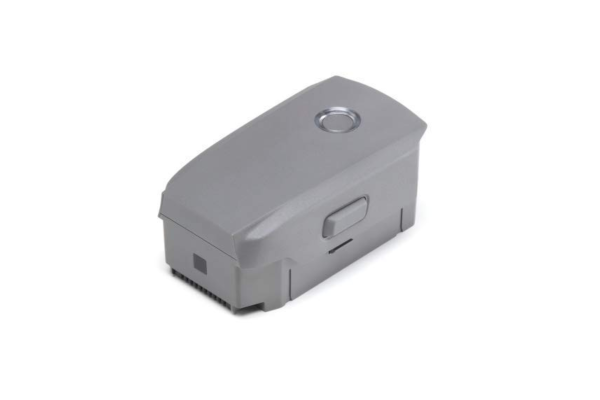 It would be such a shame if you were out flying your Mavic 2 in a beach or in a remote mountaintop just to have the fun cut short by dead batteries. That is why it is always a good idea to have 2 or 3 extra batteries with you. The batteries sold by DJI are high capacity LiPo batteries with several intelligent features, such as providing real-time battery status during flight. With these batteries, you can take your mind off of battery management and just focus on flying your drone and taking photos or videos.

4. Mavic 2 Battery Charging Hub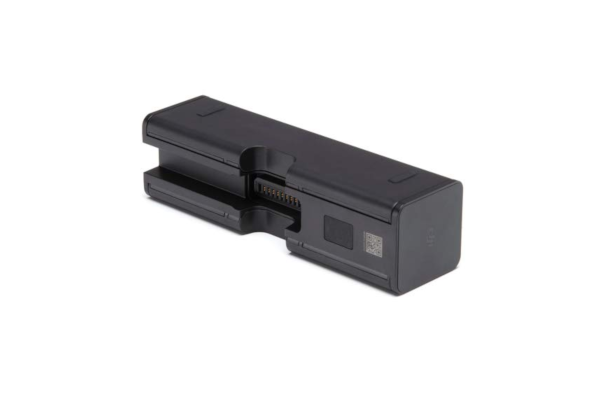 Of course, it would be a headache to be taking home several dead batteries and having to charge them one by one. The Battery Charging Hub from DJI provides a practical solution to this dilemma. The Charging Hub can accommodate up to 4 Mavic 2 batteries, and its intelligent charging system charges the batteries in sequence according to their remaining power levels. In this way, your batteries are charged in shorter periods, allowing you to get back into the air faster. The Mavic 2 Battery Charging Hub also folds into a neat little package, so you can bring it with you anywhere.

5. Car Charger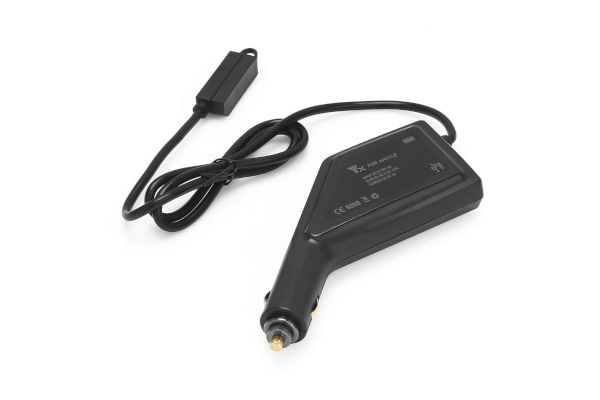 Taking your drone out in the middle of nowhere with just your car only means one thing: you are going to need a car charger to charge all those extra batteries. This can also be useful if you are out on shoot that takes you all over town. Since this car charger was designed by DJI, it also isn't just any car charger. In addition to charging your drone batteries, this car charger can also charge the remote controller. It can even act as an external power source for charging other devices, such as your smartphone or tablet. Believe us, there will be times when this car charger will be your best friend, so don't leave home without it!

6. DJI Battery Safe Bag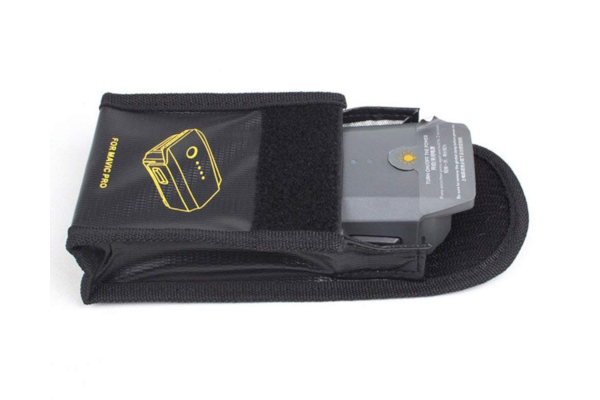 If you are going to be carrying around extra batteries with you all day, then we recommend you get one or more of these battery bags from DJI. As you should well know, LiPo batteries are prone to exploding or combusting given the right (or wrong) circumstances. Should something so tragic happen, keeping your batteries in these bags will contain the damage. You definitely would not want a faulty battery to end up destroying your drone.

7. Mavic 2 Low Noise Propellers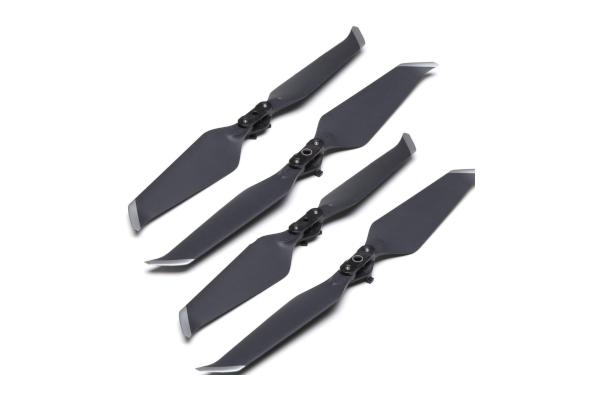 The great irony of drone propellers is that they are simultaneously the most dangerous parts of a drone and also the most fragile. Although DJI has made great strides in improving the design of their propellers, we still will not take a chance in going out on a drone flight trip without extra propellers.
The specially designed propellers for the Mavic have flared edges similar to the low noise propellers of the Mavic Pro Platinum but are very slightly thicker. The new design of the propellers allows the Mavic 2 to fly with less drag, therefore extending the flight time. The propellers are sold in pairs, and have a quick release and install design.

8. Mavic 2 Propeller Guards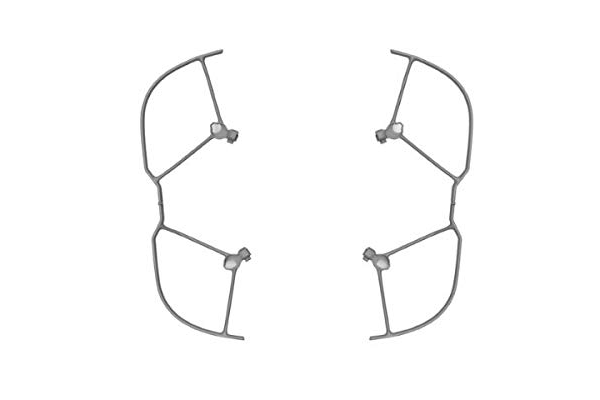 Even though we always carry extra propellers, we absolutely hate having to replace broken propellers. Although the propellers are cheap, going through a lot of them can add up quickly in a short time. To reduce the chances of propeller damage, we prefer installing propeller guards to our drones. The Mavic 2 propeller guards provide an extra layer of safety for your drone propellers, keeping both the drone and the pilot safe from untoward accidents.

9. Landing Pad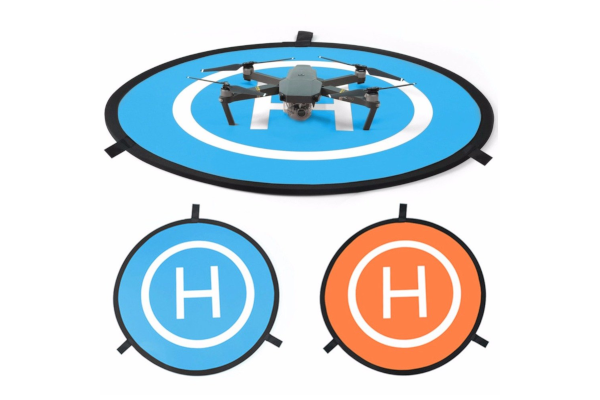 Landing on uneven surfaces, such as rocky or grassy areas, can be quite tricky. Even loose debris on the spot where you land your drone can cause some damage, whether to the drone body or to the camera and gimbal setup. Having a landing pad goes a long way towards protecting your drones against uneven landing. It is also really cheap and should last for a very long time.

10. Extended Landing Gear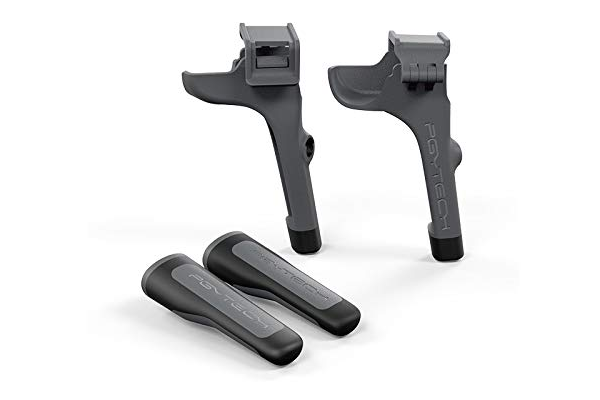 Even if you have a landing pad, sometimes you just do not want to take a chance that can damage your camera and gimbal. In such situations, you may use a landing gear extension set which attaches to the existing landing gear to raise the drone by about 35 mm. It is a small increase, but it can spell the difference between your drone landing safely or your drone damaging its bottom accessories.
This relatively cheap piece of hardware is made of silicone and can be purchased from several manufacturers. Some of the most popular choices for Mavic 2 landing gears are either from PGYTECH or gouduoduo.
11. Memory Card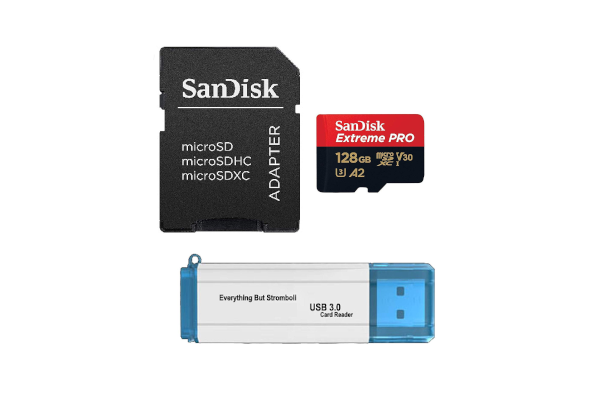 The Mavic 2 comes with an ability to record photos and videos on a memory card. With its ability to shoot 4K videos and take 20 MP photos, you will probably fill up those memory cards pretty fast. We recommend having a handful of extra memory cards with you whenever you go out to fly, especially when your focus is on photography.
Since you will be bringing these memory cards with you on all of your rough and tumble adventures, we recommend getting the Sandisk Extreme line of memory cards. These memory cards are built for extreme conditions, and are advertised as being temperature proof, weather proof, shock proof, and X-ray proof. When all your drone accessories are made to withstand rough conditions, then your memory card should not be treated any different.
If you are even willing to add a layer of protection for your memory cards, then you might want to take a look at the durable and water-resistant Pelican cases.

12. Toolkit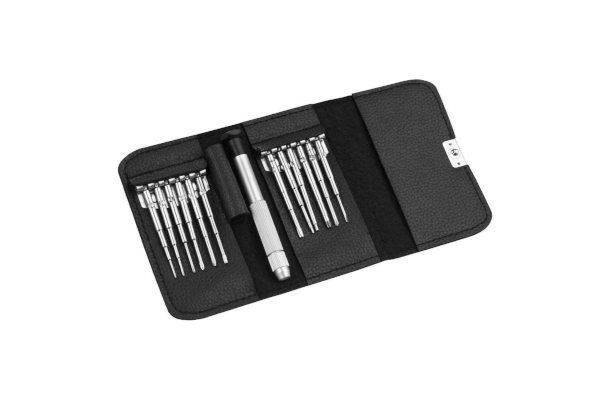 There is no telling what could happen to your drone whenever you take it out for a flight. Strong winds, birds, communication interference – all these unexpected events can lead to your drone crashing or otherwise getting damaged. For this reason, we always carry around a toolkit to fix minor drone mishaps. You may buy drone repair kits from BIGTEDDY or Vastar, both of which include a huge selection of different sized screwdrivers, pliers, tweezers, and hex wrenches. Although you probably would not be able to repair all types of drone damage with this toolkit, it is still good to carry it around, just in case. Consider it a first aid kit for your drone.

13. Gimbal Cover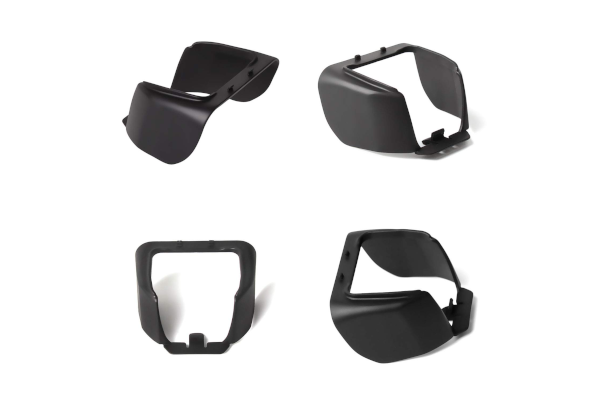 The camera gimbal is probably one of the most sensitive and fragile parts of a drone. Even though the build of the Mavic 2 gimbal seems sturdier compared to its predecessors, we still like to handle the gimbal with care. DJI sells separate gimbal covers for the Mavic 2 Pro and the Mavic 2 Zoom, each of which is specially designed for the specific drone. The gimbal cover is meant to be installed on the drone whenever it is being transported to prevent damage or dust buildup on the gimbal.

14. ND Lens Filters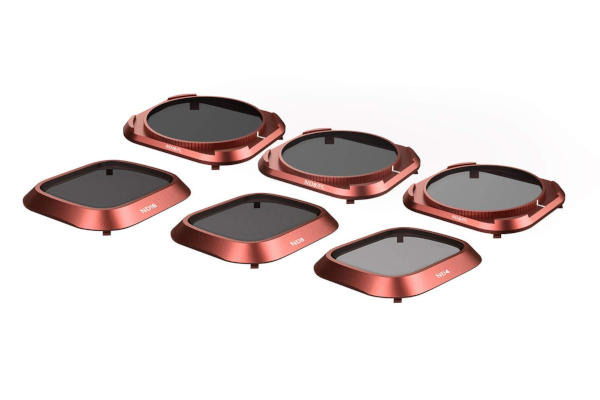 If you are a serious drone photographer looking to maximize the camera features of the Mavic 2, then you should definitely have a set of the ND filters sold by DJI. DJI sells a set containing ND4, ND8, ND16, and ND32 filters separately for the Mavic 2 Pro and the Mavic 2 Zoom. You can even go the extra mile and get the Polar Pro line of ND filters, which cut down on glare in extremely harsh lighting conditions.

BONUS: DJI Care Refresh for Mavic 2
Although we do not consider this an accessory, we thought it was worthwhile to include the DJI Care Refresh program for the Mavic 2 in this list. DJI's very own insurance program provides free repair services for your Mavic 2 drone. The best thing about the Refresh program is that you can get a brand new or equivalent to new drone for a very small price, should your drone be deemed beyond repair.
For instance, the first replacement drone will set you back only $119. This is a steal compared to the price of a brand new Mavic 2 Pro or Mavic 2 Zoom. If you are still considering buying a Mavic 2 or have purchased a Mavic 2 in the last 48 hours, then we recommend that you buy DJI Care Refresh for your new drone. It might set you back a couple of additional dollars but having peace of mind while you fly your new and expensive drone is priceless.
The Roundup
The Mavic 2 surely did not disappoint and lived up to many of our expectations. We are so excited about it that we cannot wait to test out everything that this new drone can do. However, it is worthwhile to step back and look at the bigger picture. With the right accessories, we can make drone flight with the Mavic 2 even more fun and exciting, as well as safer for the drone and for all the people below it.