DJI Mavic 2 Pro vs. DJI Mavic 2 Zoom: Which One Should You Get?
3D Insider is ad supported and earns money from clicks, commissions from sales, and other ways.
Drone technology has become so sophisticated nowadays that picking just one out of a selection of excellent models can be a dizzying proposition. This was exactly what thousands of drone fans felt when DJI released two of their latest and best drones at the same time: the Mavic 2 Pro and the Mavic 2 Zoom. The latest in DJI's series of prosumer-grade ultra-portable drones, both the Mavic 2 Pro and the Mavic 2 Zoom boasted of features that cannot be found in other drones in the market.
So, which one should you get? That's the question we are going to try to answer in this buyer's guide.
The similarities
To make this discussion simpler, let's start by looking at the factors that are common across the two drone models. No matter which one you pick, you'll surely get the best technology and quality that DJI has to offer.
1. Build quality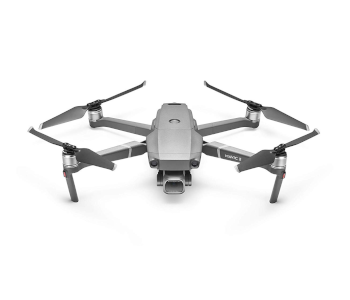 In terms of build quality and durability, the Mavic 2 drones don't steer too far away from the excellent design of the original Mavic Pro. Like the predecessor, the Mavic 2 Pro and Mavic 2 Zoom are built to last. DJI's Mavic drones have already been proven to be tough enough to withstand few rough crashes and tumbles, so we expect nothing less of the Mavic 2 line.
Both the Mavic 2 drones come with the redesigned propellers that were first launched with the Mavic Pro Platinum. At the time, these propellers helped the Mavic Pro Platinum fly slightly longer even without having to expand battery capacity. They were also quieter. These may be minor improvements, but they have contributed to making the Mavic 2 drones some of the best drones available today.
2. Portability
Both the Mavic 2 Pro and the Mavic 2 Zoom retain the ultra-portable design that drone pilots have come to love about the DJI Mavic line. With foldable arms and propellers, you can just carry these drones around in any regular backpack.
Although the Mavic 2 drones look very similar to the original Mavic Pro at first glance, they are slightly larger and heavier. This size difference is mostly because the Mavic 2 drones are equipped with a wider array of sensors. The difference isn't very significant – about 150 grams heavier, and about 20 centimeters longer. Considering how the sensors massively improve the flight experience with the Mavic 2 drones, the added bulk seems like a sensible trade-off.
3. Remote controller
By default, either the Mavic 2 Pro or the Mavic 2 Zoom comes with a standard remote controller to which you can attach a smartphone to view real-time FPV video. Although the controller doesn't seem to be anything out of the ordinary, its biggest strength lies beneath. With the upgrade OcuSync 2.0 technology, the controller range of the Mavic 2 drones is larger than ever at an unprecedented 5 miles. This new transmission technology also boasts of very low latency at only 120 to 130 milliseconds.
While the extended range certainly looks impressive on paper, it's questionable if you will ever be able to maximize it. After all, FAA drone flight rules require that drones be kept within visual line-of-sight. For an ultra-portable drone like the Mavic 2 Pro or the Mavic 2 Zoom, even flying out to 2 miles feels like pushing the boundary of this rule.
Both the Mavic 2 drones are compatible with DJI's more recently released Smart Controller that comes with an integrated screen. This new controller still has the benefit of using OcuSync 2.0 but does away with the inconvenience of having to mount another device so you can enjoy FPV video.
Buying the Smart Controller separately will set you back an additional $650. However, you get up to $200 in savings if you buy it bundled with a Mavic 2 Pro or Mavic 2 Zoom.
4. Battery
The LiPo batteries of the Mavic 2 drones have not received much of an upgrade from the original Mavic Pro and Mavic Pro Platinum. However, it comes with the advantage of upgraded electronic speed controllers (ESCs) and propellers that make it much more efficient power-wise. With these improvements, you can manage to get up to 31 minutes of flight time from the 3850 mAh batteries of the Mavic 2 drones.
Take note that the 31-minute figure has been tested by DJI under ideal conditions. Extra activities such as taking pictures moving the gimbal, or flying the drone at high speeds will significantly reduce the drone's flight time. The Mavic 2 drones can still make the bold claim of having some of the longest flight times out of all the DJI drones, and that's saying something.
Recharging the batteries of the Mavic 2 drones from completely drained to full capacity takes about 45 to 50 minutes. This isn't a bad figure and is a huge improvement from the charging time of the old Mavic drones.
5. Anti-collision technology
The Mavic drones have been known to have some of the best obstacle avoidance features, with each new iteration improving upon its predecessor. The Mavic 2 Pro and Mavic 2 Zoom do not disappoint in this department. Where the original Mavic Pro only had forward and backward sensors and the Mavic Air added a downward sensor, the Mavic 2 drones now have an omni-direction obstacle avoidance technology. This means that they have sensors at the forward, backward, upward, downward, and side directions.
The degree of environmental awareness of the Mavic 2 drones is unprecedented by other DJI drones and is considered one of the best until today. With this level of anti-collision technology, the Mavic 2 drones can stand shoulder to shoulder with drones equipped with advanced obstacle avoidance systems such as the Yuneec Typhoon H Plus.
6. Flight performance
The previous entries in the DJI Mavic line have never disappointed in terms of flight performance. Much like its predecessors, flying the Mavic 2 drones feels tight and responsive. The operation is so easy that even a beginner could end up flying like a pro with just several minutes of practice. The low latency OcuSync 2.0 also helps improve the flight experience with its almost real-time video feed.
In terms of raw speed, the Mavic 2 drones are superior to all other entries in the Mavic line. When put in Sport Mode, either the Mavic 2 Pro or the Mavic 2 Zoom can hit a maximum ground speed of 44.7 mph. This is incredibly fast for a camera drone, although obviously still not as fast as a regular racing drone. Just be careful when going into Sport Mode, because you will have no obstacle avoidance systems to keep you from crashing your drone.
7. Gimbal
Both Mavic 2 drones come with mechanical gimbals that provide 3-axis mechanical stabilization. This is hardly a surprise, as it's a feature that has already been used since the original Mavic Pro. What sets the Mavic 2 drone gimbals apart is a panning function that allows you to rotate the gimbal to the left or right by 75° on either side. This is a great upgrade to the original Mavic gimbal which already had a wide pitch movement range.
8. Photo modes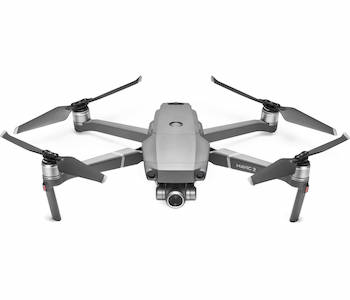 With distinctly different cameras, the photo and video capabilities of the Mavic 2 Pro and the Mavic 2 Zoom greatly vary. However, there are two photo modes similar to the two models: D-HDR and HyperLight.
In D-HDR mode, the cameras of the Mavic 2 drones take several RAW photos and combine them to create a composite photo with a wider dynamic range. This results in photos with richer and more dynamic colors while also reducing motion blur and other unwanted artifacts.
Hyperlight mode behaves very similar to D-HDR but is better suited for night photos are other photos with low lighting. This phot mode also uses long exposure to increase the amount of light that enters the sensor but cleans up the noise and grainy characteristic that is typical for photos taken at low light. The result is a cleaner photo with more defined features.
Just from looking at the features that are common across the two models, it's easy to see how both the Mavic 2 Pro and the Mavic 2 Zoom are excellent drones. Even just for the enhanced obstacle avoidance technology and the wide range afforded by OcuSync 2.0, it already feels like it's worth it to make the upgrade to the Mavic 2. However, we haven't gone into the feature that truly makes these drones some of the best drones available today: the cameras.
What sets them apart – the camera
From first glance, it's easy to see that the two Mavic drones sport different cameras. While the Mavic 2 Zoom has a standard-shaped round camera, the Mavic 2 Pro has this unique rectangular camera with a rounded lens. We'll get to the specifics of the different cameras shortly, but at this point, it's worth noting that the ND filters for the Mavic 2 Pro will not be compatible with the Mavic 2 Zoom, and vice versa. This is just a small footnote but one that is worth remembering.
Advantages of DJI Mavic 2 Pro
1. Hasselblad camera
The Mavic 2 Pro is the first drone to come with an integrated Hasselblad camera. This top-of-the-line camera comes with a 1-inch CMOS sensor, which is virtually unheard of in DJI's line of ultra-portable drones. This camera can take 20MP stills and record 4K video. You can drop the video resolution to 1080p and take slow-motion videos at 120 fps.
2. 4K lossless crop
Although the Mavic 2 Pro has a fixed lens, it offers a 1.4x digital zoom function in 4K which can be increased to 2.4x in 1080p. This is done using crop mode and is made possible by the fact that the resolution in 4K crop mode is the same as the resolution of standard 4K. As you would expect, hitting the upper digital zoom figures results in reduced image quality.
3. Wider ISO range
The Mavic 2 Pro's Hasselblad camera has an impressive huge 100-12800 ISO range. Combined with the extra-large sensor, this means the Mavic 2 Pro is exceptionally suited for capturing photos in low light conditions. For comparison, the Mavic 2 Zoom only has an ISO range of 100-3200, same as the older Mavic drones.
4. Adjustable aperture
Another aspect where the Mavic 2 Pro has a leg up over the Mavic 2 Zoom is the provision for an adjustable aperture. The aperture of the Mavic 2 Pro can be adjusted from f2.8 to f11, allowing for long exposure shots are for taking photos in low lighting.
5. Wide color profile
A signature characteristic of the Hasselblad camera is its 10-bit Dlog-M color profile which results in photos and videos with a higher dynamic range and a more faithful color reproduction. The color profile of the Mavic 2 Pro camera has over 1 billion colors, a massive upgrade to the Mavic 2 Zoom's 16 million colors.
Advantages of DJI Mavic 2 Zoom
1. Optical and digital zoom
As the name implies, the camera of the Mavic 2 Zoom has a zoom lens with a focal range of 24mm to 48mm. The 2x optical zoom is perfectly complemented by a 2x digital zoom, which means that it's possible to get a 96-millimeter equivalent field of view. Beyond just the lens, the camera itself is quite excellent: 4K recording capabilities, 12 MP stills, and slow-motion recording at 1080p and 120 fps.
The Mavic 2 Zoom is the only consumer-level drone to combine an optical zoom lens with 4K video recording and is the first drone from DJI to have a zoom lens. This has been a long time coming for drones and is a feature that we're sure a lot of drone photographers have been looking forward to.
2. Super resolution
The Mavic 2 Zoom makes full use of its zoom capabilities with its "Super Resolution" feature. Under this mode, the Mavic 2 Zoom uses its 24mm lens to capture nine separate photos which it then stitches together to form a 48MP photo. This composite photo has four times the resolution of a regular photo and allows you to zoom in on any section and still see very clear details.
It may not be appropriate for capturing scenes with a high degree of movement, but it is an excellent feature for capturing photos of landscapes with a level of detail that we have not seen in drone photography before.
3. Dolly Zoom
This photo mode is unique to the Mavic 2 Zoom is only made possible by the Zoom's adjustable zoom lens. This mode simulates the somewhat disorienting perspective shift that has been made famous by Alfred Hitchcock movies. It involves the drone moving away from the subject while its zoom lens adjusts to keep it in focus. Done manually, this can be a very complicated move to pull off. However, the Mavic 2 Zoom makes it completely autonomous. There are hundreds of this photo mode being put to use, often with impressive results.
4. Lower price
Another thing worth noting is the fact that the Mavic 2 Zoom is about $250 cheaper than the Mavic 2 Pro. Either one of these two drones is already pretty expensive, so even the smallest savings could be valuable to those with a tight budget. The extra $250 could even go towards buying a few nice accessories such as extra batteries or the upgraded DJI Smart Controller.
Which one should you get?
It's pretty clear that the Mavic 2 drones were designed with the serious drone photographer in mind. The excellent flight performance of these drones is just the icing on top of their superior camera specs. It's even more surprising that DJI managed to cram all of this high-end technology into ultra-portable drones.
Choosing between the Mavic 2 Pro and the Mavic 2 Zoom comes down to your photography style. Is it more important for you to get photos at as high a resolution as possible? Or do you want the benefit of capturing photos from unique angles?
1. For superior image clarity and low light performance
With a 1-inch CMOS sensor, an extra wide ISO range, and an adjustable aperture, you would be hard-pressed to find a better camera than the Hasselblad camera of the Mavic 2 Pro. The 20 MP photo resolution is something that only high-end camera drones are capable of, and its low-light performance can be considered one of the best.
2. For more cinematic effects
Having an equivalent of 4x zoom opens up a whole new world of drone photography opportunities. You can come up with more focused videos or shift your camera's focus from one subject to another. You can even take advantage of the photo and video modes that are unique to the Mavic 2 Zoom. The resolution and quality may not be the best, but there is no doubt that the effects can be breathtaking.
Final thoughts
The Mavic 2 Pro and the Mavic 2 Zoom remain as some of the best drones available in the market today almost half a year after their initial release. With their top-of-the-line features, they have redefined the field of drone photography. This is an impressive feat, considering that they still retain the ultra-portable design that we have come to expect from the Mavic drones.
No matter which one you get, you're sure to have an extremely fun, impressive, and durable drone that will last you several years. It will be quite an investment, but if you have the means, then these excellent DJI drones are worth the splurge.