DJI Mavic Air 2 vs. Mavic Mini: Which One Should You Get?
3D Insider is ad supported and earns money from clicks, commissions from sales, and other ways.
Just a few days ago, DJI announced the launch of the Mavic Air 2, the successor to one of their most successful drones ever. The specs of DJI's newest drone look great and people are understandably very excited over the possibilities of this drone.
However, DJI had also just released the Mavic Mini a little over half a year ago. The smallest and lightest of the Mavic family, the Mavic Mini quickly became popular as one of the best beginner drones ever. If you're in a situation where you need to pick one of the two, which drone should you go for?
Portability
| Parameter | Mavic Air 2 | Mavic Mini |
| --- | --- | --- |
| Weight | 570 grams | 249 grams |
| Size (Folded) | 180 x 97 x 84 mm | 140 x 82 x 57 mm |
| Size (Unfolded) | 183 x 253 x 77 mm | 160 x 202 x 55 mm |
Considering that the Mavic Mini was designed to maximize portability, it's hardly surprising that it's much smaller than the Mavic Air 2 and has less than half the weight. One of the selling points of the Mavic Mini is that it flies just right under the 250-gram minimum weight for which the FAA requires drone registration. This means that you fly the Mavic Mini right out of the box without needing to go to the FAA website, register your drone, pay the fee, and mark the drone with the registration number.
It also doesn't hurt that the Mavic Mini is barely bigger than the usual smartphones nowadays. Lightweight, compact, yet with a solid build, the Mavic Mini is a very good drone to take on vacations, road trips, or even on a weekend afternoon at the local park.
The Mavic Air 2 weighs in at a little over half a kilogram. It's about 100 grams heavier than the original Mavic Air but is still lighter than the Mavic Pro and the Mavic Pro Platinum. As far as portability goes, the Mavic Air 2 is still a solid option if viewed in a vacuum. However, it simply pales in comparison when put side-by-side with the Mavic Mini.
Camera
Parameter
Mavic Air 2
Mavic Mini
Sensor
1/2" CMOS
1/2.3" CMOS
Stills
12 MP or 48 MP
12 MP
Videos
4K @ 60 fps
2.7K @ 30 fps
Field of view
84°
83°
Slow motion
1080p @ 240 fps
1080p @ 60 fps
Max bitrate
120 Mbps
40 Mbps
Aperture
f/2.8
f/2.8
Color profile
D-Cinelike
Normal
ISO range
100-6400 (12 MP)
100-3200 (48 MP)
100-6400 (Video)
100-3200 (Auto)
100-6400 (Video/Normal)
HDR mode
Yes
No
AEB mode
Yes
No
RAW/DNG
Yes
No
When it comes to the quality of cameras, there's no other way to say it – the Mavic Air 2 is better in every way. The slightly larger Quad Bayer sensor gives the Mavic Air 2 the capability of taking full-resolution 48 MP shots, although it's set to capture 12 MP stills by default. The much higher bitrate also allows to it record 4K videos at buttery smooth 60 fps. The slow-motion capability that reaches a framerate of up to 240 fps is probably one of its best features and one we expect to use a lot of.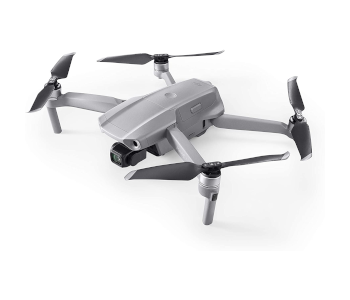 In comparison, the Mavic Mini can only shoot at a max resolution of 2.7K. Its framerate is capped at 60 fps, which means it does not have a true slow-motion feature.
The D-Cinelike profile of the Mavic Air 2 isn't the best color profile in the DJI Mavic line but it gives the photos a level of vibrancy that could be good enough for professional work. In contrast, you're stuck with a standard color profile with the Mavic Mini. This is made worse by the fact that the Mavic Mini neither has an HDR nor AEB mode and cannot shoot in RAW format, limiting your post-processing options.
Both cameras come with fixed 28mm aperture and have comparable figures for FOV and ISO range. They aren't the best cameras for shooting in low lighting, although the Mavic Air 2 has a Hyperlight feature designed specifically for low light scenarios.
The camera of the Mavic Air 2 seems almost good enough for professional photography and filmmaking work. Even experienced drone photographers can get some value out of using the Mavic Air 2 as a "backup" to their standard Phantom 4 Pro or Inspire 2 drones.
On the other hand, the camera of the Mavic Mini appears to be nothing more than a high-end hobby drone camera. Don't get us wrong – it's pretty impressive to see this camera quality on such a small drone, but we won't pretend that there are a lot of professional uses for the Mavic Mini.
Gimbal
| Parameter | Mavic Air 2 | Mavic Mini |
| --- | --- | --- |
| Stabilization | 3-axis | 3-axis |
| Tilt range | -135° to 45° | -110° to 35° |
| Roll range | -45° to 45° | -35° to 35° |
| Pan range | -100° to 100° | -20° to 20° |
One of the most impressive feats of the Mavic Mini is the fact that it came with a 3-axis mechanical stabilization gimbal. Considering how small and light the Mavic Mini is, it's surprising how DJI as able to fit a whole gimbal in there. For this alone, the Mavic Mini already stands head and shoulders above all other drones that weigh less than 250 grams.
The original Mavic Air also had a 3-axis gimbal, so having the featured carried over to its successor was nothing short of expected. Aside from providing stabilization, the gimbal of the Mavic Air 2 also allowed for more freedom of movement compared to that of the Mavic Mini. The extra-wide pan range is particularly useful and perfectly complements the drone's HDR Panorama mode.
While having a gimbal is always a good thing for drone filmmaking and photography, the stability of an ultra-portable drone still can't compare to bigger pro-level drones like the Phantom 4 Pro or Inspire 2. The video quality of the Mavic Air 2 might not up to the standards of professional filmmakers with more discerning tastes.
Battery life
| Parameter | Mavic Air 2 | Mavic Mini |
| --- | --- | --- |
| Max flight time | 34 minutes | 30 minutes |
| Capacity | 3850 mAh | 2400 mAh |
The 30-minute battery life of the Mavic Mini was a revelation when it was launched. Because of its smaller and lighter build, the Mavic Mini boasted of a maximum flight time comparable to the Mavic 2 drones despite having a much smaller battery. This level of efficiency was certainly impressive, especially considering that mini-drones were almost always known for having batteries with very small capacities.
The Mavic Air 2 ekes out a few more minutes of flight time care of a battery which has a capacity equal to the Mavic 2 drones. The array of upgraded motors, propellers, and ESCs which DJI has been working on for the last couple of years have definitely helped the Mavic Air 2 achieve this feat.
DJI has come a long way since the 16-minute flight time of the Spark. We find it hard to be disappointed with either one of these two drones. Still, the three-minute advantage of the Mavic Air 2 gives it a slight lead.
Controller
| Parameter | Mavic Air 2 | Mavic Mini |
| --- | --- | --- |
| Transmission tech. | OcuSync 2.0 | Enhanced WiFi |
| Integrated screen? | No | No |
| Video resolution | 1080p @ 30 fps | 720p @ 30 fps |
| Range | 10 km | 4 km |
| Max bitrate | 40 Mbps | 4 Mbps |
| Average latency | 120-130 ms | 170-240 ms |
The Mavic Air 2 uses DJI's proprietary OcuSync 2.0 transmission technology to receive videos to an upgraded range of 10 kilometers. This range is even more extensive than that of the Mavic 2 controllers. The transmission tech also enables an exceptionally high bitrate for low-latency transmission of 1080p videos.
The controller of the Mavic Air 2 has also undergone a massive redesign. It now sports a more minimalist look, removing the usual LCD screen in favor of a cleaner interface with fewer physical buttons. Instead of physical antennas, the top portion of the controller sports a spring-loaded mount for your smartphone.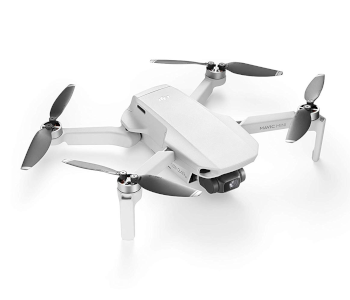 The Mavic Mini controller has a more traditional DJI controller design with a hinged smartphone mount at the rear position. It's an appropriately smaller version of the controllers of the older Mavic drones that does not have an LCD screen and a generally cleaner look.
The biggest drawback of the Mavic Mini controller is that it relies only on WiFi technology for video transmission. Not only does this limit the video transmission range to just 4 kilometers, but it also introduces a lot of latency into the equation despite transmitting only 720p videos. This is going to feel like a huge downgrade for drone pilots who have gotten used to DJI's OcuSync or Lightbridge technology.
Both the Mavic Air 2 and Mavic Mini will need to pair with the new DJI Fly smartphone app. In addition to the usual flight controls and telemetry data, DJI Fly has much better photo and video editing features. It offers a nice assortment of Creator Templates, although you are also free to stitch clips yourself. You can also quickly share any media straight from the app.
With OcuSync 2.0 technology and a redesigned interface, it's obvious that the Mavic Air 2 has the superior remote controller. The only caveat is that it's a lot bigger than the controller of the Mavic Mini.
Flight performance
Parameter
Mavic Air 2
Mavic Mini
Max. ground speed
19 m/s
13 m/s
Max. wind speed
resistance
8.5 to 10.5 m/s
8 m/s
With the smaller motors and lighter build of the Mavic Mini, it's not surprising to find that it's the slower and least stable of two drones being compared. Topping at 13 m/s ground speed, the Mavic Mini is only designed to withstand winds of up to 8 m/s.
The heftier Mavic Air 2 has the advantage of weight and more powerful propeller motors. The maximum speed of 19 m/s puts the Mavic Air 2 at par with the Mavic 2 drones and the original Mavic Air. This is probably as far as DJI is going to push their ultra-portable drones right now. The Mavic Air 2 is the clear winner in this category.
Safety features
| Parameter | Mavic Air 2 | Mavic Mini |
| --- | --- | --- |
| Obstacle avoidance | Forward, backward, downward (APAS 3.0) | None |
| AirSense feature? | Yes | No |
Given the price, size, and weight of the Mavic Mini, it would have been incredibly impressive if it had any sort of obstacle detection technology. Unfortunately, that is not the case. The single sensor it has is a bottom-mounted one to help it hover. As far as protection is concerned, the only measure the Mavic Mini provides is the 360° propeller guards that come included with the Fly More bundle.
In comparison, the safety features of the Mavic Air 2 are several generations more sophisticated. The drone has sensors in three directions but is further enhanced by the new Advanced Pilot Assistance System (APAS) 3.0 technology. This uses 3D mapping technology to identify obstacles in the drone's surroundings and come up with the safest flight trajectory.
The same technology greatly enhances the autonomous flight modes of the Mavic Air 2, as we shall see later.
DJI is also debuting AirSense technology wit the Mavic Air 2. This allows the Mavic Air 2 to receive ADS-B signals from nearby aircraft and helicopters. The pilot can then see the location of any aircraft broadcasting these signals so they can fly away and avoid close encounters.
With all the smart safety measures of the Mavic Air 2, it's not only superior to the Mavic Mini – it may have the best safety systems out of all the Mavic drones.
Flight modes
Parameter
Mavic Air 2
Mavic Mini
Flight modes

Free
Sport Mode
Course Lock
Waypoints
Circle

Sport Mode
CineSmooth Mode
The Mavic Air 2 doesn't exactly offer flight modes that are a huge departure from the usual array of flight modes of other DJI drones. Aside from flying at maximum speed in Sport Mode, you can also set a course for the drone to automatically follow.
The Mavic Mini does not offer these autonomous flight modes. Instead, its CineSmooth Mode slows down the flight speed of the drone so that you can capture smoother cinematic shots. It's a small consolation for the lack of other flight modes, but it's nice to have nonetheless. Still, not being able to set waypoints with just a tap at the screen is a huge loss, especially for more experienced drone pilots.
Camera modes
Parameter
Mavic Air 2
Mavic Mini
Camera modes

8K Hyperlapse
HDR Panorama
FocusTrack
Rocket
Circle
Dronie
Helix
Boomerang
Asteroid

Dronie
Rocket
Circle
Helix
Just by looking at the list of camera modes of the two drones, we can already see how superior the Mavic Air 2 is. The Mavic Mini's camera modes are the same ones that we can expect from cheap camera drones. They are fun to play around but aren't useful for any sort of professional work.
In contrast, the camera modes of the Mavic Air 2 take full advantage of its groundbreaking capabilities. Not only can it capture Hyperlapse videos but does so in stunning 8K resolution. Its FocusTrack mode features upgraded Active Track capabilities, paving the way for smarter and more reliable subject tracking. The HDR Panorama mode is only one of several ways in which the camera's HDR capabilities overlap with its other camera modes.
The Mavic Air 2 also has the usual old-fashioned camera modes – the same ones that are offered with the Mavic Mini.
There's no doubt here that the Mavic Air 2 overpowers the Mavic Mini in terms of camera capabilities.
Price
The Mavic Mini is the cheapest, smallest, and lightest member of the Mavic family. At $399, the Mavic Mini can even be considered a low-budget drone with a firm appeal to beginner drone pilots. With a 2.7K camera and a 3-axis mechanical gimbal, the Mavic Mini remains a compelling purchase that offers good value for money.
At $799, the Mavic Air 2 costs just as much as the original Mavic Air when it first launched. Considering how much of a commercial success the Mavic Air was, we expect the Mavic Air 2 to be even more successful with its upgraded features.
However, there's the indisputable fact that the Mavic Air 2 costs twice as much as the Mavic Mini. Although the price difference can be easily justified with all the extra features of the Mavic Air 2, the real value of these features is up to the buyer to decide.
Both drones are available in Fly More bundles for a little extra amount. The add-on price for the Mavic Air 2 is slightly higher on account of the included set of ND filters and a higher number of spare propellers. Both Fly More bundles cover the essentials: extra batteries, battery charging hubs, and carrying bags.
Which one should you get?
For all the strides that the commercial drone market has made in terms of accessibility, they are still pretty expensive pieces of technology. Even the $399 price tag of the Mavic Mini may seem like an intimidating amount for people who have never owned a drone before.
However, we have to say that both these drones from DJI offer incredible value for money. We find that they are both good choices, albeit they appeal to vastly different markets.
Get the Mavic Mini if….
…you are on a tight budget.
The Mavic Mini may seem expensive for a mini-drone but it is also leagues better than the mini-drones that you can buy for $100 or less. It is probably the smallest and cheapest drone that you can buy that comes with a 3-axis gimbal.
…you just want to fly a drone without the hassle of registration.
Despite how easy the FAA has made the process of drone registration, some people simply don't want to have to go through any form of red tape. The Mavic Mini is the most sophisticated drone available today that does NOT need to be registered. Take note that drone registration will still be required if you plan on using the Mavic Mini for any type of commercial operation.
…you want a cheap drone to learn with.
The Mavic Mini has a unique appeal to beginner drone pilots. It's not expensive but it doesn't look or feel cheap. Its capabilities may seem limited but are advanced enough for limited professional work. If you want to learn to fly a drone but don't want to settle for a cheap "toy" drone, then the Mavic Mini is the way to go.
Get the Mavic Air 2 if…
…you want an inexpensive drone for professional work.
Is the Mavic Air 2 going to be the new standard for professional drone work? Probably not. There are still a handful of better drones – the Mavic 2 Pro, the Phantom 4 Pro, and the Inspire 2, to name a few. But are we going to see professional uses of the Mavic Air 2? Almost certainly! It's more convenient to carry around than those bigger drones and has a very good camera.
…you need a backup for your "professional" drone.
There are already a lot of professional drone pilots eyeing the Mavic Air 2 as their "backup" drone. This means that they will still keep using their usual professional-quality drones but will have the Mavic Air 2 in their back pocket in case of a mishap. And why not? The Mavic Air 2 is very cheap compared to pro-grade drones. Its features aren't as powerful but aren't exactly to be under-estimated, either.
…you're willing to spend more for a beginner drone.
One of the reasons why the original Mavic Air was so successful is that its combination of price tag and features made it instantly appealing to beginners. We expect the same phenomenon to happen with the Mavic Air 2. It's just cheap enough for beginners to ponder buying and is powerful enough to have them start imagining all the things they can do.
There's also the market of drone pilots who have stuck with their Mavic Air drones through all these years. There sure are a lot of them out there and it's only a matter of time before they can be convinced to buy this upgrade.
Both drones appear to be very products that showcase how far DJI drone technology has come. One is an inexpensive and lean drone, while the other packs more punch in a slightly larger and more expensive form factor. However, both these drones are still cheap enough to appeal to the casual market. We're excited to see how these drones can inspire a new generation of drone pilots.