DJI Mavic FPV Options: How to fly with goggles?
3D Insider is ad supported and earns money from clicks, commissions from sales, and other ways.
Flying a quadcopter in First Person View (FPV) is the next best thing to being in the pilot's seat. FPV is where the drone's camera becomes your eye in the sky, streaming and recording in real-time. This article looks at how to get the most out of the DJI Mavic FPV experience. Keep reading if you own a Mavic drone and want to exploit its FPV potential to the full. First, a brief look at the company.
DJI (Da-Jiang Innovations) is the enterprise behind Mavic (御) quadcopters. It's a Chinese company with its headquarters in Nanshan District, Shenzhen, Guangdong Province. DJI is currently a world leader in both commercial and personal camera drones. It continues to innovate and create more sophisticated flying robots with each new release.
Introducing the DJI Mavic Family
Feel free to jump to the FPV section if you already know everything about Mavic drones. Keep reading this short overview if you don't have one of these incredible quads and want to know more.
Mavic is a successful series of camera quadcopters. This section gives a brief take of each one and why FPV fans love them. Every model excels in flight performance and features. Highlights include camera quality, portability, gesture controls, and intelligent flight modes. Others are the compact controller, obstacle avoidance, long battery life, high speeds, and control range.
There are 6 camera quadcopters available in the Mavic series:
Mavic Air
Mavic 2 Pro
Mavic 2 Zoom
Mavic Pro Platinum
Mavic 2 Enterprise
Mavic Pro
Choosing a Mavic Camera Quad
DJI no longer support the older Mavic Pro now as the Mavic 2 Pro and Zoom have taken over. Even so, it's still an excellent drone with plenty of bargains around and available accessories.
Here's a quick overview of the other 5 Mavic drones.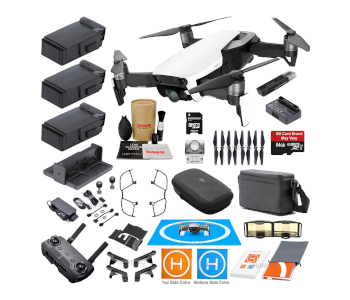 Editor's Rating: 4.7/5
DJI's Mavic Air is a small camera quadcopter with big performance. It has a foldable design that makes it ultraportable and easy to take anywhere. The quad comes in 3 colors, Arctic White, Onyx Black, and Flame Red. The 3-axis gimbal-stabilized camera takes 12MP stills, 4K video, and 32MP Sphere Panoramas. Palm liftoff and gesture controls let pilots launch their Mavic Air in seconds.
Tech Specs
Drone Dimensions: 6 x 7.2 x 2.5"
Drone Weight: 15.16 oz.
Camera: 4K 12MP 85° FOV
Camera Gimbal: 3-axis
Max Flight Time: 21 minutes
Max Flight Range: 2.4 miles (4km)
Battery: 11.55 V 2970mAh LiPo
Charging time: 55 minutes
The Pros
Ultraportable, foldable design
Gimble-stabilized camera
Gesture control
Palm-launch
Automatic shooting modes
Obstacle avoidance system
Fast charging time
The Cons
Average battery life
Controller not included
Highish price tag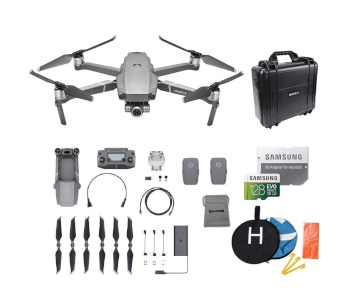 Editor's Rating: 4.9/5
I've put the Mavic 2 Zoom and Mavic 2 Pro together because they're basically the same bird. The difference is in the cameras. The Pro version has a fixed lens, Hasselblad camera w/ 1" sensor. It takes 20MP stills and shoots 4K HDR video. The zoom version has a 24-48mm optical 4K zoom camera and takes 12MP stills. All the other impressive specs and flight features are equal.
Mavic 2 highlights include the foldable, ultraportable design and cinematic-quality footage. The quads are quiet, stable fliers that are easy to control. They boast a long flight time, a long control range, and a top speed that can reach 45+ mph. Obstacle avoidance is in all directions. There's also a bunch of safety features and reasonably fast charging times. These are both exceptional camera drones.
Tech Specs
Dimensions: 18.2 x 12.2 x 9"
Product Weight: 32 oz. (907g)
Camera (Pro): Hasselblad 20MP 4k
Camera (Zoom): 12MP 4K
Stabilizing Gimbal: 3-axis
Max Flight Time: 31 minutes
Max Range: 5 miles (8 km)
Battery: 3850 mAh LiPo
Charging time: 90 minutes
The Pros
Foldable design
Safety features
Quiet flyer
Stabilizing gimbal
Obstacle avoidance
DJI GO 4 App
Fast top speed
Long flight time
Long transmission range
The Cons
Only 8GB internal storage
Cost of flight batteries
Highish price tag
No built-in WiFi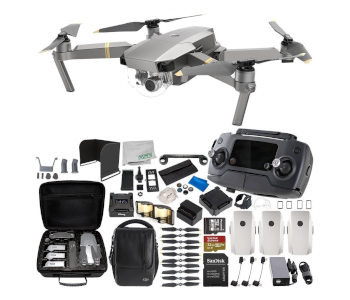 Editor's Rating: 4.7/5
DJI's Mavic Pro Platinum is another high-end, travel-friendly aerial filming quadcopter. It sports a 12MP 3-axis gimbal camera and shoots buttery-smooth 4K video. The 18-inch short focus distance, Follow Me mode, and gesture controls are other highlights. You can expect around 30 minutes of battery life on a single charge and a range of 4.3 miles. Charging is also fast at 60+ minutes.
Tech Specs
Dimensions: 14.9 x 12.13 x 6.88"
Weight: 1.64 lbs.
Camera: 12MP 4K UHD
Gimbal: 3-axis
Max Flight Time: 30 minutes
Max Range: 4.3 miles (7km)
Battery: 11.4V 3830 mAh LiPo
Charging time: 60-80 minutes
Controller: 2.4 GHz
The Pros
Foldable design
Quality gimbal camera
Ultra-quiet flier
Tap & gesture controls
Obstacle avoidance
Fast top speed
Intuitive DJI GO App
Long flight time
Long flight range
The Cons
Expensive flight batteries
Highish price tag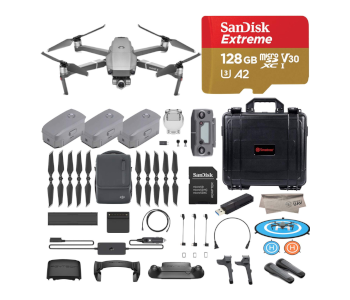 Editor's Rating: 4.8/5
DJI's motto for the compact, foldable Mavic 2 Enterprise is "Built to Empower, Destined to Serve." It's a pro-level dual camera quad with a 2x digital and 3x electronic zoom lens. The drone takes 12MP stills and shoots 4k video. This incredible workhorse has an advanced toolset to assist commercial pilots. Flight time is 31 minutes, and there's an equally impressive 5 miles (8 km) range.
There's so much to explore with the Mavic 2 Enterprise that it deserves a page all to itself.
Tech Specs
Dimensions: 12.6 x 9.5 x 3.3"
Weight: 0.65 lbs.
Camera: 12MP 4K
Gimbal: 3-axis
Max Flight Time: 31 minutes
Max Range: 5 miles (8 km)
Battery: 3850 mAh (heated)
Charging time: 90 minutes
The Pros
Compact, foldable design
Industrial use drone
DUAL Thermal Camera
Zoom capability
obstacle sensing
Extended spotlight port
Superb accessories
Long flight time
Long range
OK, that's a quick breakdown of the Mavic family. You can follow the links in the headers if you want to check the full specs and features for any of these extraordinary camera quads. The rest of this guide looks at the options for flying Mavic drones in FPV.
Flying Your Mavic in FPV
The so-called high-street drones have opened a whole new way of exploring our world. Flying in FPV is the ultimate experience and quite different to piloting a quad in the line of sight (LOS). FPV can take a while to get used to, but the rewards are well worth it. All cameras in the Mavic series allow you to monitor live view from a screen. To experience real FPV, though, you need to wear video goggles.
The 5 main uses for flying drones in First Person View are:
Drone racing
Freestyle, e.g., fun flying and exploration
Search and rescue (SAR)
Roof and building inspections
Agriculture (multiple applications)
Quadcopter racers and freestyle pilots are by far the biggest users of FPV. It's immense fun, but it also lets pilots control their drones with incredible accuracy and precision. Mavic drones are perfect for FPV flying. Their high-quality cameras produce clear, consistent FPV feeds. The smoother the feed, the more satisfying the experience. Mavic quads excel in this area.
Mavic FPV Options
There are two options for flying your Mavic drone in FPV. One is the official way that uses DJI dedicated goggles (see below). There are cheaper alternatives that we'll look at too. The crucial point with any FPV headset is compatibility. FPV headsets don't all work the same way or with every drone. Always check the product's suitability before you buy anything.
Editor's Rating: 4.8/5
DJI FPV goggles open a new way for Mavic pilots to see the world. They are the ultimate tool for smooth FPV flying with seamless controls and consistent, ultra-clear views. Inside the headset are a couple of large 1920×1080 high-quality 2K screens. They boast double the amount of pixel density of other models. The goggles also support DJI's intelligent flight modes.
The ergonomic design makes these FPV goggles comfortable to wear for extended periods. It may still take a while for first-time wearers to get used to them. The experience is truly immersive once you do, though. The headset's battery should last up to 6 hours in ideal conditions.
Head Tracking Functions
Controlling your Mavic drone with head movements adds further to the DJI goggle's appeal. It's as simple as moving your head from left to right to yaw in the same direction. And you only need to straighten the head to stop the Mavic from turning. There's also a Head Tracking Gimbal mode. What that does is only move the camera gimbal with no effect to the yaw.
Mavic Compatibility
DJI initially developed these FPV goggles for its Mavic Pro camera drone. However, it's entirely possible to use them with others from the Mavic family. That may require upgrading the firmware via DJI Assistant. You may also need to connect the goggles to the remote via a USB cable. Software updates and compatibility is forever changing, so always get the latest update before you buy.
The Mavic drones are fast, and some folks love to race them even though they're not purpose made racers. There are special DJI goggles for the purpose called Racing Edition 1. This FPV headset is Compatible with the Mavic series of drones plus the DJI Spark, Phantom, and Inspire. It's a gorgeous looking metallic matte black design with a redesigned headband and visor.
The inner padding has a high-quality red leather cover that adds to the style as well as comfort. The video is both digital and analog. Digital video signals can work as far away as 4.3 miles (7 km). That's thanks to the OcuSync Video Transmission and high-performing camera modules. Another standout feature is the low 50 ms latency. The FPV experience is ultra-clear, smooth, and truly immersive.
These glasses should work with any DJI drone system that runs DJI GO 4 application.
The Moverio BT-300 Smart Glasses (AR/Developer Edition) are one alternative to the DJI Goggles. The beauty of this product is that it's small and unobtrusive, unlike boxy FPV headsets. These Epson glasses are precisely that—glasses—with a revolutionary Si-OLED display. They are lightweight, comfortable to wear, and highly transparent. But do they redefine augmented reality (AR)?
It's early days, but these ultra-light glasses have an impressive spec sheet and potential. They're not cheap because the technology is still new, but the concept is an exciting one. You can even wear them over regular prescription glasses. They have an inner-ear earphone and Mic. The glasses support lots of useful accessories and come equipped with Bluetooth connectivity.
This Mavic FPV option uses the NVIDIA SHIELD tablet K1. It's a powerful Android tablet best known as a formidable gaming machine. But you can also use it to fly your Mavic in FPV. The tablet has a High-Definition Multimedia Interface output port or HDMI-out for short. The HDMI-out is needed to connect the FPV goggles. It's a simple 2 step procedure that looks like this:
Connect a DJI Mavic controller to Nvidia Shield K1 via cable
Connect HDMI compatible FPV goggles to the tablet's HDMI-out port
That's it. You then need to decide how you want to fly, and away you go. The most important thing here is to get HDMI compatible FPV goggles for the tablet and quad. Ask on the DJI forums if you're unsure which headset works best with your Mavic setup.
The LITCHI APP is the cheapest and easiest way to fly your Mavic in FPV. The App is available for both iOS and Android smartphones. You can then use it with any supported VR goggles. VR goggles are headsets that house compatible smartphones as the FPV screen.
I can describe the LITCHI APP simplicity in 3 easy steps.
Download the app
Put the app into VR mode
Place the smartphone into VR goggles
That's about it, and it's as cheap as chips for an FPV setup. The LITCHI APP is excellent value and a robust product. There are more than 4,000 successful flights daily according to the Litchi website. It's a useful tool to have in your DJI toolkit whether you use it for FPV or not. Consider this app if you want to experience autonomous missions on the cheap in VR mode.
LITCHI compatibility: DJI Mavic 2 Zoom/Pro, Mavic Air/Pro, Inspire 2, Spark, Inspire 1 X3/Z3/Pro/RAW, Phantom 3, Phantom 4 Normal/Advanced/Pro/ProV2, Standard/4K/Advanced/Professional.