12 Best DJI Mavic Mini Accessories
3D Insider is ad supported and earns money from clicks, commissions from sales, and other ways.
The recently released DJI Mavic Mini has people talking. Being one of the cheapest and smallest drones that DJI has created, it was sure going to be a hit among people who wanted a casual drone that is easy to fly and can be easily carried around. Considering how successful the Mavic Air was a couple of years ago, we think that DJI has another hit on their hands.
Just as with any other drone, the Mavic Mini is best used with the right set of accessories. It's very tempting to take the Mavic Mini on your vacations and road trips, but we suggest grabbing these accessories first so you can get the most out of your brand-new Mavic Mini.
The DJI Mavic Mini – a quick overview
The Mavic Mini was unveiled a little less than a month ago. It is the cheapest, lightest, and smallest member of the Mavic family, flying just right under the 250-gram weight limit that requires pilots to register their drones for the FAA. This was one of the major selling points of the Mavic Mini and will certainly help it appeal to people who just want to fly their drones for fun.
Despite the size, the Mavic Mini is an impressively powerful drone. With a 30-minute flight time, the Mini can stay airborne as long as the more expensive Mavic drones. The 2.7K camera comes with the same 3-axis gimbal that all the other DJI drones are known for. If you want smooth aerial videos and great-looking photos, the Mavic Mini is one of the most affordable drones you can get.
The Mavic Mini isn't without its drawbacks. To keep the drone light and cheap, it doesn't come with any extra sensors of obstacle detection and avoidance. Its list of automatic camera modes is also lacking, with the absence of a Follow Me mode one of the most pronounced. There's also the fact that its camera isn't 4K in a generation where almost all ultra-portable drones come with a 4K camera.
Still, the price tag and the portability of the Mavic Mini may be enough to make up for these compromises. With the right accessories, we're sure your experience with the Mavic Mini is going to be more than satisfying.
The top 12 best accessories of the DJI Mavic Mini
The Mavic Mini may be one of the most portable drones around, but that's no excuse to carry it around without the proper protection. There aren't many third-party carrying cases for the Mavic Min, although we have no misgivings about recommending this official satchel bag from DJI.
The official satchel bag has three compartments: one for the drone, another for the controller, and another for various accessories such as the two-way charging hub, extra batteries, and cables. The clear pocket for the drone is great for showing off the Mavic Mini, although you may cover it up if you want to. The bag is made with a polyester-PVC blend that is durable, long-lasting, and weatherproof.
The bag comes with an adjustable, non-removal strap meant to be worn across the shoulder. There are no other straps in this bag, so carrying it by hand would be awkward.
Although stylish, our biggest qualm about this carrying bag is that it offers no waterproofing whatsoever. The compartment for the drone, in particular, has a flip-top cover secured with a strap, where a waterproof zipper would have been more suitable. Apart from that little criticism, this bag is a very good way to carry your Mavic Mini to the local skate park or to a nearby beach. Just make sure to keep it inside another, more robust bag, if it starts to rain.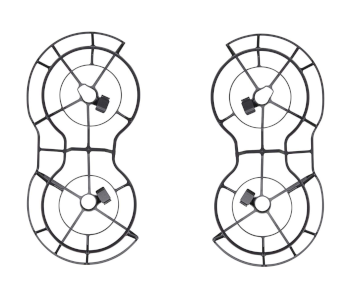 One of the most tempting things that you can do with a drone as small as the Mavic Mini is to fly it indoors. With the excellent stability and response that DJI drones are known for, it should be a pretty smooth experience, right? Perhaps, but you can still get into crashes indoors. Even worse, flying your drone to closely to another person could easily result in injuries – something that can happen whether you're flying the Mavic Mini indoors or outdoors.
If you want to make sure that you don't ruin walls, lightbulbs, and your drone's propellers, then you shoulder consider getting one set of these propeller guards. These propeller guards are specially made for the Mavic Mini and provide 360 degrees of protection. They also only weigh 23 grams a piece, which is perfect for a drone that does not have a lot of lifting power.
We consider the propeller guards one of the most important accessories for the Mavic Mini, as we expect an influx of beginner drone pilots to get it as their very first drone. Consider these propeller guards as "training wheels" that will keep you, your drone, and the people around you safe.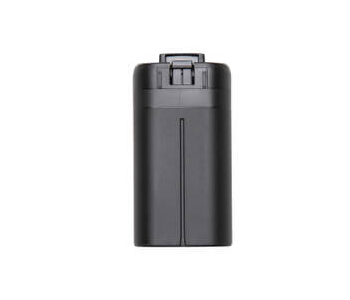 The Mavic Mini can stay airborne for a maximum of 30 minutes on a single battery cycle. That figure is pretty impressive, especially for a lightweight drone. ¬¬¬However, it's easy to lose track of time, especially if you're having fun. In times likes these, having a spare battery or two never hurt anyone.
Much like all other DJI drones, the Mavic Mini comes with an Intelligent Flight Battery with a 2400-mAh capacity battery and a rated voltage of 2.4 V. Instead of being a part of the drone's body (as is the design of other Mavic drones), the battery of this drone slides into a battery compartment in the drone's rear section.
As you would expect with any DJI Intelligent Flight Battery, this battery comes with an intelligent management system that relays the remaining power to your drone and to the pilot. This makes drone flight a lot less stressful, as you can count on the drone to fly back when the battery's internal system deems it necessary to do so.
Of course, having way too many batteries is also problematic as you'll need to have them all fully charged. That brings us to the next item on our list…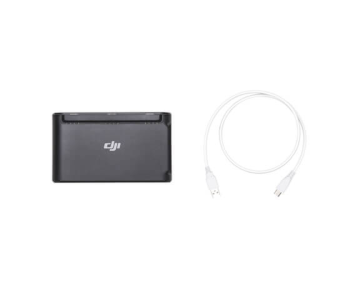 If you already have several Mavic Mini batteries on hand, charging them one at a time is simply impractical. To make the most of your time, we recommend getting this official DJI charging hub for the Mavic Mini. The charging hub can charge three Mavic Mini batteries at the same time, and it will take a total of 270 minutes to charge three batteries to full capacity.
This is no longer surprising to long-time users of DJI drones, but this hub comes with an intelligent charging system that charges the battery in sequence. By prioritizing the batteries that are closer to full capacity, the charging hub makes sure that your drone can get back in the air as soon as possible.
Another nifty feature of the Mavic Mini charging hub is that it can also act as a power bank as long as it has battery installed. This makes it a great emergency power source in case your smartphone or tablet's battery gets depleted in the middle of drone flight.
Crashing a drone, especially for a drone like Mavic Mini which is being marketed to first-time drone pilots, is practically inevitable. When your Mavic Mini crashes, you can count on its propellers getting some sort of damage. Whether the propellers get bent, chipped, or crack, you will want to replace them as soon as you can. Flying with damaged drones reduces drone flight performance and makes it more likely for the drone to get into another, even worse crash.
To make sure that things go from bad to worse, you should always have at least one set of spare propellers ready to go when you fly. The good thing is that DJI sells an official set of Mavic Mini propellers for a very small amount – only around $12 per set. There's really no reason not to stockpile a handful of these propeller sets, especially if you fly your Mavic Mini regularly.
The Mavic Mini propellers are small but powerful. The hybrid bullnose tips give the propellers extra lifting power despite the small diameter. In the case of the Mavic Mini, this was a design necessity.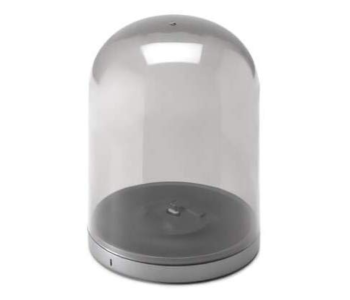 The Mavic Mini is one sweet-looking drone, and we have no apprehension about showing it off to anyone willing to look. For this purpose, this especially crafted charging base for the Mavic Mini is one of our most favorite accessories to ever be created from DJI.
The charging base acts as a stand for the Mavic Mini to hold an upright position. It works with the standard charging cable for the Mavic Mini and the DJI 18W USB charger. While charging, a light at the bottom illuminates the drone. A plastic dome completes the look, giving the Mavic Mini a touch of elegance.
To be honest, this isn't the most practical accessory for the Mavic Mini, especially if you need to charge several batteries all at once. It's a great conversation starter, though, if you're going to have a few friends over. Even if that weren't the case, we still like looking at the Mavic Mini in all its lit-up glory.
If you've got the $40 to spare, and if you've covered all the other essential accessories, then this charging base would be a nice addition to your collection. It may not be practical, but who says a drone is practical anyway?
The Mavic Mini has been marketed as a fun drone – something that casual users can warm up to, even without any experience with drones. Part of this "fun" factor is the ability to customize how your drone looks in the same way that you can customize your smartphone and other gadgets.
Recognizing the market for personalized devices, DJI has decided to create a DIY Creative Kit for the Mavic Mini. The kit comes with blank skins and markers that allow users to come up with their own designs. Serious drone professionals may balk at the idea of embellishing their drones with colorful and quirky drawings, but we suspect that this little inexpensive kit will become a hit.
Skins aren't exactly a new thing for DJI drones. The Spark and Mavic Air, both of which were released a few years ago, also had a bunch of colorful skins. However, this is the first time that DJI has offered the option for users to create their own skins. This is quite telling of DJI's marketing angle for the Mavic Mini, which is geared more towards creative users. Aside from a drone that works great, DJI wants the Mavic Mini to have an image that allows users to do their own thing. If this new trend sparks creativity, then no one's going to hear any complaints from us.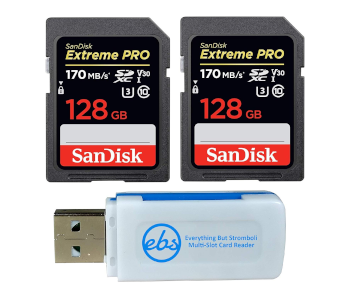 Storage space is another one of those things that can easily run out when you're having fun recording all those drone videos. The Mavic Mini does not have any internal storage, so you're going to need to swap out a full microSD card before you can capture any additional media.
As always, we recommend the 128GB SanDisk Extreme microSD card for all your drone needs. The bundle we are linking here comes with two microSD cards and an Everything but Stromboli multi-slot card reader. This is an excellent bundle for quick file transfers while you're on the go.
The SanDisk Extreme line is heavily favored for professional use. Among its benefits are super-fast read speeds of up to 130 Mbps and write speeds of up to 90 Mbps. This is more than enough to handle the Mavic Mini's camera bitrate.
These microSD cards are also well-regarded for their durability. They can withstand a beating without compromising the integrity of your data, which has made them popular among wildlife photographers. If you're planning on taking your Mavic Mini with you on a couple of rough road trips, then this microSD card should be on your essentials list – lest you end up losing all those great drone videos you captured.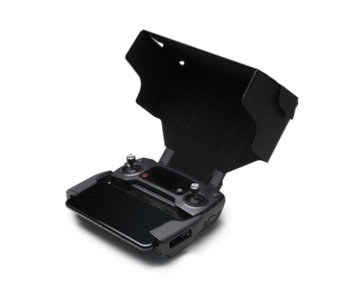 Flying a drone with the sun in your eyes is never a good thing. Aside from the glare above, there's also the glare below – namely, on the screen of your mobile device. To make sure that you can actually see what you're doing even when it's sunny outside, then it's a good idea to have this remote controller monitor hood ready to go.
The especially designed monitor hood slides right into a lot in a slot in a Mavic remote controller. This is not specific to the Mavic Mini. If you own any other Mavic drone, then this hood is compatible with any of those other remote controllers.
The monitor hood weighs less than 100 grams and shouldn't significantly burden your arms when connected to the remote controller. It also folds up into a flat little bundle using a series of strategic creases. There are dozens of monitor hoods that you can get out there, but this one from DJI is clearly geared towards portability. If you own a Mavic Mini, it just makes sense – a portable hood for a portable drone.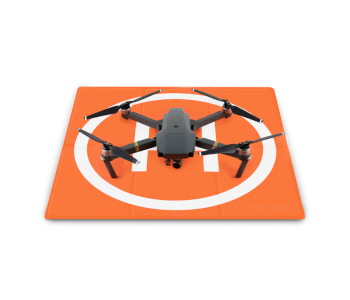 The Mavic Mini can take a beating, much like other Mavic drones, but that doesn't mean you don't need to take care of it. Being a small drone, the Mavic Mini is even more vulnerable to near-terrain damage, such as that caused by sand, dirt, grass, and small rocks.
To protect your drone during take-off and landing, we recommend investing in a high-quality landing pad. This advanced version of the PGYTECH landing pad is made with slightly thicker and more durable PU plastic, is waterproof, and resistant to fading. It can still be folded down to neat little package, and it comes with its own carrying bag to keep the rest of your stuff clean.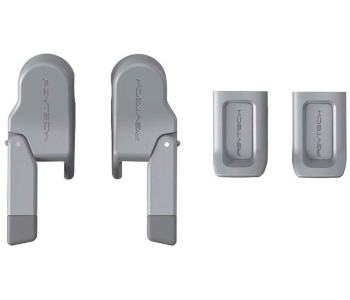 Sometimes, even a landing pad isn't going to help you land your drone, especially if your working with extremely uneven terrain. If you run into such an extreme case, then you would be thankful to have this set of landing gear extensions for the Mavic Mini. These elevate the drone by an additional 25 millimeters, making it less prone to catching any debris in its gimbal or other internal components.
Aside from the added height, these landing gear extensions also have a soft silicone pad, which provides additional cushioning when the drone lands. Being such a small drone, the Mavic Mini can be easily thrown off by a hard landing. By absorbing some of the impact, these landing gear extensions help you avoid any damage to your Mavic Mini.
The landing gear extensions only weigh 17 grams, have a quick-release design, and don't need to be removed when the Mavic Mini is folded. You might end up never having to remove them, which is a sign of a good product. If flying your Mavic Mini on your next beach trip is part of your plans, then make sure you have these landing gear extensions before your trip.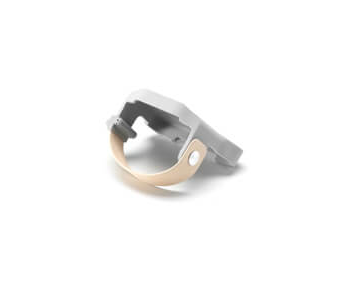 The Mavic Mini was designed to be the ultimate on-the-go drone. With this in mind, DJI has crafter several different ways to carry the Mavic Mini around – ways that were not created for all the other previous Mavic drones.
One of the more unusual portability accessories is this propeller holder for the Mavic Mini. At first glance, it seems like the purpose of this accessory is to hold the drone's propellers in folded position for safe transportation. However, it's apparently meant to help you clip the drone to your backpack or belt.
There's no question that the Mavic Mini is one of those drones with a distinct visual flair. Having this drone clipped to your backpack will certainly call a lot of attention to you. The clip itself looks great – classy with a minimalist design. It's not the safest way for you to carry around your Mavic Mini, but it's certainly the most fashionable.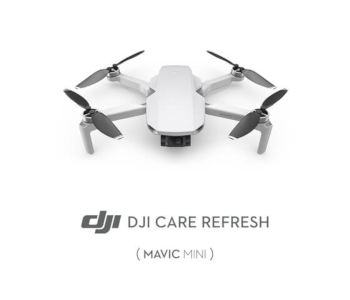 Although not technically an object, we just have to include Care Refresh in this list of essentials for the Mavic Mini. Take note that you need to get DJI Care Refresh within 48 hours of activating your newly purchased Mavic Mini – any longer than that, and you'll have to go through a lengthy verification process.
DJI Care Refresh is basically an insurance policy for your drone, all handled by DJI. Instead of insuring your drone for a set amount, DJI will instead replace your damaged drone with a brand-new (or equivalent to new) drone for a much lower price. For the Mavic Mini specifically, you will only need to pay $40 for the first replacement unit and $49 for a second replacement. The policy is valid for one year.
One of the best things about DJI Care Refresh – and something that many other drone hull insurance policies don't offer – is that it covers water damage. You will have to retrieve your drone, though, so don't go crashing your Mavic Mini on the open ocean.
In any case, DJI Care Refresh is great way to give you peace of mind while you fly. The Mavic Mini is probably capable of a lot of feats that were impossible with larger drones. With the assurance of knowing that it will be okay if you mess up, you might have the confidence to do things you would never have considered.
Final thoughts
With the holidays coming up, the Mavic Mini is sure to make it at the top of many people's wish lists. It's the little drone that can. With the excellent quality we've come to expect from DJI, the Mavic Mini is something that will not disappoint.
What makes the Mavic Mini even better is a set of carefully curated accessories that make the most out of this mini-drone. The accessories we have listed here may not all be practical – some of them are outright flashy – but all of them highlight the unique properties of the Mavic Mini.